Blueberry Cream Cheese Pie is perfect for the summer. The summer means fresh fruit and who doesn't love fresh blueberries? We have all made lots of blueberry muffins, blueberry cobbler, and more. Even if you don't have fresh blueberries on hand, you can use frozen berries to make this delicious blueberry cream cheese pie.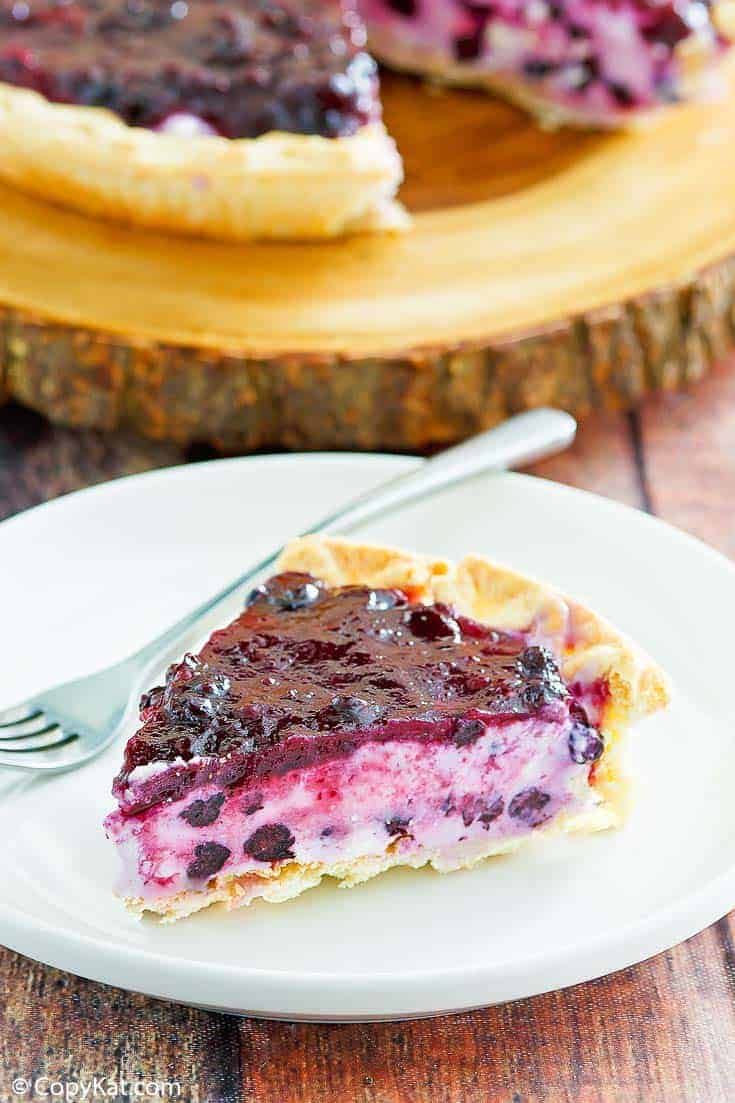 This post contains affiliate links. As an Amazon Associate, I earn from qualifying purchases.
Blueberry Cheesecake Pie
This recipe is made with cream cheese and sweetened condensed milk. So this pie is almost a combination of creamy cheesecake and a blueberry pie.
You can use either fresh, frozen, or canned blueberries for this pie. If you are using fresh blueberries you will need to prepare the glaze for the pie. If not, you can use a can of blueberry pie filling to make this very easy on you.
This has to be one of my favorite ways to make pie because it is quick and easy. It also took me back years ago. When I was growing up my Dad and I went to a Father-Daughter Banquet when I was in Girl Scouts, a similar dessert was served up. I fell in love with the flavor combination of blueberries and cream cheese.
This Blueberry cream cheese pie brings back special memories of my father and myself attending that banquet.
Why you will fall in love with this recipe.
No matter what type of pie crust you prefer – we can help you out. We have directions for a graham cracker crust, a traditional pie crust, or even a shortbread cookie crust.
We share directions for using canned blueberries, fresh blueberries, or even frozen blueberries.
This recipe is super easy to make, but the flavor payoff, is a pie that combines the best of cheese cake and it bursts full of blueberry flavor.
Blueberry Cream Cheese Dessert ingredients
Here is what you need to make the pie:
Cream Cheese – here I like to use the regular king, light cream cheese also works
Sweetened Condensed Milk – using the store brand here works well
Lemon juice – I prefer to use freshly squeezed for the best flavor
Vanilla extract
An unbaked pastry pie shell – you can use frozen, or I like to use the refrigerated dough, both work well
Sugar
Cornstarch
Water
Fresh Blueberries
How to Make a Blueberry Cream Cheese Pie
Combine cream cheese, sweetened condensed milk, lemon juice, vanilla, and blueberries.
Place the cream cheese mixture in the pie shell. Spread the filling out evenly.
Make the bluebery glaze with sugar, water, cornstarch, and blueberries.
Spread the glaze on top of the pie.
Refrigerate the pie overnight so it is thoroughly chilled before slicing.
Serve and enjoy!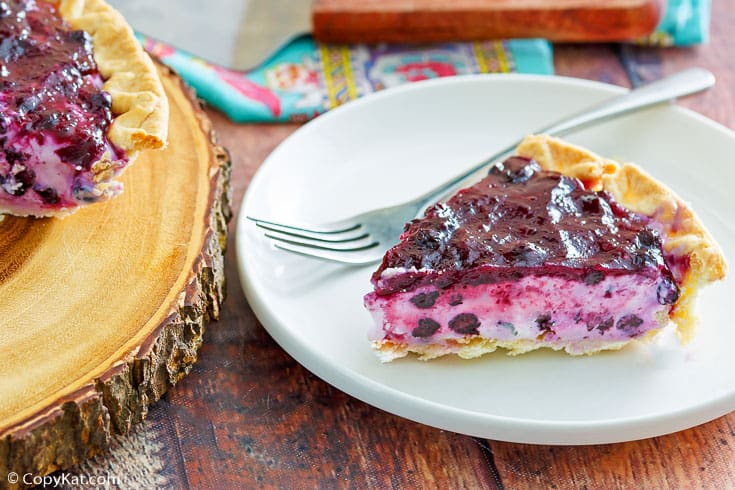 Types of crust for this recipe for Blueberry Cream Cheese Pie
A good cheesecake pie needs a perfect crust. While the traditional crust for a blueberry cheesecake pie is made from graham crackers, there isn't any reason you can't switch it up.
Other popular options are crusts made from pecans or shortbread If you already have a have cheesecake pie crust recipe that you like you can use it or try one of the following tried-and-true recipes:
Graham Cracker Pie Crust
Quick and simple to make, a graham cracker crust comes together in a matter of minutes and offers an excellent base for your blueberry cream cheese pie. With a mild, slightly sweet taste and crumbly texture, this is the go-to choice for many bakers.
Chop 20 graham cracker squares in a food processor and dump the crumbs into a large bowl. Mix in a third of a cup of sugar and five tablespoons of butter. Combine thoroughly. Grease a pie pan with a little butter and line the pie pan with graham cracker crumbs. Use the bottom of a measuring cup to compress the crumbs into a thin, even layer. Chill in the fridge for an hour before filling.
Pecan Pie Crust
A pecan pie crust is glutton-free with a similar texture to a graham cracker crust. The ground pecans give the pecan crust a slightly richer taste with a mild nutty flavor.
Start making the crust by chopping one and a half cups of pecans into small pieces in a food processor. Remove the chopped pecans to a large bowl and mix in five tablespoons of melted butter, a third of a cup of sugar, and a half teaspoon of vanilla. Mix well and press into a greased pie tin as above. Chill in the fridge for an hour before filling.
Shortbread Pie Crust
More cookie-like than the previous two crusts, this baked shortbread pie crust provides a nice crunchy base and is perfect for a wide variety of tarts and pies.
Combine eight tablespoons of butter, a cup and two tablespoons of butter, half of a cup of sugar, three-quarters of a teaspoon of vanilla extract, and a pinch of kosher salt in the bowl of a stand mixer. Use a paddle attachment on the low setting until dough forms coarse crumbs. Press the crumbs into a greased pie pan, use a fork to prick holes in the bottom of the crust to keep it from puffing up, and bake at 350 degrees for 30 minutes.
Baking & storing tips for blueberry recipes with cream cheesee
Don't use cold ingredients. Let the cream cheese and condensed milk come up to room temperature before mixing. Doing this will help prevent lumps from forming.
Give your cheesecake long enough in the fridge. The blueberry cream cheese pie needs to chill out in the refrigerator for at least overnight before serving.
It's a wrap. Keep your cheesecake from drying out by a loosely covering it with plastic wrap when storing it in the fridge.
Does Blueberry cream cheese pie freeze well?
Yes, this freezes well. You can freeze portions individually or you can freeze the whole pie. The pie will last for about 3 months in the freezer. Simply thaw completely before serving.
Frequently asked questions
Is it better to use fresh or frozen blueberries for Blueberry Cheesecake Pie?
I like to use fresh blueberries, they often taste better, and if you use frozen, they can be watery, so you need to make sure you drain all of the water out of the berries before using them.
Can different berries besides blueberries be used for this recipe?
You could try this with blackberries or dewberries. You may need to adjust the sugar slightly as those berries may need some sweetening.
I hope you give this recipe a try! It is hard to beat this pie, the blueberry topping combines so well with the cream cheese filling. You can make this during the height of the blueberry season, but with frozen blueberries so easy to find, there is no reason not make this pie all year long. Be sure to check out more delicious recipes here on CopyKat.com
Do you love pie? Check out these favorite recipes
More Blueberry Recipes
Be sure to check out more easy homemade dessert recipes and summertime favorites.
Thanks to fellow viewer Julie Doellingen for this Blueberry Cream Cheese Pie.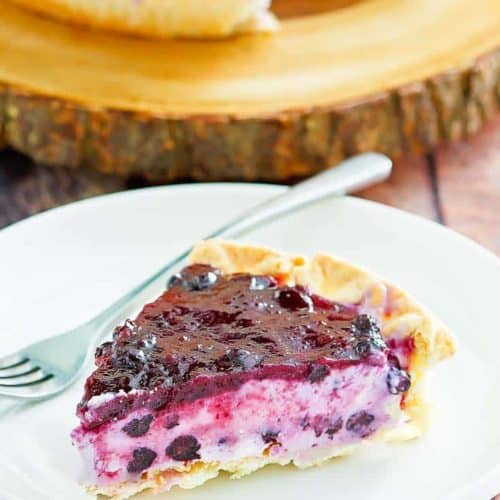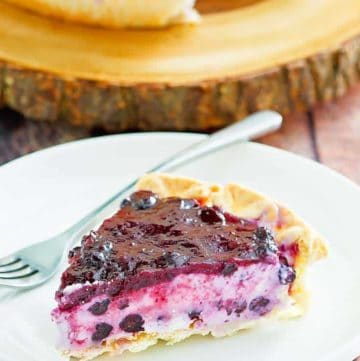 Ingredients
Pie
8

ounces

cream cheese

14

ounces

sweetened condensed milk

1/3

cup

lemon juice

1

teaspoon

vanilla extract

2

cups

blueberries

r dry-pack frozen blueberries, rinsed and drain – 2 cups of blueberries is a 16-ounce package of frozen blueberries

1

baked

9-inch pie shell
Blueberry Glaze
1

cup

sugar

2

tablespoons

cornstarch

3/4

cup

water

2

cups

blueberries

(1 pint) fresh or dry-pack frozen blueberries, rinsed and drained.
Instructions
Pie
Let cream cheese soften at room temperature. In a medium bowl, whip cream cheese until fluffy. Gradually add sweetened condensed milk; continue to beat until blended. Mix in lemon juice and vanilla. 

Fold in blueberries. Pour into pie shell. Chill 2 to 3 hours.

Arrange the remaining 1-1/2 cups blueberries over entire top of chilled pie. Pour cooled glaze evenly over berries.
Blueberry Glaze
In a small saucepan, combine sugar and cornstarch thoroughly. Gradually stir in water. Measure 1/2 cup blueberries; crush. Add crushed berries.

Cook over medium heat; constantly stir until mixture thickens and comes to a boil. Continue to stir and cook until the mixture is clear, which takes about 2 minutes. Strain. Cool. 
Nutrition
Calories:
407
kcal
|
Carbohydrates:
66
g
|
Protein:
6
g
|
Fat:
14
g
|
Saturated Fat:
8
g
|
Cholesterol:
48
mg
|
Sodium:
156
mg
|
Potassium:
290
mg
|
Fiber:
1
g
|
Sugar:
60
g
|
Vitamin A:
555
IU
|
Vitamin C:
12.4
mg
|
Calcium:
173
mg
|
Iron:
0.4
mg