Sugar Free Pumpkin pie is great for diabetics and anyone wanting to reduce their sugar intake. The filling is creamy and perfectly flavored. This pumpkin pie without sugar is perfect for Thanksgiving.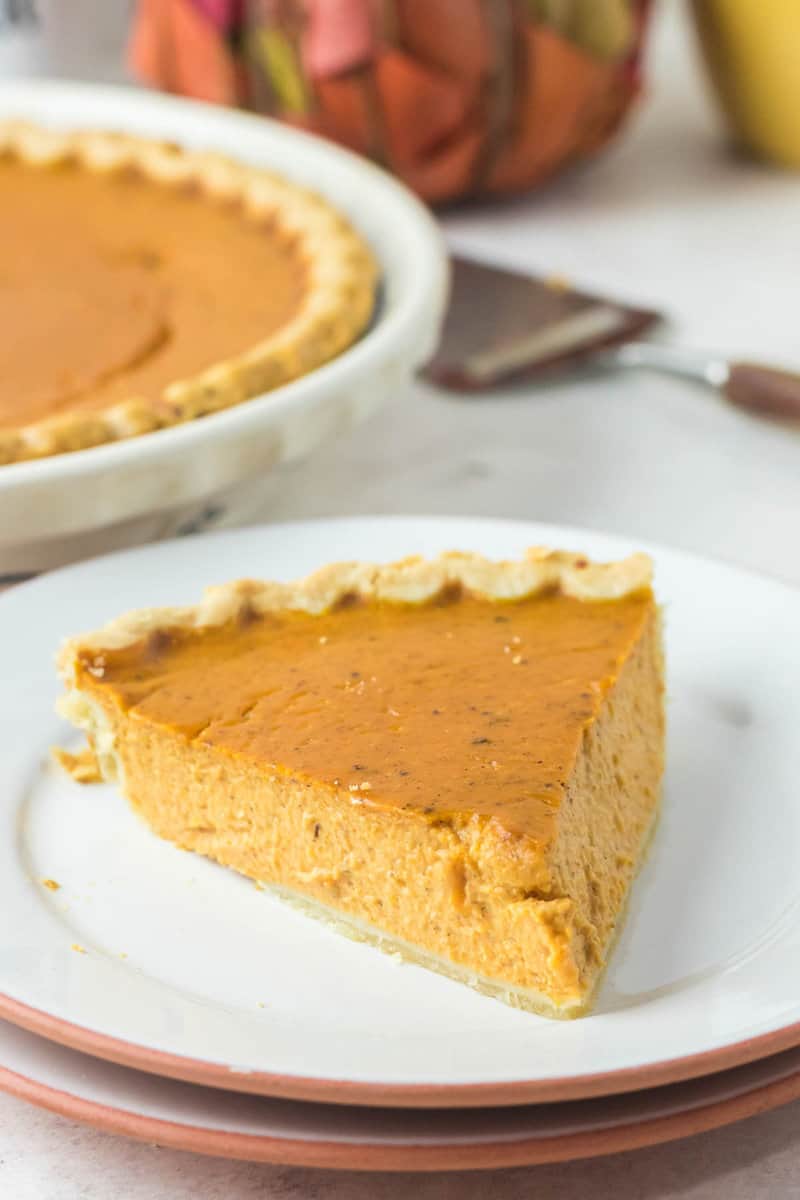 This post contains affiliate links. As an Amazon Associate, I earn from qualifying purchases.
Diabetic Pumpkin Pie
Growing up my father was diabetic and this was one of his favorite desserts. This sugar-free pumpkin pie recipe is from the archive of my grandmother, Ethel Eynard.
Now, you can make this delicious sugar-free pumpkin pie for your holiday table or any time you feel like eating pumpkin pie. It's great if you're trying to cut down on refined sugar or have a person with diabetes in your family.
A no sugar added pumpkin pie doesn't mean you sacrifice taste. Enjoy this delicious take on regular pumpkin pie. Even those on restricted diets should be able to enjoy a good piece of pie once in a while.
Why This Is the Best Sugar-Free Pumpkin Pie You Must Try
If you are looking for a way to cut down on sugar but still want to enjoy a slice of pumpkin pie, this best sugar-free pumpkin pie recipe allows you to do both.
The richest orange colors and warming spices mean pumpkin pie is the perfect dessert for your Thanksgiving table. This healthy pumpkin pie tastes as delicious as it looks, and it's so nice to have a healthier option. You won't miss the sugar one bit!
One slice of traditional pumpkin pie has about 25 grams of sugar. To keep this in perspective, the American Heart Association recommends that men consume no more than 36 grams of sugar per day and women no more than 25 grams. There you go, ladies! One slice of regular pumpkin pie, and you've blown your whole allowance!
Sugar-Free Pumpkin Pie Recipe – Ingredients You Will Need
This diabetic pumpkin pie is made with pumpkin puree plus some basic ingredients and spices. Here's your ingredient list:
Pastry pie shell
Pumpkin puree
Eggs
Evaporated milk
Sugar Twin brown sugar
Cinnamon
Ginger
Cloves
Salt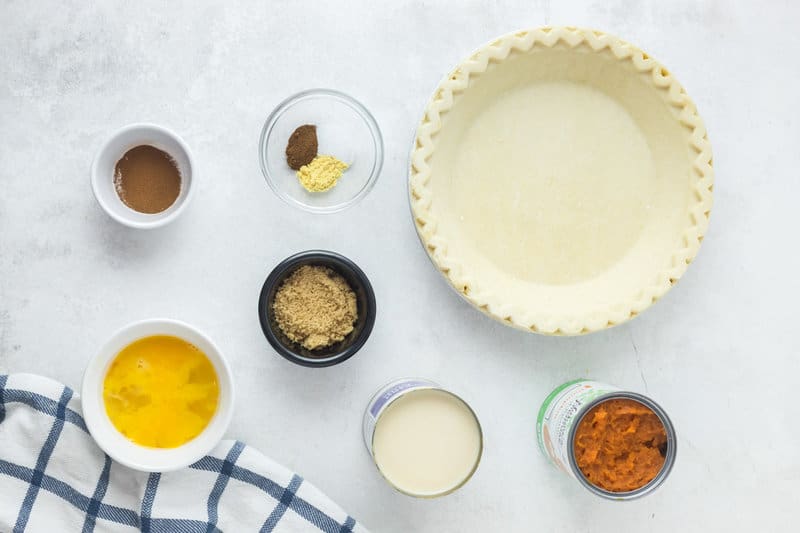 How to Make Sugar Free Pumpkin Pie
Place all the filling ingredients in a large bowl.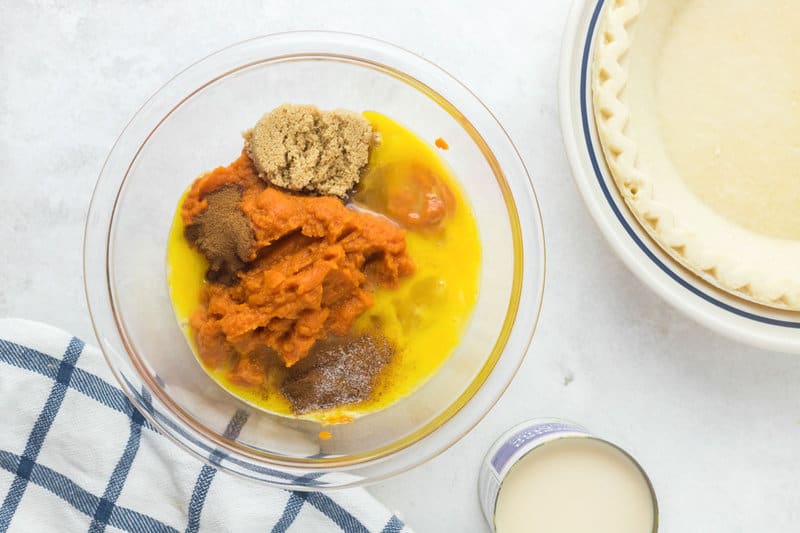 Mix the filling ingredients until smooth and well-combined.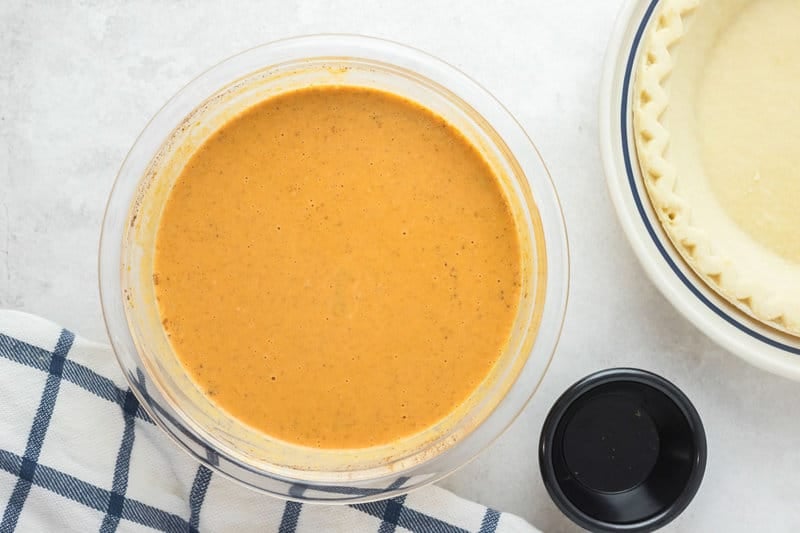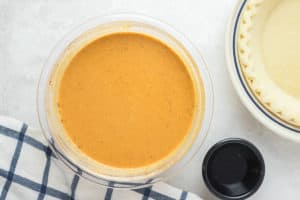 Pour the filling mixture into a pie shell.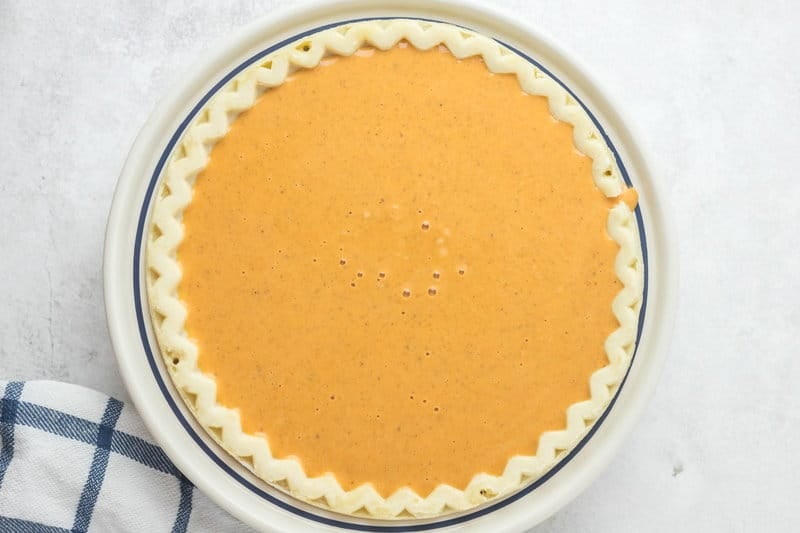 Bake for 10 minutes at 425°F.
Reduce temperature to 350°F and bake for 30 minutes.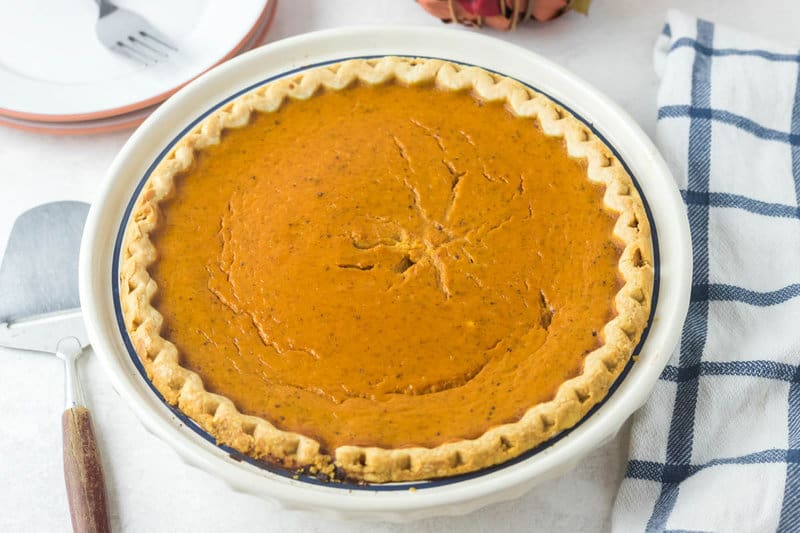 Notes on Sugar Substitutes
Sugar substitutes vary in sweetness – they can be more or less sweet than actual sugar. So read the directions and add your sweetener carefully. Taste the filling before putting it into the pie crust and adjust the sweetener to your taste.
Bear in mind that some artificial sweeteners have an aftertaste that you or others may dislike, so it might be a good idea to experiment beforehand with a sweetener you haven't tried before. Here are some more pointers:
If you can't find brown Sugar Twin, look for Swerve brown sugar or other brown sugar substitutes such as brown granular Monk Fruit sweetener.
Allulose will contribute a bit of burnt sugar and caramel taste to the pumpkin pie filling and a caramelized look to the top.
Read the labels, e.g., make sure Stevia has not been combined with regular sugar.
No Sugar Added Pumpkin Pie Recipe Variations
To keep this pumpkin pie recipe sugar-free overall, look for a sugar-free pie crust or make your own crust and leave out the sugar or swap for an artificial sweetener. You could also make a crustless sugar-free pumpkin pie that's more like a custard. Here's a pie crust recipe that makes a perfect pastry crust in a pie pan every time.
Try coconut milk or unsweetened almond milk creamer instead of evaporated milk for a dairy-free filling.
Instead of individual spices, feel free to use 2 teaspoons of pumpkin pie spice instead.
Add 1/4 teaspoon of nutmeg or 1 teaspoon of vanilla extract for more flavors in the filling.
Add 1 tablespoon of sugar-free maple syrup for a nice fall flavor touch.
For a gluten-free pie, use a gluten-free pie shell or make one with gluten-free flour or almond flour.
Advice on Buying Pumpkin Puree
This recipe calls for pumpkin puree, not pumpkin pie filling. Pumpkin puree is simply cooked types of squash that have been mashed. Pumpkin pie filling, on the other hand, is pureed pumpkin flesh mixed with spices and sweetener (most likely sugar). You need pumpkin puree for this sugar-free pumpkin pie recipe.
On many pumpkin puree brand labels, you will not find "pumpkin" listed, but you will find pumpkin flavoring and squash. Ok, so pumpkin is a squash but so are butternut, yellow, zucchini, and many others. But do you want squash pie or pumpkin pie?
How to Make Your Own Pumpkin Puree
With just a bit more work, you can get a greatly improved pie this way:
Buy baking pumpkins and clean and quarter them.
Place the pumpkin pieces in a baking dish and sprinkle over some pumpkin pie spice, cinnamon, a small amount of ground cloves, some brown sugar (or sugar substitute), and a few dabs of butter.
Cover with foil and bake at 350°F until the pumpkin is soft but not overcooked.
Mash the pumpkin thoroughly; otherwise, your pie may be a little stringy.
Understand that the color and texture of your "real" pumpkin pie will be somewhat different from a "squash" pie, but your taste buds will thank you.
Should You Pre-Bake the Crust?
If you are not making a crustless sugar-free pumpkin pie and are using a pastry crust, you may want to pre-bake (or partially pre-bake) so it doesn't get soggy once you add the filling.
Because your pie is in the oven for a long time to allow for the pumpkin filling to set, you should cover the crust edge after about 30 minutes, so it does not burn. You can use a pie crust protector shield or make your own shield by cutting a "halo" out of aluminum foil – click here for a helpful video.
How to Prevent Cracks in Your No Sugar Added Pumpkin Pie
The secret to getting no cracks in your no sugar added pumpkin pie is not to overbake it. It's a custard – in some ways similar to cheesecake. So, take it out of the oven when it's still jiggly.
Overbaking will cause cracks and affect the texture. However, if you do end up with cracks, you can always cover them with whipped cream and no one will notice!
To reduce the chance of cracking your low-carb pumpkin pie, you can bake the pie in a water bath.
Toppings for Your Sugar-Free Pumpkin Pie
Serve with sugar-free whipped cream for a classic holiday treat.
You can also try sugar-free coconut cream.
There are plenty of pumpkin pie toppings you may never have thought of! You will have to substitute artificial sweeteners for the ones made with sugar.
How to Store Diabetic Pumpkin Pie
You can prepare this easy pumpkin pie at least three days ahead. Once cooled, cover and refrigerate.
This pumpkin pie can also be frozen for up to one month. Thaw the frozen pie in the refrigerator overnight.
Popular Pumpkin Recipes
Favorite Thanksgiving Desserts
Check out more of my easy pie recipes and the best Thanksgiving dessert recipes here on CopyKat!
This recipe is from the archive of my grandmother, Ethel Eynard. Jefferson City, MO. 1988
Ingredients
16

ounces

pumpkin puree

2

eggs

eggs

slightly beaten

1/2

teaspoon

salt

1

teaspoon

ground cinnamon

1/2

teaspoon

ground ginger

2 1/2

tablespoons

Sugar Twin brown sugar

1/2

teaspoon

ground cloves

1

can

evaporated milk

1

9-inch

pie shell
Instructions
Preheat oven to 425°F

Place all ingredients except the pie shell in a mixing bowl.

Mix well until combined and smooth.

Pour the filling into the pie shell.

Bake for 10 minutes.

Reduce oven temperature to 350°F and bake for 30 minutes or until knife inserted into the center of the pie filling comes out clean.
Nutrition
Calories:
285
kcal
|
Carbohydrates:
23
g
|
Protein:
13
g
|
Fat:
16
g
|
Saturated Fat:
6
g
|
Polyunsaturated Fat:
2
g
|
Monounsaturated Fat:
6
g
|
Trans Fat:
0.02
g
|
Cholesterol:
239
mg
|
Sodium:
384
mg
|
Potassium:
363
mg
|
Fiber:
2
g
|
Sugar:
7
g
|
Vitamin A:
9259
IU
|
Vitamin C:
3
mg
|
Calcium:
173
mg
|
Iron:
3
mg