Dunkin Donuts Butter Pecan Iced Coffee is an incredibly tasty cold coffee drink. Save money and make a delicious homemade coffee drink flavored with butter pecan swirl.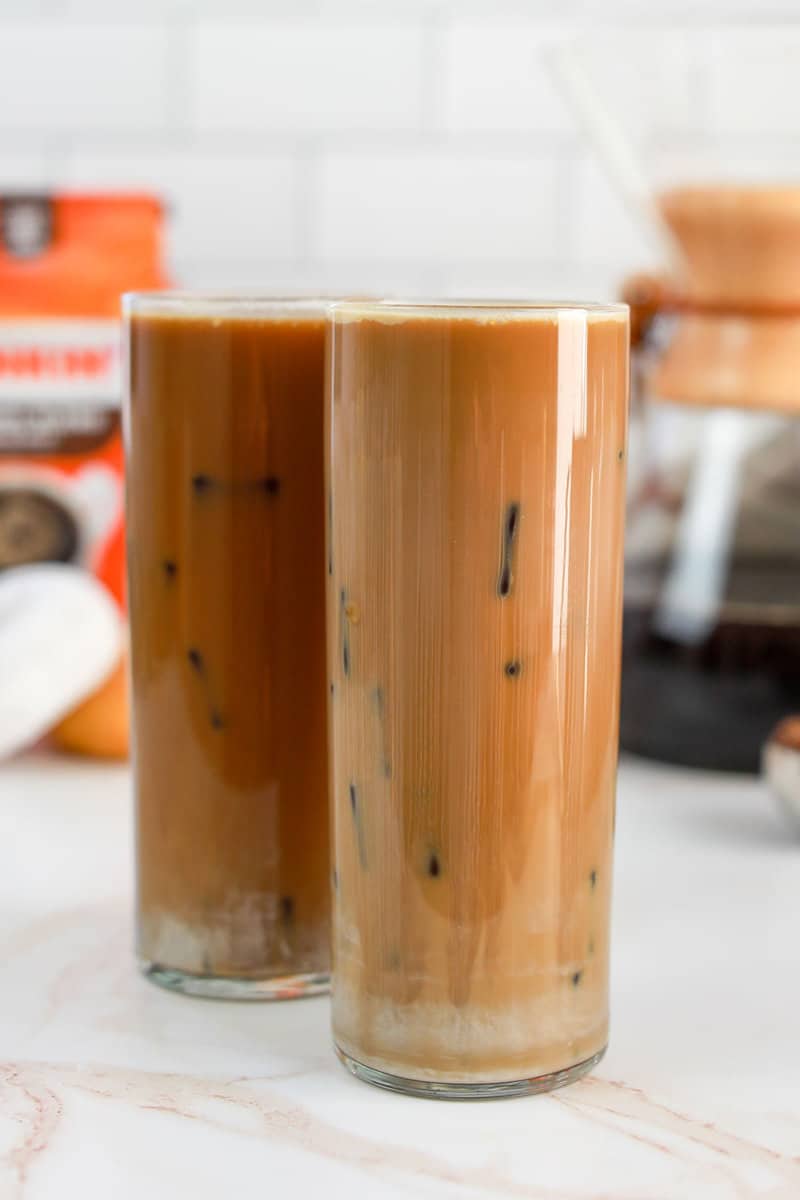 This post contains affiliate links. As an Amazon Associate, I earn from qualifying purchases.
Dunkin Donuts Seasonal Iced Coffee Menu
It's one o'clock in the afternoon without a cloud in the sky, and the temperature is soaring. The sun is shining down, and you are just about beat.
What you want is something with enough caffeine to carry you through the rest of your day. Hot coffee's out, and energy drinks make you jittery. What you need is a Dunkin's Butter Pecan Iced Coffee! It's a special seasonal flavor available during the warmer months.
The classic ice cream flavor is perfect for a hot summer day. Rich flavors of butter and pecan combined with smooth cold coffee is simply divine!
Butter pecan is one of the new limited batch series coffees on Dunkin's summer menu along with its new butter pecan sundae signature latte.
What Makes the Dunkin Donuts Butter Pecan Iced Coffee So Unique?
Sure, there are many other iced coffees out there, but there is nothing else quite like Dunkin' Donuts old fashioned butter pecan iced coffee. Try it once, and its intense butter pecan flavor and creaminess will have you craving a daily fix.
That is okay since you can easily make Butter Pecan Iced Coffee at home for a fraction of the cost of buying it at the restaurant.
Ingredients For Butter Pecan Iced Coffee
To make Dunkin Donuts butter pecan swirl syrup, you'll need:
This recipe depends on using LorAnn Butter Pecan Flavor Fountain syrup. It has a higher concentration of flavor than other butter pecan syrups meant for flavoring coffee drinks. Please use the recommended syrup to avoid being disappointed.
To prepare the drink, you will also need:
Extra strong coffee
Ice
Half-and-half or heavy cream
You can brew extra strong coffee using your usual brewing method by increasing the amount of coffee by half to compensate for diluting the coffee when you pour it over ice. You don't have to worry about increasing the coffee-to-water ratio if you use the cold brewing method or cold coffee.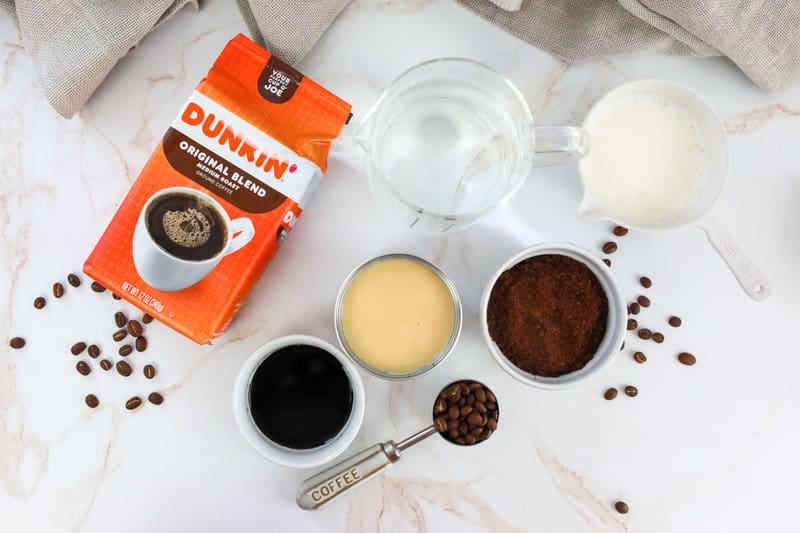 How to Make Dunkin Donuts Butter Pecan Iced Coffee
To mix the Butter Pecan Syrup:
Empty a can of condensed milk into a microwave-safe bowl.
Heat the condensed milk for about 15 seconds on HIGH in the microwave.
Stir in five teaspoons of LorAnn Butter Pecan Flavor Fountain syrup.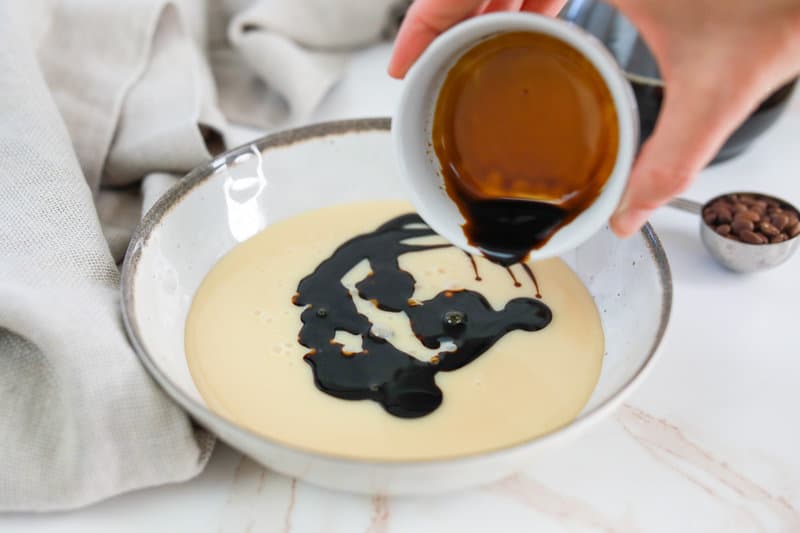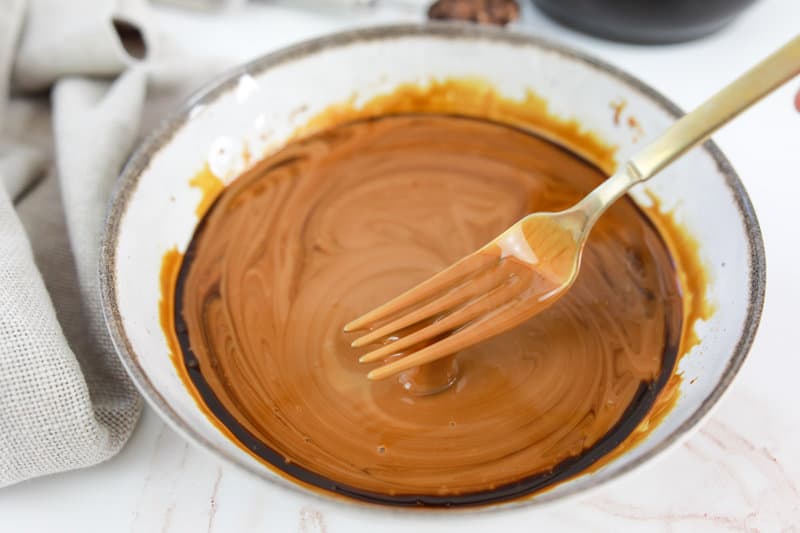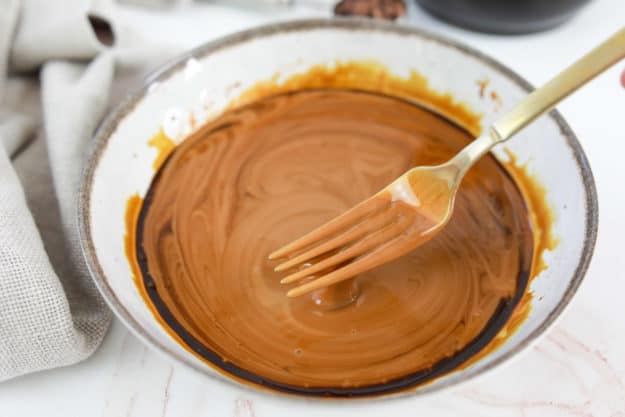 To make Butter Pecan Iced Coffee Dunkin style using hot or warm coffee:
Fill a glass three-quarters of the way with ice.
Add about a tablespoon and a half of half-and-half.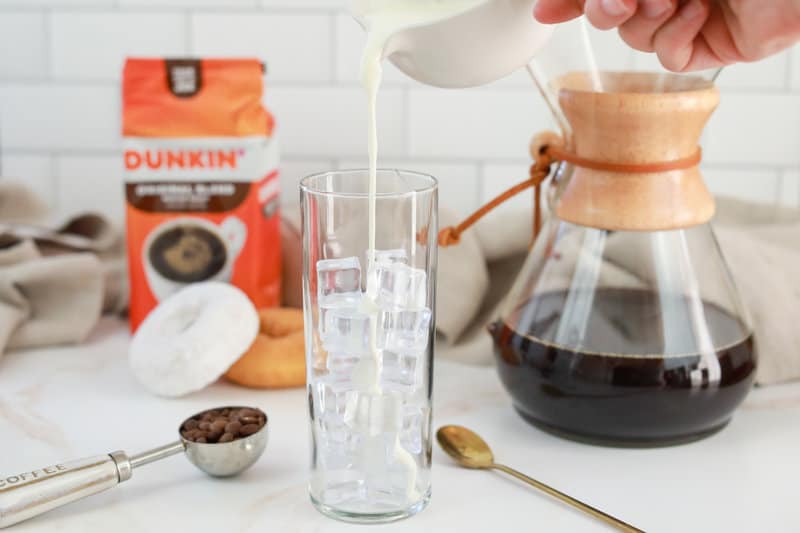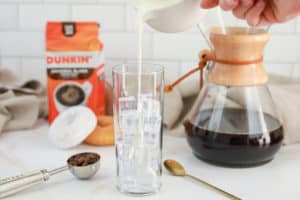 Add an equal amount of the butter pecan syrup. You can adjust the amounts to suit your taste.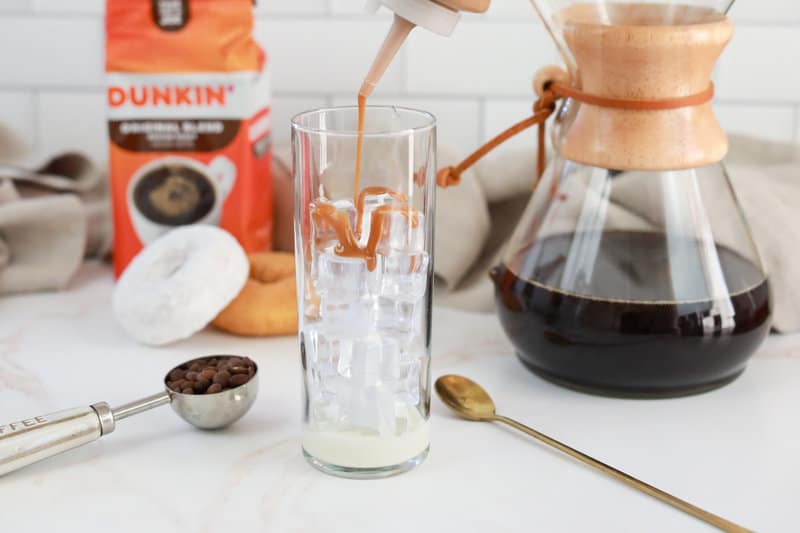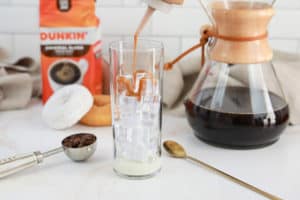 Pour the hot coffee into the glass slowly. The ice will melt, so be careful not to overfill the glass.
Stir to combine.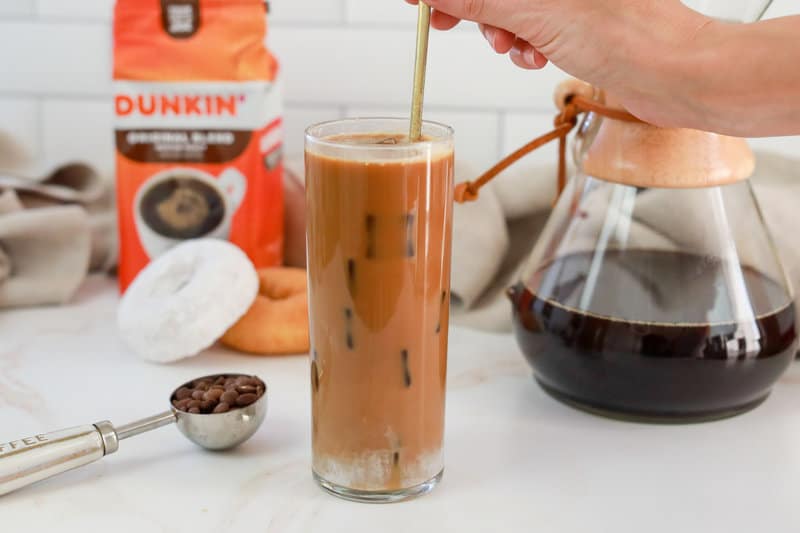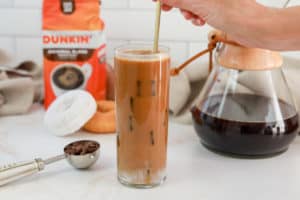 To make Dunkin Butter Pecan Iced Coffee using cold coffee:
Stir together about a tablespoon and a half of half-and-half and an equal amount of the butter pecan syrup. Feel free to make changes based on your preferences.
Add a few ice cubes.
Fill up the rest of the glass with cold coffee and stir well.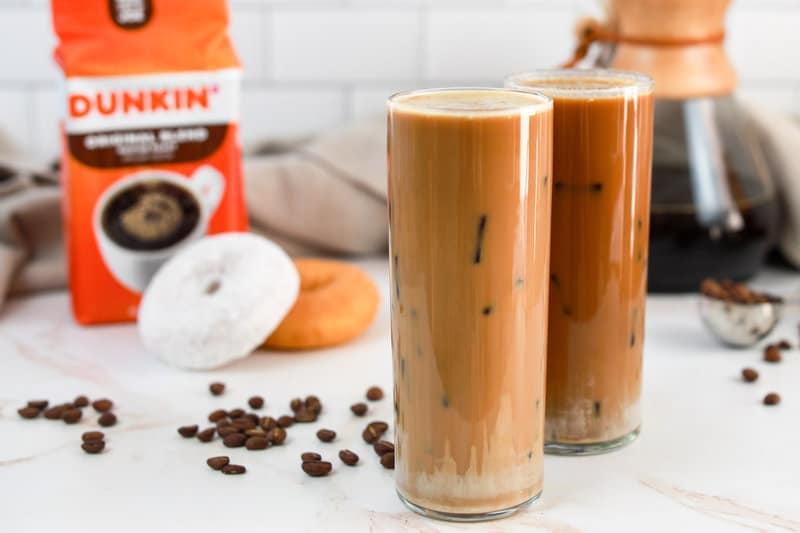 What Can You Serve With Butter Pecan Iced Coffee
Serve the Butter Pecan Iced Coffee in a glass with plenty of ice. There is no need for any garnishes. But if you want to be decadent, top it with whipped cream and a caramel drizzle.
Since this intensely flavored drink, it can easily overpower anything served with it. Therefore, if you insist on snacking while drinking, try something pecan-flavored like Pecan Pie Brownies or these gorgeous Spiced Pecans.
How To Store the Syrup
Condensed milk is long-lasting and shelf-stable, but the timer is ticking as soon as you open the can. While condensed milk will last a good amount of time in the fridge, it will eventually go bad.
Adding flavoring to the condensed milk further reduces the time you can keep it around. To ensure your butter pecan syrup stays fresh for as long as possible, keep it in a sealed container in the fridge.
Although the syrup won't freeze solid because of its high sugar level, you can freeze it. Many people like to portion the butter pecan syrup into an ice cube tray, put the tray in a freezer bag, and freeze it that way.
How Long Will the Butter Pecan Syrup Last?
The butter pecan syrup should stay fresh in the fridge for a long time when stored properly. For safety, it is best to finish any extra butter pecan syrup within two weeks.
The frozen syrup should be okay for up to three months. Thaw the butter pecan syrup in the fridge before using it in a drink.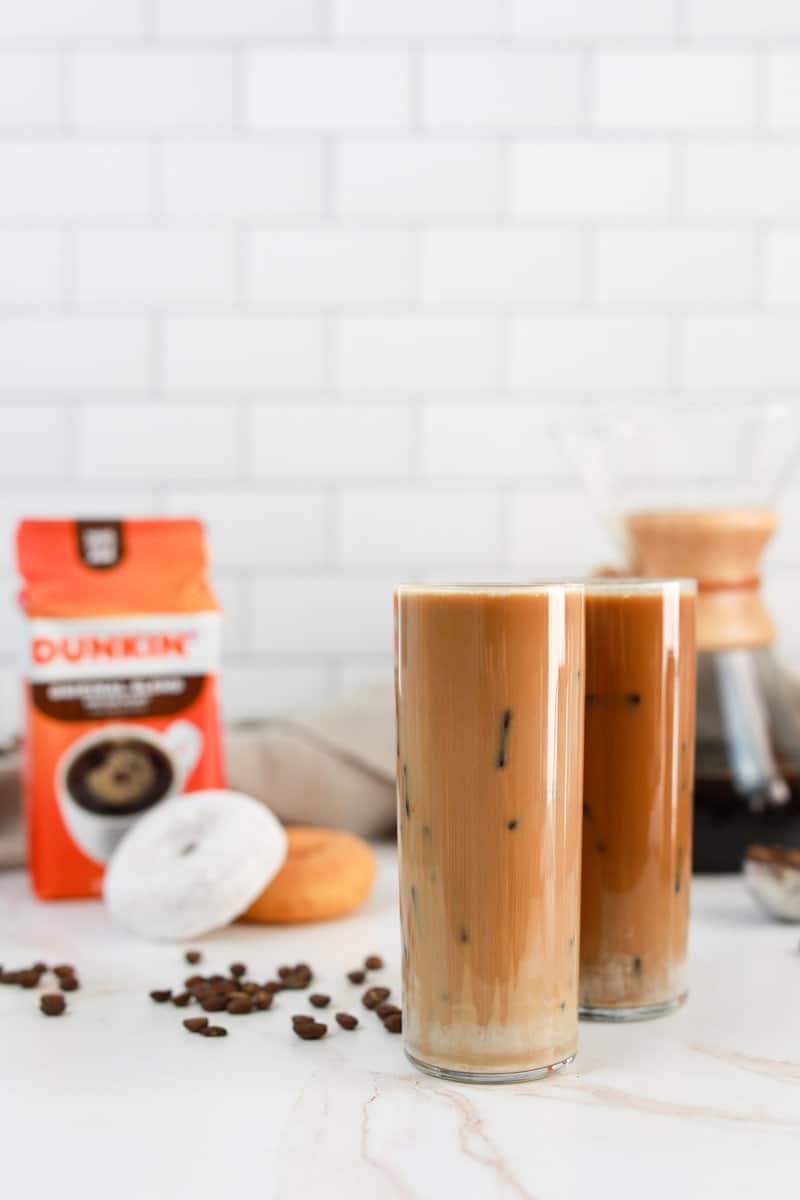 See our recommended coffee products to make coffee-house quality drinks at home.
More Dunkin Donuts Copycat Recipes
Popular Fast Food Iced and Frozen Drink Recipes
Check out more of my easy drink recipes and the best copycat fast food recipes on CopyKat!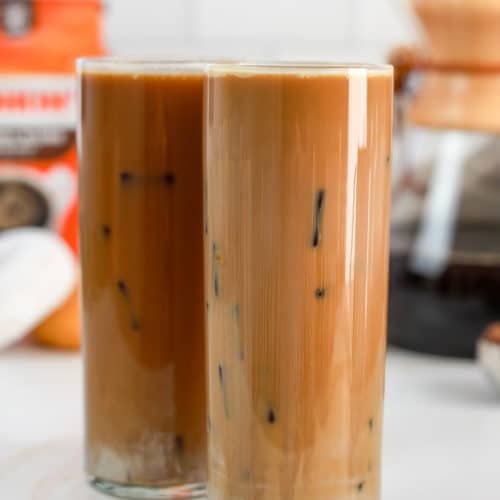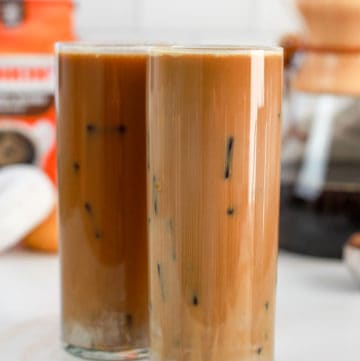 Ingredients
16

tablespoons

ground coffee

40

ounces

water

5

teaspoons

LorAnn butter pecan flavoring

1

14-ounce can

sweetened condensed milk

ice

1½

tablespoons

half and half
Instructions
Coffee Preparation
It is best to make the coffee a day in advance so it is cold for making the drink.

Brew ground coffee with water as you normally would. You will be using 1½ times more coffee than you normally do. Dunkin does it this way so when you add ice it does not water the coffee down.

Allow the coffee to cool to room temperature.

Store it in an airtight container in the refrigerator.
Butter Pecan Swirl Preparation
Place butter pecan flavoring and sweetened condensed milk in a small bowl. Stir to combine.

Store the butter pecan swirl in an airtight container like a canning jar or a squeeze bottle.
Butter Pecan Iced Coffee Preparation
Fill a 16-ounce glass ¾ full of ice.

Add half and half.

Add 1½ tablespoons of butter pecan swirl.

Fill the glass with cold coffee.

Use a bar spoon to mix the half and half and butter pecan swirl into the coffee.
Nutrition
Calories:
314
kcal
|
Carbohydrates:
48
g
|
Protein:
7
g
|
Fat:
10
g
|
Saturated Fat:
6
g
|
Polyunsaturated Fat:
0.4
g
|
Monounsaturated Fat:
3
g
|
Cholesterol:
37
mg
|
Sodium:
136
mg
|
Potassium:
351
mg
|
Sugar:
48
g
|
Vitamin A:
307
IU
|
Vitamin C:
2
mg
|
Calcium:
275
mg
|
Iron:
0.2
mg