You can make Dunkin Donuts Avocado Toast at home with this easy copycat recipe.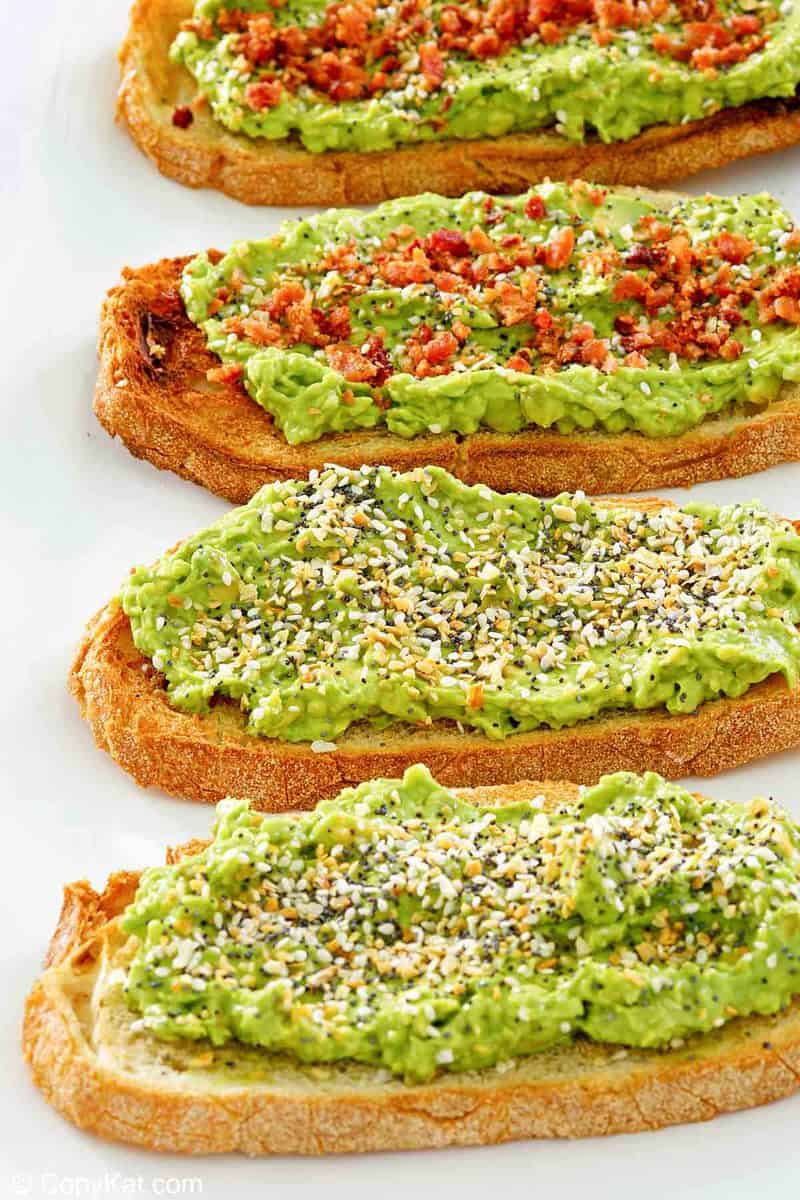 Avocado Toast at Dunkin
It's tough to beat ripe, creamy avocado on top of a toasted slice of bread, but leave it to Dunkin' to find a way. Dunkin's avocado toast is a massively popular new menu item with ripe, creamy avocado spread on top of a thick-cut, hearty sourdough slice and a sprinkle of everything bagel seasoning blend.
This kind of recipe is so easy to throw together yet is still unbelievably delicious. Make it for a brunch-worthy breakfast or as a light supper.
How to Pick a Ripe Avocado
Recipes with only a few simple ingredients demand the best ones you can find. And for this dish, really good avocados make all the difference!
Buying avocados is usually frustratingly hit-or-miss, but there are a few ways that you can do to increase your chances of bringing home quality ones. Here are a few ways to find the best avocado. After all, once you cut into an avocado, there are no second chances.
Squeeze them in the proper place. One of the best methods of checking whether an avocado is ready for eating is to press lightly on the stem-end. Stem-ends that spring back mean the avocado is ready to eat, but don't use it if it's hard or too soft.
Don't expect all hard avocados to ripen eventually. It's frustrating when avocados don't get soft enough to eat, even after waiting or using other tricks like keeping them in a paper bag with a banana. Avocados that farmers picked too soon will rot before becoming edible. Stay away from rock-hard avocados in the store.
Don't buy avocados in bulk. Buying in bulk is usually much cheaper, but unless you can use all of them within a few days, you're probably wasting your money. Sticking the avocados in the fridge will slow down the ripening process slightly.
More Than Just Breakfast
Dunkin's Avocado Toast is so good that you will want to enjoy it more than once a day. You can, by turning this recipe into a satisfying dinner with a bit of protein.
Start with a crumble of bacon. The smoky and salty flavor of bacon goes incredibly well with the creaminess of avocados. Make sure the bacon is extra crispy, but remember to blot the bacon before using it.
Alternatively, you try a couple of slices of smoked salmon will go amazingly well with the everything bagel seasoning. Try adding a thin slice of red onion for additional crunch and flavor.
Tips For Making and Serving Dunkin's Avocado Toast
Spread a bit of mayonnaise on the bread before adding the avocado spread. The contrast between the smooth avocado spread and the crispy bread is part of the beauty of avocado toast. A thin layer of mayonnaise helps protect the bread from becoming soggy.
Spice things up. Mix a few drops of your favorite hot sauce into the avocado spread mixture to liven things up a bit.
Store leftover avocado spread underwater. Place any remaining avocado mash into a bowl big enough so that it fills it only halfway. Slowly pour cold water on top of the avocado mash to keep the avocados from browning.
Stay up-to-date with all our new recipes by friending us on Facebook!
Recipe Ingredients
Here's a list of what you need:
Sourdough bread slices
Avocado
Lemon juice
Table salt
Everything Bagel Seasoning
Crispy cooked bacon, chopped (optional)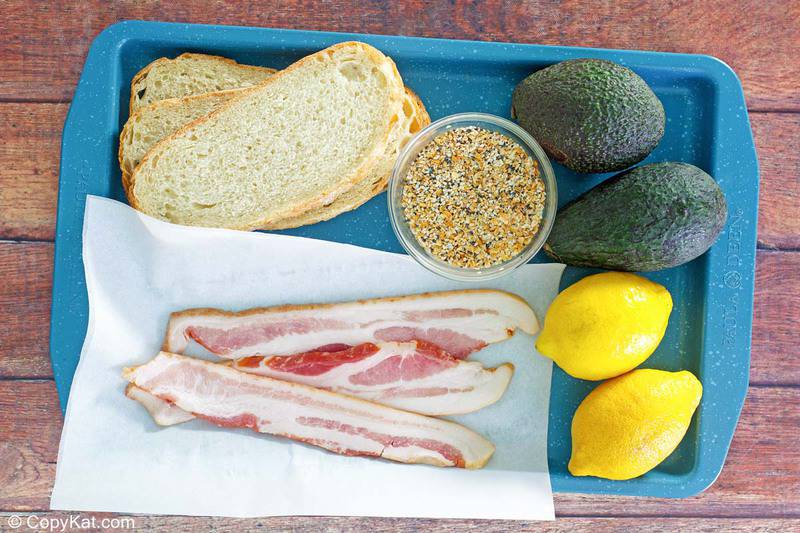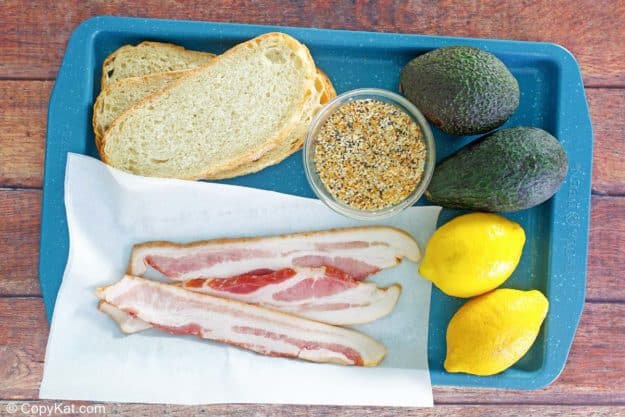 How to Make Avocado Toast
Mash avocado in a bowl. Add lemon juice and a pinch of salt. Stir to combine.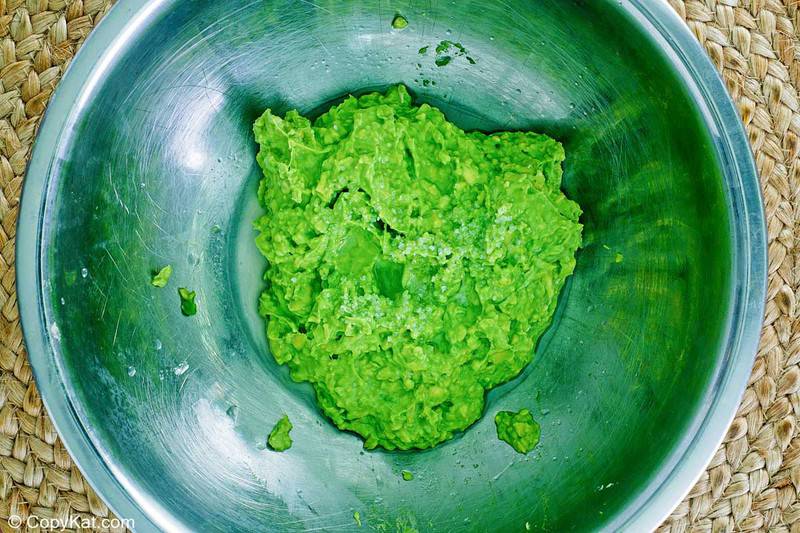 Toast the sourdough bread slices.
Spread the avocado mixture on the toasted bread and sprinkle bagel seasoning on top. Sprinkle bacon on top if desired.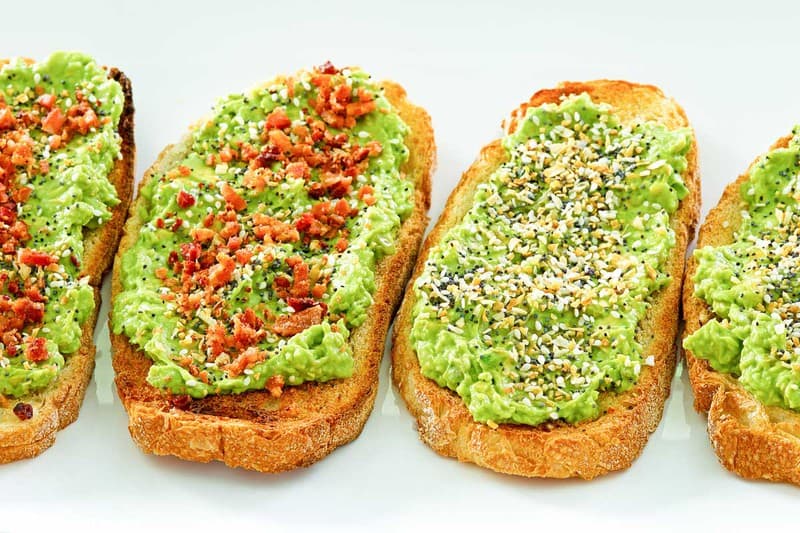 More Dunkin Donuts Copycat Recipes
Favorite Breakfast Recipes
Check out more of my easy breakfast recipes and the best fast food recipes here on CopyKat!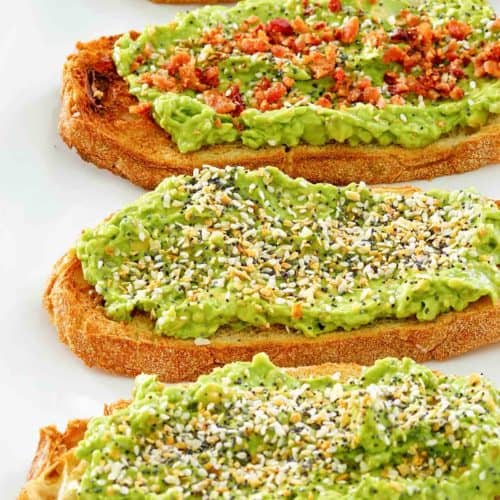 Ingredients
1

medium

avocado

1

teaspoon

lemon juice

salt to taste

2

slices

sourdough bread, toasted until fairly brown but not burnt

1 or 2

slices

bacon, cooked until crisp and crumbled into pieces

(optional)

2

teaspoons

Everything Bagel Seasoning
Instructions
Mash the avocado in a bowl. Add the lemon juice and a pinch of salt. Mix well.

Spread half of the avocado mixture on each slice of toasted sourdough.

Sprinkle about 1 teaspoon of everything bagel seasoning over each slice.

Serve the avocado toast as is, or add bacon on top.
Nutrition
Calories:
392
kcal
|
Carbohydrates:
45
g
|
Protein:
11
g
|
Fat:
20
g
|
Saturated Fat:
4
g
|
Polyunsaturated Fat:
3
g
|
Monounsaturated Fat:
12
g
|
Trans Fat:
1
g
|
Cholesterol:
7
mg
|
Sodium:
668
mg
|
Potassium:
594
mg
|
Fiber:
8
g
|
Sugar:
2
g
|
Vitamin A:
151
IU
|
Vitamin C:
11
mg
|
Calcium:
41
mg
|
Iron:
3
mg