Dunkin Donuts Iced Coffee is perfect for coffee lovers who love coffee over ice. This Dunkin' Donuts is the coffee shop we all love, so why not recreate this cup of joe at home? This is a refreshing way to cool off on a hot summer day. You can enjoy the bold flavor of coffee when you enjoy it iced. Why not try making your own iced coffee?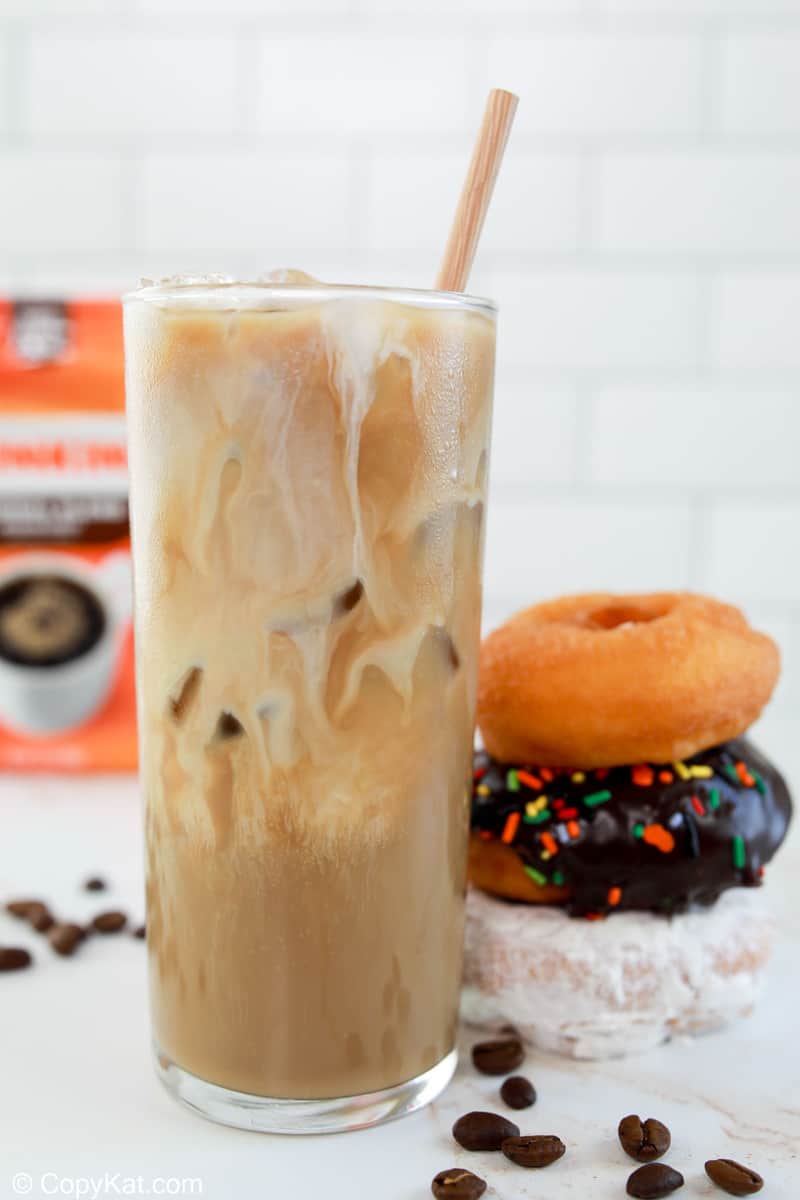 This post contains affiliate links. As an Amazon Associate, I earn from qualifying purchases.
Easy Iced Coffee Recipe
When the weather changes from cool to warm, it's time to re-think your hot coffee. During the hot season, it's much nicer to enjoy your coffee drink when it's iced.
Dunkin Iced Coffee is perfect for those who love coffee house drinks in the summer. When you sip on your iced coffee you will find it crisp and refreshing and gives you that pick-up you need and love. The good thing is that making delicious Dunkin Iced Coffee at home is super easy.
If you're out and about, it's easy to swing by Dunkin' Donuts and pick up the best coffee at Dunkin no matter the time of day. But what if you're home and suddenly hankering for a Dunkin beverage comes over you?
You can have a large batch of coffee in the fridge, and it will be ready all summer! It is the perfect drink to make at home.
This tasty copycat, Dunkin' iced coffee, comes together in minutes and will trick your taste buds into believing you've made a Dunkin run when you've never left your house. Everyone will swear it is the real thing when you serve this.
Why This Iced Coffee Recipe is the Best
There is more than one reason why this is the best recipe for iced coffee. Armed with this Dunkin Iced Coffee recipe, you can make iced coffee anytime and in any flavor you love.
This DIY Dunkin' iced coffee is perfect for a morning, afternoon, or evening pick-me-up.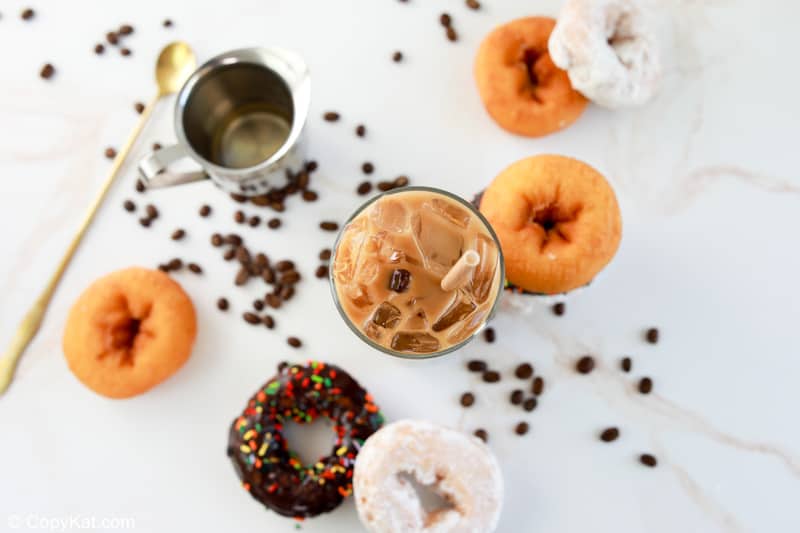 Recipe Ingredients
Looking to enjoy your favorite iced coffee at home? Check out this easy Dunkin Donuts copycat recipe. Here are the simple ingredients that you'll need:
Cold coffee (you can choose to use cold brew)
Sugar or your favorite flavored coffee syrup
Milk – you can choose between whole milk, skim milk, half-and-half or light cream, heavy cream, or flavored creamer
Ice
Note: To be one-hundred-percent authentic, make this iced coffee with Dunkin' Original Blend Medium Roast Ground Coffee.
Ingredient Substitutions
Swap out the dairy milk for your favorite plant-based milk like almond milk, cashew milk, or even oat milk
Substitute your preferred sweetener for the sugar. Add enough sweetener to get it to your desired level of sweetness.
How to Make Dunkin Donuts Iced Coffee
It's effortless. If you can make coffee, you can make iced coffee! Here are the recipe steps:
Pour cold coffee into a large glass.
Add sugar and stir to combine.
Add your desired milk.
Add ice and stir. Enjoy!
Recipe Variations
Dunkin Donuts has long been known for its great coffee drinks. Dunkin Iced Coffee has been around for quite a while, but they keep adding new coffee flavors to their menu – coconut, cookies and cream, French vanilla, and more! What's the best coffee at Dunkin? Whatever flavor is your favorite!
The great thing about this basic Dunkin Iced Coffee recipe is that you can add any flavor syrup, and voila! A customized drink!
Dunkin Donuts also has its coffee creamer line available at its locations or the grocery store. Your possibilities are endless, with various creamers and flavored syrups at your fingertips!
Caramel Iced Coffee: Add 1 ounce of caramel syrup to the glass, fill with coffee, ice, stir with a straw, and add milk if desired.
Vanilla Iced Coffee: Add 1 ounce of vanilla syrup to the glass, fill with coffee, ice, stir with a straw, and add milk if desired.
Mocha Iced Coffee: Add 1 ounce of chocolate syrup to the glass, fill with coffee, ice, stir with a straw, and add milk if desired.
Of course, for absolute decadence, top your drink with some whipped cream!
How to Make Cold Brew in a French Press
Cold brew coffee is less bitter and tastes better for iced coffee because it is up to 67% less acidic. Lower acid allows you to taste all the flavors that you should be tasting in your coffee.
You will probably be surprised at the roasty, chocolaty smoothness you've been missing out on when hot-brewing your coffee. Here's how to make cold brew coffee in a standard 8-cup French Press.
Place 4 ounces of coarse ground coffee beans in the bottom of the French press.
Gently pour 3 cups of cold or room temperature water over the grounds and gently stir to get all of the grounds wet.
Let the coffee sit for 14-16 hours at room temperature.
Press and strain your cold brew concentrate into a covered jar or vessel and store it in your refrigerator.
Iced Coffee Tips
Use coffee ice cubes. Prepare a pot of coffee with all the fixings (milk, sugar, etc.). Pour your coffee into ice cube trays and freeze them. Once frozen, store the cubes in a freezer bag. When you're ready to add ice to your coffee, use the cubes! This is especially good if you're a slow drinker – nothing gets watered-down.
For the ultimate luxurious presentation, place your glass in the freezer for about an hour before making your drink. You'll get wonderful beaded drops of freezing moisture and frost on the outside of your glass.
What to Eat with Iced Coffee
Enjoy something delicious to go with your beverage: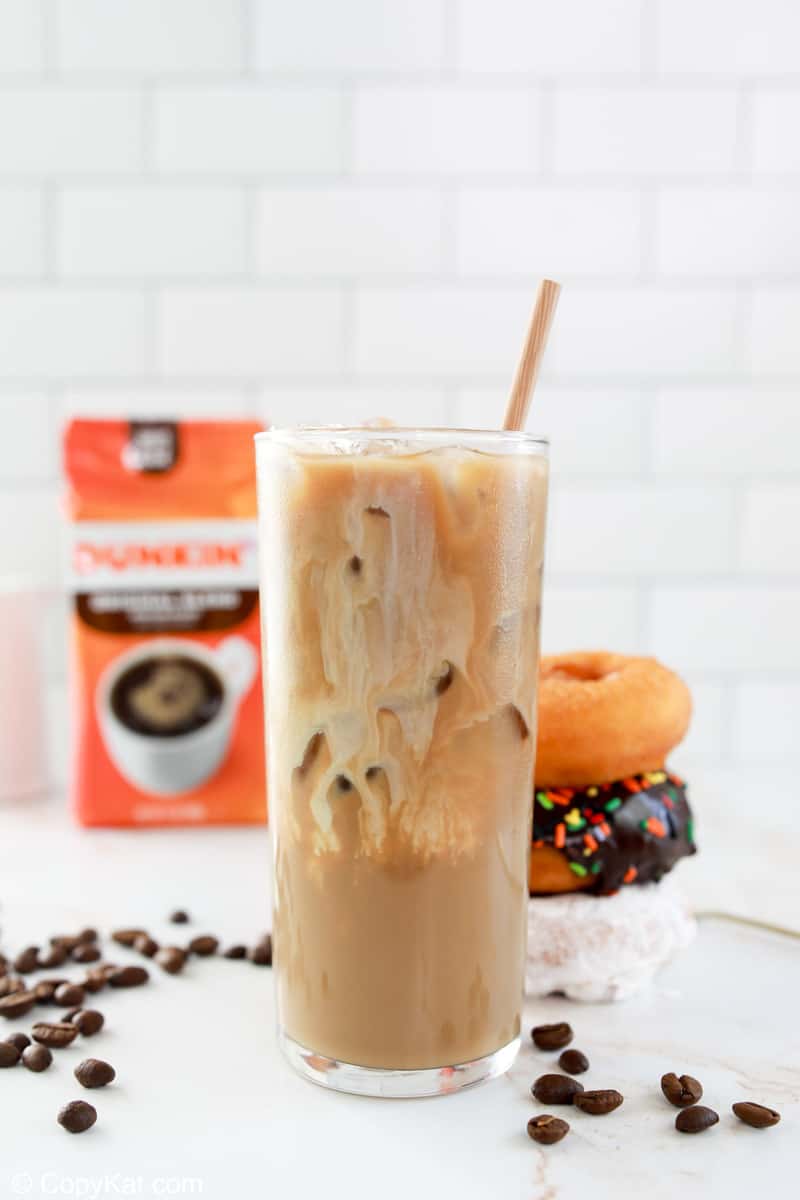 See our recommended coffee products to make coffee-house quality drinks at home.
Do you love coffee house drinks? Try these recipes!
Homemade Coffee Flavorings
Be sure to check out more of my easy drink recipes and copycat restaurant favorites.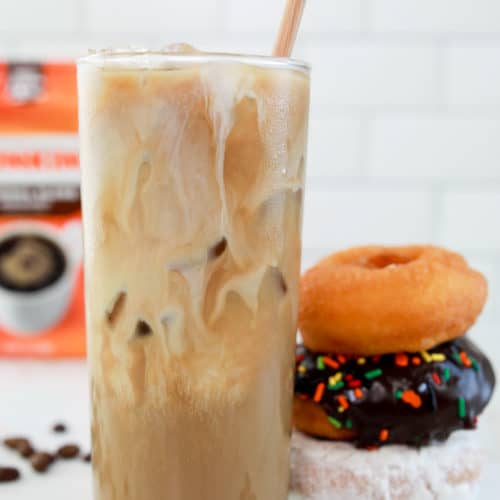 Ingredients
1

cup

cold coffee

or you can use cold brew

2

tablespoons

sugar

or your favorite coffee syrup

1

cup

milk

or your favorite creamer

1

cup

ice
Instructions
Pour cold coffee into a large glass.

Add sugar and stir to combine.
Nutrition
Calories:
244
kcal
|
Carbohydrates:
35
g
|
Protein:
7
g
|
Fat:
7
g
|
Saturated Fat:
4
g
|
Cholesterol:
24
mg
|
Sodium:
109
mg
|
Potassium:
438
mg
|
Sugar:
36
g
|
Vitamin A:
395
IU
|
Calcium:
276
mg