Dunkin Donuts Caramel Iced Coffee is a delightful coffee drink with rich flavor. Save money and make a delicious homemade coffee drink with simple ingredients.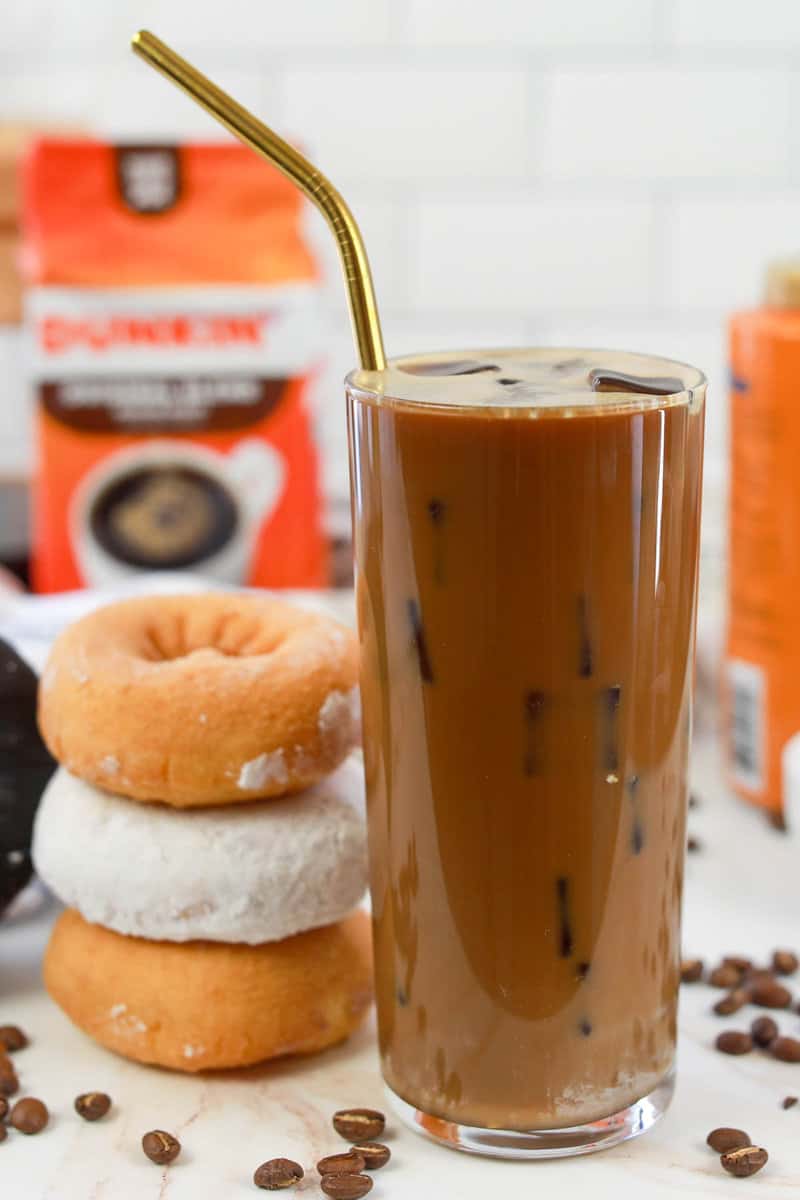 This post contains affiliate links. As an Amazon Associate, I earn from qualifying purchases.
Caramel Swirl Iced Coffee
One seasonal flavor on Dunkin's menu is the caramel swirl iced coffee. Another is butter pecan with a lovely nutty flavor. These are great beverages in addition to the classics of French Vanilla, Mocha, and Hazelnut.
While it seems they're simply smooth coffee with flavored creamer, there's more to the special Dunkin' iced coffee signature drinks. It starts with their famous coffee taste from Arabica coffee beans. (It's Americas iced coffee for a reason). Then a touch of creaminess and sweetness is added with natural flavors.
Why an Iced Caramel Coffee Is the Perfect Afternoon Pick Me Up
Have you ever noticed that you start to feel tired at about two or three o'clock in the afternoon? That's called the mid-afternoon slump, and while other cultures figured out long ago that the best way to fight it is with a nap, most of us don't have that luxury.
Instead, we need to find another way to refresh ourselves, like with a cold Dunkin Donuts Iced Caramel Coffee. It's cold, sweet, and has enough caffeine to carry you through to the end of the work day.
What Makes This Recipe for the Dunkin Iced Caramel Coffee the One You Should Try
There is no cheap caramel-flavored simple syrup here, only authentic caramel sauce. That alone makes a huge difference in the coffee flavor.
Combine better ingredients with the opportunity to use your favorite coffee, and you have a real winner.
Ingredients For This Dunkin Donuts Caramel Iced Coffee Recipe
To make Caramel Iced Coffee Dunkin Donuts style, you'll need:
Extra strong coffee
Ice
Caramel sauce
Half-and-half
Ingredient Notes
Don't worry; you don't have to invest in any new coffee equipment to make this recipe. All you need is your everyday coffee brewer.
However, you will have to increase the coffee-to-water ratio by 50 percent to compensate for the ice cubes melting. If you use leftover cold coffee or want to try cold brew coffee, you don't need to make it extra strong.
Spending just a few dollars more for a high-quality caramel sauce will give you the richest, butteriest flavor. The additional expense is worth it, especially since a small jar of caramel sauce will make a month's worth of iced coffee.
You can replace the half-and-half with heavy cream for an even more decadent drink. Replacing it with whole milk will reduce the fat and calories but it won't be as creamy. Skim milk is not recommended.
How to Make Dunkin Caramel Iced Coffee
To prepare Dunkin Donuts Iced Caramel Coffee from hot coffee:
Add a tablespoon and a half of caramel sauce and an equal amount of half-and-half to a large glass.
Stir with a bar spoon until all the clumps of caramel are off the bottom of the glass.
Fill the glass two-thirds with ice.
Add the hot coffee slowly to allow time for the ice to melt to avoid overfilling the glass.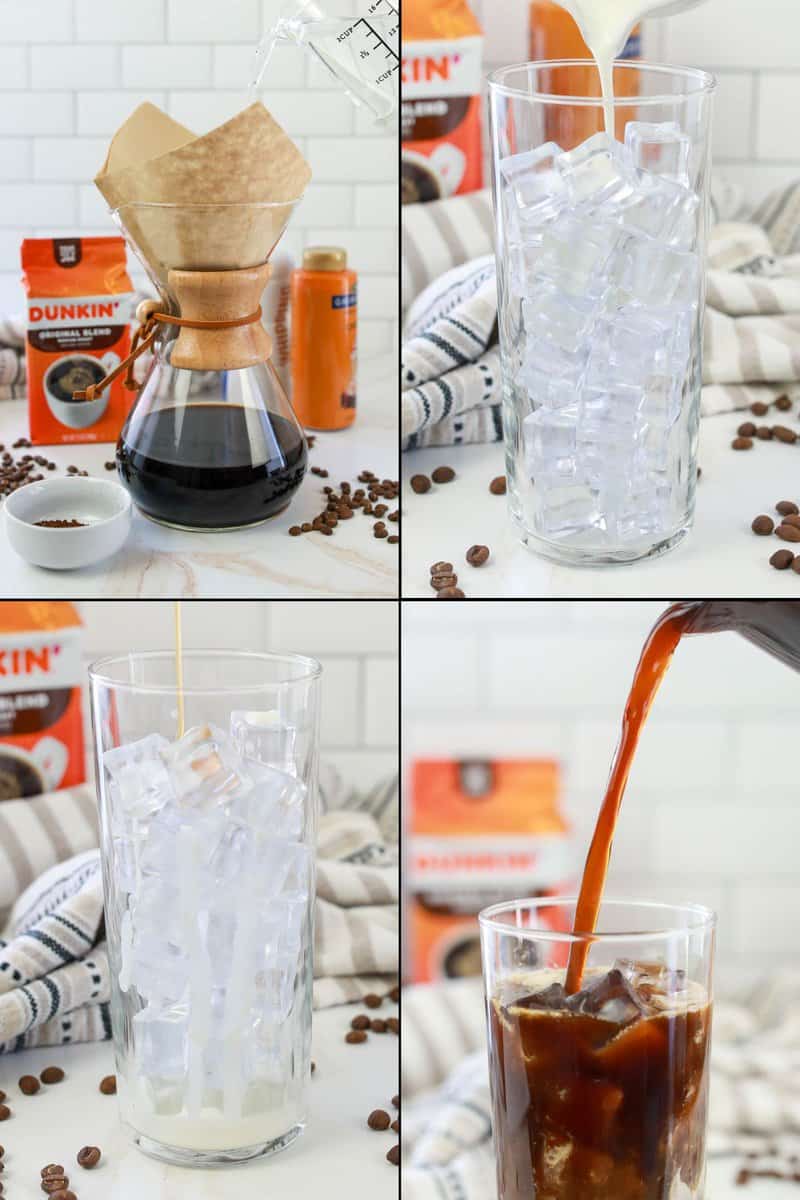 To prepare this recipe using cold coffee:
Combine a tablespoon and a half of caramel sauce and an equal amount of half-and-half in a large glass.
Use a long-handled spoon to mix the caramel sauce and half-and-half until smooth.
Fill the glass three-quarters full of cold coffee.
Add enough ice to bring the coffee level close to the top.
Stir gently.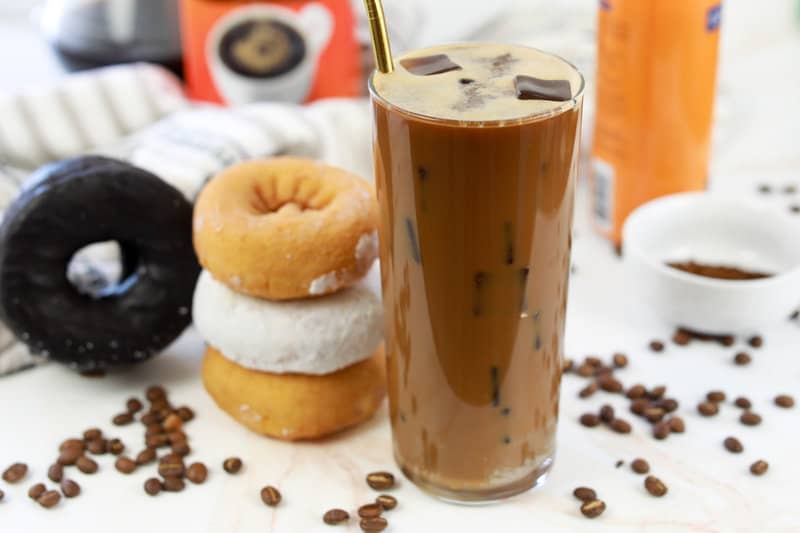 What To Serve With a Caramel Iced Coffee
You can add a dollop of whipped cream with a drizzle of extra caramel sauce if you want to go a little overboard, but all you need is a straw to get the most out of this drink.
How To Store Leftover Coffee
To store hot-brewed coffee:
Transfer the hot coffee to a heat-safe container with a lid.
Let the coffee cool to room temperature uncovered.
Cover and put in the fridge.
To store cold-brewed coffee:
Strain out the coffee grounds and pour the cold-brewed coffee into a new container with a lid.
Cover and keep in the fridge
How Long Does Brewed Stay Fresh?
Hot-brewed coffee will keep in the fridge for up to three days, but for the best taste, try using the coffee within 24 hours.
You can store cold-brewed coffee for much longer. Some people claim it will remain drinkable for a week or longer. However, fresher is better, and finishing cold-brew coffee within three or four days is best.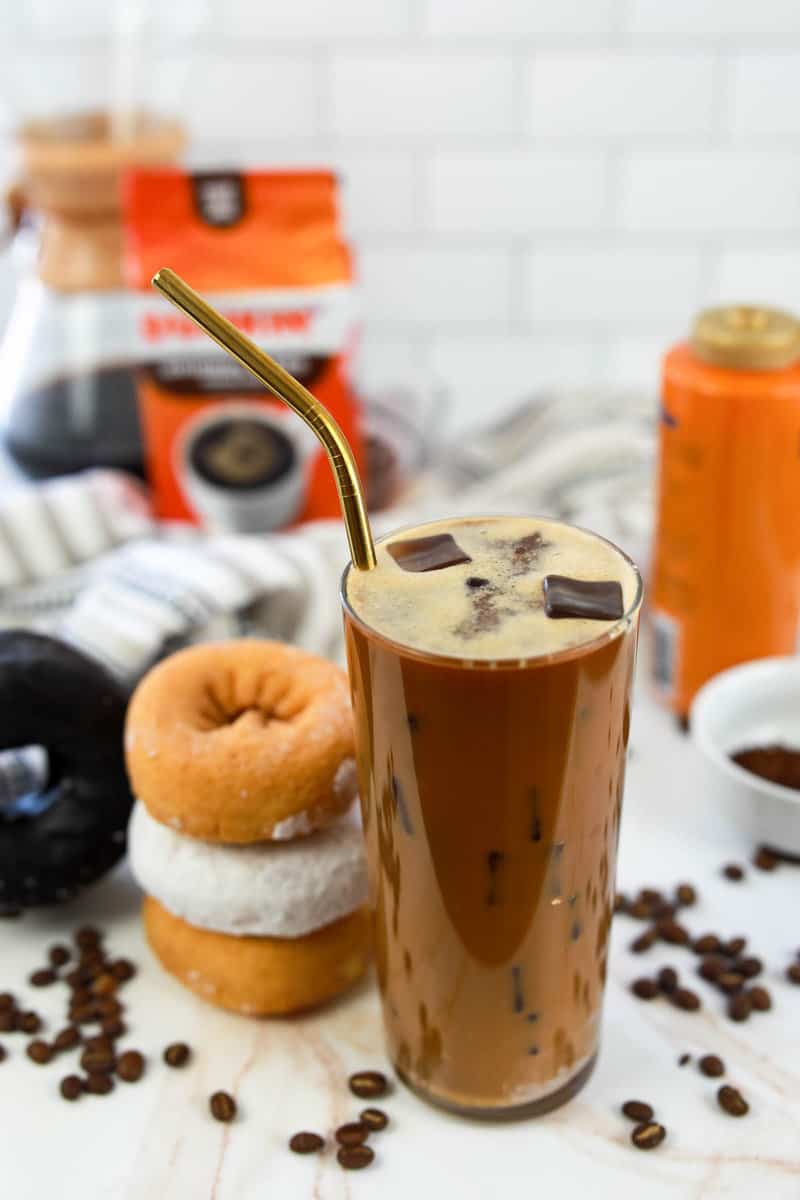 See our recommended coffee products to make coffee-house quality drinks at home.
Love Dunkin Donuts? Try These Copycat Recipes!
Popular Iced Drinks
Check out more of my easy drink recipes and the best copycat fast food recipes on CopyKat!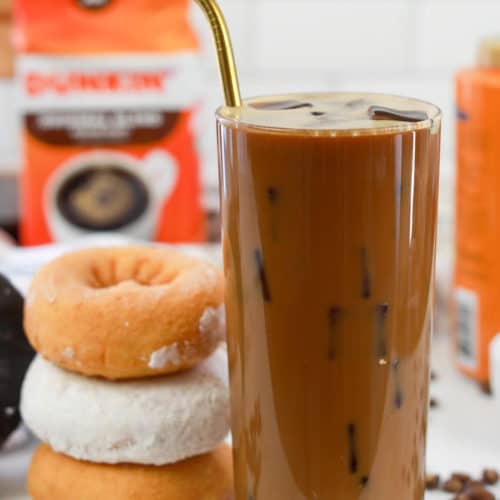 Ingredients
16

tablespoons

ground coffee

40

ounces

water

ice

1½

tablespoons

half and half

1½

tablespoons

caramel sauce
Instructions
Coffee Preparation
It is best to make the coffee a day in advance and refrigerate it overnight so it is cold.

Brew ground coffee with water as you normally would. You will be using 1½ times more coffee than you normally do. Dunkin does it this way so when you add ice it does not water the coffee down.

Allow the coffee to cool to room temperature.

Store it in an airtight container in the refrigerator.
Caramel Iced Coffee Preparation
Fill a 16-ounce glass ¾ full of ice.

Add half and half.

Add caramel sauce.

Fill the glass with cold coffee.

Use a bar spoon to mix the half and half and caramel sauce into the coffee.
Nutrition
Calories:
94
kcal
|
Carbohydrates:
18
g
|
Protein:
1
g
|
Fat:
3
g
|
Saturated Fat:
2
g
|
Polyunsaturated Fat:
0.1
g
|
Monounsaturated Fat:
1
g
|
Cholesterol:
8
mg
|
Sodium:
130
mg
|
Potassium:
50
mg
|
Sugar:
18
g
|
Vitamin A:
107
IU
|
Vitamin C:
0.3
mg
|
Calcium:
47
mg
|
Iron:
0.01
mg