Some years ago, I tried coffee in a new and quite magical way – by cold brewing. I have come to love this way of making coffee so much that I just have to share my cold brew coffee recipe with you.
This post contains affiliate links. As an Amazon Associate, I earn from qualifying purchases.
What is cold brew coffee?
Cold brew coffee is coffee that is ground and then allowed to steep in cold water in the refrigerator for about 10 to 12 hours. To use this cold brew store it in the refrigerator, then heat it to serve hot or use it to make spectacular iced coffee.
Why Cold Brew Coffee Tastes So Good
Cold brew coffee tastes really good because it is low in acid, which causes heartburn problems for some coffee drinkers.
Cold brew coffee is coffee as it is meant to be – smooth, and you can taste many of the nuances that coffee offers. It isn't sharp, it isn't bitter, and it doesn't have any off-flavors that you wish weren't there.
This cold brew coffee recipe never gets stale. When you brew hot coffee, the hot water extracts the oils from the coffee beans, which is where the acidity comes from. Since cold brew does not involve hot water, these oils aren't extracted, resulting in very low acidity.
Why You Should Try This DIY Cold Brew Coffee Recipe
If you buy cold brew coffee, it is extremely expensive. When I say expensive, prices range all over the place. I promise it won't cost you anywhere near as much to make this homemade cold brew coffee recipe.
I hope you will give this best cold brew coffee recipe a try. It's so easy to do, and it tastes so good. When your homemade cold brew coffee is done steeping, you strain it, dilute it to your desired potency, then sit back and enjoy! Bonus – it's always ready and waiting in the fridge.
CopyKat Tip: Start steeping your next batch of cold-brewed coffee as soon as your current supply is getting low. This way, you'll never run out!
What Equipment Do You Need to for Making Cold Brew Coffee?
You may wonder if you need a specialized cold brew coffee maker to make DIY cold brew coffee. In a nutshell, cold brew coffee is easy to make, and you don't need a fancy piece of coffee-making equipment (although such is available if you so choose). You can make cold brew at home in three ways:
Mason jar – simple, but you will need to run the coffee through a filter before serving. You can buy a mason jar with a fitted filter.
French press – if you have one, it's easy to use it to make cold press coffee.
Cold brew coffee maker – these range from inexpensive to high-end fancy coffee makers that do everything.
Cold Brew Coffee Ingredients
You only need two simple things to make cold brew:
Coarse Ground Coffee
Water
Best Coffee for Cold Brew
When making cold brew coffee, it's best to buy a slightly better quality coffee than you might drink every morning. A lighter roast works well to provide you with all of the wonderful fruity and chocolatey flavors coffee has to offer with no hint of harshness.
You will need to buy whole beans and grind them coarsely yourself with a coffee grinder or have them ground where you purchase the coffee. It's also best to use filtered water, especially if your local tap water has a lot of chlorine in it. Filtered water ensures that you get the purest coffee flavor possible.
Best Water for Cold Brew
It's best to use filtered water, especially if your local tap water has a lot of chlorine in it. Filtered water ensures that you get the purest coffee flavor possible.
How to Make Cold Brew Coffee
Pour cold, filtered water into a French press or Mason jar.
Add coarse ground coffee.
Refrigerate the gounds and water for at least 12 hours.
Separate the cold-brewed coffee from the grounds. If using a French press, press down the plunger and pour off the water. If you are using a Mason jar, pour the coffee through the coffee filter.
Serve over ice. Enjoy!
How to Serve Homemade Cold Brew Coffee
Serve it as iced coffee by simply pouring over ice.
Add cream, flavored creamer, or sweetener to give it some extra flavor. It is over-the-top good with French vanilla creamer.
Heat cold brew and serve it as hot coffee.
No matter how you serve it, you will love your cold brew coffee.
Does Cold Brew Have More Caffeine Than Hot Coffee?
Homemade cold press coffee initially has much more caffeine due to the ratio of coffee to water. A cold brew concentrate can have more than 500mg of caffeine per 8 ounces of liquid, while a hot brew of equal volume usually has about 100mg.
However, the cold brew mixture is not a ready-to-drink beverage like regular coffee. It needs to be diluted.
You can also use decaf coffee. Decaf still has the tiniest bit of caffeine in it, closer to the amount tea has.
What's the Difference Between Cold Brew and Iced Coffee?
The difference lies in the way the coffee is brewed. Iced coffee begins life as hot coffee made the regular way, while cold brew is actually brewed cold, as the name implies.
The most important difference is in the flavor. Cold brew coffee will have very little acidity and bitterness, and the flavor is smoother and a bit sweeter.
What Does Cold Brew Coffee Go With?
Your deliciously smooth and tasty cold brew coffee deserves a delicious accompaniment, such as:
How to Store Cold Brew Coffee
Making cold brew coffee is simple, and you should store it in your refrigerator. Regularly brewed coffee's flavor quality begins to degrade within 30 minutes after the water touches the ground coffee beans.
Cold brew keeps much better because it has higher flavor stability. Cold brews can last up to 10 days; although this coffee is so good, it probably won't be in your refrigerator for that long.
I hope you will give this cold brew coffee a try. It's so easy to do, and it tastes so good.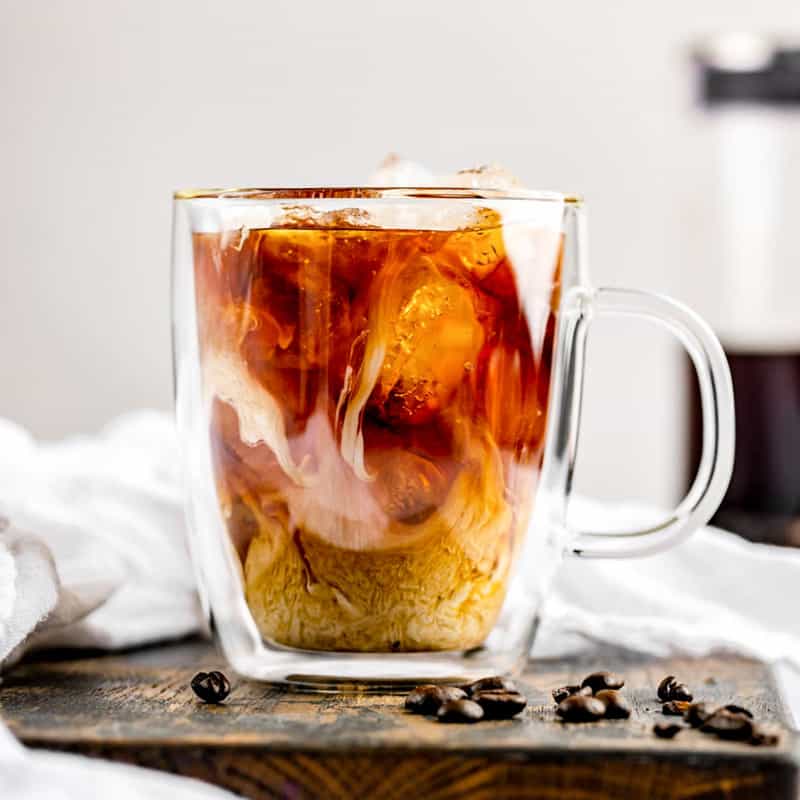 Love iced coffee drinks? Try these favorites!
Popular Cold Drinks
Check out more of my easy drink recipes and the best fast food drink recipes here on CopyKat!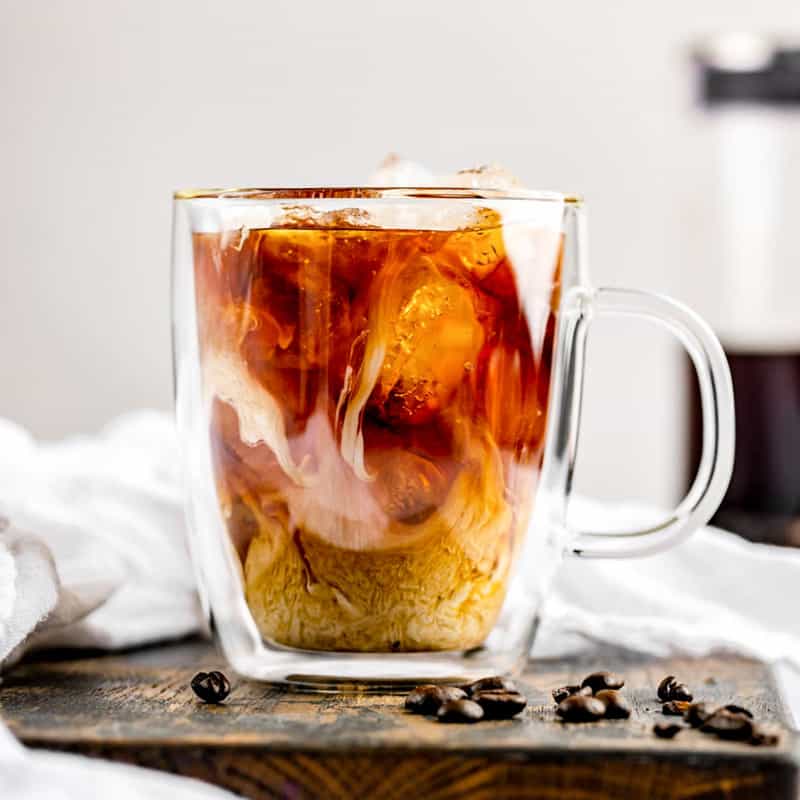 Ingredients
2

cups

water

1/2

cup

coarse ground coffee
Instructions
Pour the water into a French press or Mason jar and add the coarse ground coffee. Place a lid on the container and refrigerate for at least 12 hours.

After 12 hours, separate the coffee from the grounds. If using a French press, press down on the plunger. If using a Mason jar, pour the coffee through a coffee filter.

Store the cold brew coffee in an airtight container in the refrigerator.
Nutrition
Calories:
3
kcal
|
Carbohydrates:
1
g
|
Protein:
0
g
|
Fat:
0
g
|
Saturated Fat:
0
g
|
Cholesterol:
0
mg
|
Sodium:
5
mg
|
Sugar:
0
g
|
Calcium:
3
mg