Starbucks Kiwi Starfruit Refresher is a light and tasty drink with tropical fruit. This refreshing drink is perfect for hot summer days or anytime you are craving a fruity iced beverage. These Starbucks refreshers are perfect for when you want a light and refreshing drink! The star drink is ideal when you do not want an overly sweet drink!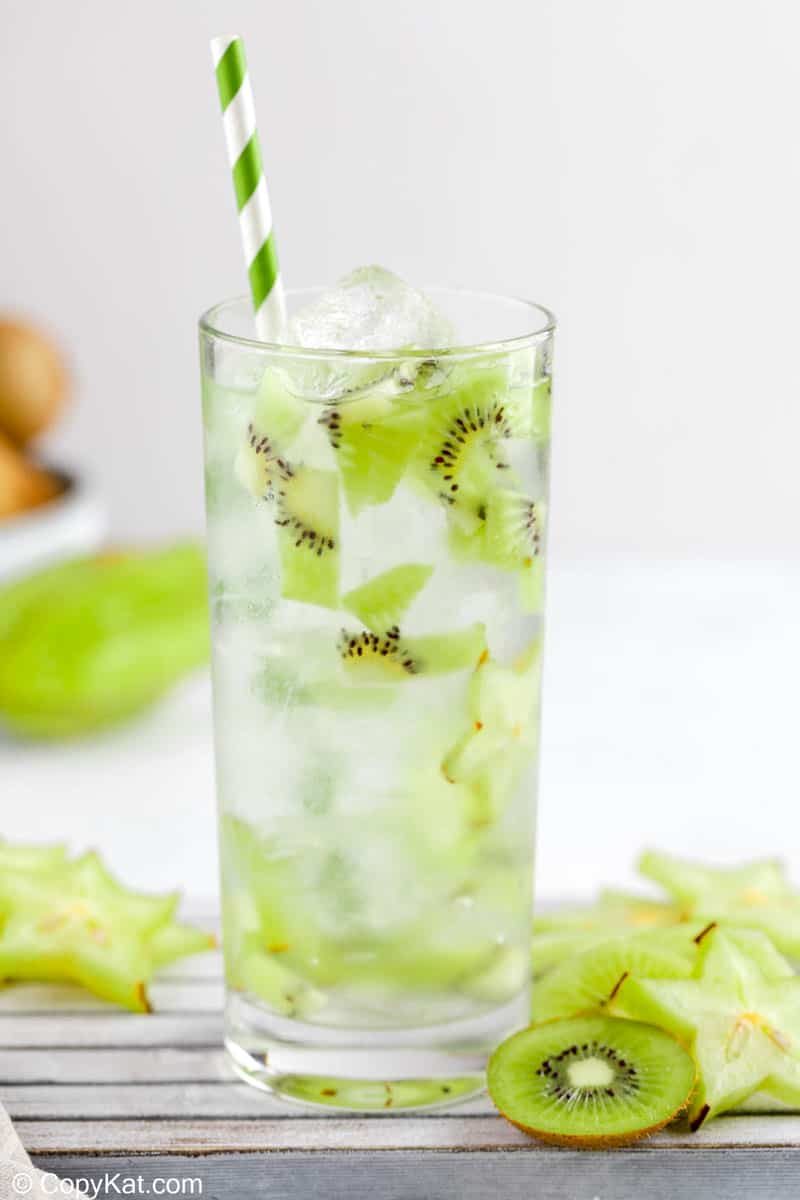 Refreshing Tropical Drink
You may not be able to slip away to a tropical island, but at least you can drink like you are on vacation with this recipe for a Kiwi Starfruit Refresher. The Kiwi Starfruit Refresher is one of Starbucks' most popular fruit-based drinks on their menu, and it is easy to make at home. This much-loved coffee giant makes so many fun and creative drinks!
The Kiwi Starfruit Starbucks Refresher is non-alcoholic and has just a touch of caffeine, so it's ideal for any time of the day.
What Does the Starbucks Kiwi Starfruit Refresher Taste Like?
This simple syrup perfectly balances the unsweetened white grape juice and fresh fruit for a slightly sour beverage that is not overly sweet.
What Makes This Recipe the Best Starbucks Kiwi Starfruit Refresher
This made-from-scratch copycat Kiwi Starfruit Refresher recipe is 100 percent natural and contains fresh fruit, unlike Starbucks' dried fruits. The tropical combination of starfruit and fresh kiwi make for a drink you will want to reach for again and again.
The fresh fruit provides an extra kick of tartness that is perfect for quenching your thirst on even the hottest days.
Starbucks Kiwi Starfruit Refresher Ingredients
Here's what's in Starbucks Kiwi Starfruit Refresher and what you will need to make this recipe:
Sugar
Water
Kiwi
Starfruit
White grape juice
Green coffee extract powder (optional)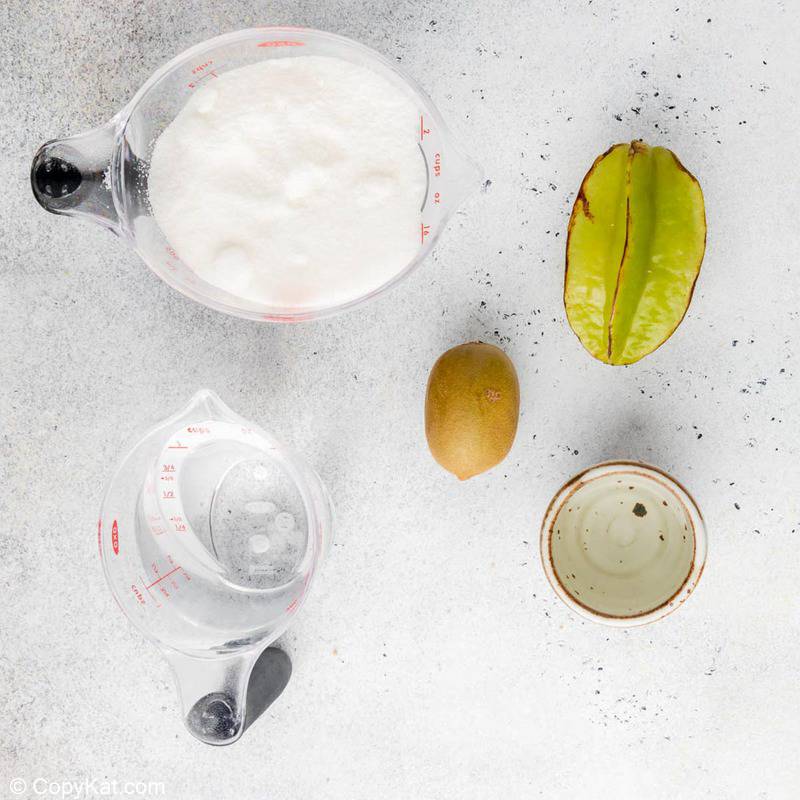 How to Make Starbucks Kiwi Starfruit Refresher
Before you make the refresher, you'll need to make some simple syrup that you'll use to sweeten it. This simple syrup is much thicker than store-bought and is better for sweetening beverages. This should be done in advance so it has time to cool in the fridge before using it.
How to Make Thick Simple Syrup
Combine the sugar and water in a small saucepan over medium-high heat.
Cook and stir slowly until the sugar dissolves entirely.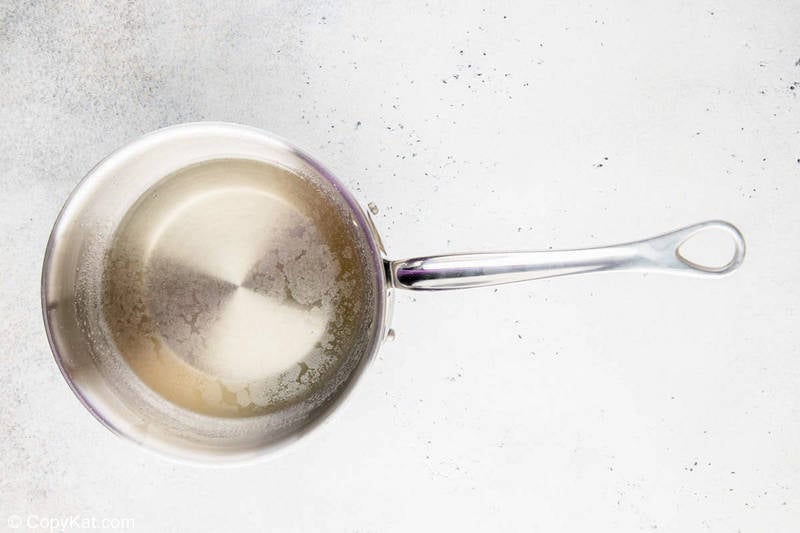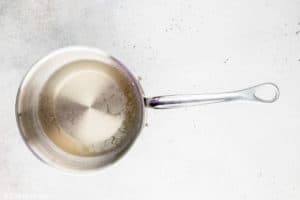 Cool the syrup to room temperature.
Pour the syrup into a squeeze bottle and place the bottle in the refrigerator.
Steps for Making a Starbucks Kiwi Starfruit Drink
Dice the starfruit and kiwi into small pieces. See the tip below if you don't know how to peel a starfruit.
In a cocktail shaker, combine a cup of ice, one ounce of simple syrup, the pieces of starfruit and kiwi, grape juice, green coffee extract powder (if using), and water.
Shake well and pour directly into the serving glass without straining.
Garnish with a starfruit wedge if desired.
Alternate Recipe Steps
Using a cocktail shaker creates a foamy head on the drink, but it's OK to stir the ingredients together in a serving glass if you don't have one. If so, here are the steps:
Place ice, simple syrup, kiwi, starfruit, white grape juice, green coffee powder (if using), and water in a glass.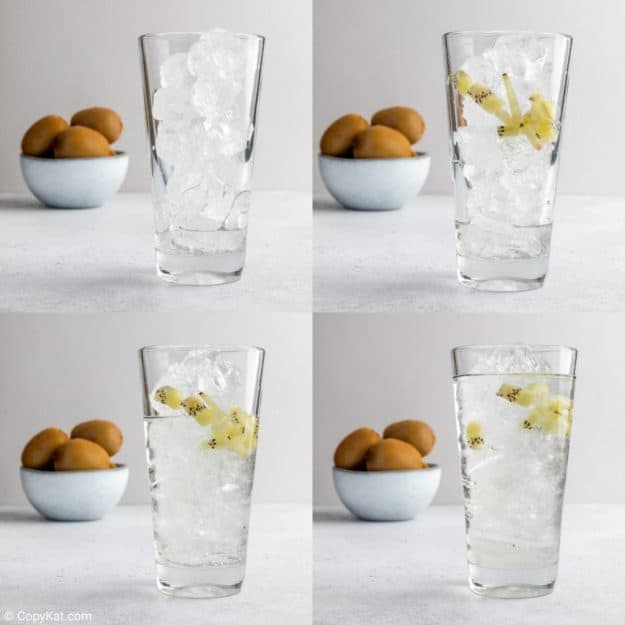 Stir and enjoy!
Garnish with a starfruit wedge if desired.
CopyKat Tip: The simplest method to peel a starfruit is to cut off both ends, then cut across the fruit into star-shaped slices. Use your fingers to peel off the skin from each piece before dicing.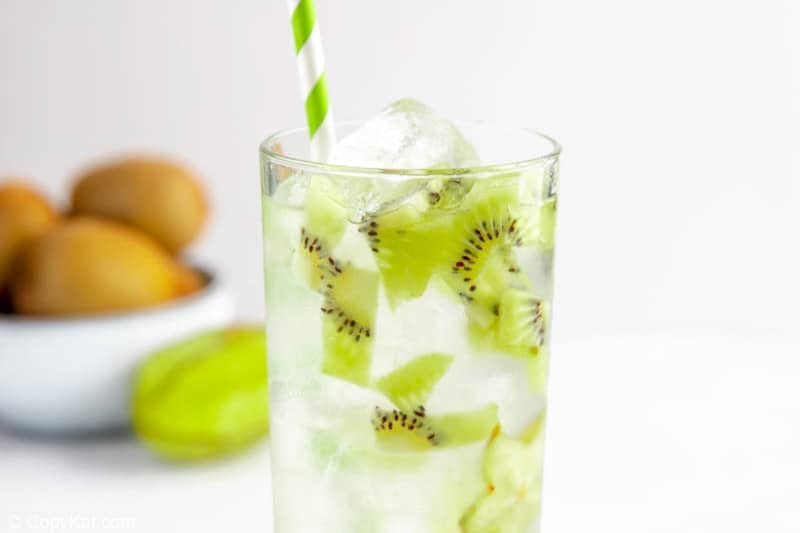 About this Copycat Recipe
My preference is to make this drink without the green coffee extract. I feel like the natural flavors of the white grape juice, and other fruits overpower the flavor you get from the green coffee extract. Green coffee extract is pretty expensive, I have purchased small bags of it for about 20 dollars, and you will have 100s of servings from the bag.
Starbucks starts with a kiwi starfruit refreshers base complete with natural green coffee flavor. They also use freeze-dried kiwi and star fruit. For this recipe, you will use fresh real kiwi and starfruit. I think the combination of ingredients in this recipe makes a good substitute. The real kiwi pieces really add a lot to the flavor of this drink.
Substitutions and Variations
The simple syrup used in this recipe contains double the typical amount of sugar, resulting in a drink that's much more syrupy and closer to what you get at Starbucks. If you prefer, you can use standard simple syrup, but don't expect the same consistency and sweetness.
Green coffee extract powder is optional, but it adds a pleasant, earthy taste to this drink. You may find green coffee extract in the vitamin aisle in the supermarket since many people use it as a health supplement.
If you don't plan on using the extract, you can get a similar flavor by substituting an equal amount of brewed green tea (matcha is excellent) for the water in the recipe.
Kiwis are delicious, but they're not cheap, and they tend to go bad quickly. Sliced strawberries with a few drops of lime juice make a good substitution for kiwis.
Some people like to add an ounce or two of sweetened coconut milk, oat milk, or even almond milk for additional flavor.
How to Store Simple Syrup
Put the simple syrup in a sealed container and keep it in the fridge for up to a month.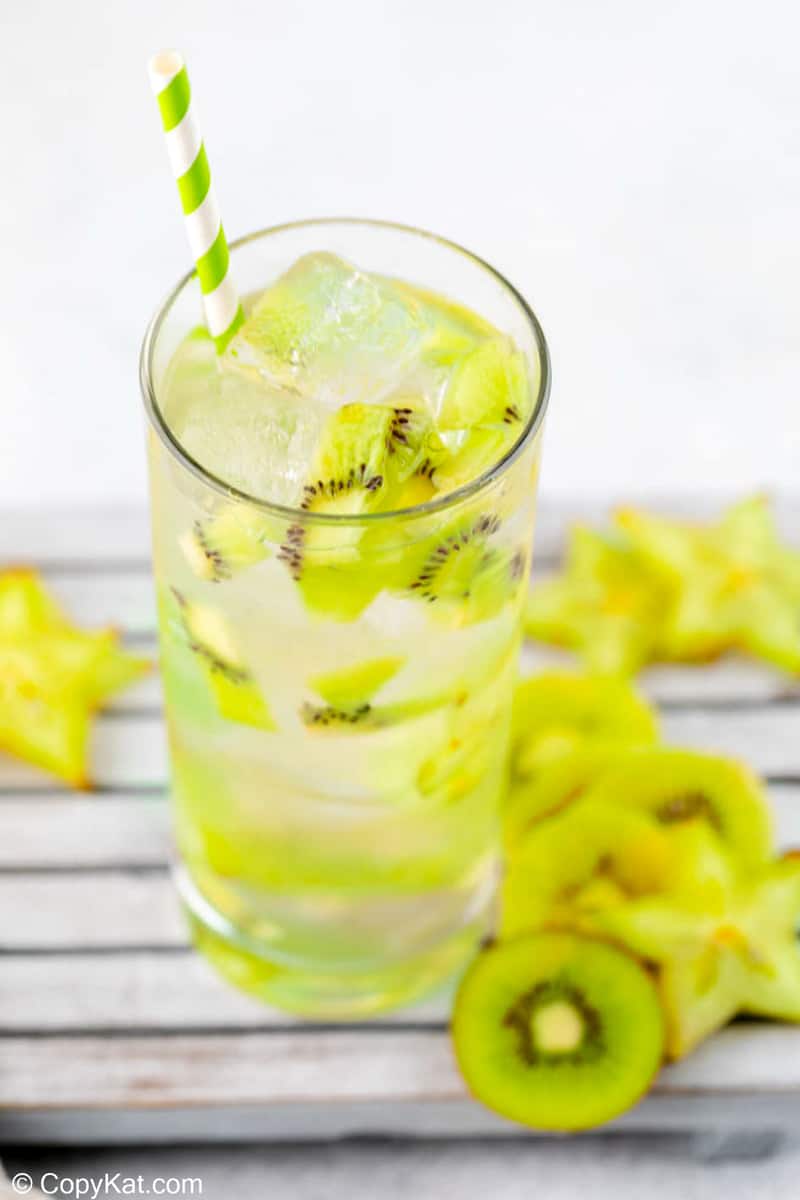 More Copycat Starbucks Drink Recipes
Favorite Refreshing Fast Food Drinks
Check out more of my easy drink recipes and the best Starbucks recipes here on CopyKat!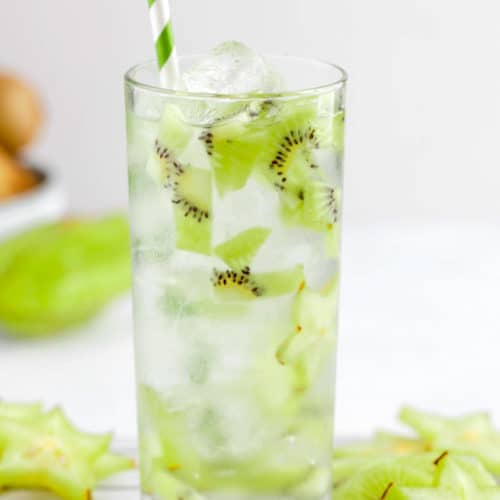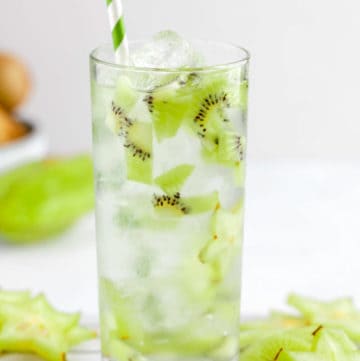 Ingredients
Drink
1

cup

ice

1

ounce

thick simple syrup

1

tablespoon

finely diced starfruit

1

tablespoon

finely diced kiwi

4

ounces

white grape juice

3

ounces

of water

1/4

teaspoon

green coffee extract
Instructions
Thick Simple Syrup
Place sugar and water in a small saucepan over high heat.

Bring to a boil and stir well. Boil until all the sugar is dissolved.

Remove the syrup from the heat and cool it to room temperature.

Pour the syrup into a squeeze bottle and place the bottle in the refrigerator.
Drink
Place ice, 1 ounce simple syrup, kiwi, starfruit, grape juice, and water in a shaker.

Shake vigorously to combine.

Pour the drink into a glass.
Nutrition
Calories:
158
kcal
|
Carbohydrates:
41
g
|
Protein:
1
g
|
Fat:
1
g
|
Saturated Fat:
1
g
|
Polyunsaturated Fat:
1
g
|
Monounsaturated Fat:
1
g
|
Sodium:
39
mg
|
Potassium:
202
mg
|
Fiber:
1
g
|
Sugar:
39
g
|
Vitamin A:
31
IU
|
Vitamin C:
19
mg
|
Calcium:
31
mg
|
Iron:
1
mg