Homemade Lemonade is a refreshing drink that is delightfully sweet and tart. It's easy to make with lemons and so much better than using a store-bought mix.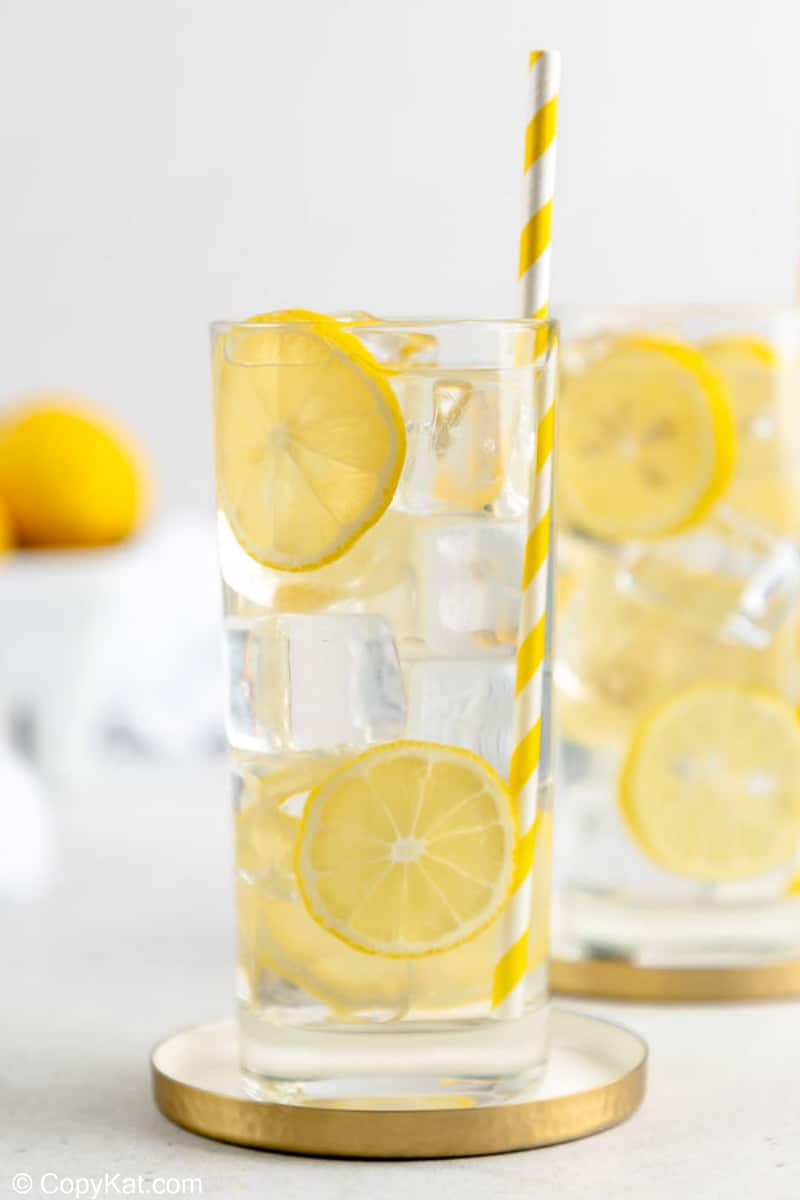 Best Homemade Lemonade
I've received a lot of requests for a good homemade lemonade recipe. I did a lot of research on how do you make homemade lemonade, and I think I found one of the perfect ways. When you taste this lemonade, you will realize that it's the only homemade lemonade recipe you will ever need.
If you are familiar with Chick Fil A lemonade, you know that it tastes pretty good. Well, this recipe is not trying to copy Chick Fil A – it's a homemade lemonade that tastes even better!
Lemonade Memories
My first memory of lemonade goes back to a Hot Dog On a Stick restaurant in Pueblo, Colorado. That's where I first tried a corndog and fresh lemonade. To be honest, corn dogs have never tasted so good. Well, except those made in a Wal Mart parking lot, but they don't do that anymore.
What's So Special About Fresh Lemonade?
Fresh lemonade is nothing short of amazing. It is tart, it is sweet, and it quenches your thirst. You know some restaurants charge a lot for lemonade, but it's so easy and inexpensive to make at home. All you need for the best lemonade are fresh lemons, water, sugar, and salt.
Lemonade with Lemon Juice
Fresh lemonade is nothing short of amazing. It is tart, it is sweet, it quenches your thirst. It truly is amazing. You know some restaurants charge so much for lemonade, and it is so easy to make.
I did a lot of research on lemonade, and I think I found one of the perfect ways to make it. I hope you will enjoy my lemonade recipe.
Of course, I want you to share the best homemade lemonade with your loved ones and become the hero of your family.
Recipe Ingredients
This is what you need to make lemonade:
Fresh lemon juice
Water
Sugar
Salt
Use Fresh Lemons
Yes, this homemade lemonade recipe is made with fresh lemons. Believe me, you will not get the same quality of lemonade by using a package mix.
Bottled lemon juice may contain preservatives.
How to Choose the Best Lemons to Make Lemonade
For making homemade lemonade, the lemons you find in the supermarket are just fine. Choose lemons that feel heavy for their size and are a bit soft and tender to the touch (not squishy). This indicates that the fruit is already juicy. Typically, Meyer lemons have the most juice.
5 Tips for Juicing Your Lemons
Store Your Lemons in the Freezer – When you freeze citrus, the juice will expand and break down the cell walls. This makes a thawed lemon softer and easier to squeeze.
Microwave Your Lemons – Lemons kept in the fridge may harden up and be more difficult to squeeze by hand. Popping your fruit into the microwave for 20 seconds warms the fruit, making it softer and easier to squeeze. If your lemons are frozen, microwave them for 30 seconds.
Roll the Lemons With a Rolling Pin – Press and roll each lemon back and forth. The rolling loosens and breaks down some of the citrus membranes, making the outside a little more pliable and easier to squeeze.
Stab Your Lemons With a Knife – It sounds a little psycho, but stabbing your citrus all over with a knife before squeezing may help you extract more juice. When you halve a stabbed lemon, the formerly impenetrable peel will be full of holes that juice can escape through.
Cut Your Lemons Lengthwise – If you avoid the more messy route and keep the peel intact, cutting across the length of the lemon rather than the width will yield slightly more juice.
Use a Tool for Juicing Your Lemons
Citrus Reamer – A citrus reamer is a great tool for juicing lemons.
Mixer Beater – Repurpose the beater from your handheld mixer. Press the head of the beater into a lemon and then twist the beater back and forth to bring out the juice.
Juice Press – A juice press has one function: to juice citrus fruit. The best way to use it is to cut your lemon in half length-wise, and then cut off the pointed ends. With less skin and pulp, you'll be able to press out more juice.
CopyKat Tip: When inserting a lemon into a juicer, the skin side should be facing you and the cut side should be facing down toward the holes. From there, just press, and voilà! Fresh lemon juice!
Strain the Lemons
Whichever method you use to extract juice from your lemons, you need to strain your juice to get rid of seeds and pulp. Use a mesh strainer to remove the pulp.
How to Make the Best Lemonade
Start out making simple syrup. We are going to combine sugar, and cold water, and a pinch of salt (it's my secret ingredient) in a pan, and we are going to boil the simple syrup.
Let the mixture boil for a couple of minutes until the sugar dissolves. Then let the simple syrup cool to room temperature.
Add the lemon juice to the cooled simple syrup and stir it until combined.
Pour the lemonade over ice. You can also add some lemon slices for a pretty garnish.
Recipe Notes
By boiling the water, sugar, and salt together, you get a nice mixture where the sugar doesn't separate back out. The salt helps bring out the flavor of the lemons just a bit.
Now, if you watch my how to make lemonade video, you'll see that my simple syrup looks a little dark. That's because I like to use organic cane sugar, which isn't pristine white. While sugar may not be the healthiest of ingredients, it makes me feel better if it is organic.
My recipe makes 1 serving in a large glass that holds a little over 2 cups of liquid and ice. The recipe card says it is for 2 servings since most tall glasses hold 12 ounces.
If you want to make a large batch, you can multiply the ingredients by how many people you have. The recipe card has a slider you can use to increase the servings. Just click on the number by servings and the slider will pop up.
Recipe Variations
Adjusting for Sweet vs. Sour – depending on how much sweetness you like your lemonade, adjust the sugar accordingly.
Sugar-free Lemonade – I do not have a version of this recipe for alternative sweeteners. If you want, take a look at this homemade lemonade with sugar-free simple syrup recipe.
Lemonade is so versatile that you can add a variety of things to it to enhance its flavor. A general rule of thumb: if it's a flavor you already love, then it won't be too hard to find a way to incorporate it into your lemonade. Here are few ideas:
And, check out these 10 lemonade ideas – raspberry lemonade, sparkling kiwi lemonade, pomegranate lemonade, pineapple mango lemonade, matcha lemonade, pumpkin spice lemonade, berry lemonade popsicles, pink lemonade sorbet, etc.
How long does homemade lemonade last?
Homemade lemonade is best when it is served fresh, right after making it.
Do not leave lemonade out in the open at room temperature – it must be stored in your fridge in an airtight container. It will last for five to seven days in your refrigerator. It will also last for two to three months in the freezer.
Tip: If your lemonade still has ice that hasn't melted, you might want to remove it before storing so it doesn't dilute the concentration.
You can freeze fresh-squeezed homemade lemonade for up to 3 months. It is best to thaw it in the refrigerator which can take a day or two.
I hope you enjoy this easy homemade lemonade recipe, I know once you give this recipe a try, you won't purchase prepared lemonade any longer. If you like you can garnish your lemonade with some fresh mint, and serve your lemonade to your guests and family.
Favorite Refreshing Drink Recipes
Check out more of my easy drink recipes and the best summer recipes here on CopyKat!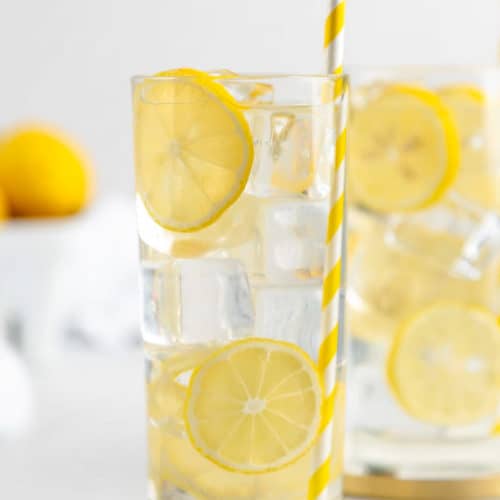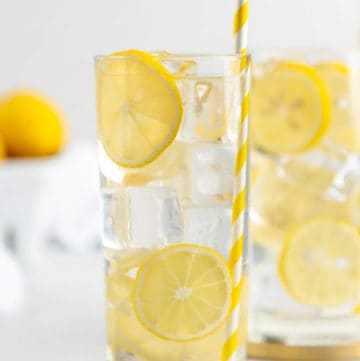 Ingredients
2

cups

water

1/2

cup

sugar

1/4

teaspoon

salt

2 2/3

tablespoons

lemon juice
Instructions
In a small saucepan, combine water, sugar, and salt. Bring mixture to a boil and boil it for 2 minutes. Remove the pan from the heat and allow the simple syrup to cool to room temperature.

Add lemon juice and mix well.

Pour over ice. Garnish with lemon slices if desired.
Nutrition
Calories:
197
kcal
|
Carbohydrates:
51
g
|
Protein:
0
g
|
Fat:
0
g
|
Saturated Fat:
0
g
|
Cholesterol:
0
mg
|
Sodium:
303
mg
|
Sugar:
50
g
|
Vitamin C:
7.8
mg
|
Calcium:
8
mg