Chick-Fil-A Frosted Lemonade is totally irresistible. If you have never tried one, and you are near a Chick-Fil-A, I would highly recommend that you go there and try one. Or stay at home and make this lemon milkshake with two simple ingredients.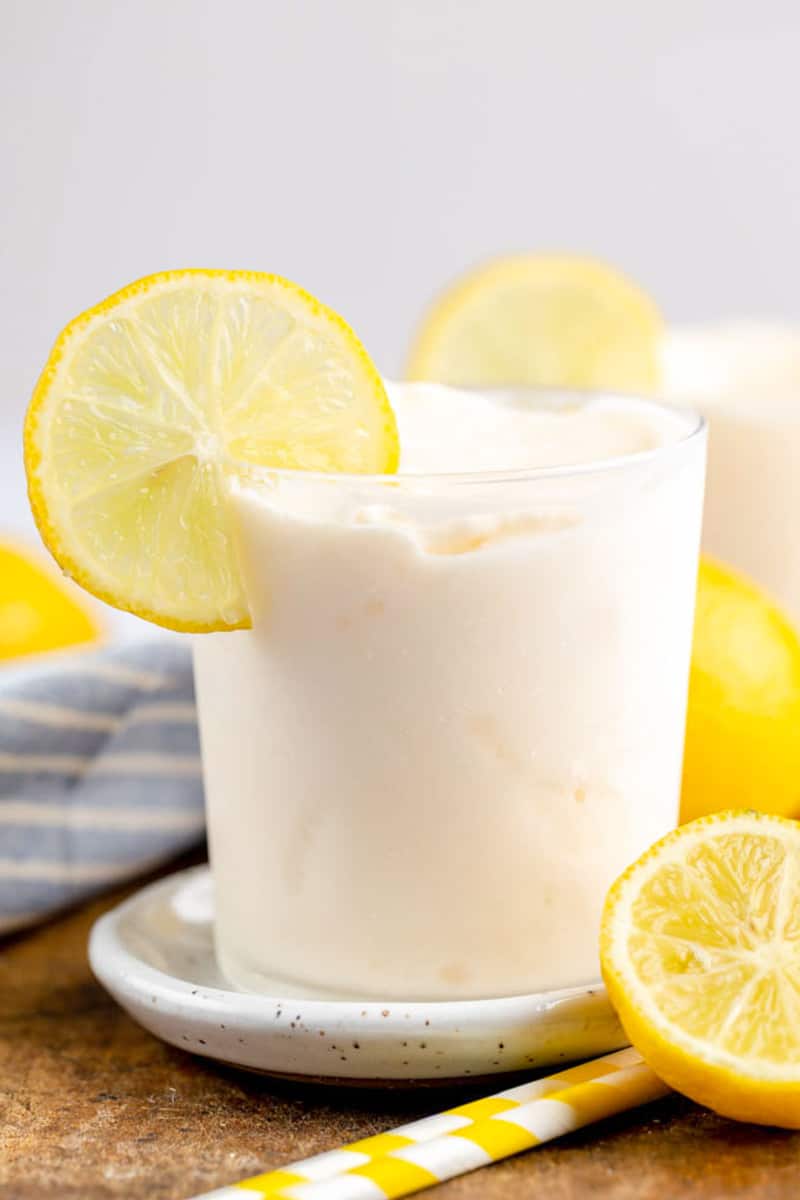 This post contains affiliate links. As an Amazon Associate, I earn from qualifying purchases.
Frozen Lemonade Chick Fil A
Chick-Fil-A is one of America's favorite drive-thru restaurants. The chicken sandwich is amazing, the waffle fries are very unique, and the Chick-Fil-A Sauce is one of the best sauces ever.
Their food is always fresh, and hot. Which easily separates it from many restaurant drive-thrus.
Chick Fil A Frozen Lemonade Milkshake
If you have never tried one of their Frosted Lemonades are you are certainly missing out. It combines the perfect amount of sweetness and tartness that has ever hit your mouth.
This creamy lemon shake will knock out that hankering you have for something sweet. And it will cool you down on a hot summer day.
What Makes This Frosted Lemonade Recipe the Best
Many recipes online have you making this drink with homemade lemonade (which I adore), and vanilla ice cream. For me, this recipe is a little better when you use frozen lemonade concentrate.
Why the lemonade concentrate? I think you can get a thicker shake without sacrificing any of the lemonade flavors that make this frosted lemonade stand out from the crowd.
If you are like me, I love Chick-Fil-A, but sometimes I want them on a Sunday when they are closed. So I have to make a copycat recipe if I want some Chick-Fil-A right now.
Chick Fil A Frosted Lemonade Recipe Ingredients
All you need are two simple ingredients:
Vanilla ice cream
Frozen lemonade concentrate
If you want to get fancy, you could garnish it with some whipped cream and lemon slices.
So go get a couple of things from the store and soon you'll be sipping on a tasty lemon milkshake.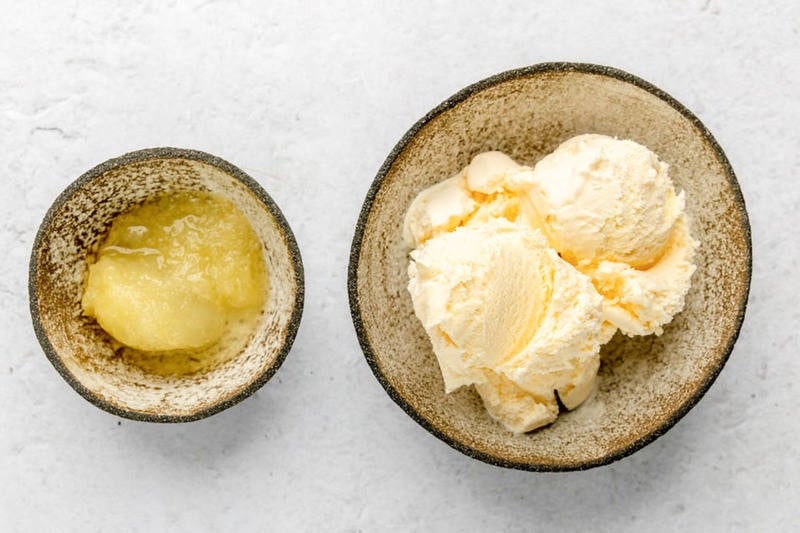 How to Make Chick Fil A Frosted Lemonade
Place both ingredients in a blender.
Blend until smooth and creamy.
Pour it into a glass. Garnish with lemon slices if desired.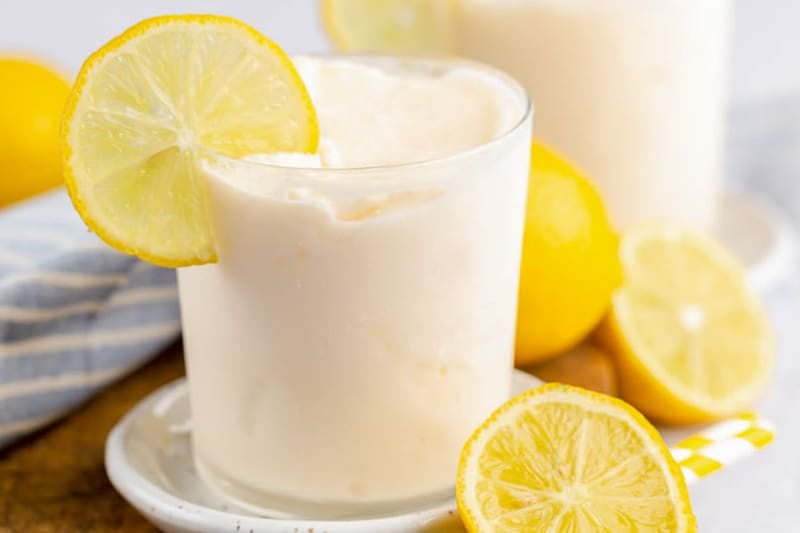 Recipe Note
If you want it to have a more lemony flavor, just increase the amount of lemonade concentrate.
Frosted Lemonade Recipe Video
Frozen Lemonade FAQ
What is Frosted Lemonade?
Frosted Lemonade is a frozen lemonade milkshake, they are made with lemonade and ice cream.
How to Store Frosted Lemonade
You should store a frosted lemonade in the freezer in an air-tight container, since lemonade contains water, this drink will freeze solid. Ideally, these should be drunk after they are made.
Does a frosted lemonade have ice cream in it?
Yes, a frosted lemonade contains ice cream, they usually contain vanilla ice cream.
Is the frosted lemonade at Chick-Fil-A seasonal?
Yes, this is one of their seasonal ice cream shakes. Other seasonal favorites include peppermint milkshakes and a peach milkshake.
Love fun drinks? Make these famous copycat drink recipes!
Popular Fast Food Copycat Recipes
Check out more of my easy drink recipes and the best fast food recipes here on CopyKat!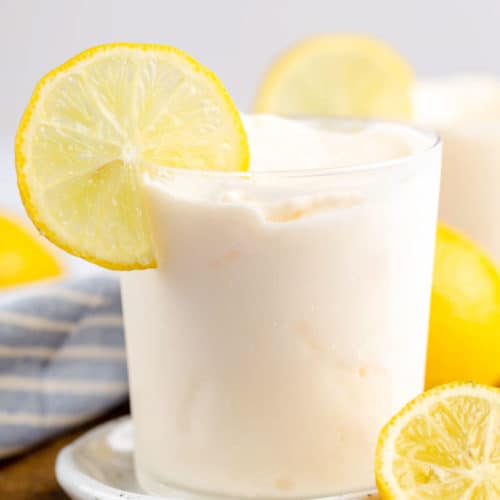 Ingredients
2

cups

vanilla ice cream

2

tablespoons

frozen lemonade concentrate
Instructions
Place both ingredients in a blender.

Blend until smooth and creamy.

Pour the mixture into a glass and enjoy!
Nutrition
Calories:
604
kcal
|
Carbohydrates:
77
g
|
Protein:
9
g
|
Fat:
29
g
|
Saturated Fat:
17
g
|
Cholesterol:
116
mg
|
Sodium:
213
mg
|
Potassium:
525
mg
|
Fiber:
1
g
|
Sugar:
69
g
|
Vitamin A:
1110
IU
|
Vitamin C:
5.4
mg
|
Calcium:
338
mg
|
Iron:
0.2
mg