The Taco Bell Chicken Quesadilla is made with succulent chicken, melted cheese, and a creamy jalapeño sauce wrapped in a warm, soft tortilla. The combination of savory white meat chicken, tangy sauce, and melted cheese creates a delicious and addictive taste you love. Why not make these copycat Taco Bell quesadillas at home?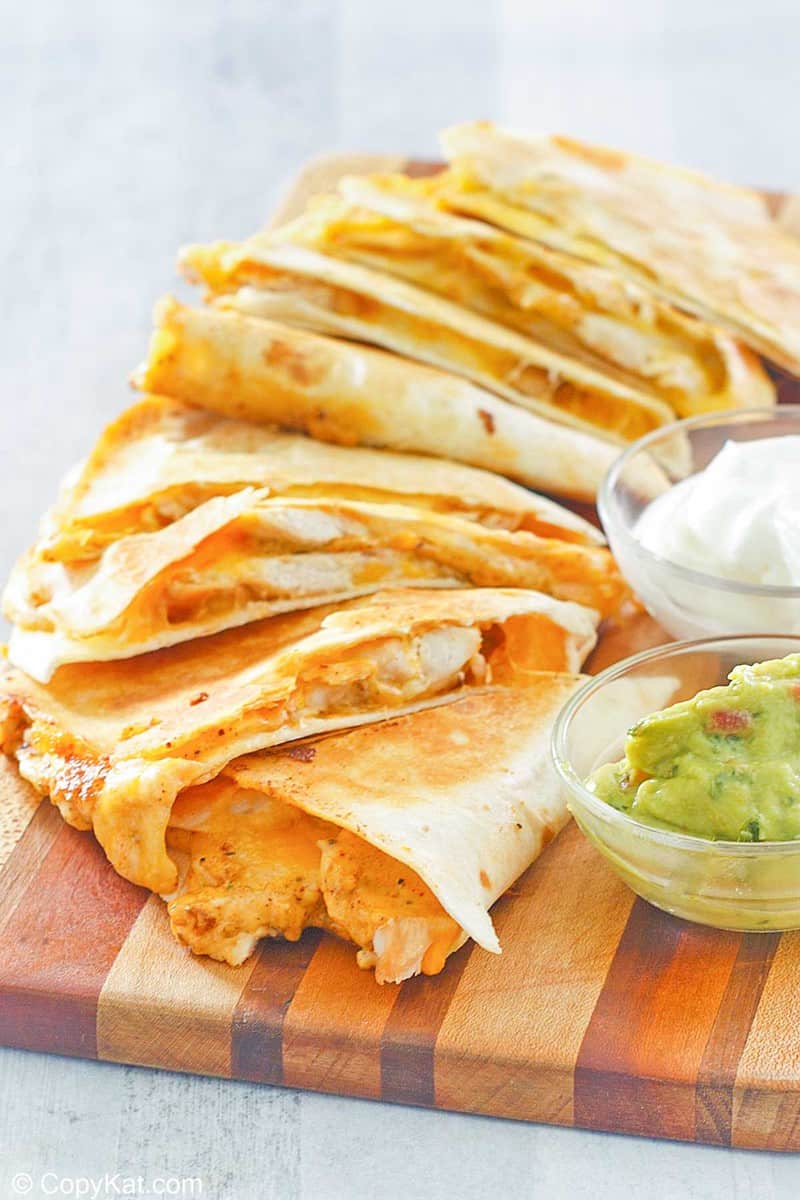 This post contains affiliate links. As an Amazon Associate, I earn from qualifying purchases.
What makes the Taco Bell Chicken Quesadilla so irresistible?
The warm and soft tortilla, the savory chicken, the melty cheese, and the tangy sauce all come together to create a delicious and satisfying bite. Perfect for a snack or the main part of your meal one bite makes this Mexican-inspired treat hard to put down.
No one does Tex-Mex like Taco Bell
Taco Bell is known for its many creative takes on Mexican-inspired food. While Nacho Fries and Mexican Pizza taste great, they aren't exactly what you would call traditional. But sometimes, you just crave a classic, and it doesn't get much more old-school than chicken quesadillas.
Cheap and easy to prepare, this Taco Bell Chicken Quesadilla recipe is endlessly customizable by adding your favorite toppings. Prepare the chicken and sauce beforehand to keep in the fridge, and you can whip up a hearty snack or meal in minutes.
The real secret to this quesadilla is the Taco Bell Quesadilla Sauce
There are many chicken quesadilla recipes out there, but it is the Taco Bell-inspired sauce that makes this one so delicious. The sour cream and seasonings bring plenty of spice to the dish, while the mayonnaise helps tame the heat. Feel free to use your favorite taco seasoning instead of the one listed in the recipe. This quesadilla sauce makes a good dip for french fries and turns a standard hamburger into a Mexican burger.
Check out more of our Taco Bell recipes on YouTube!
Taco Bell Chicken Quesadilla Recipe Ingredients
Here's a list of what you need:
Sour cream
Mayonnaise
McCormick taco seasoning
McCormick chili powder
Tabasco green jalapeno sauce
Large burrito size flour tortillas
Boneless skinless chicken breasts
Vegetable oil
Shredded Monterey jack cheese
Shredded Cheddar cheese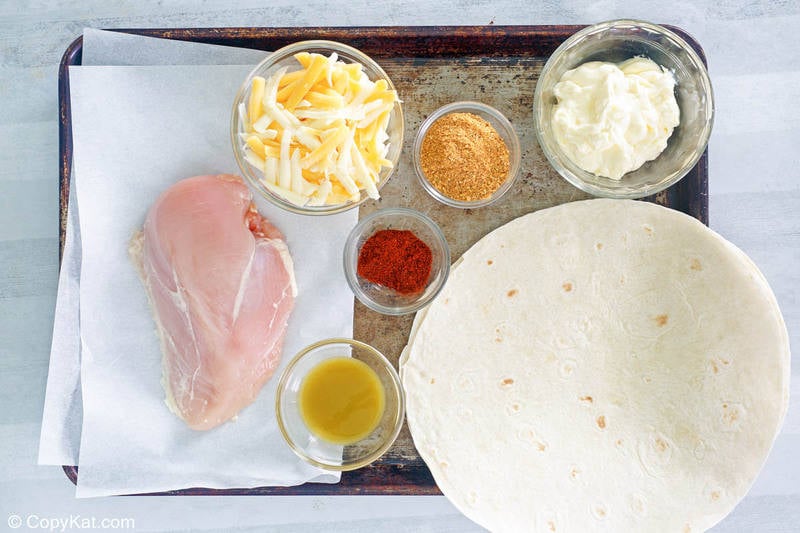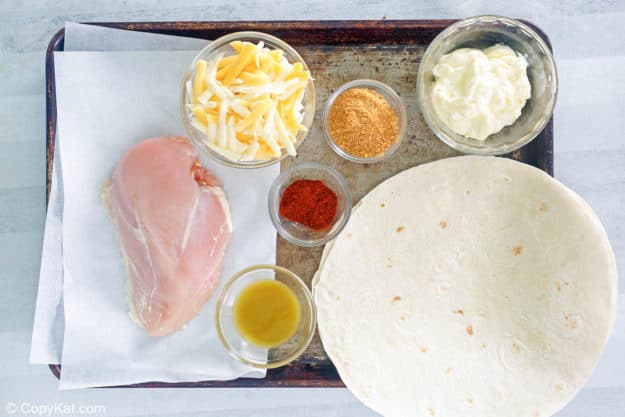 How to Make Taco Bell Chicken Quesadilla
Place sour cream, mayo, taco seasoning, chili powder, and green sauce in a bowl. Stir until thoroughly combined.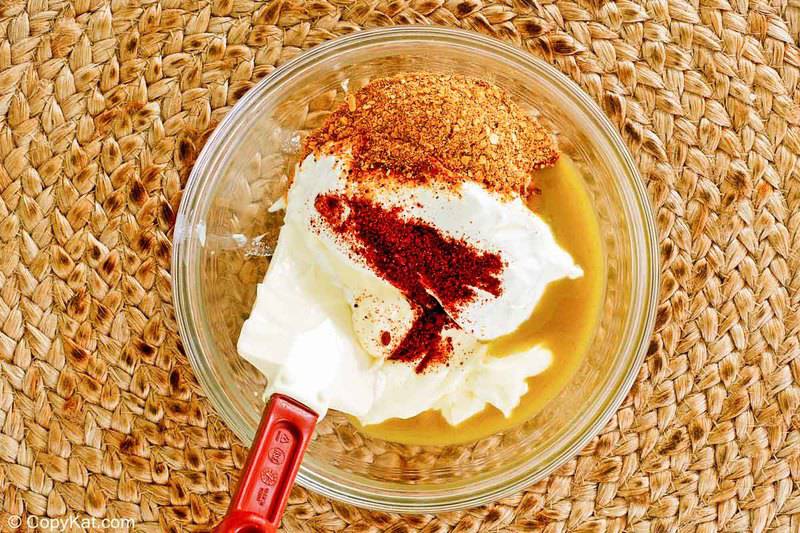 Slice chicken breasts in half horizontally and pound them out thin.
Sprinkle salt and pepper on the chicken breasts.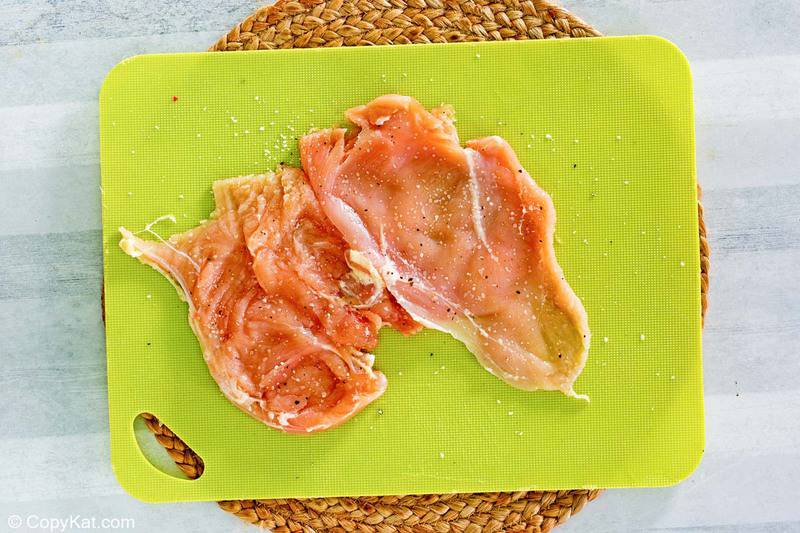 Cook the chicken with vegetable oil in a skillet over medium-high heat until both sides have browned.
Slice the chicken into thin strips.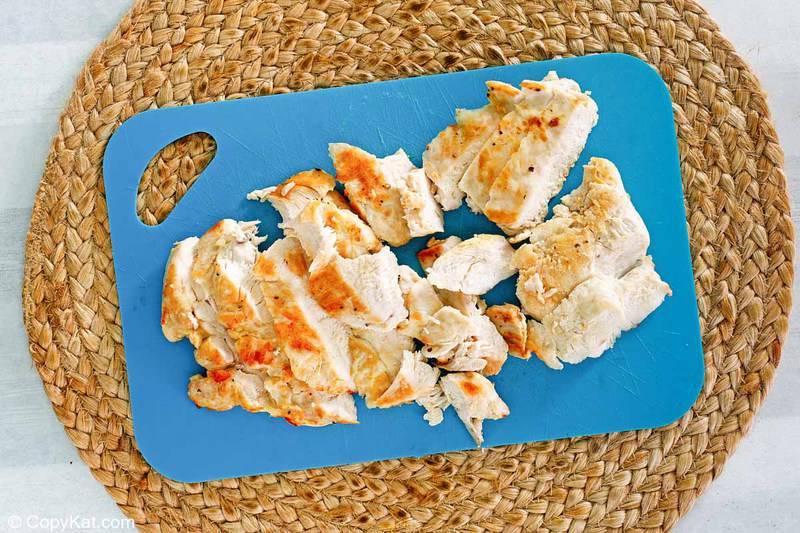 Place a tortilla in a large skillet over medium-high heat.
Top with Monterey jack cheese, cheddar cheese, and chicken strips.
Drizzle some sauce over the cheese and chicken.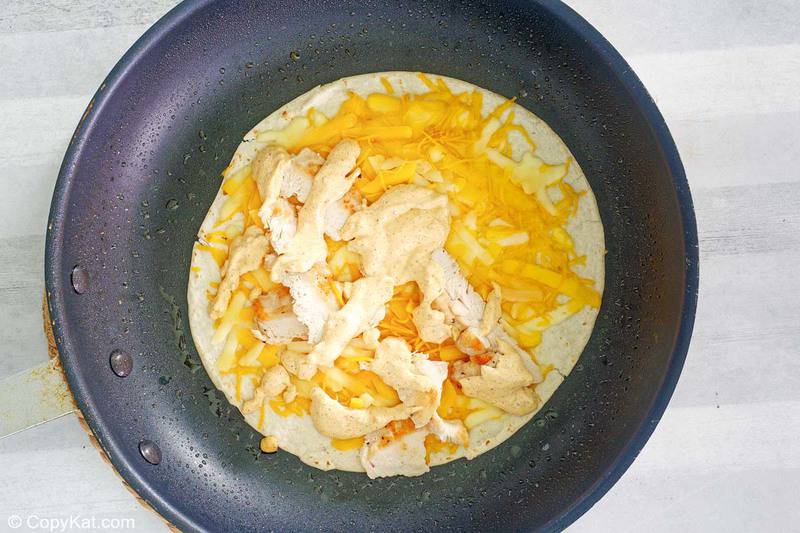 Once the cheese blend begins to melt, fold over the tortilla and flip over. Make sure both sides are browned.
Use a knife or pizza cutter to cut the quesadilla into pieces.
Serve these delicious chicken quesadillas with additional creamy jalapeño sauce. You can also serve them with sour cream, guacamole, salsa, chopped tomatoes, Pico de Gallo, onions, or pickled jalapeños if desired.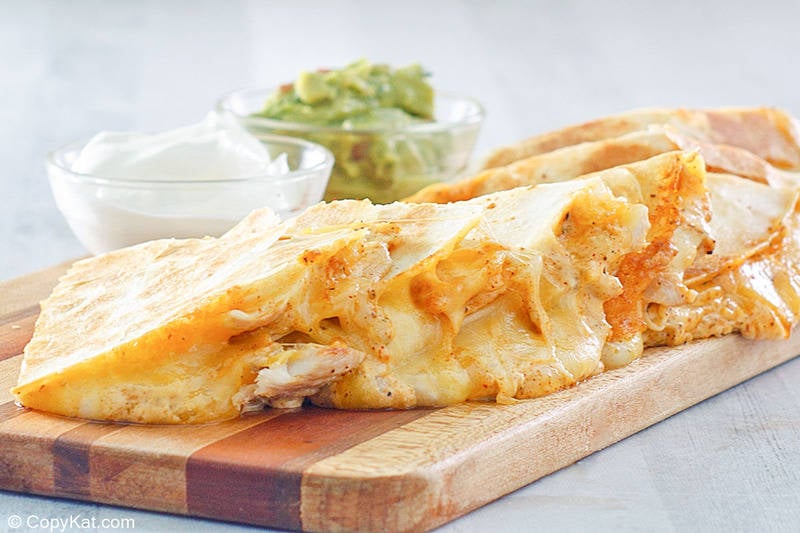 Make this Taco Bell Chicken Quesadilla Your Own
Quesadillas are very versatile. Try using the same recipe and replace the chicken with ground beef or even thinly sliced steak! If someone in your house home doesn't eat meat, use vegetarian refried beans instead.
Serve these quesadillas with separate bowls of toppings and let people add whatever they want. Don't forget to include salsa, sour cream, sliced avocados, guacamole, shredded lettuce, and different heat levels of hot sauces.
Tips for Making and Serving Taco Bell Chicken Quesadilla
For a bit of variety, substitute wraps for tortillas. Although they are meant for making sandwiches, wraps are just flavored tortillas and come in various flavors such as sun-dried tomato and spinach.
Save time and use store-bought rotisserie chicken. You can often pick up cooked chickens for half price just before the grocery store closes.
Store any extra quesadilla sauce for about three days in a covered bowl in the fridge.
Tips on Cooking Quesadillas
You don't have to have a lot of experience in the kitchen to make quesadillas. It is an excellent dish to teach someone new to cooking to make on his own. As straightforward as it is, a few tricks can significantly improve the results.
Use the largest flour tortilla that will fit flatly on the bottom of your skillet. Most manufacturers label them as burrito-sized.
Start with a hot cooking surface. Heat a dry skillet or, better yet, a griddle pan over medium-high heat. Don't put the tortilla on a cold cooking surface, or it is much more likely to stick.
Cook the tortilla on the first side until it slides easily, then turn it over. Add an eighth of the shredded mixed cheese to the bottom half of the tortilla. Lay the chicken on top of the cheese and cover it with another eighth of the cheese mixture.
Let the cheese starts to melt before spreading the quesadilla sauce on the top portion of the tortilla and folding it over the melting cheese and chicken.
Flip over and cook until slightly browned on both sides.
Recipe variations
This chicken quesadilla is true perfection, but if you desire, you could make a couple of alternations to this recipe you could:
Swap the chicken for seasoned ground beef
Swap the chicken for grilled peppers and onions if you want a vegetarian version
You could swap the cheese blend for Cheddar if you desire.
How can you store leftover quesadillas?
If you have leftover quesadillas, you can store them in the refrigerator for up to three to four days. To store the quesadillas, place them in an airtight container or wrap them tightly in plastic wrap or aluminum foil. It is important to wrap them tightly to prevent air from getting in and causing the quesadillas to dry out or become stale.
What is the best way to reheat a quesadilla?
When you are ready to reheat the quesadillas, you can heat them up in a microwave or in a pan on the stovetop. If you choose to use a microwave, heat them in short intervals, and if you use the stovetop, be sure to heat them over low heat to prevent burning or overcooking. It is important to note that leftover quesadillas may not taste as good as fresh ones, so you may need to adjust the seasoning or add some fresh toppings to enhance the flavor.
Did you love this copycat Taco Bell Quesadilla recipe? Try these copycat recipes!
Popular Mexican Recipes
Check out more of my easy Mexican food recipes and the best Taco Bell recipes here on CopyKat!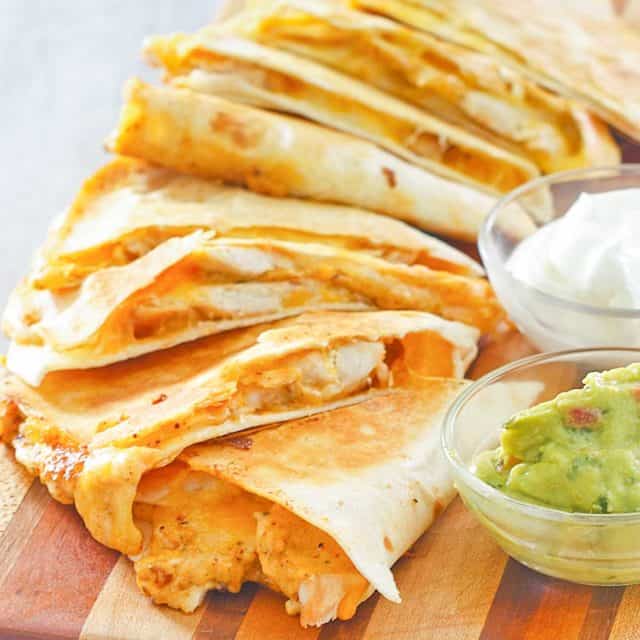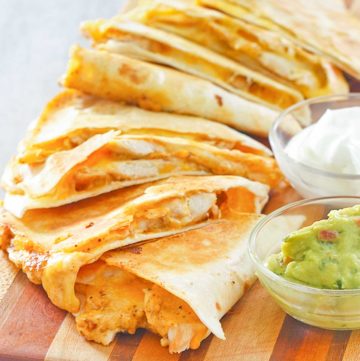 Ingredients
Creamy Jalapeno Sauce
1/2

cup

sour cream

1/2

cup

mayonnaise

4

teaspoons

McCormick Taco Seasoning

1/2

tablespoon

McCormick chili powder

1

tablespoon

Tabasco green jalapeno sauce

you can use the liquid from pickle jalapenos, but it make take more than 1 tablespoon
Quesadillas
1

pound

boneless, skinless chicken breasts

2

teaspoons

extra virgin olive oil

4

10-inch flour tortillas

1 1/2

cups

shredded Monterey jack cheese

1 1/2

cups

shredded Cheddar cheese
Instructions
Creamy Jalapeno Sauce
Place sour cream, mayonnaise, taco seasoning, chili powder, and green sauce in a bowl. Stir until thoroughly combined.
Grilled Chicken Breaat
Prepare chicken breasts by slicing in half horizontally. Place cut chicken breasts between two sheets of plastic wrap and gently pound to between 1/4 inch and 3/8 inch thick.

Season chicken breasts on both sides with a small amount of salt and ground black pepper.

Add two teaspoons of olive oil to a medium sized skillet. Heat the skillet to medium-high.

Place chicken breasts into the pan, cook for 4 to 5 minutes, then flip the chicken over and cook for another 4 to 5 minutes or until the chicken is completely cooked through.

Place chicken on a cutting board, let it rest for 5 minutes before slicing it into 1/4 inch slices.
Quesadillas
Wipeout the skillet with a paper towel. Add 1 10 inch tortilla so the skillet. Turn the temperature to medium-low.

Drizzle about 1 1/2 tablespoons of the creamy jalapeno sauce over the tortilla.

Add 1/3 cup of Monterey jack cheese, and add 1/3 cup of Cheddar cheese. Add enough pieces of chicken to cover the toritlla. Add the top tortilla.

Cook for 2 to 3 minutes before flipping, then cook on the other side for an additional minute or two.

Cut the quesadilla into thirds before serving.
Notes
You will have additional sauce left over. Store in an air-tight container. The sauce will last for up to 1 month. 
Nutrition
Calories:
812
kcal
|
Carbohydrates:
17
g
|
Protein:
48
g
|
Fat:
60
g
|
Saturated Fat:
25
g
|
Trans Fat:
1
g
|
Cholesterol:
181
mg
|
Sodium:
1028
mg
|
Potassium:
587
mg
|
Fiber:
1
g
|
Sugar:
3
g
|
Vitamin A:
982
IU
|
Vitamin C:
2
mg
|
Calcium:
693
mg
|
Iron:
2
mg