Chili's Awesome Blossom was an amazing menu item at Chilis. While this tasty onion appetizer was retired from the menu, you can still enjoy this favorite flavor.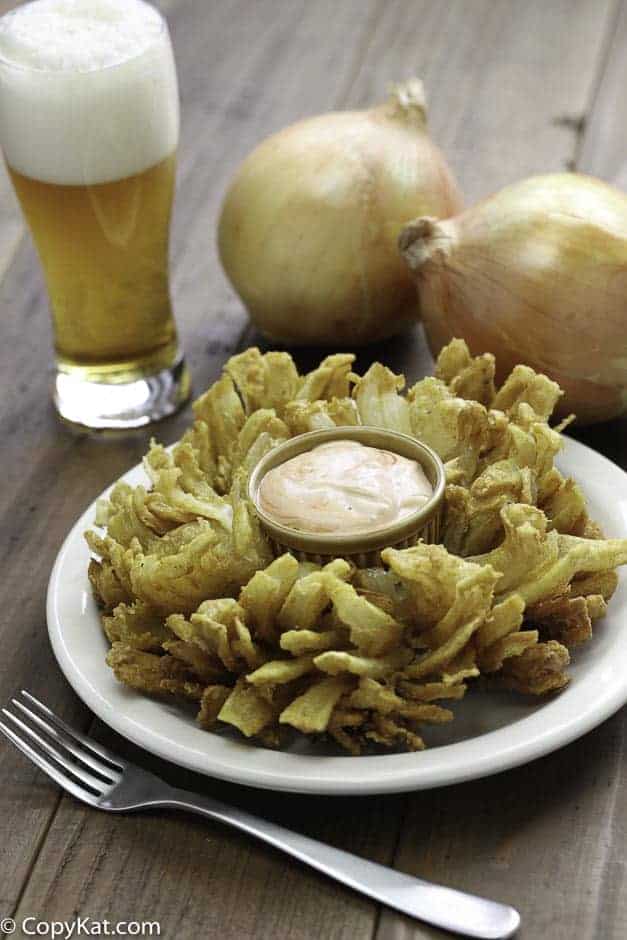 Chili's is known for its flavorful food and our version of Chili's Awesome Blossom. Everyone loves Chilis Chilis Chicken Crispers Copycat Recipe and their Copycat Chili's Salsa.
The Awesome Blossom is aptly named. It's a "bloom" of breaded and deep-fried onion. You pick apart the petals of the onion "flower" and dip them in a delicious sauce with just the right amount of spice.
The Awesome Blossom has been replaced at Chili's by Awesome Blossom Petals. Awesome Blossom Petals is a very similar (but lighter) version of the full blooming onion but is served up as separate petals. It consists of a light, flaky breading, hints of seasoned salt, sweetness from the onion, and a ranch-style dressing dip.
About Chili's Restaurant
Chili's began life in 1975 as a quirky little hamburger joint in a building that used to be a Dallas post office. Now there are over 1,600 Chili's spread over 33 countries. If you go to a Chili's, you'll find an upside-down photo. This is a tradition that goes back to the first Chili's when a photo was accidentally hung the wrong way. Now the upside-down picture means that good luck will follow Chili's diners. So go there for good fortune and the delicious food! If you are interested in reading more about the history of Chili's, click here.
Modifications to the recipe you can make
If you are Counting Calories – in this copycat Awesome Blossom Recipe:
Substitute Greek yogurt for the sour cream.
Find a brand of ketchup that has low sugar content. Of course, if you make your own ketchup, you have complete control over how much sugar goes into it. See below for a sugar-free ketchup recipe.
How to Store Onions
Never store your onions with your potatoes because the gases they emit will make the other vegetable spoil faster. For more information about storing fruits and vegetables, click here.
Let me know how much fun you've had making an Awesome Blossom out of an onion. Here are some more links for you to try including a couple of copykat onion recipes.
Outback Steakhouse Bloomin Onion
Outback Steakhouse Dipping Sauce for Bloomin Onion
Can't get enough copycat recipes? Why not Unlock your favorite Cracker Barrel recipes?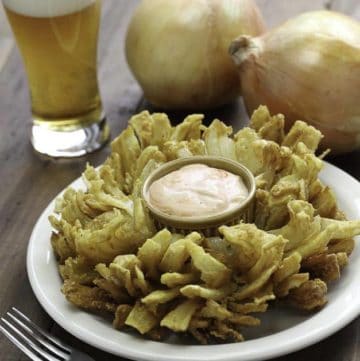 Chili's Awesome Blossom
Make this copykat Chili's Awesome Blossom recipe at home for your family. Super easy and super delicious! It may be messy to eat, but it's impossible to mess up the recipe.
Print
Pin
Rate
Add to Collection
Go to Collections
Ingredients
1

Prepared

Onion

2 1/2

cups

flour

2

teaspoons

McCormick Seasoned Salt

1/2

teaspoon

ground black pepper

1/4

teaspoon

garlic powder

1

cup

buttermilk
Dipping Sauce
1/2

cup

sour cream

2

tablespoons

ketchup

1/2

teaspoon

McCormick Seasoned Salt

1/8

teaspoon

Red Pepper

1 1/2

teaspoons

horseradish

1/4

teaspoon

paprika

vegetable oil

for frying
Instructions
Mix all dry ingredients together.


Slice the onion like a blossom by cutting the top 1/4 off (the top has the stem). Then peel the onion but make sure the root stays intact. Carefully slice the onion from the top down stopping about 1/2" above the root (take care not to cut through the root). Slice the rest of the onion like a pie into several servings.


Soak the onion in ice-cold water for about 30 minutes until the onion's petals open up and bloom.

Drain the onion and dip in flour mixture and dust thoroughly. Dip onion then in buttermilk and back in flour mixture.

Place in hot oil and fry until golden. Oil should cover onion. When done drain well and place on plate and cut center out of onion so the petals may easily be removed.

Sauce Directions
Mix all together and serve in the middle of the onion blossom. Garnish with paprika and just a dash of red pepper.
Nutrition
Calories:
201
kcal
|
Carbohydrates:
26
g
|
Protein:
4
g
|
Fat:
8
g
|
Saturated Fat:
6
g
|
Cholesterol:
8
mg
|
Sodium:
65
mg
|
Potassium:
91
mg
|
Fiber:
0
g
|
Sugar:
2
g
|
Vitamin A:
150
IU
|
Vitamin C:
0.4
mg
|
Calcium:
45
mg
|
Iron:
1.5
mg