If you have never tried Joes Crab Shack Coconut Shrimp you are really missing out. Crispy, deep-fried shrimp that is battered with coconut makes a delightful tropical flavor you do not want to miss.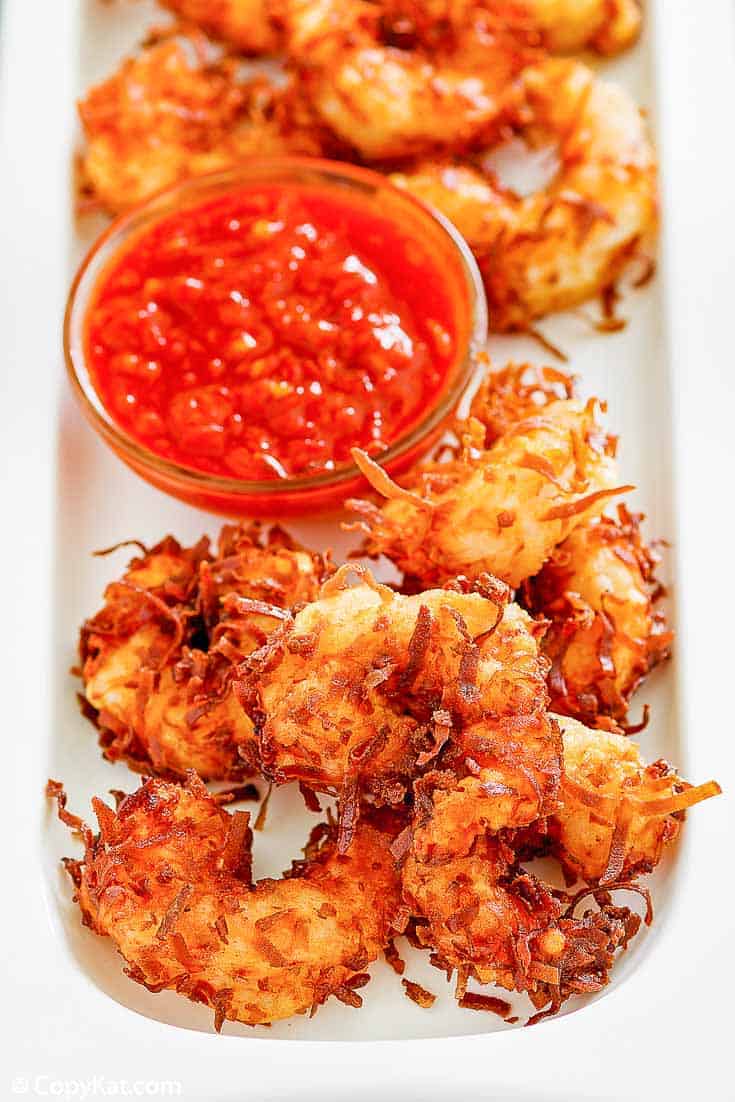 This post contains affiliate links. As an Amazon Associate, I earn from qualifying purchases.
Joes Crab Shack Coconut Shrimp
Coconut and shrimp may seem like an odd combination, but after having it for the first time, you'll wonder why you didn't try it before. The crispy coconut flakes add sweetness to the shrimp which is then lessened by a tart dipping sauce creating a dish that much more complex than any regular fried shrimp. 
Some of the best coconut fried shrimp around is served up at Joe's Crab Shack restaurants. With over 40 locations, there is probably one near you, but there is is no need to wait until your next visit to enjoy this delicious dish. When you are craving shrimp, give this recipe for coconut shrimp a go!
The Ameican Tiki Bar and the Coconut Fried Shrimp Connection
After prohibition, Americans were ready to party, and Ernest Gantt, known better as Donn Beach, was just the man to throw them one. 
After completing a stint as a deckhand aboard of a cargo ship that took him throughout the Far East and the South Pacific Islands, Gantt returned to the States to open Don's Beachcomber in Hollywood in 1933. Exploiting the then American fascination with Polynesian culture, he created an extremely popular psudeo-Polynesian themed bar. Four years later Gantt moved his operation across the street and opened the storied Don The Beachcomber where he solidified the Tiki culture as a mash-up of kitschy decorations, strong drinks, and Cantonese cooking using tropical ingredients. It wasn't long before Coconut Fried Shrimp became one of the restaurant's most popular dishes. 
How to Fry Up Shrimp Without Fear
The secret to making delicious Coconut Fried Shrimp is learning how to deep fry like a pro. Many cook are intimidated when it comes to deep frying, but it is easy.
Choose the right equipment. A dedicated deep fryer is ideal, but you can still make great fried shrimp without one. You want to use a deep, wide pan with a thick bottom to help retain the heat, fondue pan or wok works well. You will also need a thermometer you can clip on to the side of the pan and a spider, a wide metal skimmer, or a metal slotted spoon.
Use the right amount of oil and the proper oil temperature. Too little oil won't cook the shrimp evenly and too much may cause splattering. Two inches of oil usually work the best. Heat the oil slowly to 350 degrees.
Fry in batches. Adding the shrimp to the hot oil lowers its temperature and may lead to greasy food. Depending on the size of your pan and shrimp avoid frying more than four or five at a time. 
Know when to remove the shrimp from the oil. When they reach a golden brown color remove from the oil and place on a paper towel-lined cooling rack. It should take about four minutes.
Repeat. Make sure to wait until the oil returns to 350 degrees and that there is at least 2 inches of oil in the pan before starting another batch.
Tips for Serving This Coconut Shrimp Recipe
Make it a meal. Joe's Crab Shack serves up their coconut fried shrimp with coleslaw, fries, hush puppies, and a killer pineapple sauce. Why not recreate it at home?
Get your drink on. A Zombie or Mai Tai goes great with Coconut Shrimp, so whip up a few drinks!
Do you love our recipes? Follow us on Instagram for the latest!
Ingredients
Here's what you need to make coconut shrimp:
Raw shrimp
Eggs
Cornstarch
Flaked coconut
Sugar
Salt
Flour
Vegetable oil for frying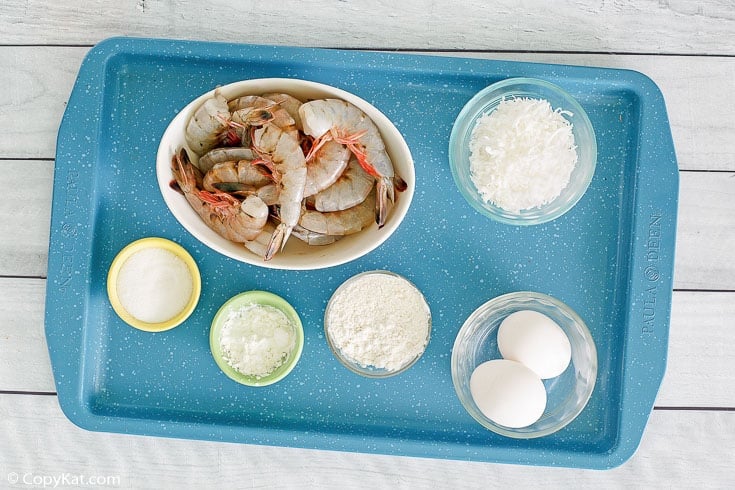 How to Make Joes Crab Shack Coconut Shrimp
Mix eggs with water and set aside.
Set 1/3 cup of the cornstarch aside for dusting shrimp.
Mix together the remaining cornstarch, coconut, sugar, salt, and flour.
Dust shrimp with cornstarch.
Dip dusted shrimp in eggs.
Roll shrimp in coconut mixture to coat with breading.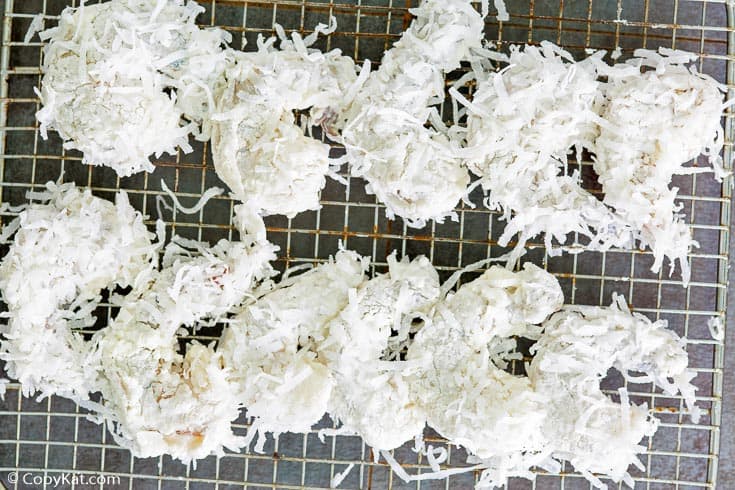 Heat oil for deep frying.
Carefully place shrimp in hot oil and fry until done.
Serve immediately with classic cocktail sauce or sweet and fruity pineapple plum sauce.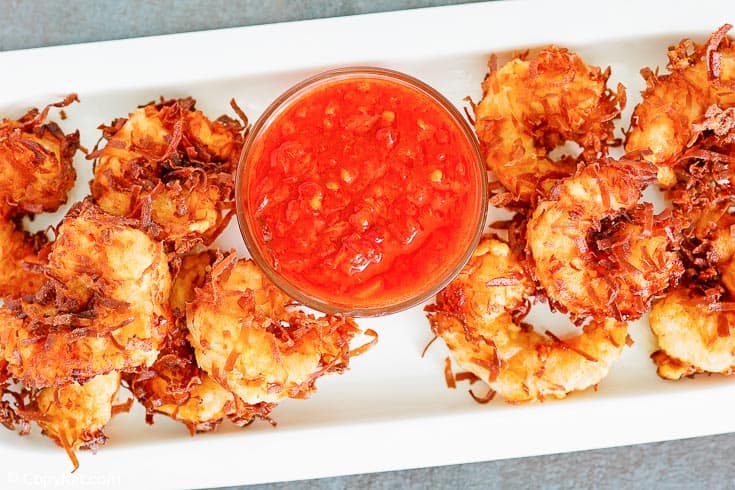 Love Shrimp? Try these recipes
Best Fried Fish Recipes
Be sure to check out more of my easy fish recipes and the best restaurant copycat recipes.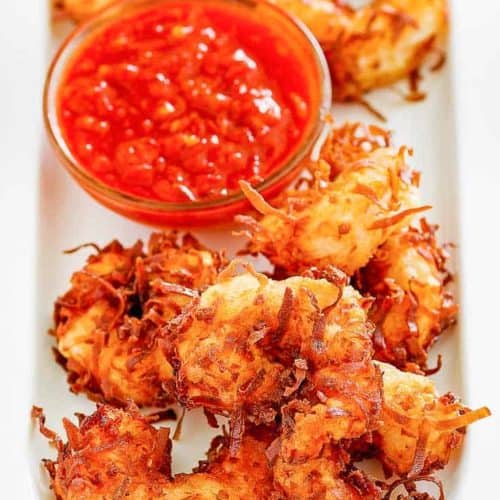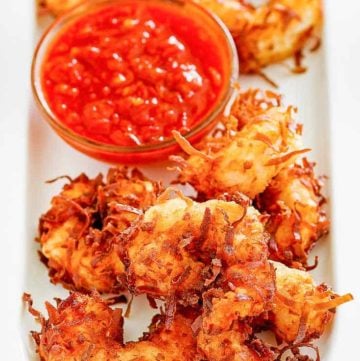 Ingredients
1

pound

shrimp

2

eggs

1/4

cup

water

2/3

cup

cornstarch

7

ounces

flaked coconut

small flake if possible

1

tablespoon

sugar

1

teaspoon

salt

1/2

cup

Flour

vegetable oil

for frying
Instructions
Mix eggs and water. Set aside. Place 1/3 cup of cornstarch in a bowl for a dusting of shrimp. Mix in separate bowl 1/3 cup (the remainder) of cornstarch, coconut, sugar, salt, and flour, blend well.

Heat oil for deep frying. Roll shrimp in cornstarch, then in egg wash, then finally roll in coconut mixture. Place shrimp in hot oil and deep fry until done. Shrimp will float to the top when cooked.

Take care not to overcook shrimp. Serve with Joe's Crab Shack Pineapple dipping sauce or cocktail sauce. 
Notes
We have found the results to be slightly better when you process the coconut in a blender for a few seconds. It will grate up the coconut just a bit more.
Nutrition
Calories:
622
kcal
|
Carbohydrates:
46
g
|
Protein:
31
g
|
Fat:
35
g
|
Saturated Fat:
29
g
|
Cholesterol:
367
mg
|
Sodium:
1515
mg
|
Potassium:
407
mg
|
Fiber:
8
g
|
Sugar:
6
g
|
Vitamin A:
120
IU
|
Vitamin C:
5.4
mg
|
Calcium:
190
mg
|
Iron:
5.3
mg