Dinner should be exciting! This Olive Garden Chicken & Shrimp Carbonara takes exciting to the next level! It's a wonderful take on a chicken and shrimp pasta meal using chicken tenders to update this classic dish.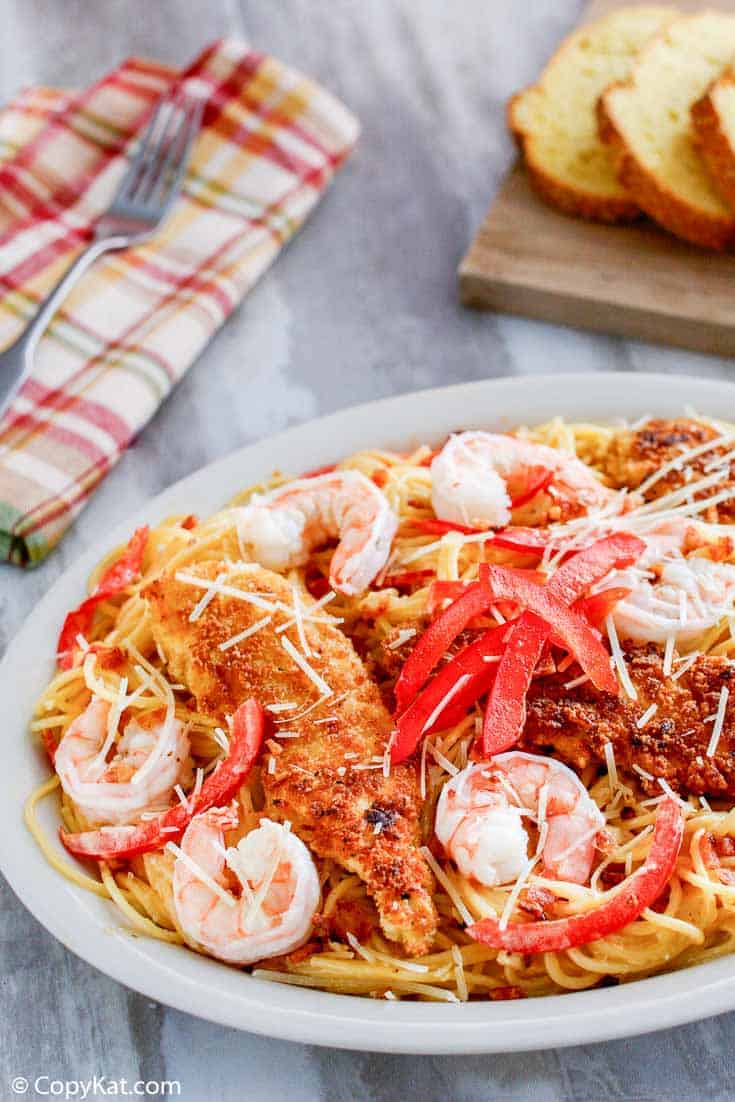 What Makes Shrimp Carbonara With Chicken Unique
This classic recipe is an Olive Garden favorite. Who doesn't love a rich carbonara sauce?. It's made up of sautéed seasoned chicken, shrimp, and bucatini pasta tossed in a creamy carbonara sauce with bacon and roasted red peppers. But this version uses chicken tenders for the chicken to offer a new twist on this classic dish. The breaded chicken tenders combine with all the other flavors so beautifully. And your kids will love it too!
What is the Difference between Carbonara Sauce and Alfredo Sauce
Both carbonara sauce and alfredo sauce are wonderful choices for any chicken and shrimp pasta dish but there is a difference. Alfredo sauce is a white sauce made from butter, parsley, heavy cream, and minced garlic. This Carbonara sauce, on the other hand, is made with parmesan cheese, heavy cream, eggs, garlic, pepper, red bell pepper, and bacon. Both delicious and both so easy to make.
If you like Olive Garden Alfredo Sauce, you will enjoy this recipe. I have often made a quick dinner of Alfredo sauce and pasta, but this recipe turns this up just a notch.
The origin of this dish is originally a simple dish made of pasta, eggs, cheese, bacon or ham, and lots of black pepper. This recipe is slightly different it has a creamy Parmesan sauce.
Is white sauce the same as carbonara?
Carbonara is a sauce made from egg yolks, white sauce is made from a mixture of butter, flour, and milk. Carbonara is a gluten-free sauce.
Does carbonara taste eggy?
Carbonara should have a rich, thick, velvety smooth texture. It will not taste strongly of eggs if cooked properly. The fat from the meat helps to transform the sauce into a rich thick sauce you are going to love.
How do you avoid scrambled eggs in carbonara?
There are two tricks in keeping your sauce from turning into scrambled eggs.
When making carbonara you will want to use room temperature eggs, the change of temperature will be less.
Stir continually when you add the eggs. Do not stop stirring, if you stop the dish from moving that is when the egg curds will form, so keep on stirring!
Ingredients for Chicken Carbonara Pasta With Shrimp
Here's what you need:
Chicken Tenders
Flour
Panko Bread Crumbs
Salt & Pepper
Eggs
Large shrimp
Bucatini or Spaghetti Pasta or Linguine
Butter
Bacon
Garlic
Red Bell Pepper
Heavy Cream
Parmesan Cheese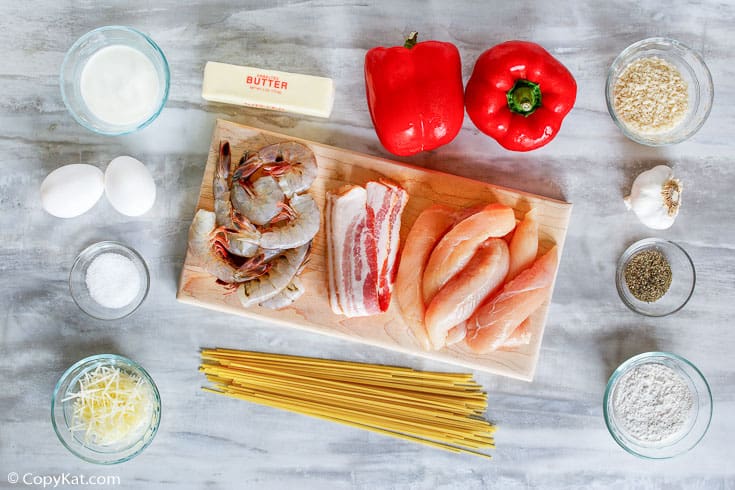 How to Make Olive Garden Chicken and Shrimp Carbonara
Start by breading the chicken tenders with flour, panko bread crumbs, egg, and salt & pepper.
Allow breaded tenders to dry on a rack.
Heat oil in a skillet over medium-high heat.
Place the breaded chicken in the skillet and cook it for 5-7 minutes on both sides. Set aside.
Boil the shrimp until it's perfectly pink.
Cook the pasta according to the package instructions.
While cooking the pasta, cook the bacon and butter in a large saucepan.
Add the garlic and red bell pepper until the bacon is cooked through.
Add the heavy cream and parmesan cheese mix with a wire whisk until you get a creamy consistency.
Add the pasta into the sauce and stir in the beaten egg.
Serve with chicken and shrimp.
Recipe Notes
The bucatini pasta adds a unique texture to this recipe but if you don't have bucatini, you can use regular spaghetti for this dish
The last step of this recipe requires you to place one beaten egg into the cooked pasta and sauce. The residual heat of the pasta will cook the egg. If this makes you concerned, you can buy eggs that are already pasteurized, a brand of these is Safest Choice which is sold in many grocery stores. You will want to stir the egg in quickly as you don't want the eggs to curdle
Garnish this dish with more cheese on top and a little black pepper
This dish is more hearty and slightly more updated. I think the additions are good and you will enjoy them in this copycat Olive Garden Chicken & Shrimp Carbonara.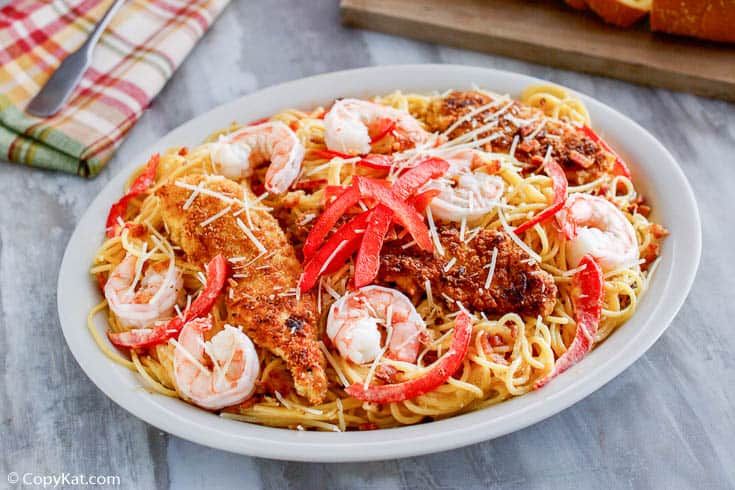 How to store and reheat these leftovers
You will want to store your leftovers in an airtight container in your fridge. They will last up to three days. I recommend if you aren't going to consume all of this shrimp carbonara recipe in one sitting, I recommend storing the pasta and the sauce in separate containers. When you store the sauce and the pasta separately so the pasta does not soak up the sauce.
When you reheat this dish, I recommend reheating the sauce in a small saucepan on the stovetop. Heat the sauce gently and slowly, you may want to add a bit more cream to this sauce.
Love copycat Olive Garden Recipes? Be sure to try these Olive Garden menu items
More Shrimp Pasta Recipes
Be sure to check out more amazing pasta recipes and the best Italian recipes.
Ready to start cooking? Let us know what you think about this recipe in the comments below. Remember to follow CopyKat Recipes on Facebook & Instagram! And sign up for our newsletter so you don't miss any of our copycat recipes!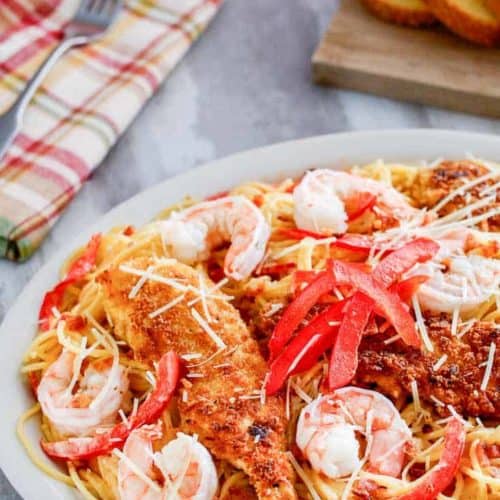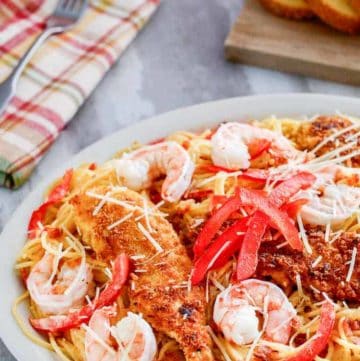 Ingredients
1/2

cup

all-purpose flour

1/2

cup

panko breadcrumbs

1/2

teaspoon

salt

1/2

teaspoon

black pepper

plus extra to garnish

2

eggs

divided use

8

ounces

chicken tenders

2

tablespoons

vegetable oil

6

ounces

shrimp

4

tablespoons

butter

1/4

cup

bacon

2

teaspoons

chopped garlic

1/2

red bell pepper

cut into rings

1

cup

heavy cream

1/2

cup

Parmesan cheese

plus extra to garnish

12

ounces

bucatini or spaghetti

prepared according to package directions
Instructions
Combine the flour, panko, salt, and pepper in a bowl and mix well.

In another bowl, whisk 1 egg with 2 teaspoons water until well blended.

Dip the chicken tenders into the dry breading mix, then into the egg wash, and then back into the breading mix. Place the breaded chicken on a

wire rack

to rest for about 5 minutes before cooking.

Place the vegetable oil in a large skillet over medium heat. Add the chicken tenders and cook for 5 to 7 minutes on each side, or until chicken is browned and cooked through. Set the chicken aside.

Cook the shrimp in a small pot of boiling water for about 2 to 3 minutes. Remove the shrimp from the water when they turn pink.

Prepare carbonara sauce by placing the butter and bacon in a skillet over medium heat. When the butter melts, add the garlic and red bell pepper. Sauté until the bacon is cooked through. Add the heavy cream and Parmesan cheese to the skillet and stir until the cheese melts.

Add the cooked pasta to the skillet, and then remove the skillet from the heat. Add 1 beaten egg and stir quickly. The residual heat will cook the egg.

To serve, place a portion of pasta and sauce on a plate. Add a few chicken tenders and shrimp and garnish with additional cheese and pepper, if desired.
Notes
The bucatini pasta adds a unique texture to this recipe but if you don't have bucatini, you can use regular spaghetti for this dish
 The last step of this recipe requires you to place one beaten egg into the cooked pasta and sauce. The residual heat of the pasta will cook the egg. If this makes you concerned, you can buy eggs that are already pasteurized, a brand of these are Safest Choice that is sold in many grocery stores. You will want to stir the egg in quickly as you don't want the eggs to curdle
Garnish this dish with more cheese on top and a little black pepper
Nutrition
Calories:
981
kcal
|
Carbohydrates:
84
g
|
Protein:
49
g
|
Fat:
48
g
|
Saturated Fat:
26
g
|
Cholesterol:
531
mg
|
Sodium:
1184
mg
|
Potassium:
651
mg
|
Fiber:
3
g
|
Sugar:
3
g
|
Vitamin A:
2190
IU
|
Vitamin C:
22.3
mg
|
Calcium:
329
mg
|
Iron:
4.7
mg