Red Lobster Shrimp Scampi is a terrific, buttery shrimp dish that you won't want to miss You can make this recipe at home anytime.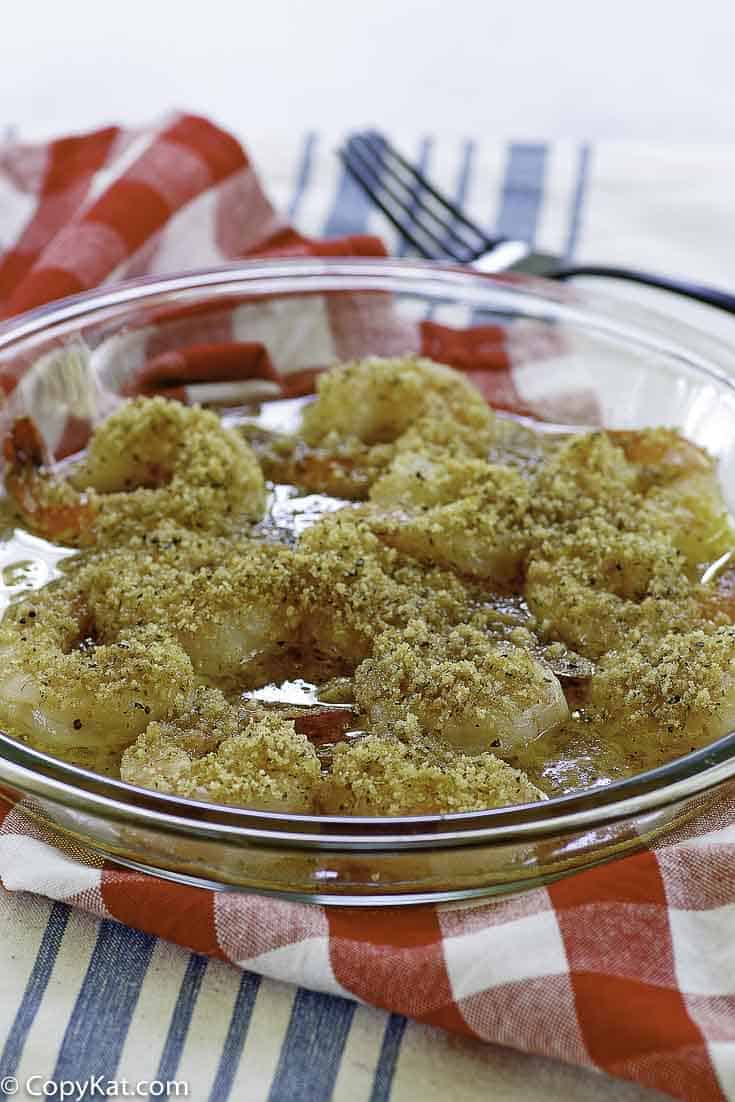 Red Lobster Shrimp Scampi used to prepare this recipe from scratch; they now use a mix to make this tasty dish. Shrimp is cooked in a buttery sauce that is infused with garlic. You may want to serve this shrimp up with some pasta and a salad to make a complete meal.
Shrimp Scampi – the perfect easy dinner!
What I love about this dish is that you can put this one together so quickly and simply pop it into the oven. I sometimes buy a package of frozen shrimp and will set it in my refrigerator when I head out to work. When I come home from work in the evening it is thawed perfectly and then I can quickly assemble these for dinner.
I love to serve up individual serving dishes of food when I have company over. The Red Lobster Shrimp Scampi is so easy to put together, it won't be hard to prepare this famous Red Lobster Menu Item at home.
How to Make Shrimp Scampi
Shrimp scampi is very easy. When you saute the garlic in the butter, you really give the final dish a lot of flavor. After the garlic becomes fragrant, you will add the wine. Turn off the burner, and then it's time to make the buttery bread crumbs.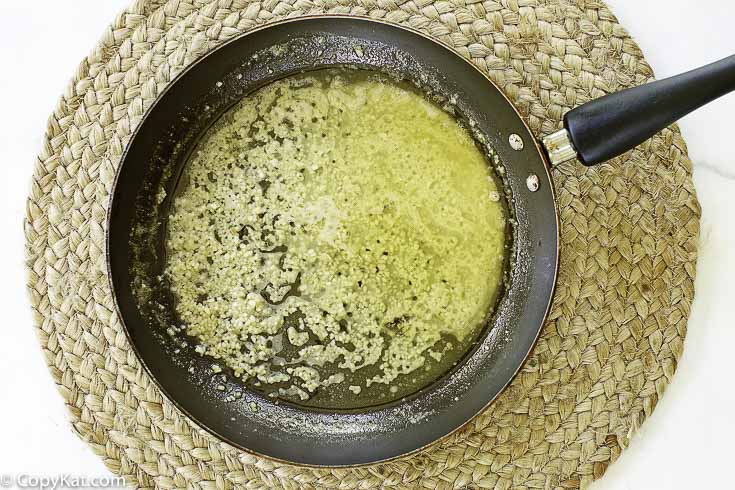 After all of your ingredients are ready, it is time to place the shrimp in a pan, and pour the garlic butter sauce on top. Then you will top all of this with buttery bread crumbs. Toss this all into the oven until the shrimp is done, and you have dinner on the table.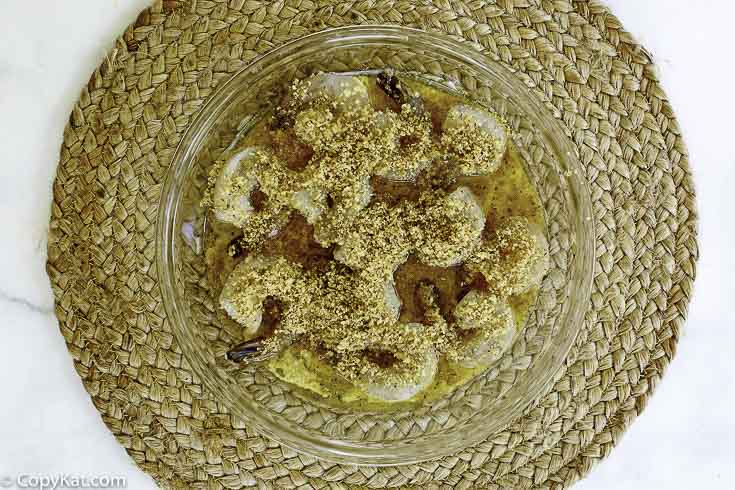 Can't use wine, no problem
A lot of people ask me can they substitute out the wine in the recipe, I would honestly say you could try some clam broth. You can try to do this with chicken broth, but it won't come out the same.
If you are wondering what type of wine to use, I would suggest a dry one like a Chardonnay. I wouldn't spend a lot of money on the wine. A Gallo wine would work well. If you don't drink a lot of wine out, I suggest you to buy a bottle of Sherry and keep it around and use that when you need to use wine in a recipe.
Is Shrimp Scampi Keto Friendly?
Shrimp Scampi can be Keto friendly, for this recipe, omit the breadcrumbs and you can make this recipe without the breadcrumbs.
Do you like Red Lobster Recipes? Check out these other copycat Red Lobster Recipes
13 Red Lobster Recipes
Red Lobster Shrimp Nachos
Red Lobster Bacon Wrapped Sea Scallops
So go ahead and try this hacked Red Lobster Shrimp Scampi recipe, and let me know what you think about it! I can't wait to hear from you.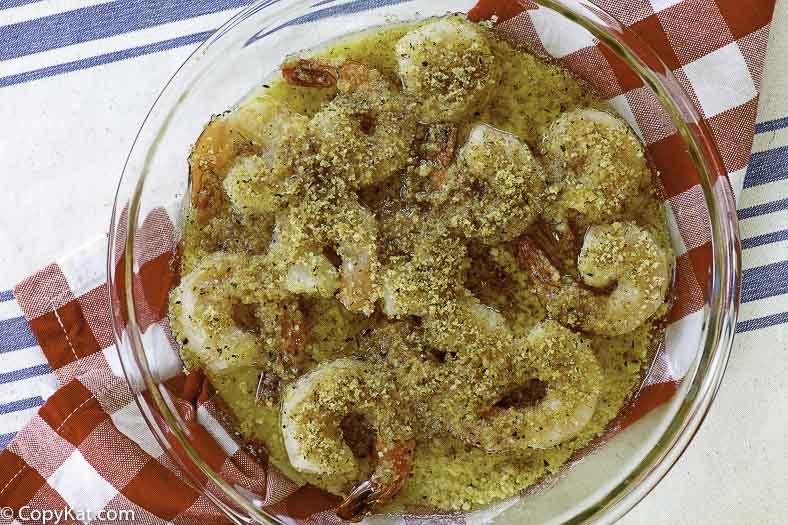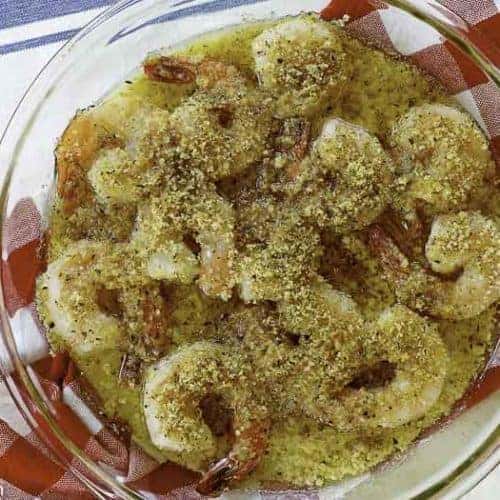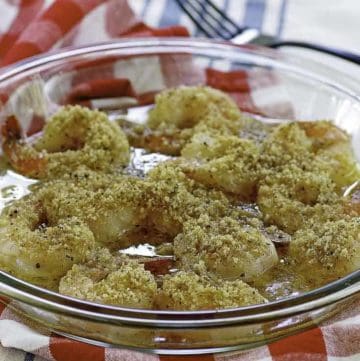 Ingredients
1/2

cup

unsalted butter

3

teaspoons

minced garlic

1

cup

white wine

1

pound

shrimp

peeled and de-veined

1/2

cup

Italian bread crumbs

1

tablespoon

butter

for bread crumbs
Instructions
Preheat oven to 350 degrees.

In a small saucepan saute together the butter and the minced garlic until the garlic becomes fragrant. Add white wine to the saucepan and heat through.

In a small bowl melt the butter in the microwave, add breadcrumbs and stir to combine. Place shrimp in a baking dish, pour marinade over, and top with bread crumbs.

Bake at 350-degree oven for about 10 to 12 minutes. Be careful not to overcook the shrimp. The shrimp is done when it has turned pink.
Nutrition
Calories:
451
kcal
|
Carbohydrates:
12
g
|
Protein:
25
g
|
Fat:
28
g
|
Saturated Fat:
16
g
|
Cholesterol:
354
mg
|
Sodium:
1112
mg
|
Potassium:
176
mg
|
Fiber:
0
g
|
Sugar:
1
g
|
Vitamin A:
825
IU
|
Vitamin C:
5.8
mg
|
Calcium:
208
mg
|
Iron:
3.3
mg