The Red Lobster Bacon Wrapped Scallops have been on the menu at Red Lobster for a long time. Of course they have, they taste out of this world! These sea scallops are marinated in wine and butter and then wrapped in bacon before cooking.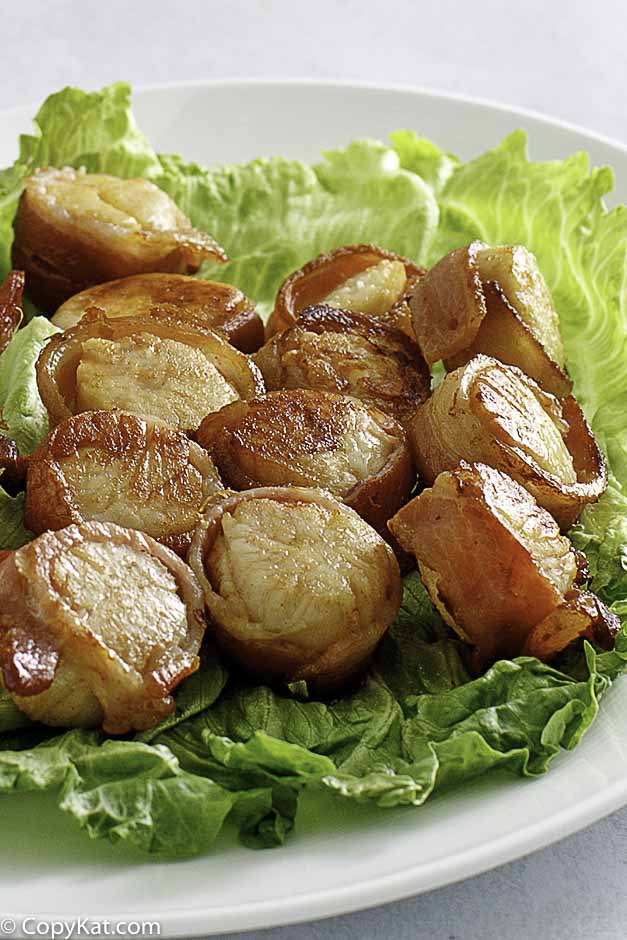 Bacon Wrapped Scallops
Scallops are one of my favorite types of seafood. I love the texture and they always hold my flavors in the best way possible. I perfected this recipe and now it's one of my favorites! I don't have to go to Red Lobster for them anymore, now I can make them right at home. And you can too.
Do you wash scallops before cooking them?
You can wash or rinse scallops before cooking. If you rinse off your scallops be sure to pat them dry with paper towels. It is important to pat the scallops dry before cooking. Wet scallops will not cook very well. They will steam long before they begin to sear.
Ingredients Scallops Wrapped in Bacon
Here are a few notes about the ingredients and how I made my bacon-wrapped scallops.
Bacon – You can use any type of bacon that you like. The thicker-cut bacon will take longer to cook, so I recommend using thin or regular-sliced bacon.
Scallops – You'll find these at just about any grocery store, mostly in the frozen section.
Butter – Use unsalted butter. Margarine can work too, but the real butter has a fuller flavor.
Dry White Wine – Sauvignon Blanc is my favorite wine for cooking. It has a high acidity without very much sweetness. If you want a non-alcoholic substitute, use white wine vinegar.
Lemon Juice – Fresh juice straight from the lemon is always the best option, but a bit from a jar works just as well.
Paprika – Use more if you want your scallops to have a strong smokey flavor.
Seasoned Salt – If you used salted butter, use a tad less seasoned salt.
Bacon wrapped scallops on the grill
I made them in the oven. But you can also make them on the grill. If you are grilling them, you want to pre-cook the bacon first. Fry the bacon on the stove or in a 350-degree oven for about 15 minutes.
Let them cool and begin to wrap the scallops with the bacon.
Then, on a medium-high heat grill, cook them, flipping frequently. It should only take about 7 minutes for the scallops to cook completely.
What to serve with bacon wrapped sea scallops
This is a fancier dish, so serve something out of the ordinary. Whip up some parmesan risotto or serve it with a side of rice pilaf.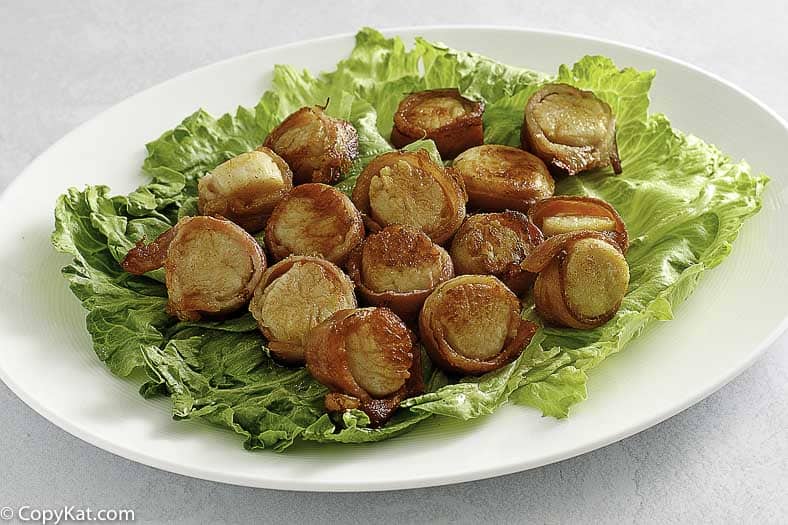 Love seafood? Try these recipes!
Serve these tasty scallops with:
Get more top restaurant recipes and restaurant appetizer recipes to make the best copycat dishes.
Ingredients
1 1/2

pounds

sea scallops

1/3

pound

bacon

cut slices in half

1/4

pound

melted butter

1/2

cup

dry white wine

1

tablespoon

lemon juice

1/2

teaspoon

paprika

1/2

teaspoon

seasoned salt
Instructions
Preheat oven to 400 degrees. Melt butter and wine together; when melted, add paprika, seasoned salt, and lemon juice. Drop scallops into melted wine and butter sauce.

Allow scallops to marinate for about 30 minutes.

Wrap each scallop with half a piece of bacon and fasten bacon with a toothpick.

Place wrapped scallops in a baking pan and bake in the oven for about 8 minutes, then turn over and cook until done.
Nutrition
Calories:
336
kcal
|
Carbohydrates:
4
g
|
Protein:
17
g
|
Fat:
25
g
|
Saturated Fat:
13
g
|
Cholesterol:
84
mg
|
Sodium:
941
mg
|
Potassium:
296
mg
|
Fiber:
0
g
|
Sugar:
0
g
|
Vitamin A:
565
IU
|
Vitamin C:
1
mg
|
Calcium:
13
mg
|
Iron:
0.6
mg