Killer Shrimp is from the much-loved bar and restaurant in California, named Killer Shrimp. Not everyone is lucky to live nearby, so we have to either hop on a plane or make our own.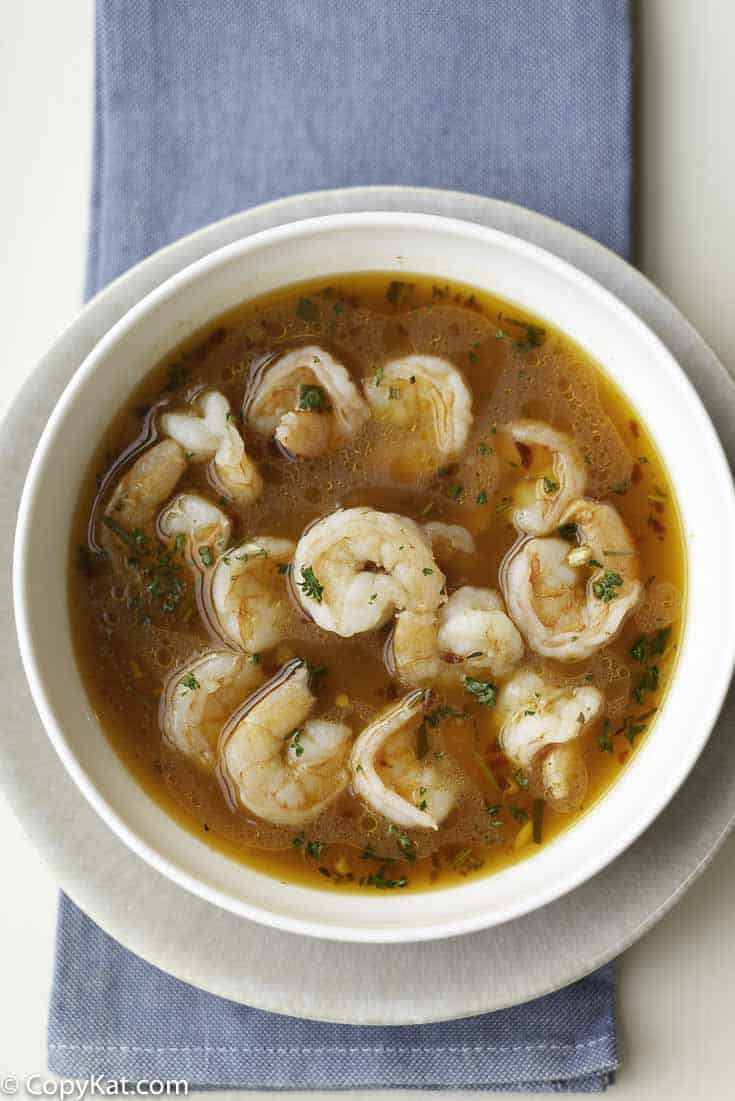 If you like New Orleans Shrimp and Grits, you are going to love Killer Shrimp. This shrimp is just as flavorful, but is it a bit lighter, as this recipe has a lot of broth. If you enjoy this in the restaurant, you can get this with French bread, or rice. I personally like it with rice.
What makes Killer Shrimp so special?
That's easy. It's the broth.
This broth is made with fresh rosemary, thyme, celery seed, red pepper flakes, and clam broth. This makes for a very robust, but not too spicy sauce. The sauce is full-bodied, and you will not want to miss a single drop!
The sauce needs to cook for a while, so the flavors really bloom.
What type of shrimp should you use?
For this recipe, I prefer using a shrimp that is medium or large in size. You do not have to, but I think this sauce really needs a good large shrimp to bite into. I have a preference for using wild-caught shrimp if it is available. I think wild-caught shrimp has a much better flavor.
Love shrimp? Be sure to try these shrimp recipes.
Shrimp Remoulade from Galatoire's Restaurant – enjoy a taste of New Orleans for dinner, or even as an appetizer. Don't miss this Cajun favorite at home with this recipe.
Shrimp Wagon's Shrimp Scampi – make shrimp just like the shrimp wagons of Hawaii.
Olive Garden Baked Parmesan Shrimp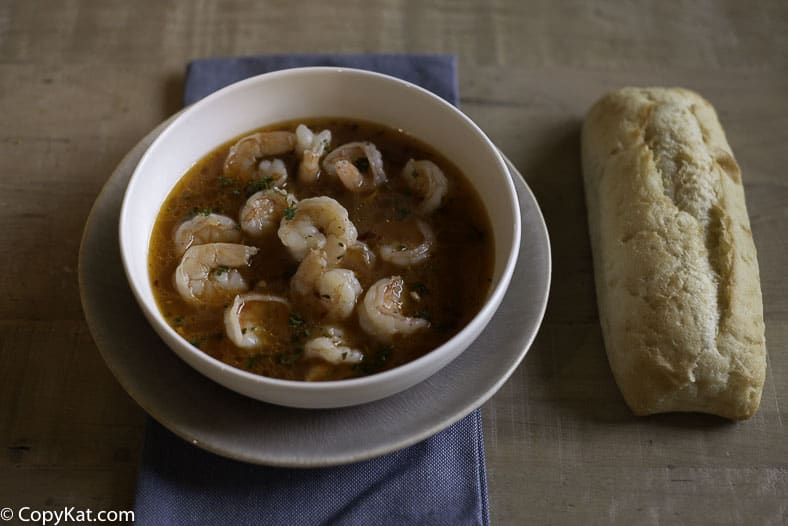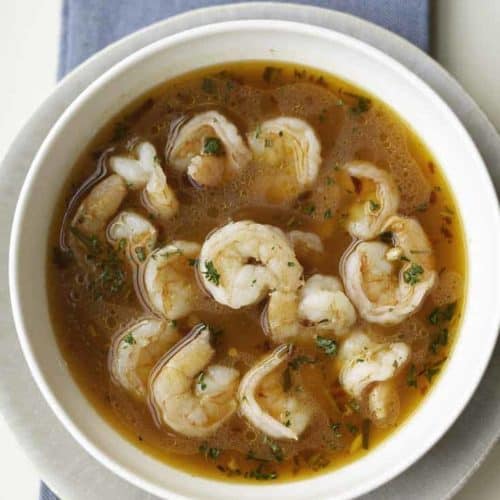 Ingredients
1

tablespoon

fresh or dried rosemary

2

teaspoons

thyme

1

teaspoon

black pepper

2

cloves

garlic, peeled and chopped

1/2

teaspoon

fennel seed

1

teaspoon

celery seed

1

teaspoon

crushed red pepper

2

quarts

clam broth**

(if making with chicken, use chicken broth)

3

ounces

tomato paste

4

ounces

butter

2

pounds

shrimp

french

bread
Instructions
Prepare the seasoning
Using a mortar and pestle, partially grind the rosemary, thyme, and fennel seed. Break the spices up rather than grinding them.

In the end, there should still be recognizable pieces of the rosemary, etc.
Prepare the stock
Place the butter into the bottom of a large stockpot. Add the tomato paste, and cook until the tomato paste loosens. Add seasonings, and clam juice to the stockpot. Cook over low for about 1 hour.

Serve in bowls. Each bowl should contain a serving of shrimp and a lot of broth. The broth should almost completely cover the shrimp. Use unpeeled shrimp. The dish is eaten with your fingers.
Serving Killer Shrimp
Just before serving, add raw shrimp. Simmer until shrimp is done, stirring, about 2 minutes.
Recipe Tips for the Cook
How to Enjoy Killer Shrimp
Dig out a piece of shrimp and peel it. Eat it.
Soak up the broth with the bread and eat that.
No utensils.
This recipe makes a lot of broth. **If you have the time, peel the shrimp down to the last joint, leaving that and the tail intact. Add the shells to the clam broth and bring to a boil, then cover and simmer at least 1/2 hour. Pour into blender in batches and process till smooth. Strain back into pot. Add herbs and remaining ingredients and proceed with the recipe.

Thanks to Mimi of Mimi's Cyber-Kitchen.com for this recipe.
Nutrition
Calories:
238
kcal
|
Carbohydrates:
5
g
|
Protein:
23
g
|
Fat:
13
g
|
Saturated Fat:
7
g
|
Cholesterol:
316
mg
|
Sodium:
2017
mg
|
Potassium:
203
mg
|
Fiber:
0
g
|
Sugar:
3
g
|
Vitamin A:
1120
IU
|
Vitamin C:
7.8
mg
|
Calcium:
180
mg
|
Iron:
3
mg