Homemade beef bone broth is a wonderful soup you can easily make in an Instant Pot. Roasted beef bones give this broth deep flavor. It's perfect to enjoy on its own and to use in recipes.
This post contains affiliate links. As an Amazon Associate, I earn from qualifying purchases.
Best Beef Bone Broth Instant Pot Recipe
This beef bone broth is full of rich flavor and so simple to make in your own kitchen, thanks to your Instant Pot. Learn how you can make this amazing food staple and use it to boost nutrition in various dishes.
This tasty beef bone broth is made with roasted beef bones and some simple vegetables. You just throw everything in the Instant Pot, wave your magic cooking wand (an optional step but fun!), and voila! – a gelatin-rich, flavorful, Instant Pot beef stock that's delicious in soups, gravy, stews, and more!
What Is Bone Broth?
Bone broth is essentially a long-cooked nutrient-dense stock made from cooking collagen-rich animal bones and their marrow in water for an extended period of time.
Vegetables such as onions, celery, carrots, and various seasonings are often added for flavor.
The Interesting History of Bone Broth
Nourishing broth dates all the way back to the Stone Age when people didn't even have ordinary pots, let alone Instant Pots! Instead, the very first soups were created by placing hot stones in the abdominal pouches of slaughtered animals to simmer together meat, bones, fat, wild grains, herbs, and water.
From the 9th century on, portable soups were made by cooking meat, bones, cartilage, and connective tissues into gelatinous and hardened pieces. These could be carried in the pockets of clothes by the military and other travelers and provided convenient nourishment while on the move.
Why You Should Make Your Own Bone Broth
Cooking up a batch of beef bone broth Instant Pot method is so much cheaper than buying those cartons in the store. In fact, if you are using the bones from the meat you ate and veggie scraps, the cost of making it is minimal or essentially free.
Many boxed broths contain additives and low-quality ingredients. When you make it yourself, you have complete control over the quality of the ingredients. You know exactly what's in this Instant Pot beef bone broth keto recipe, and it tastes so much better.
Why Use Your Pressure Cooker to Make This Instant Pot Beef Bone Broth Recipe?
The beef bone broth Instant Pot method is much easier and faster than your stovetop. Traditional beef bone broth is simmered on the stovetop for a very long time to extract all the nutrients and flavor (usually between 12 to 48 hours!). Who has time to babysit the stove for that long?
What is beef bone broth pressure cooker time? Much less! This recipe takes only 90 minutes!
What Are the Differences Between Beef Broth, Stock, and Bone Broth?
Since all these terms tend to be used interchangeably, here's a quick overview of the differences:
Beef Broth: Made by simmering meat for a short amount of time. Typically, thin and clear in color.
Beef Stock: Made from simmered bones with a small amount of meat attached to them for a more extended period of time. Typically, rich in color.
Beef Bone Broth: Also made from simmering bones with a small amount of meat attached to them for a long time. However, bone broth is slightly different from stock because it is cooked longer and often incorporates a little acidity to help extract collagen and trace minerals from the bones and connective tissue.
Ingredients You Will Need to Make Beef Bone Broth Instant Pot Method
Here's what you will need to make this Instant Pot beef bone broth recipe:
Roast beef bones
Onions
Celery
Carrot
Bay leaves
Water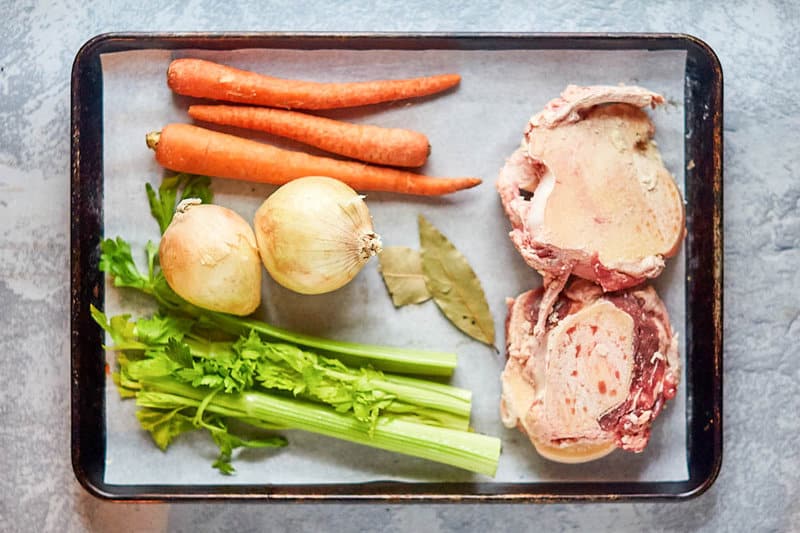 What Are the Best Beef Bones to Use?
Bone broth requires meaty, collagen-rich bones, and marrow bones will give you the best flavor and nutrition. Meaty bones, like oxtail, shank, and short ribs, also contribute great flavor.
Try using a mix of bones and choose some that have a little bit of meat on them.
How to Make Beef Bone Broth in an Instant Pot
Enjoy all the health benefits with this hands-off, super easy, and thrifty way to make bone broth without the need to simmer for hours on the stovetop! Instead, by making use of beef bone broth pressure cooker time, you create bone broth far more quickly. Here's a brief outline of what's involved:
Preheat the oven to 350°F.
Roast the bones on a baking sheet for 35 to 45 minutes.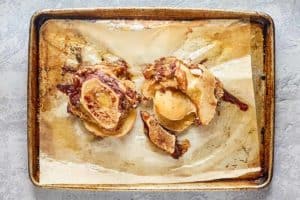 Place in the Instant Pot bowl with the other ingredients.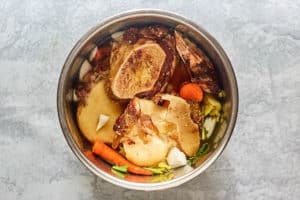 Pressure cook for 90 minutes on the high pressure manual setting.
Use a fine mesh strainer to strain the broth. Discard the bones and aromatics.
Tips for Making the Best Beef Bone Broth
Don't discard those beef bones. Freeze them until you have 2 pounds to make beef bone broth with minimal prep!
Keep a bag of bones in your freezer, along with carrot nubs, onion peels, celery leaves, parsley ends, etc. It's your bag of bone-broth-making goodies! Essentially, all those scraps that you'd typically throw away in the garbage are perfect for making bone broth. And, if you have scientifically minded kids, they'll likely joke that this is mom's lab experiment!
For beef bones, you may want to blanch them first. Blanching removes impurities, coagulated protein, and blood, giving you a cleaner, better-tasting broth. Blanch the bones in boiling water for a few minutes (on the stove or in the Instant Pot on the sauté setting), then strain and rinse.
Roasting the bones is important – roasting equals flavor!
Adding an acid, like apple cider vinegar or lemon juice, will help extract the collagen in the connective tissue.
Avoid the temptation to add too much "other stuff". Your aim is to make bone broth, not broth/vegetable/herb broth. This doesn't mean you can't add other veggies or spices, but keep them to a minimum, so the beef bones get to shine.
A bit of fat will usually float up to the top of your broth. It's nutritious, so you can consume it. However, if you prefer less fatty broth, refrigerate it for a few hours or overnight and remove the fat layer that forms on the top. (Don't throw the solidified fat away; use it for cooking.) If you don't remove the fat layer, it will dissolve into the broth once reheated.
Add salt to taste. If you're anticipating that your bone broth will taste like your favorite Vietnamese bowl of pho without adding salt, then you will be disappointed. One reason this broth is perfect for use in recipes is that it won't add any saltiness to the dish.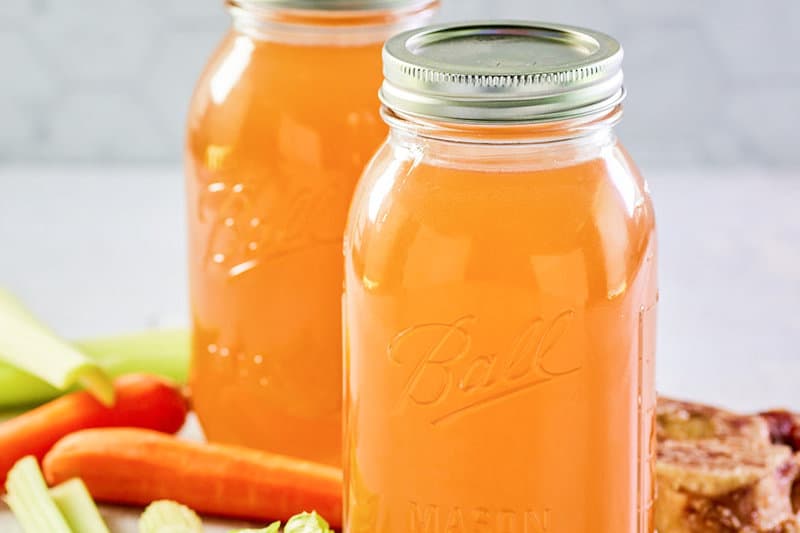 How Do You Make Bone Broth in General?
Until recently, most home cooks worldwide would always have a stock pot of long-cooking soup simmering over their stove or fire. Making bone broth the traditional way is by simmering the bones and other ingredients for a long period of time – 12 to 24 hours – on the stovetop or in a slow cooker (crockpot).
If you don't have an Instant Pot and want to make bone broth the old-fashioned way, you will need to keep an eye on things and add additional water, as needed, to keep the bones covered.
What Are the Benefits of Beef Bone Broth?
Bone broth is full of nutrients that are not found by eating muscle meats alone. You get gelatin and collagen from skins and tendons, minerals from bones, nutrients from bone marrow and dissolved cartilage.
Bone broth is nourishing, healing, and restorative. Here are some more specific benefits:
The nutrients in bone broth are essential for healthy joints, good digestion, a functioning immune system, and healthy hair, nails, and skin.
Bone broth has been shown to help with osteoarthritis, rheumatoid arthritis, autoimmune disorders, digestive problems, infectious diseases, aging, and mood and depression issues.
Bone broth can be thought of as "Better Than Botox Broth" because it's full of natural collagen, which will help plump up your skin naturally.
May lead to better sleep. Glycine, an amino acid found in bone broth, may improve sleep quality.
The amino acids arginine and glycine have strong anti-inflammatory properties. Arginine may help combat inflammation associated with obesity in women.
In Jewish culture, healing chicken soup made with chicken bone broth is known as Jewish penicillin.
Ways You Can Use Homemade Beef Bone Broth
Your beef bone broth can be used however you like. So if you are wondering what to make with beef broth, here are some suggestions:
Any time you use regular stock or water, you can substitute Instant Pot beef stock – stews, soups, ramens, casseroles, stuffing, etc.
Use it as a base for a nutritious and delicious gravy.
Make a Japanese soup by mixing in a teaspoon of miso and maybe some scallions, garlic, and ginger.
Use it instead of water when you're cooking rice or pasta.
Add some to scrambled eggs or mashed potatoes.
If you need a quick pick-me-up, especially if you're feeling under the weather, sip a cup of bone broth in the morning or as a quick snack. Heat it up with a little garlic and ginger.
Note: Bone broth is unsuitable for vegetarians, vegans, or anyone following a low-protein diet. It is wonderful, however, for those looking to include more protein as it is paleo- and keto-friendly. In fact, this recipe is Instant Pot beef bone broth keto compatible, gluten-free, and dairy-free.
How to Store Beef Bone Broth
This "liquid gold" should be one of your staples since it's a great way to add flavor and nutrition to many dishes. Here's how to store it:
Pour your beef bone broth into clean containers and allow it to cool down before refrigerating or freezing. Store for up to 5 days in the fridge and 4 to 6 months in the freezer.
Store it in small batches to be conveniently used as needed. Defrost it in the fridge or microwave or throw it into hot dishes such as soups and stews while still frozen.
Mason jars make suitable freezer storage containers, but they become fragile when frozen. To avoid broken jars, use wide-mouth canning jars. Make sure the broth is cooled and leave at least an inch of space at the top. Freeze the jars uncovered and don't place the lids on the jars until the broth is completely frozen.
It's best to defrost glass jars of bone broth in the refrigerator to avoid sudden temperature changes and possible breakage.
Freeze your Instant Pot bone broth in silicone ice cube molds for easy use in recipes. When the cubes are frozen solid, place them in a plastic ziptop freezer bag. Each cube represents approximately 1/3 cup of broth. When you need to quickly thaw some bone broth, just pop a few cubes into a saucepan or your microwave.
Reduce bone broth for storage to save on freezer space. Simmer the broth over low heat on the stovetop until it's reduced by half. You will need to thin the reduced broth with water before using it.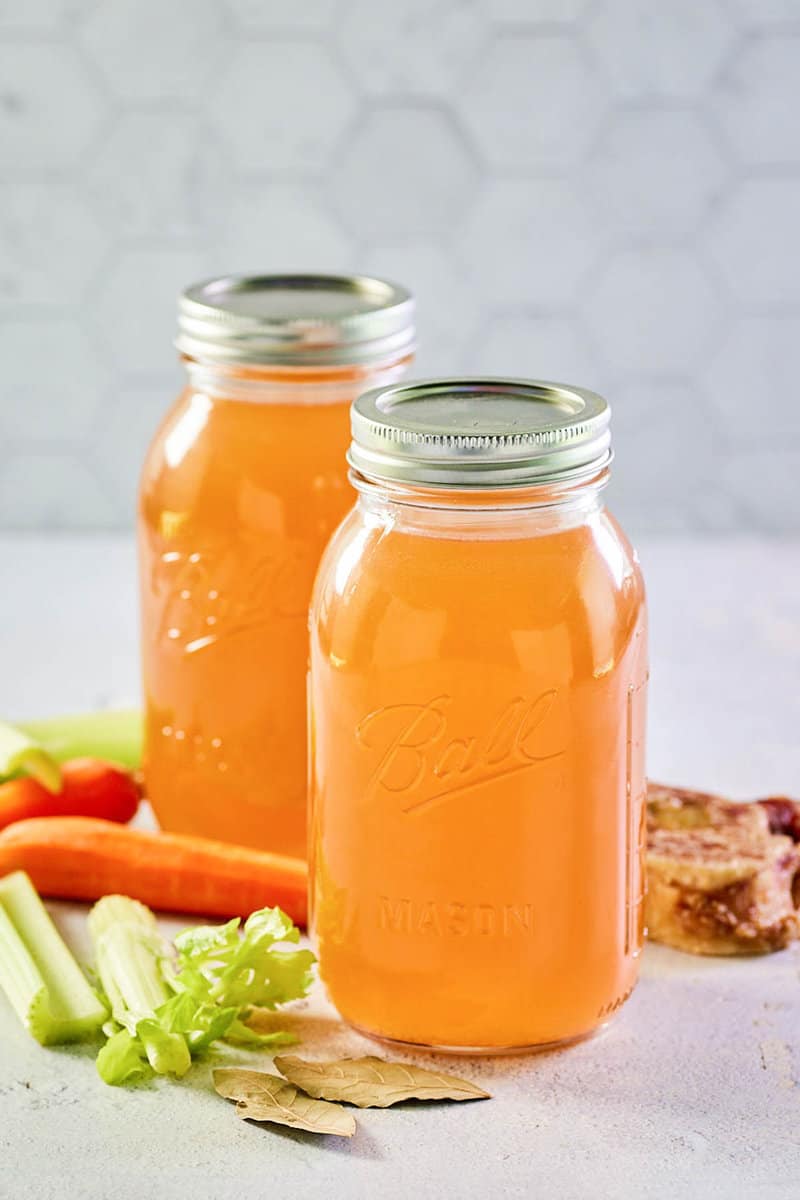 Popular Soup Recipes
Favorite Instant Pot Recipes
Check out more of my easy soup recipes and the best Instant Pot recipes here on CopyKat!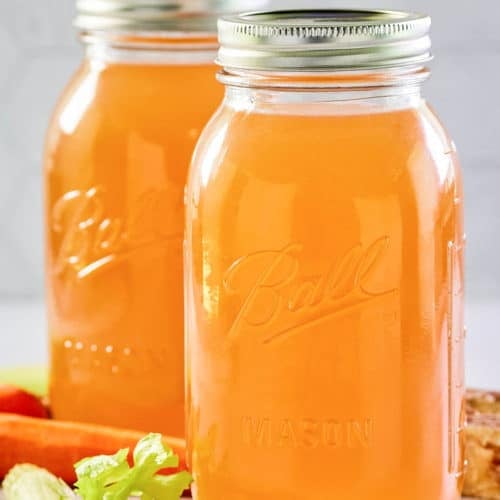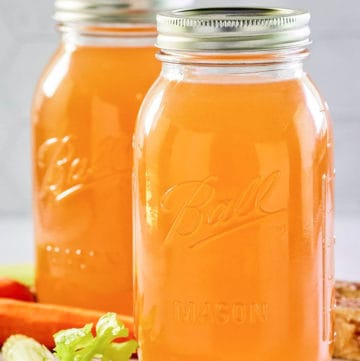 Ingredients
2

pounds

beef bones

2

small onions

coarsely chopped

2

stalks of celery

chopped

1/2

carrot

chopped

1 or 2

bay leaves

10

cups

water
Instructions
Preheat the oven to 350°F.

Place the beef bones on a baking sheet and roast them for 35 to 45 minutes until golden brown.

Place the roasted bones into the bowl of your Instant Pot with the remaining ingredients.

Pressure cook for 90 minutes on the high manual setting.

Strain the broth when you remove it from the pot, and discard the solids.

Enjoy your beef bone broth however you like.
Nutrition
Calories:
7
kcal
|
Carbohydrates:
2
g
|
Protein:
0.2
g
|
Fat:
0.03
g
|
Saturated Fat:
0.01
g
|
Polyunsaturated Fat:
0.01
g
|
Monounsaturated Fat:
0.002
g
|
Sodium:
15
mg
|
Potassium:
32
mg
|
Fiber:
0.3
g
|
Sugar:
1
g
|
Vitamin A:
515
IU
|
Vitamin C:
1
mg
|
Calcium:
12
mg
|
Iron:
0.1
mg