Smoked Pork Belly is delicious and great for a special meal. A simple dry rub gives it incredible flavor and makes it crispy on the outside. Enjoy smoked pork belly bites for an appetizer and slices for sandwiches or tacos.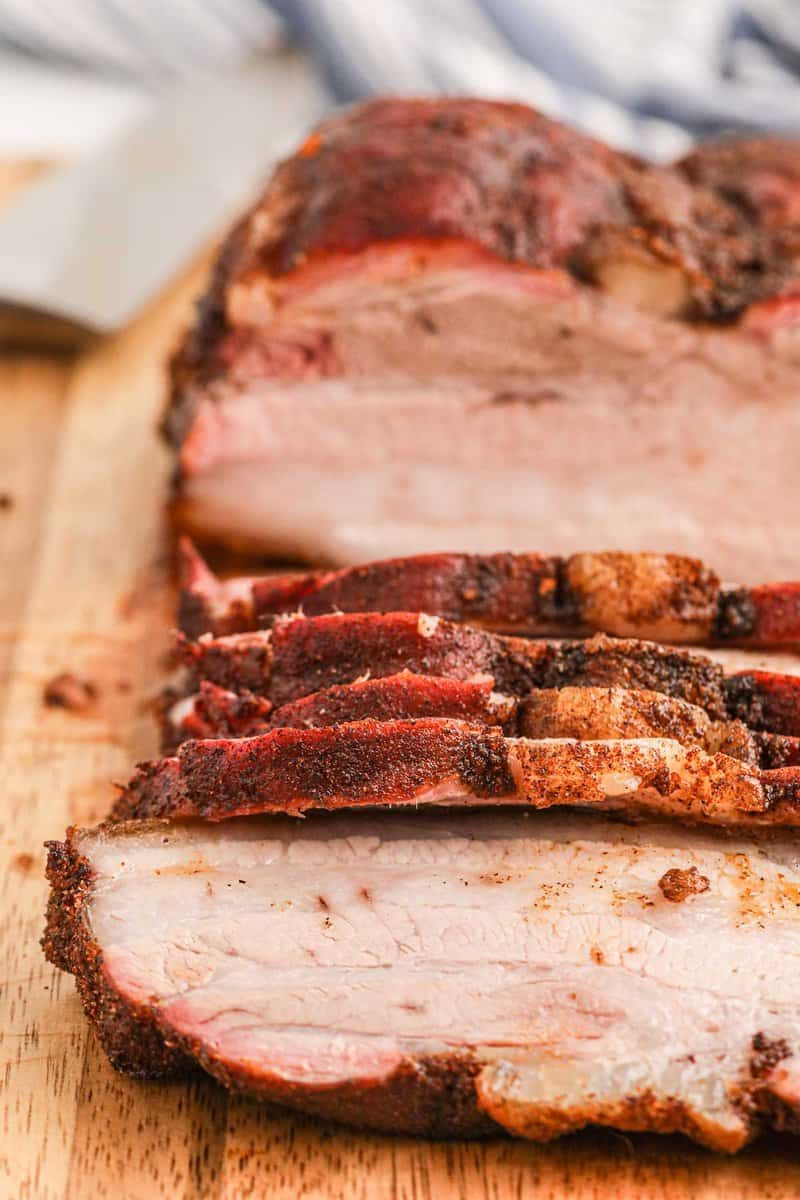 This post contains affiliate links. As an Amazon Associate, I earn from qualifying purchases.
Why a Smoked Pork Belly Is a Must-Try for Every Pellet Grill Owner
Pork belly smoked on a pellet stove may seem intimidating, but it isn't. In fact, it is one of the most straightforward recipes you can make on a pellet smoker and is excellent for those who are just starting to smoke meat.
As long as you follow the instructions, fabulous results are almost guaranteed, and since even moderately successful results are still delicious, you are sure to impress your friends and family.
Pork belly burnt ends are especially tasty and have lots of deep smoky flavor.
Why This Is the Best Recipe for Smoked Pork Belly
This recipe lets the meat and smoke be the heavy hitters when it comes to flavor. Instead of using a dry rub that competes with the taste, the minimalist rub in this smoked pork belly recipe only heightens the existing natural flavors.
The pork belly is tender and juicy. One bite and you'll enjoy the wonderful smoke flavor.
Ingredients You Will Need
To make this smoked pork belly recipe, you'll need:
Pork belly
Brown sugar
Smoked paprika
Ground black pepper
Ask the butcher to remove the skin of the pork belly for you; otherwise, you will have to do it yourself at home. Unlike when you roast pork belly, smoking doesn't give you deliciously crispy skin but a soggy mess that can prevent adequate smoke penetration.
How to Smoke Pork Belly in an Electric Smoker
Working with an electric smoker is more foolproof than using one that is wood or charcoal-fired. Although the results are similar, the procedure is slightly different. Here is how you can smoke pork belly in your electric smoker for the best flavor.
Preheat your electric smoker to 225 degrees F.
While the electric smoker is heating up, mix up the dry mix.
Carefully score the fat cap with a sharp knife. You don't want to cut into the meat, but taking the extra step of scoring the fat will allow the dry rub to penetrate into the meat.
Use your hand to pat on an even coat of dry rub over the entire pork belly, including the sides.
Determine where the most heat is coming from in your pellet smoker. Position the pork belly in your smoker with its fat cap pointing towards the heat source.
If you have a probe thermometer, insert it into the center of the meat, and set the alarm for 165°F. If you are not using a probe thermometer, start checking the pork belly at about two and a half hours using an instant-read thermometer or meat thermometer.
Take the pork belly from the smoker when the internal temp reaches 165°F.
Let the slab of meat rest on a pan or baking sheet for at least 15 minutes before slicing.
Why It's Crucial To Use a Pork Belly Dry Rub To Get the Best Flavor
Remember, this is not a smoked pork belly for bacon recipe, so you are not curing the meat in salt and other spices. A dry rub is essential to build additional layers of flavor into the meat without overpowering the natural taste of the pork belly or interfering with the cooking time.
Why You Smoke to a Temperature and Not for Time
When cooking, you should always consider any time mentioned in a recipe as just a guideline and not an absolute. This approach is particularly helpful when smoking pork belly since many factors can alter the speed at which the meat cooks, such as the meat's starting internal temperature and the thickness of the fat cap.
If you have a probe thermometer, use it to feel confident you are cooking the pork belly long enough. Otherwise, use an instant-read thermometer, and never depend on times to determine when the food is ready.
Where Can You Buy a Pork Belly
Pork belly isn't the most common cut, and it is usually unavailable at most national supermarkets. Most butcher shops don't even carry it all the time, although they will probably be able to special order it for you.
If you don't want to go that route, you can always visit an Asian or Latin grocery store where you are likely to find fresh or frozen pork belly daily.
Best Wood Chip Flavors for Your Pork Belly
You should use a mild wood for smoking pork belly. Many pit bosses love using applewood to smoke pork belly because it adds just the right amount of smokiness with a bit of lingering sweetness.
Cherrywood is an excellent alternative if you prefer your smoked meat a little more on the sweet side.
Hickory or pecan wood chips are some nice options too.
What To Serve With Smoked Pork Belly
Something with some tartness is a wonderful counter to the richness of pellet grill smoked pork belly. Brookville Hotel Coleslaw, roasted Brussel sprouts with a balsamic glaze, and a simple salad of bitter greens with a light dressing are all good options.
For a more traditional side dish, try baked beans or hush puppies.
You can also serve it with your favorite tomato-based barbecue sauce or a mustard BBQ sauce.
Pork belly slices are great for pork belly sandwiches. Pork belly cubes are fantastic for pork belly tacos. Serve it either way with the appropriate bread, tortillas, toppings, and condiments.
How To Store Smoked Pork Belly
You can refrigerate cooked pork belly in the refrigerator for up to 48 hours in a plastic bag. Let it get to room temperature before placing it in the fridge.
If you plan on keeping it longer, cut the pork belly into serving sizes and freeze each portion in separate plastic bags for up to two months.
How to Reheat Smoked Pork Belly
To reheat thawed pork belly:
Preheat the oven to 400°F.
Gently wrap the pork belly in aluminum foil and seal well.
Place the wrapped pork belly on the middle oven rack with a rimmed baking tray on a lower rack directly underneath the pork belly to catch any juices.
Cook for 10 to 15 minutes or until hot.
Popular Smoker Recipes
Favorite Pork Recipes
Check out more of my easy pork recipes and the best summer recipes here on CopyKat!
Ingredients
4

pounds

pork belly

¼

cup

brown sugar

2

tablespoons

paprika

2

tablespoons

ground black pepper
Instructions
Preheat your smoker to 225°F.

In a small bowl, combine the brown sugar, paprika, and ground black pepper.

Coat the entire pork belly with the dry rub, making sure to get all the sides evenly.

Place the pork belly onto the smoker grate and cook for 3 to 4 hours, or until the internal temperature reaches 165°F.

Remove it from the smoker and allow it to rest for at least 15 minutes.

Slice and serve immediately or store in the fridge until ready to use.
Nutrition
Calories:
403
kcal
|
Carbohydrates:
3
g
|
Protein:
7
g
|
Fat:
40
g
|
Saturated Fat:
15
g
|
Polyunsaturated Fat:
4
g
|
Monounsaturated Fat:
19
g
|
Cholesterol:
54
mg
|
Sodium:
25
mg
|
Potassium:
163
mg
|
Fiber:
0.3
g
|
Sugar:
2
g
|
Vitamin A:
298
IU
|
Vitamin C:
0.2
mg
|
Calcium:
9
mg
|
Iron:
1
mg