I know what you are thinking, a roasted pork loin can be dry, and tough. What if I could show you how to make a delicious pork loin that is moist on the inside?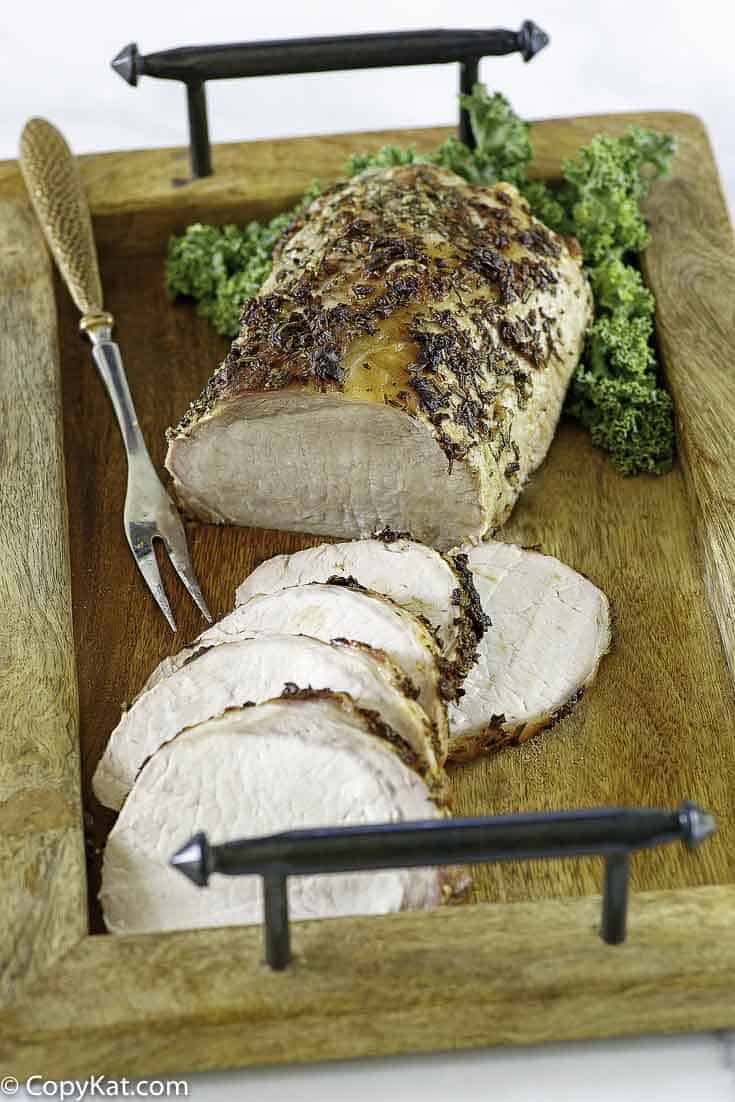 This post contains affiliate links. As an Amazon Associate, I earn from qualifying purchases.
My favorite pork loin roast recipe is made with garlic and rosemary. You can make one of these in the oven and it is practically fool-proof. This recipe only requires a 4 to 5-pound pork loin, kosher salt, some fresh rosemary, and garlic. This recipe produces a nice browned roast with a lovely crust while keeping the meat inside moist and tender.
In many homes in America, pork gets a bad rap. It has an unearned reputation as an unhealthy and fatty protein to be avoided at all costs. But, in fact, several cuts of pork, including a pork loin and pork roast, have fewer calories with less fat and cholesterol than skinless chicken thighs.
The easy-to-make and delicious oven-roasted pork loin recipe below will show you that pork is not something you should fear but enjoy.
Get a Good Piece of Pork
Even the best pork roast recipe won't leave you and your guests impressed if you don't start with great ingredients. That means ensuring you buy a quality pork loin or pork roast.
When selecting a pork loin or roast, choose light red or darker pink. Avoid meat that is exceedingly pale or cuts with black spots on the fat. To ensure the highest freshness, cook the pork as soon as possible after purchase. If you must store the pork for longer than a few days, it is safer to stick it in the freezer.
Don't Settle For Dried Out Pork Loin
Home cooks are often disappointed by the roast pork they prepare at home for one simple reason: Most pork loin recipes encourage overcooking the pork to avoid even the slightest hint of pink. But according to the USDA, pork is safe to eat as long as the interior temperature is 145 degrees before removing it from the oven. At that temperature, you may still notice a slightly pink interior.
Remember that once you remove your pork loin or roast from the oven, the internal temperature will rise 3 to 4 degrees. Always use a meat thermometer to check if a pork loin is your prepared temperature prior to slicing.
Hints for Getting the Best Flavor From This Boneless Pork Loin Roast Recipe
Follow these tips to take your oven-roasted pork loin to the next level.
Let the pork come up to room temperature before applying the rub. Give your roast about 15 to 20 minutes to shake off some of the fridge chill. As the pork warms up, it can become a bit damp. Use a paper towel to dry the meat completely and then evenly spread the rub over the entire surface.
Preheat your oven with the rimmed baking sheet and wire rack inside. You want everything hot before placing your roast on the wire rack. Heating your cookware will prevent cold metal from cooling down the oven and help stop the meat from sticking.
Remember to turn over the complete roast and rotate the pan 180 halfway through the cooking process. By doing this, you will allow the meat to cook more evenly. When you are testing for doneness, use the probe of the thermometer to measure the distance to the middle of the roast to ensure you get an accurate reading.
Pork Loin vs. Pork Tenderloin
The loin roast comes from the area of the pig between the shoulder and the beginning of the leg. You can purchase the pork loin with either the bone-in or boneless. I like to purchase the entire pork loin and then you can cut some of it into slices for boneless pork chops, and you can also make a roast from this meat.
Sometimes a loin roast is confused with a tenderloin. They are not the same, and the loin roast is sold in portions that weigh between two and four pounds. The tenderloin is smaller when compared to the pork loin, and it weighs only a pound.
There is also a large price difference between the two. The pork loin is a more budget-friendly cut of pork. The pork loin roast is a much more budget-friendly cut of pork.
How long should you cook a pork roast?
To cook the pork roast correctly, note how much the meat weighs. It takes approximately 25 minutes per pound at 350 degrees. The internal temperature of the pork roast should between 145 and 160 degrees. Do not overcook the pork, it will become dry. Also, make sure you allow the pork loin roast to rest for about 10 minutes before serving.
There is no need to cover the roast with foil or a lid while cooking; this is a dry roasting technique. When the roast finishes cooking, you may have some pan drippings that you will want to pour over the pork loin roast after it has finished cooking.
How to cook a garlic and rosemary pork loin
This recipe is so easy to make. It is made with simple ingredients that are easy to find. You will need a pork loin, garlic, fresh rosemary, salt, and black pepper.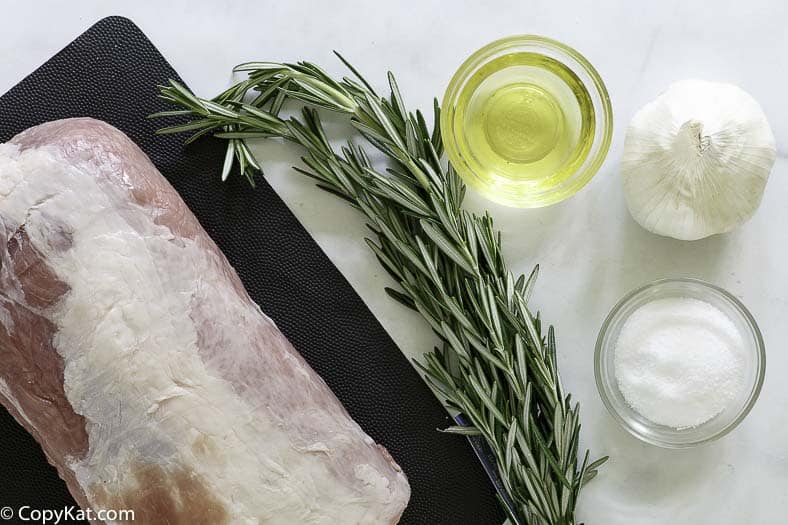 Grab a motor and pestle, and combine the garlic, rosemary, and olive oil, and mix them into a thick paste.
After you have combined the garlic, rosemary, and olive oil into a paste, spread over the pork loin.
After cooking this Garlic and Rosemary Roasted Pork Loin, you will probably get hooked on pork. Why not try another delicious pork dish?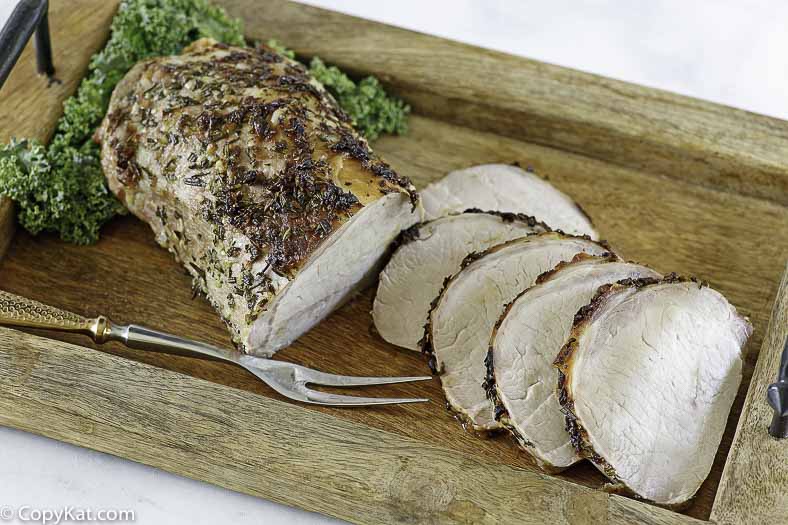 Looking for more boneless pork recipes? Be sure to try these
Great Roasted Meat Recipes
Be sure to take a look at more of my easy pork recipes and the best low carb recipes.
Ingredients
4

pound

pound pork loin roast

(please note the weight of your roast, you may need to adjust)

2

teaspoons

fresh rosemary leaves

2

teaspoons

Kosher salt

5

cloves

garlic

2

tablespoons

olive oil
Instructions
Preheat oven to 350 degrees. Use either a mortar and pestle, or a food processor, add rosemary leaves, salt, garlic, and olive oil. Mash or pulse until a paste is formed. Place roast on a

wire rack

on a baking sheet fat cap side up.

Spread rosemary and garlic paste over the roast. Bake for approximately 1 hour and 20 minutes. Check roast for temperature with a meat thermometer.

When the temperature is between 145 to 160 degrees remove the roast for from the oven. You may need to adjust the cooking time. All ovens and cuts of meat are different. Allow roast to rest for about 10 minutes before carving. If desired serve with pan juices.
Nutrition
Calories:
266
kcal
|
Carbohydrates:
0
g
|
Protein:
40
g
|
Fat:
10
g
|
Saturated Fat:
2
g
|
Cholesterol:
114
mg
|
Sodium:
554
mg
|
Potassium:
684
mg
|
Fiber:
0
g
|
Sugar:
0
g
|
Vitamin C:
0.5
mg
|
Calcium:
12
mg
|
Iron:
1
mg