This oven-roasted pork shoulder is roasted slowly in your oven with onions and chipotle. Slow roasting means you will have a juicy pork roast that is perfect for tacos, nachos, and your next game day!
This post contains affiliate links. As an Amazon Associate, I earn from qualifying purchases.
Slow Roasted Pork Shoulder
This pork shoulder in oven recipe involves a tough cut of pork that is roasted slowly and for a long time with a chipotle rub. Slow roasting pork shoulder oven method gives you a juicy and succulent pork roast that makes the best shredded pork. It's perfect for tacos, nachos, and your next game day!
What Is a Pork Shoulder?
If you're a fan of pork recipes like Chili Verde, meaty ragùs, and pulled pork, then you've most likely already discovered pork shoulder roast (sometimes called picnic shoulder or picnic roast.
Pork shoulder, as the name implies, comes from the region of a pig's shoulder. It's a somewhat tough but inexpensive cut of meat that's layered with fat.
Cooking a pork shoulder low and slow for a few hours transforms this tough cut of meat into tender, juicy shredded pork that falls apart with the touch of a fork. However, no amount of trying to hurry the process along will help; you must keep the heat low and the time long.
What Is the Difference Between Pork Shoulder and Pork Butt?
You may be understandably confused by the name pork butt because this cut of meat doesn't actually come from the pig's butt. The actual butt of the pig is the source of ham. Both pork shoulder and pork butt come from the shoulder, with pork butt being higher on the foreleg and pork shoulder located further down.
The two cuts can be used interchangeably, but, generally speaking, pork shoulder is better for cooking and slicing because it contains slightly less fat than pork butt.
Why You Should Try This Pork Shoulder Oven Recipe
Are you looking for an easy-to-prepare meal for your family? A slow-roasted pork roast is super easy to make, and it's a hands-off meal that needs little prep work! This is a pork shoulder in oven recipe, meaning your oven does most of the work.
In this recipe, pork shoulder seasoning includes chipotle, giving a special touch when you want the best-tasting shredded pulled pork. Everyone will ask you for your secret ingredient!
If you are searching for a perfect recipe for entertaining, this shoulder roast recipe may turn out to be your favorite go-to dish for a casual crowd. Plus, it's nearly impossible to mess up slow-cooked pork shoulder.
Another bonus – you can make it a day ahead of time and reheat it when ready to eat.
Ingredients for Oven-Roast Pork Shoulder
Nothing complicated, and you will make something that tastes incredible. Here's the short list of ingredients:
Pork shoulder roast
Corn tortillas
Kosher salt
Limes
Cilantro
How to Prepare a Pork Shoulder Roast for Roasting
A pork shoulder typically comes with a thick skin. Leave the skin on while roasting because it infuses the meat with fat drippings, helping to keep it moist and tender. Proceed to prepare your pork shoulder as follows:
Rinse the meat and pat it dry.
If your butcher hasn't done this for you, score the skin by making deep slashes in it.
Apply the rub, thoroughly coating the skin and getting it into your slashes.
After roasting, you can peel that thick layer of skin (and fat) off.
Don't toss the skin and fat! they work well as a flavor enhancer for roasted Brussels sprouts, for example.
How to Make Slow-Roasted Pork Shoulder
Make a rub from the salt and chipotle powder and apply the spice mixture to the pork.
Place the pork in a covered roaster and cook at 275°F until the pork falls apart. It will take about 3½ to 4 hours.
Heat the tortillas, wrap them in a tea towel, and place them in a basket.
Transfer the pork to a bowl and use forks to pull it apart.
Place the shredded pork on a platter.
Add lime wedges and place the cilantro in a small serving bowl.
Serve with tortillas on the side.
Why Dry Roasting Is Oh So Easy
Dry roasting can also be called low and slow roasting because of how the meat is cooked. The oven temperature is set really low and the meat is cooked slowly over several hours.
This method of cooking transforms tougher cuts of meat from overworked muscle groups. It turns tough connective tissue (collagen) into gelatin, giving the meat its characteristic, gooey, and delicious texture and flavor.
The cooked meat falls right off the bone. There is enough fat in the meat that it is unnecessary to add any liquid to prevent the meat from drying out.
Pork Shoulder Seasoning Variations
This oven-roast pork shoulder recipe uses a salt and chipotle rub. However, because pork shoulder is great at taking up flavor, feel free to substitute your favorite spice or herb blend. Some suggestions:
Garlic, thyme, rosemary, olive oil, Dijon mustard, salt, and pepper.
Garlic, thyme, oregano, olive oil, salt, and pepper.
Garlic powder, brown sugar, smoked paprika, salt, and pepper. (Make it spicier by adding a touch of cayenne powder).
Garlic, lemon pepper, cayenne pepper, onion powder, dry mustard, salt, and black pepper
Of course, to make life simpler, you can choose to buy already prepared pork roast seasoning.
What to Serve With Oven-Roast Pork Shoulder
Shredded slow-roasted pork shoulder makes excellent pork sandwiches with some cole slaw. You can also add it to stews, soups, taco fillings, empanada fillings, Cuban sandwiches, omelets, hash, and more.
Any number of side dishes go with oven-roasted pork shoulder. Here are just a few suggestions:
How to Store Shredded Pork Leftovers
Here's how to store any leftover pulled pork:
Fridge: Place your roast pork leftovers into a sealed container or in a bowl covered with plastic wrap and keep them in the refrigerator for up to 4 days.
Freezer: Wrap leftovers tightly in heavy-duty aluminum foil and place them in a freezer storage bag. They will be good for up to 6 months. Just allow them to fully defrost before reheating.
Reheating: Allow to defrost. Place leftovers on a rimmed baking sheet, splash with some water or broth, and cover with aluminum foil. Bake in the oven at 300°F until heated thoroughly.
Oven-Roast Pork Shoulder Frequently Asked Questions
Is it best to buy a boneless pork shoulder?
For oven-roast pork shoulder, it's up to you. But bear in mind that the bone is filled with flavor that will be released while cooking. Also, keep in mind that a bone-in roast will take a little longer to cook, and the bone is also included in the total weight of the roast.
How much pork shoulder per person?
Allow about 4 oz. of cooked pork shoulder per person. Therefore, a 3-pound roast would serve 8 to 12 people depending on how much fat your pork shoulder has on it.
Does a slow-roasted pork shoulder recipe need water in the bottom of the roasting pan?
No. Adding water will steam the pork rather than roast it. This could lead to soggy meat.
What is the internal temperature that cooked pork shoulder should reach?
Pork is safe to eat when the internal temperature reaches at least 145ºF. However, because we are cooking low and slow, the goal is to get it somewhere between 175 to 180°F so that the meat is super tender and easy to shred.
How long does it take to cook pork shoulder?
The cooking time will vary depending on how big of a roast you have. A rough estimation is 75 to 90 minutes per pound of meat.
Pork Shoulder Cook Time
As a guide, here are some cooking times for oven roasted pork shoulder:
3 lb roast: 3 to 4 hours
4 lb roast: 3.5 to 5 hours
5 lb roast: 4 to 5.5 hours
6 lb roast: 4.5 to 6 hours
7 lb roast: 5 to 6.5 hours
8 lb roast: 5.5 to 7.5 hours
9 lb roast: 6 to 8 hours
10 lb roast: 7.5 to 9 hours and possibly up to 10 hours
More Pork Recipes
Favorite Oven Roasted Meat Recipes
Check out more of my easy pork recipes and the best dinner recipes on CopyKat!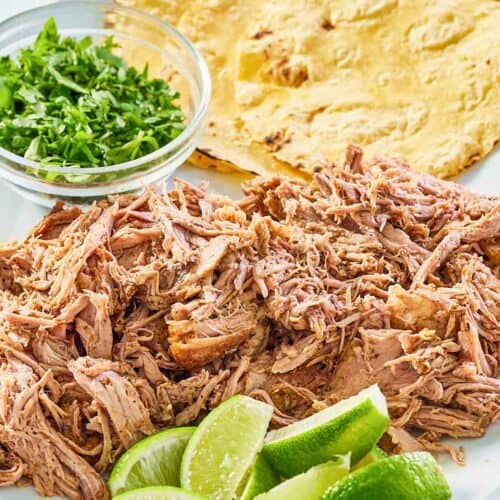 Ingredients
2

tablespoons

kosher salt

1

tablespoon

chipotle powder

3 1/2

pounds

pork shoulder roast

24

corn tortillas

2

limes

1/4

cup

minced fresh cilantro
Instructions
In a small bowl combine the kosher salt and chipotle powder. Rub the mixture into the pork, being sure to cover the entire surface of the meat.

Put the pork in a clay roaster or other deep roasting pan with a lid. Place the covered roaster in the oven, turn the heat to 275°F (if you are using a clay roaster, do not preheat the oven), and cook until the pork falls apart when you press it with the back of a fork, about 3 1/2 to 4 hours.

Remove the pork from the oven and let it rest, covered, for 15 minutes.

Heat the tortillas on a medium-hot

griddle

, turning them frequently, until they are warmed through and soft. Wrap them in a tea towel and place them in a basket.

Transfer the pork to a large serving platter and use two forks to pull it into chunks. Add the lime wedges to the platter, place the cilantro in a small serving bowl, and serve immediately with the tortillas on the side.
Nutrition
Calories:
285
kcal
|
Carbohydrates:
29
g
|
Protein:
22
g
|
Fat:
8
g
|
Saturated Fat:
2
g
|
Cholesterol:
64
mg
|
Sodium:
1510
mg
|
Potassium:
475
mg
|
Fiber:
4
g
|
Sugar:
0
g
|
Vitamin A:
275
IU
|
Vitamin C:
4.8
mg
|
Calcium:
71
mg
|
Iron:
2.2
mg