BBQ baked beans are a favorite dish in the summer. Summer meant picnics growing up, and the familiar sweet and tangy barbecue beans were always a staple.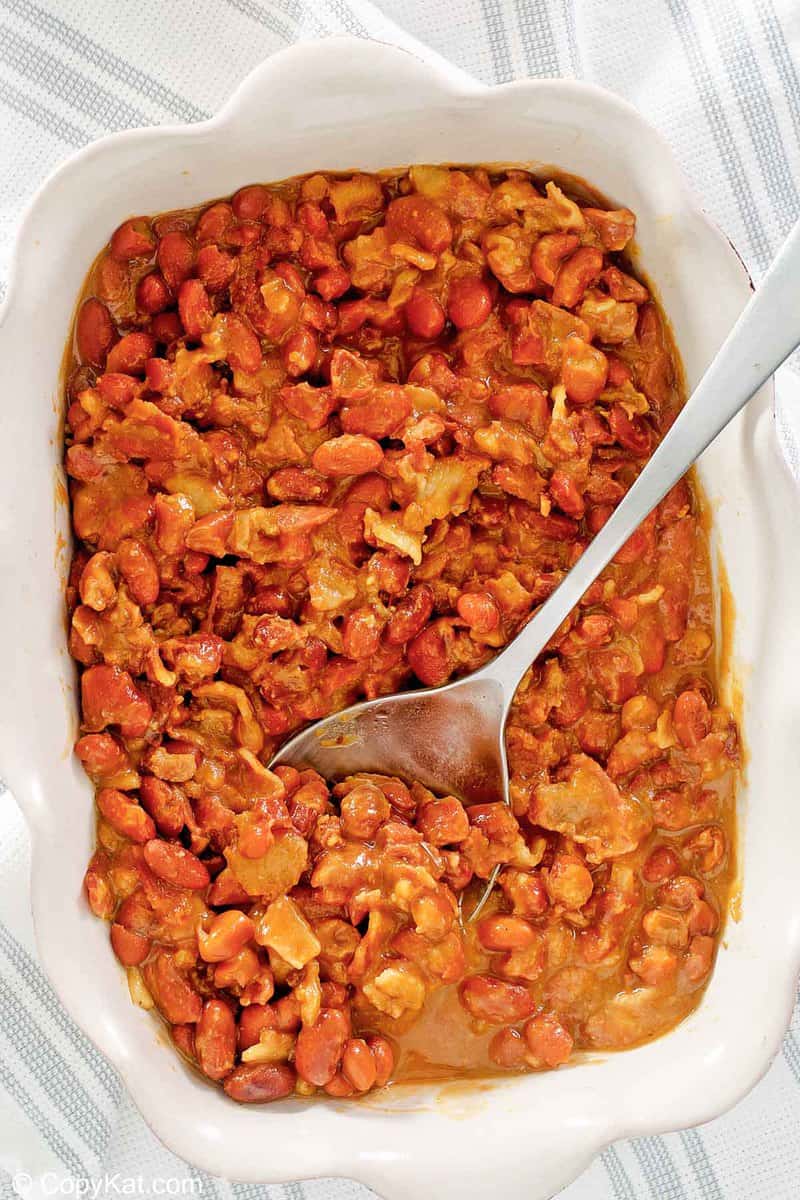 This post contains affiliate links. As an Amazon Associate, I earn from qualifying purchases.
Best Baked Beans Recipe
These beans are made with canned beans. Using inexpensive canned beans means you can shave off a lot of cooking time because the beans are already done.
These are not BBQ baked beans from scratch. Instead, these BBQ baked beans with bacon are made with canned beans. Using inexpensive canned beans means you can shave off a lot of cooking time because the beans are already done.
There's no need to spend all day cooking barbeque baked beans – this baked beans recipe is easy to make with just a few ingredients you probably already have in your pantry.
You can capture the wonderful smokey sweet goodness of these beans by using bacon, sauteed onions, and brown sugar. This combination will make beans that no one can refuse.
Barbecue Beans
Barbecue baked beans are a favorite warm-weather dish. Growing up, summer meant the outdoors and picnics, and sweet and tangy baked beans were always a favorite.
I love these beans because they taste better than those you can order in many restaurants, they are easy to make, and you can make them ahead of time. These are the best BBQ baked beans that also taste great the next day.
What Makes These Easy Barbecue Baked Beans the Recipe You Should Try
Sure, you can buy ready-made baked beans, and some of the brands are even pretty decent. Or you can go all in and make southern BBQ baked beans from scratch, but you are going to need all day to cook them.
This recipe for baked beans with bacon takes only 20 minutes to make and is just a bit more involved than opening a can of baked beans. But it tastes a whole lot more homemade than anything you can find in a supermarket!
What's the Difference Between Boston Baked Beans and Regular Baked Beans?
Beans are part of almost every culinary culture in the world, and there are many different ways to prepare them. One of the most popular styles is Boston baked beans in the US.
The ingredients that distinguish Boston baked beans from other baked bean dishes are molasses or brown sugar and some sort of pork. Traditional cooks used salt pork, but today bacon is the more popular choice for home cooks.
In addition, most recipes for Boston baked beans contain either dry or prepared mustard.
The type of baked beans that top the bread in the infamous British favorite, beans on toast, is tomato-based and not as sweet as the traditional sticky baked beans that you find in America.
BBQ Beans Recipe Ingredients
Here's a list of what you need:
Bacon
Onion
Canned pork and beans
Prepared yellow mustard
Brown sugar
Molasses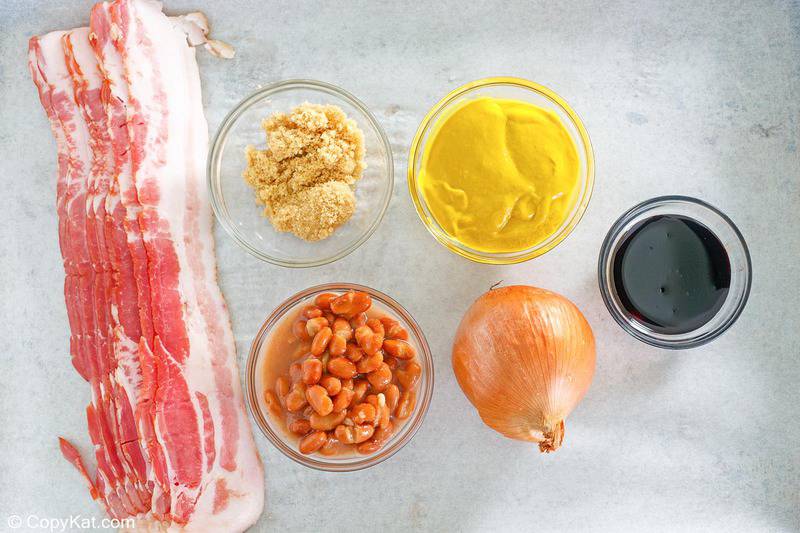 How to Make BBQ Baked Beans with Bacon
These BBQ baked beans can be made in just about an hour.
Sauté the onions and bacon until the bacon is cooked but not crispy and the onions are translucent.
Drain cooked bacon and onions on a paper towel.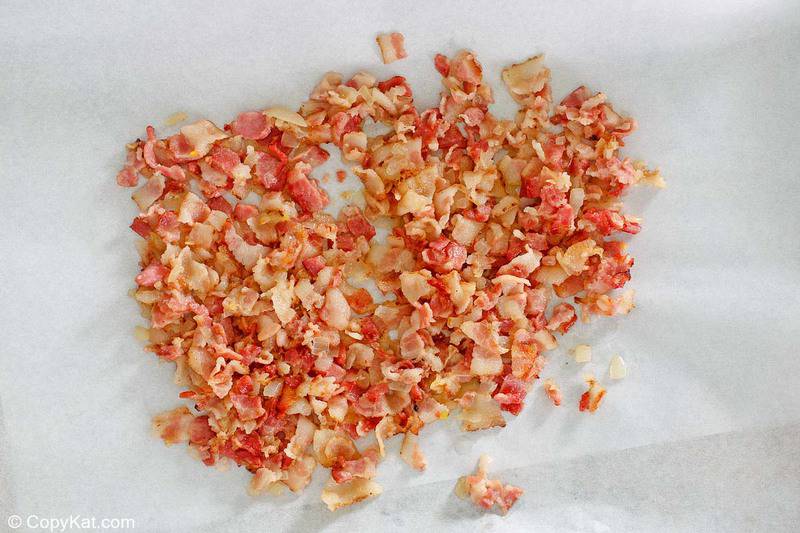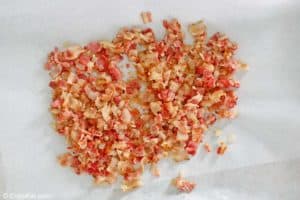 Place beans in a large oven-proof pot.
Add onions, bacon, yellow mustard, brown sugar, and molasses. Stir to combine.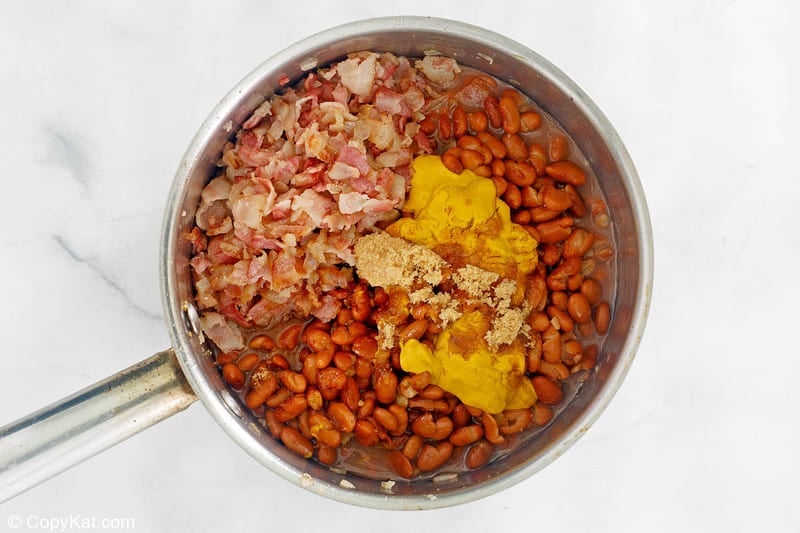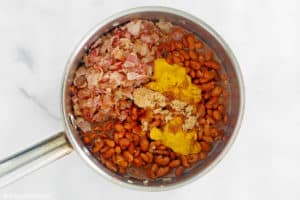 Place a lid on the pot.
Bake at 350 degrees for 1 hour.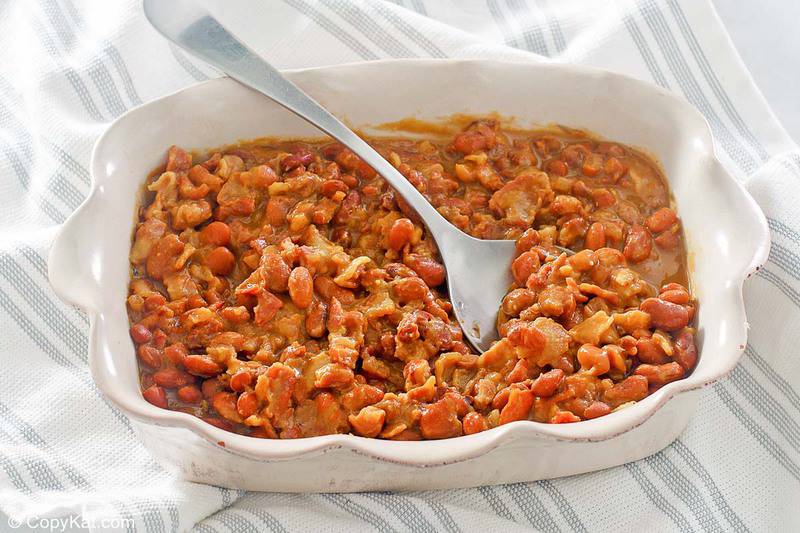 How to Make Slow Cooker BBQ Beans
BBQ baked beans slow cooker style is especially useful for easier toting to and from tailgates and potlucks. For a larger crowd, double the recipe. Here's what to do:
Prepare the bacon and onion as directed.
In a 4 or 5-quart slow cooker, combine the beans, mustard, brown sugar, and molasses. Stir in the bacon and onion.
Cover and cook on a low-heat setting for 5 to 6 hours or a high-heat setting for 2½ to 3 hours.
Tips for Making Perfect Baked Beans
Using canned baked beans is my number one tip for making the best BBQ baked beans. You can have baked beans ready to eat in just about an hour, and they taste like homemade baked beans.
You simply need to sauté the onions and bacon together, combine the remaining baked beans recipe ingredients, and put the mixture into the oven long enough to become piping hot.
How Do You Make a Can of Beans Taste Better?
Canned beans come with a ready-made flavor base. Add a little help from a few simple ingredients you probably already have in your kitchen. Voila! No one will know you began with a store-bought convenience item!
Some people think that canned beans have a slightly metallic taste, but you shouldn't notice any off-flavors if you buy good-quality canned beans. The main difference is that canned beans are typically much mushier than baked beans made from scratch.
While you can't do much about the difference in textures, once you get past it and add all of the other ingredients in this recipe, you'll find the taste every bit as good as your favorite long-simmered BBQ baked beans recipe that is just too much hassle to make. 
This recipe kicks up the taste with bacon, onion, molasses, mustard, and brown sugar and gives you that homemade baked beans taste.
Which Beans are Best for Baked Beans?
Canned baked beans are mostly made from haricot beans, also known as navy beans. If you are making a large batch of beans, you could use a mix of canned beans if you wish. For example, kidney, pinto, or black beans would work well.
How Long Do You Bake Beans in the Oven?
Place the covered pot in a 350-degree oven and bake for about 1 hour or until the beans are hot.
What Goes With BBQ Baked Beans?
If you are wondering "what do BBQ beans go with?", well, the sky is the limit here. Just about anything that comes off the grill can benefit with a massive helping of this best baked beans recipe alongside.
Baked beans also go well with other summer side dishes like:
Serve with homemade lemonade and cornbread too.
Ways to Use BBQ Baked Beans
Here are some other ways to use your baked beans.
Scramble some eggs with baked beans for a breakfast that will keep you full all morning.
Top twice baked potatoes with baked beans.
Make savory muffins. Fill the muffin case halfway, then place a spoonful of baked beans into each muffin. Top with the rest of the mixture and bake as normal.
How to Store, Freeze, and Reheat BBQ Beans
This recipe makes a lot of food, and unless you are serving a crowd, you probably have some leftovers. The good news is that you have options for storing extra BBQ beans.
Keep them covered in the fridge for up to four days. Southern BBQ Baked Beans will actually taste better the day after making them, so you may want to plan ahead.
Do you want to store baked beans for longer than a few days? Then you need to freeze them. Place the cooled baked beans in a freezer-safe container and keep them in the freezer for up to six months.
The microwave is the easiest way to reheat frozen or refrigerated baked beans. Place the beans in a microwave-safe bowl and heat the cold beans for a minute and the frozen beans for three minutes. Stir the beans and continue heating and stirring in 30-second bursts until the beans are warm.
You can also reheat baked beans in the oven. This is a good method if you are already cooking something in the oven and want baked beans as a side dish. Put the beans in an oven-proof container and cover them with aluminum foil. Heat in an oven around 350 degrees for 20 to 30 minutes, or until hot.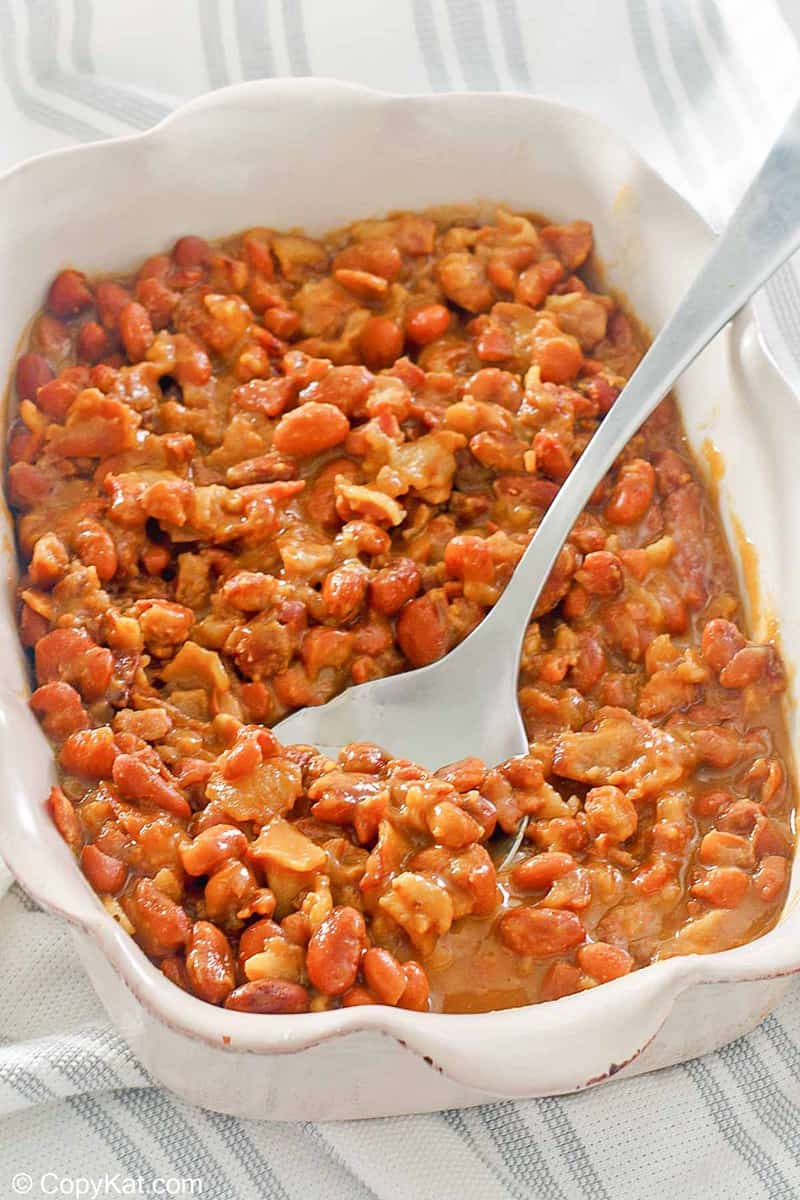 Love beans? Try these favorite bean recipes!
Popular Side Dish Recipes
These side dishes are great for summer barbecues and potlucks:
Check out more of the best side dish recipes and easy summer recipes here on CopyKat!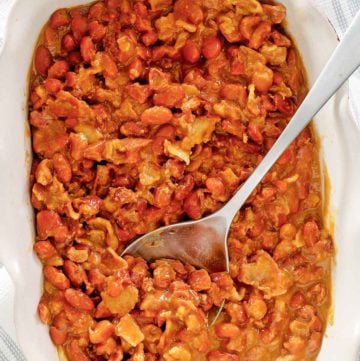 Ingredients
8

ounces

diced bacon

1

cup

chopped onion

56

ounces

pork and beans

(2 large cans)

2

tablespoons

prepared yellow mustard

2

tablespoons

brown sugar

1

tablespoon

molasses
Instructions
Preheat oven to 350 degrees.

In a medium-sized skillet, saute chopped onions and diced bacon until the bacon is cooked but is not crispy and the onions are translucent.

Drain cooked bacon and onions on a paper towel.

Place beans in a large oven-proof pot.

Add cooked onions and bacon, yellow mustard, brown sugar, and molasses. Stir until all ingredients are well combined.

Place a lid over the pot.

Place the pot in the oven and bake at 350 degrees for approximately 1 hour or until the beans are warmed.
Nutrition
Calories:
238
kcal
|
Carbohydrates:
31
g
|
Protein:
9
g
|
Fat:
9
g
|
Saturated Fat:
3
g
|
Cholesterol:
21
mg
|
Sodium:
702
mg
|
Potassium:
493
mg
|
Fiber:
7
g
|
Sugar:
3
g
|
Vitamin A:
5
IU
|
Vitamin C:
3.6
mg
|
Calcium:
81
mg
|
Iron:
2.5
mg