It has been a while since Cracker Barrel has made a new addition to their side dishes, Cracker Barrel Cucumber Tomato and Onion Salad is one of their new side dishes. This is a great light side dish that is so easy to make. This side salad is packed full of fresh cucumbers, grape tomatoes, and white onions.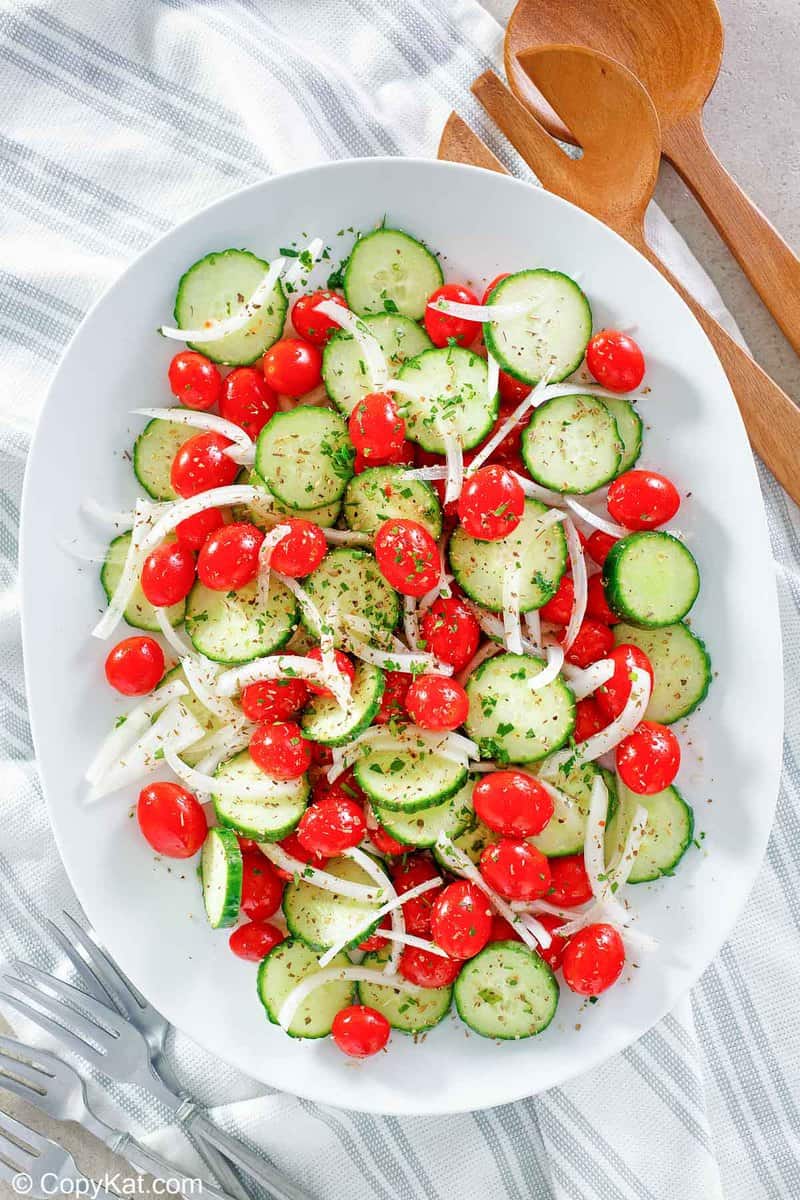 Make Cracker Barrel Cucumber Tomato and Onion Salad at Home
Is it possible to love a salad? Yes, especially one that is as tasty and simple as this tomato cucumber salad from Cracker Barrel. Light yet flavorful, this simple salad is the perfect side at a casual barbeque or works equally well as an appetizer for a sit-down meal. You even have the freedom to make this cucumber salad recipe ahead of time since it actually tastes better on the second or even the third day. If you are looking for a versatile salad, you found it.
Tomatoes, Cucumbers, and Onions, Oh My!
When you have such a streamlined recipe, you need to use the best quality ingredients you can find. Sure, you want your vegetables to be fresh, but it is just as important to choose the correct kind of veggies.
This recipe calls for grape tomatoes, and it is worth sticking with this suggestion. Grape tomatoes are small, firm, and sweet, making them ideal for a chopped salad like this one. There are many varieties of grape tomatoes ranging in color, shape, and size. Feel free to use any that strike your fancy, or even a mix of a few different ones. If you plan to make the cucumber tomato salad in advance, it is a good idea to buy the smallest grape tomatoes you can find. Using smaller types of grape tomatoes, ensure they are bite-sized without the need for cutting.
English cucumbers are the best choice for this salad because not only do they have few, if any, seeds, but they are less likely to be bitter than American slicing cucumbers. Since English cucumbers have thin skin, you can either peel them completely, partially or leave the peel alone. The peel helps the cucumber maintain its crunchiness, and it is the most nutritious part. Cut the cucumber into pieces that are approximately the same size as the grape tomatoes.
Some people dislike onions for their strong, pungent odor and flavor, but not all onions are like that. Some onions are sweet enough to eat like an apple. But sweet onions won't work in this cucumber salad recipe. To get the right balance of flavors, opt for a mild, but not sweet, white onion. Skip any variety advertised as sweet like Walla Walla or Maui onions. Cut the onions into pieces about the same size as the rest of the ingredients in the salad.
Tips for Making the Cucumber Tomato Salad
Make at least four hours before serving. This is the type of salad that requires the flavors to meld together. While the flavor improves within a few days of making, you don't have to wait that long.
Serve at room temperature. The cold masks a lot of this salad's taste, so take it out of the fridge about 30 minutes before serving.
Add a bit of protein. Chickpeas and cold, cooked chicken are great additions to this salad to make it a little more filling.
Store covered in the fridge for up to five days. Give the salad a good stir with a perforated serving spoon and strain the liquid before serving.
Check out how beautiful our recipes look on Instagram!
Recipe Ingredients
This is what you need for the salad:
Cucumbers
Grape tomatoes
White onion
Italian dressing
Vinegar
Sugar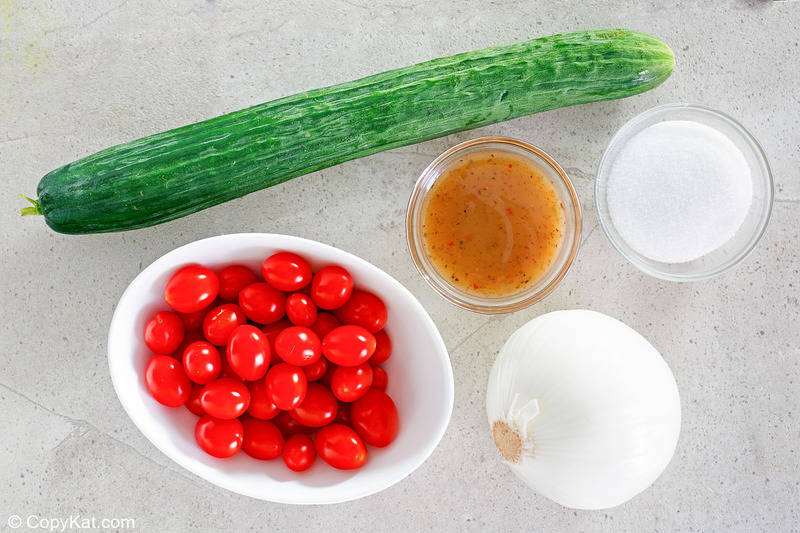 How to Make Cucumber Tomato Onion Salad
Thinly slice cucumbers and onion.
In a bowl, mix together vinegar, sugar, and Italian dressing.

Add sliced cucumbers, tomatoes, and sliced onions.

Toss to coat the vegetables with dressing.
Cover and allow the vegetables to marinate for an hour before serving.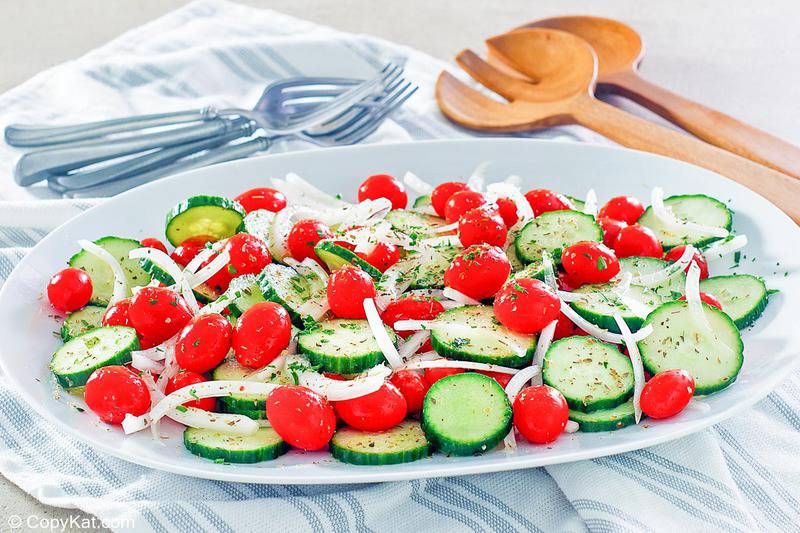 Love Cracker Barrel? Try these copycat recipes!
Favorite Salad Side Dishes
Check out more of my easy salad recipes and the best copycat Cracker Barrel recipes here on CopyKat!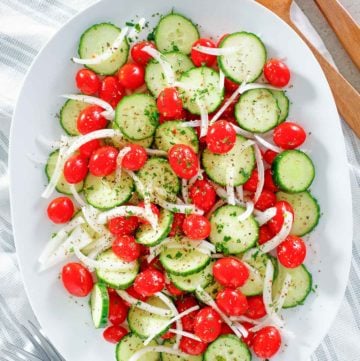 Ingredients
16

ounces

grape tomatoes

3

cucumbers

1/2

cup

sliced white onion

2

tablespoons

Italian dressing

1

cup

white vinegar

1/2

cup

sugar
Instructions
Slice cucumbers into thin 1/4 inch slices.

In a large bowl, mix together vinegar, sugar, and Italian dressing.

Add sliced cucumbers, tomatoes, and sliced onions.

Cover and allow the vegetable to marinate for about an hour before serving.
Nutrition
Calories:
120
kcal
|
Carbohydrates:
24
g
|
Protein:
1
g
|
Fat:
1
g
|
Saturated Fat:
0
g
|
Cholesterol:
0
mg
|
Sodium:
54
mg
|
Potassium:
402
mg
|
Fiber:
2
g
|
Sugar:
21
g
|
Vitamin A:
740
IU
|
Vitamin C:
16.2
mg
|
Calcium:
34
mg
|
Iron:
0.5
mg