Sauerkraut Salad is the perfect sweet and sour cabbage salad that is a wonderful side dish for hamburgers and hot dogs. Kraut salad is vegan and takes just minutes to make.
This post contains affiliate links. As an Amazon Associate, I earn from qualifying purchases.
What is Sauerkraut Salad?
Are you looking for a salad that is both sweet and sour? Kraut salad is the perfect salad for you.
Sauerkraut is the main ingredient in this salad. It also has fresh crunchy vegetables (bell pepper, celery, and onion) that give it great texture.
The kraut and veggies are brought together with a simple dressing that's tangy and sweet. All-in-all it's a light, flavorful, and wonderful side dish.
Why This Sauerkraut Salad Recipe Is The Best
This is one of those easy recipes that everyone loves. Whenever we needed a quick salad, this cold sauerkraut salad recipe is one we made.
It is perfect for picnics, summer barbecues, and potluck dinners. We would make this with our own kraut. If you don't have any homemade on hand, you can use store-bought sauerkraut.
This old-fashioned sauerkraut salad is actually my Grandmother's recipe. She cooked simply, but her food was always amazing. She would make this kraut salad during the summer.
Recipe Ingredients
Here's a list of what you need:
Sauerkraut
Onion
Celery
Green bell pepper
Sugar
Vinegar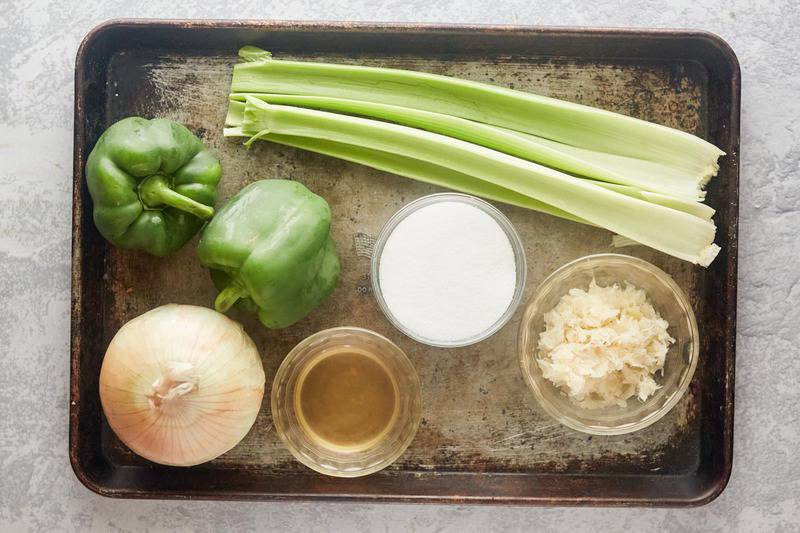 Ingredient Notes
I recommend using refrigerated sauerkraut you find either in the produce or deli section of the grocery store. You can use homemade or canned, either variety will work for this side dish.
Check out my how to make sauerkraut video.
How to Make Sauerkraut Salad
This recipe is super easy. Here are the steps:
Drain the sauerkraut.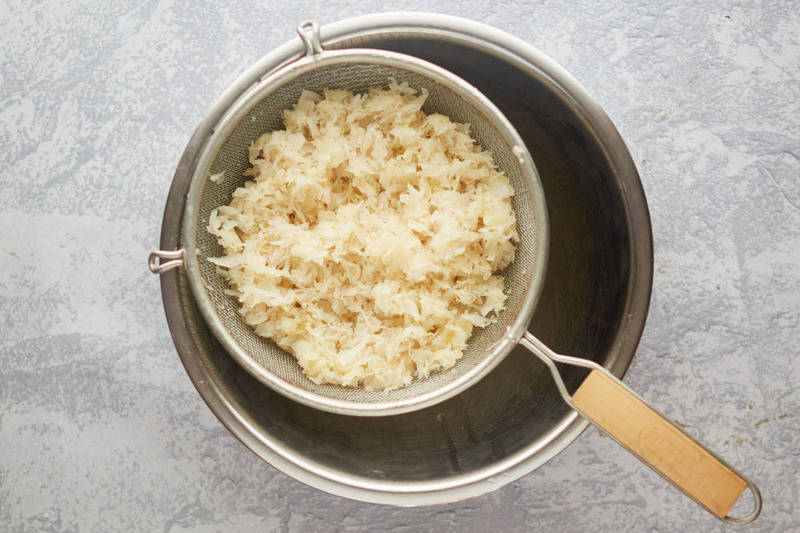 Chop the bell pepper, celery, and onion.
Combine the drained sauerkraut, chopped bell pepper, celery, and onion together in a bowl. Stir the ingredients together well.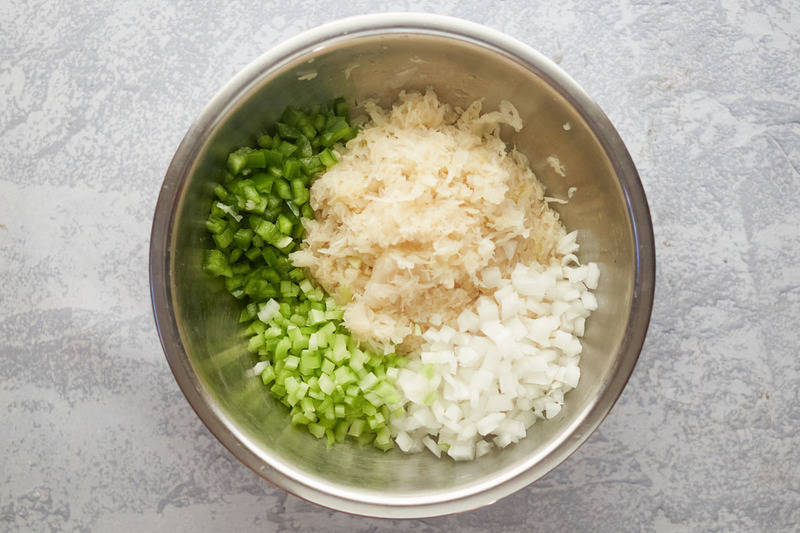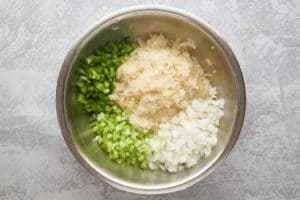 Make the dressing for this recipe by combining sugar and vinegar in a small saucepan. Heat the vinegar and sugar together just enough to where the sugar dissolves.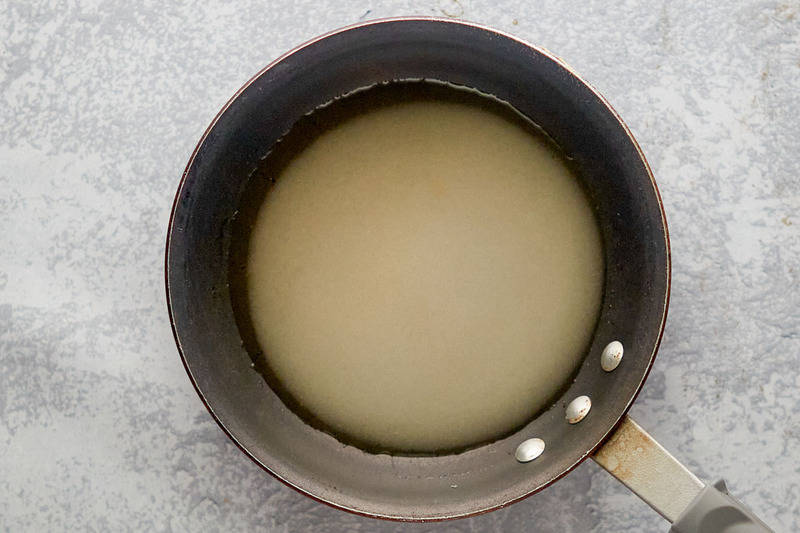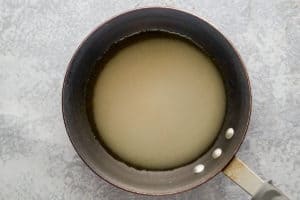 Pour the dressing over the sauerkraut and stir to combine.
Refrigerate the salad for at least 3 hours.
Serve and enjoy!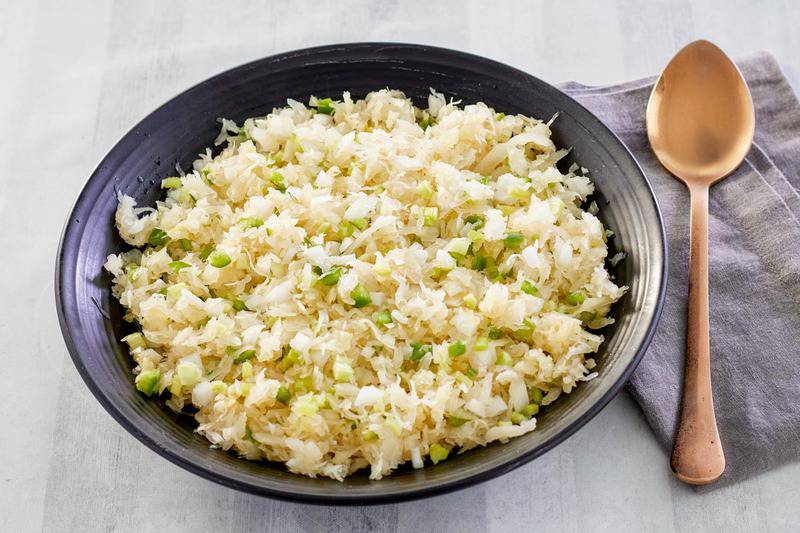 Cold Sauerkraut Salad Recipe Variations
My family recipe is an excellent starting point for you, but you may want to switch out some of these salad ingredients to make it your own. Here are a few ideas:
Swap white distilled vinegar for apple cider vinegar or other flavored vinegar.
Use a red onion in place of white or yellow onion.
Add about a teaspoon of celery seed.
Add about a teaspoon of mustard seeds (this adds a really nice texture).
Swap the green bell pepper for red bell pepper.
Chop up some tart apples and add them to the mix.
Shred a couple of large carrots and add them to the mix.
How to Serve and Store Sauerkraut Salad
Ideally, this salad should be refrigerated for a few hours before serving. This will give the flavors a chance to mingle together. Sauerkraut salad tastes better the second day, that is if you can wait that long to enjoy this summertime treat.
Kraut salad is served cold as a side dish, the same way you would serve coleslaw. The only real difference between the two is the cabbage being fresh or fermented. And yes, there is such a thing as coleslaw without mayo.
Store sauerkraut salad in an airtight container. It will last up to 2 weeks refrigerated and 4 months frozen.
I hope you give this recipe a try. This is the perfect way to use sauerkraut.
What to Serve Sauerkraut Salad With
Since this salad is made with a sweet and tangy vinegar dressing, it pairs nicely with fried and grilled food. It's perfect for summer barbecues and potlucks. It goes well with:
So next time you get out the grill, be sure to make this tangy salad.
Favorite Salad Side Dish Recipes
If you love salads that are great sides, here are some more to try:
Check out more of my easy salad recipes and family favorite recipes here on CopyKat!
This recipe is from Ethel Eynard. Jefferson City, MO. 1998.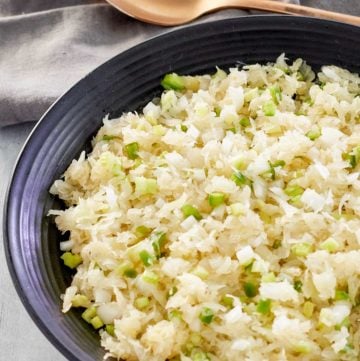 Ingredients
2

pounds

sauerkraut

1/2

cup

diced onion

1/2

cup

diced celery

1/2

cup

diced green bell pepper

1

cup

sugar

4

tablespoon

vinegar
Instructions
Drain the sauerkraut and place it in a bowl.

Add the onion, celery, and green pepper.

Heat the sugar and vinegar in a saucepan until the sugar dissolves.

Pour the mixture over the sauerkraut, stir thoroughly.

Refrigerate until ready to serve.
Nutrition
Calories:
127
kcal
|
Carbohydrates:
31
g
|
Protein:
1
g
|
Fat:
0
g
|
Saturated Fat:
0
g
|
Cholesterol:
0
mg
|
Sodium:
755
mg
|
Potassium:
243
mg
|
Fiber:
3
g
|
Sugar:
27
g
|
Vitamin A:
340
IU
|
Vitamin C:
29.5
mg
|
Calcium:
39
mg
|
Iron:
1.7
mg