This turtle brownie recipe is perfect for those who love chocolate, caramel, and pecans. If you want an easy recipe to make turtle brownies with cake mix, this one is for you! If you love classic turtle candy you are going to be a fan of these scrumptious brownies.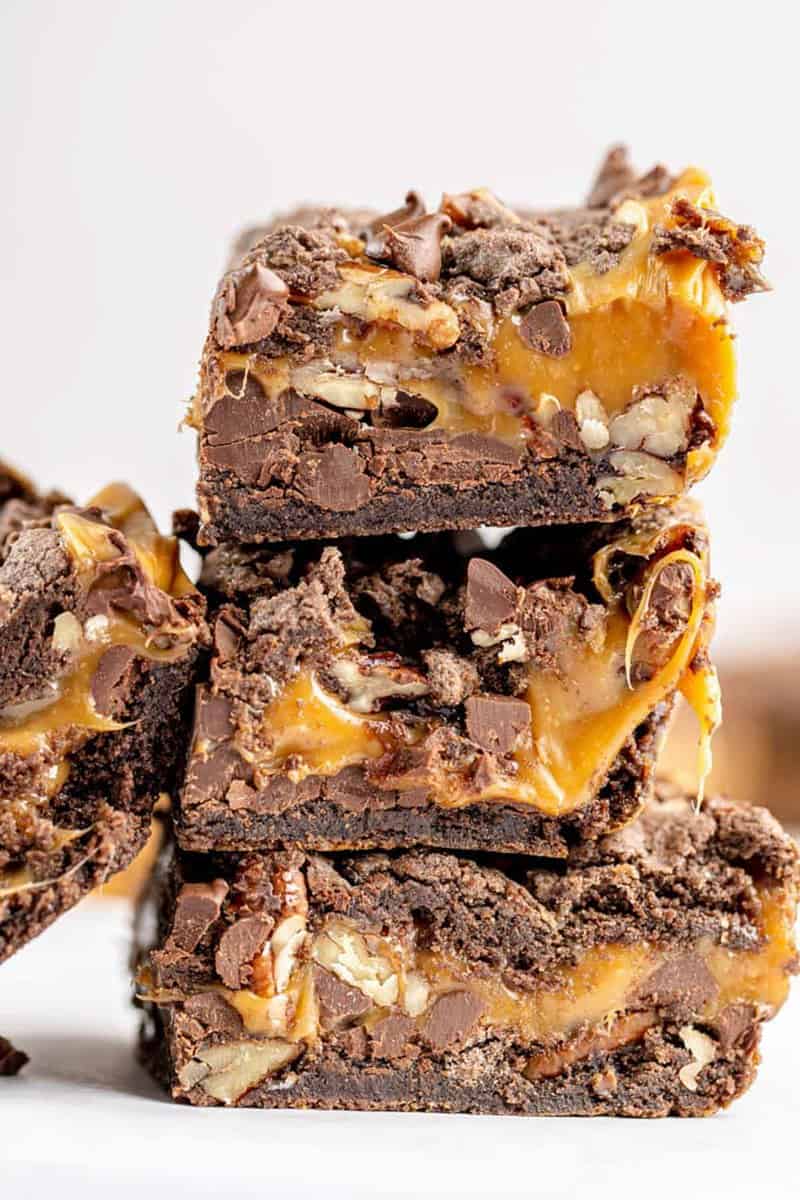 This post contains affiliate links. As an Amazon Associate, I earn from qualifying purchases.
Caramel Turtle Brownies
These killer caramel turtle brownies are made with a box of chocolate cake mix, gooey caramel, semi-sweet chocolate chips, and roughly chopped pecans. They are absolutely irresistible! There's just nothing better than the combination of chocolate, caramel, and pecans all wrapped into one brownie.
This turtle brownie recipe gives you the ultimate indulgent brownie for those who love chocolate, caramel, and pecans. They stay moist forever because of the caramel in the brownies.
Why Are They Called Turtle Brownies?
The pecans tend to stick out of the sides of the brownies, making them look like turtle legs. Ok, you may have to use a little imagination, but that's how turtles got their name, and desserts with chocolate, caramel, and pecans often get the "turtle" name attached to them.
Why This Is the Best Turtle Brownies Recipe
If you want an easy but fancy brownies recipe to make turtle brownies with cake mix, this recipe is for you. No one will have any clue that you used a boxed cake mix for this!
Super rich turtle fudge brownies loaded with caramel, chocolate, and pecans – these ooey-gooey brownies will seriously blow you away!
Turtle brownies are fun to make, quite easy peasy in fact, and delicious. So just a fair warning, with one bite, you won't be able to say no to these turtle brownies unless you have real willpower. Brownies just don't get any better than with this recipe.
And, don't forget to have fun with the kids by making sure there are some turtle "legs" sticking out of your brownies.
Recipe Ingredients
Here's what you need to make turtle brownies:
Wrapped Caramels
Butter
Chocolate Cake Mix
Chopped pecans
Sweetened Condensed Milk
Semi-sweet Chocolate Chips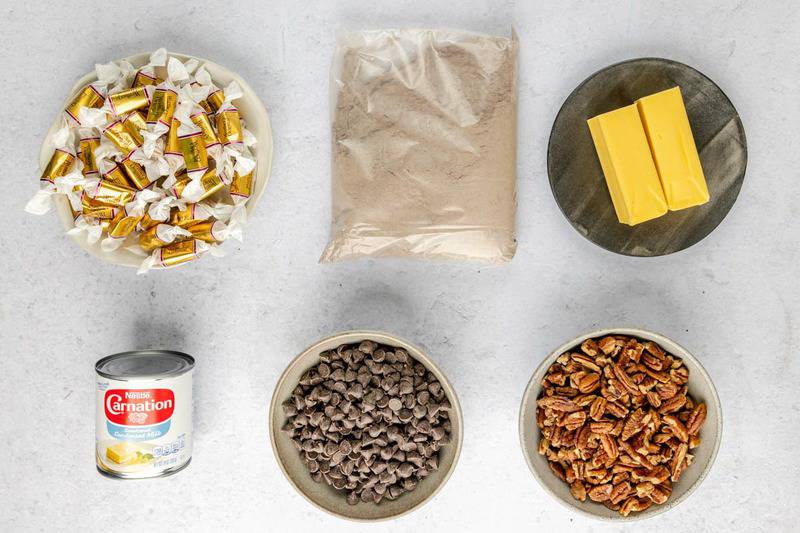 Ingredient Notes
For this fancy brownies recipe, you will need to purchase some wrapped caramels found in the candy section of the grocery store. Don't use caramel sauce because it will not harden like the wrapped caramels.
Use a dark chocolate cake mix to give you deep, full, and rich chocolate flavor.
Ingredient Substitutions and Variations
Change out the nuts. For instance, walnuts are a good substitute for pecans.
If you have a nut allergy or are not a fan of nuts, you can omit the pecans. The brownies, however, will no longer be turtle brownies, just caramel brownies – but still delicious!
Add in some peanut butter chips or combine them with the chocolate chips.
Add in some sweetened coconut flakes for extra flavor.
How to Make Turtle Brownies
Here are the recipe steps:
Place the melted butter in a large bowl.
Add sweetened condensed milk.
Add dry cake mix.
Add pecans.
Stir to combine. The batter will be thick.
Unwrap the caramels and melt them with sweetened condensed milk in a pan on the stovetop or in a bowl in the microwave.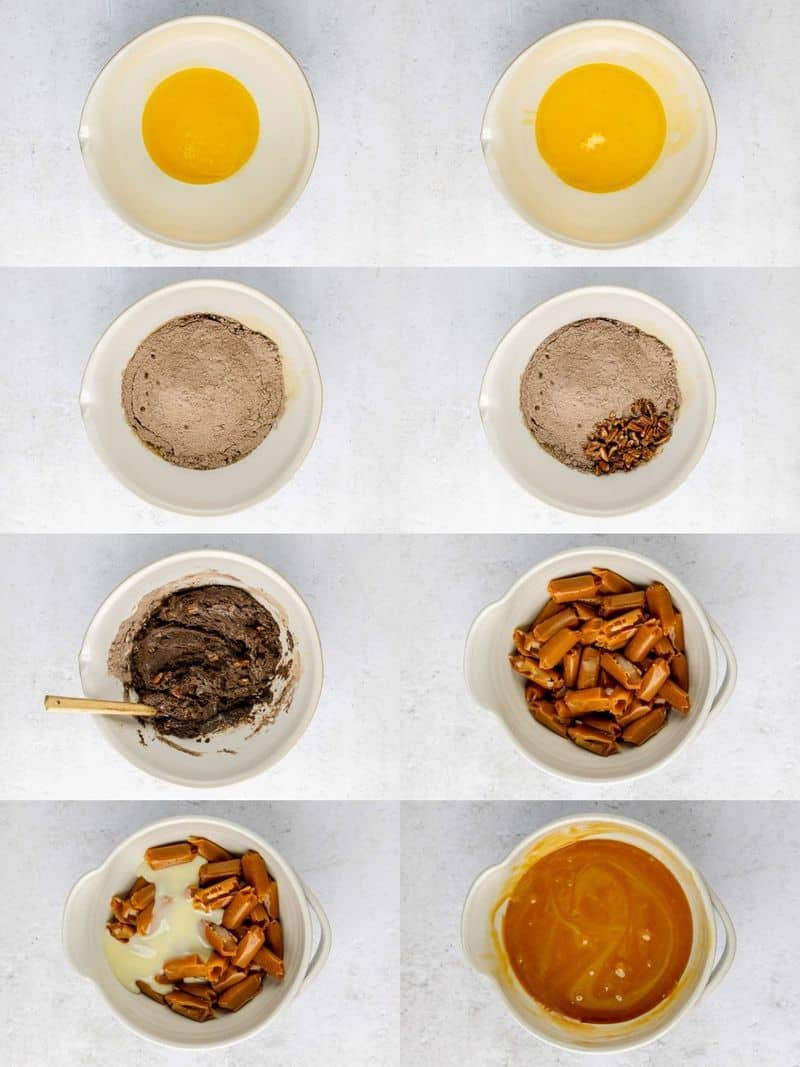 Either grease a 9×13-inch baking dish or line it with parchment paper.
Spread half of the brownie batter in the prepared baking dish.
Bake at 350°F for 6 minutes.
Sprinkle chocolate chips over the warm batter.
Sprinkle pecans over the chocolate chips.
Drizzle the caramel mixture over the pecans.
Press the remaining batter between your hands. Pull off small portions and sprinkle them over the caramel.
Sprinkle the remaining chocolate chips over the top.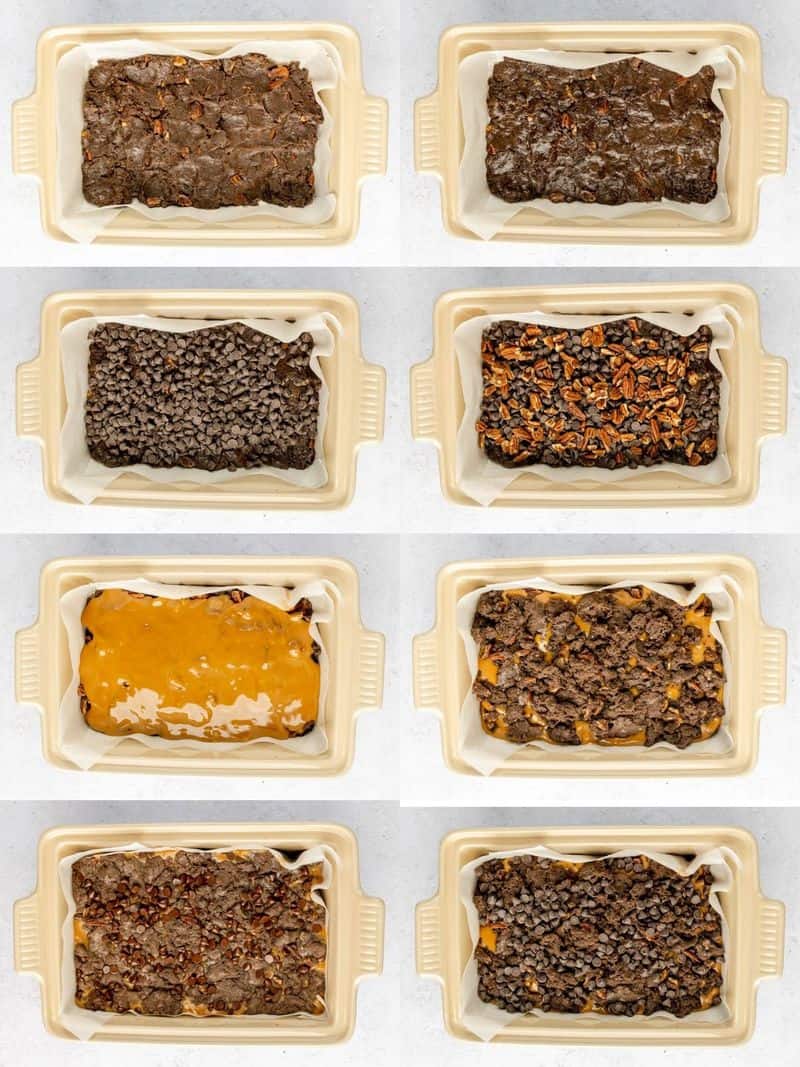 Bake for 15 minutes more.
Cool the brownies completely in the pan.
Cut the brownies into squares or rectangles. Enjoy!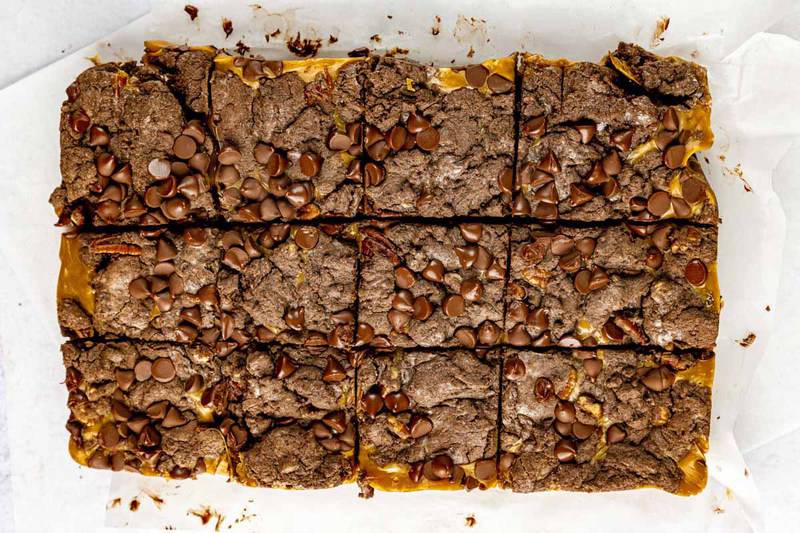 How to Serve Turtle Brownies
This chocolate turtle brownies recipe is perfect for making family treats or for casual entertaining. And, brownies are one of those easy things to bring to a friend's house when you have no idea what to bring.
Adding caramel to brownies combines the flavors that everyone seems to love. I mean, who can turn down caramel and chocolate?
If you love turtle sundaes, this decadent brownie recipe is perfect paired with vanilla ice cream. Serve it as a dessert on your loveliest of dessert dishes for a dinner party. Top the ice cream with toasted pecans and caramel syrup for an extra flourish and you are on your way to caramely heaven!
Another way to enjoy these rich, million-dollar morsels is to microwave them for about 10 seconds, just sufficient to warm the turtle brownie, soften the chocolate, and liquefy the caramel. It's melt in your mouth bliss! Eat them warm with a scoop of homemade vanilla ice cream.
Can You Make Turtle Brownies Ahead of Time?
Yes, these brownies can be made several days in advance. Be sure to put them in an airtight container so they don't dry out.
You can freeze these caramel fudge brownies for up to 3 months. This is the best option for making them to have on hand and enjoy later.
How To Store Turtle Brownies
Room temperature: Cover the brownies with parchment paper and place them in a zip lock bag or airtight container. Your brownies will last about a week at room temperature.
Refrigerator: Keep your chocolate turtle brownies in an airtight container in your refrigerator for up to a month. You can eat them straight out of the refrigerator cold or let them sit until they reach room temperature.
Freezer: Place the brownies in a freezer-safe container or plastic freezer bag and freeze them for up to 3 months. Thaw the brownies in the refrigerator overnight then set them out to get to room temperature.
Warming Up: You can warm them up for about 12 to 15 seconds in the microwave.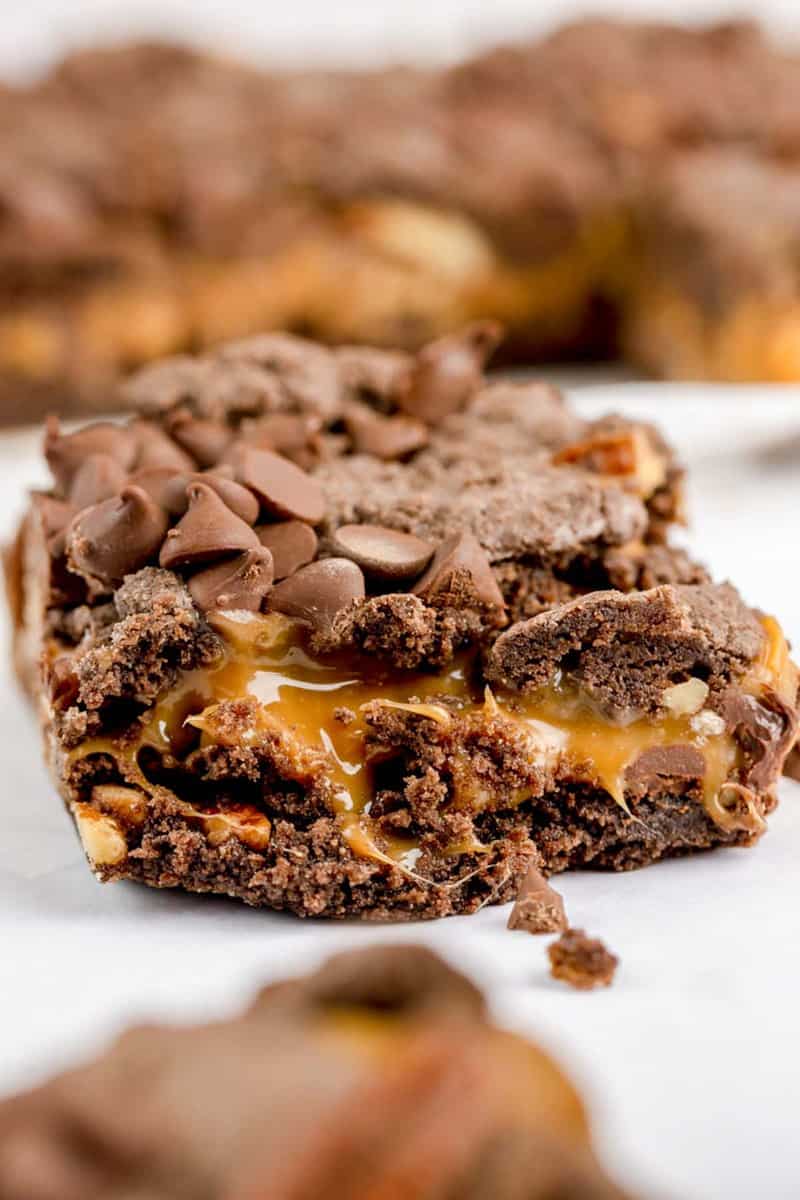 Favorite Brownie Recipes
Alice Medrich's Cookies and Brownies book is a great source for even more brownie recipes.
Popular Chocolate Dessert Recipes
Check out more of my easy brownie recipes and the best dessert recipes here on CopyKat!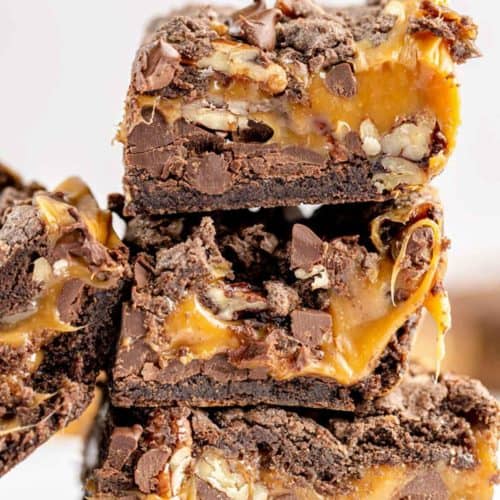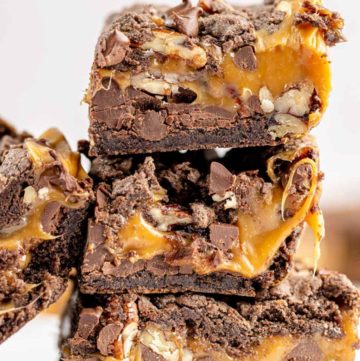 Ingredients
14

ounces

wrapped caramels

14

ounces

sweetened condensed milk

divided use

3/4

cup

butter

melted

1

15.24-ounce box

chocolate cake mix

1

cup

roughly chopped pecans

divided use

12

ounces

semi-sweet chocolate chips

divided use
Instructions
Preheat the oven to 350°F and grease a 9×13-inch baking dish.

Unwrap the caramels and melt them with 7 ounces of sweetened condensed milk in a pan on the stovetop or in a bowl in the microwave.

In a large bowl, combine the remaining sweetened condensed milk with the melted butter, dry cake mix, and 1/2 cup pecans. The batter will be thick.

Place half of the brownie batter in the greased baking dish and bake in the preheated oven for 6 minutes.

Remove the dish from the oven and sprinkle with 1 cup of chocolate chips and the remaining pecans. Pour the caramel mixture on top.

Flatten the remaining batter by pressing it between your hands and place it over the caramel. Sprinkle with the remaining chocolate chips and bake for 15 more minutes.

Remove the pan from the oven and allow the brownies to cool completely in the pan. Cut the brownies into squares and enjoy!
Nutrition
Calories:
334
kcal
|
Carbohydrates:
47
g
|
Protein:
4
g
|
Fat:
15
g
|
Saturated Fat:
7
g
|
Cholesterol:
24
mg
|
Sodium:
216
mg
|
Potassium:
117
mg
|
Fiber:
0
g
|
Sugar:
37
g
|
Vitamin A:
265
IU
|
Vitamin C:
0.7
mg
|
Calcium:
101
mg
|
Iron:
1.1
mg