CiCi's has been long known for its delicious dessert pizzas. With chocolate pudding and pizza dough, you can turn a couple of basic ingredients into much more.  You can make this easily at home.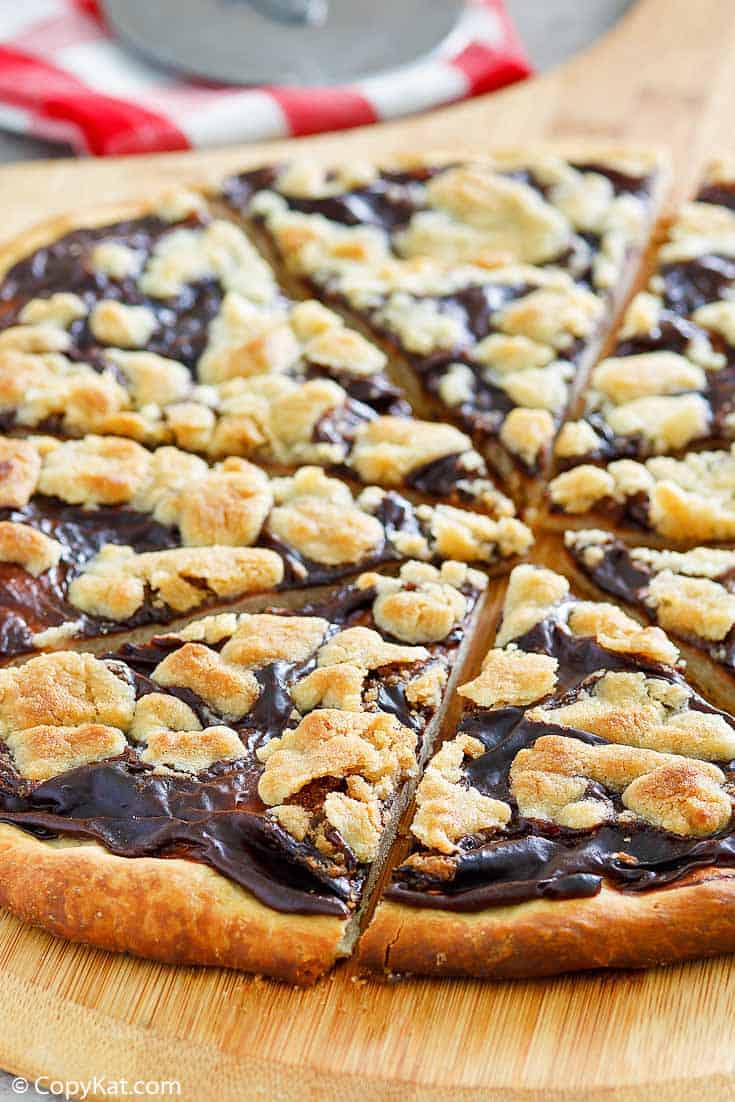 Chocolate Dessert Pizza
If you thought pizza was just confined to the basics of cheese and tomato, you are in for a pleasant surprise – especially if you are a chocolate lover! Why not have pizza for dessert with this delicious copycat Cicis Chocolate Dessert Pizza?
Cicis has long been famous for their delicious dessert pizzas, although a chocolate pizza does not appear to be on their current menu. However, you can easily make this yummy chocolate dessert in your own kitchen.
This chocolate pizza is easy and fun to make and is the perfect dessert for any meal. Made with simple ingredients like chocolate pudding and pizza dough mix, this sweet and salty pizza is sure to hit just the right spot on your tastebuds. So try this chocolate dessert recipe for a one-of-a-kind dessert experience.
Homemade Pizza Crust
Have you ever wanted to make pizza dough at home but have been afraid to try? Well, making your own pizza from scratch, including the crust, is a lot of fun and not really difficult at all. All you need is a good pair of hands and a food processor.
I love to replace processed and pre-packaged foods with homemade alternatives because you know exactly what is in your food – you don't have to be concerned about strangely-named or chemical-sounding ingredients that you have no idea about. Click here to learn how to make your own wonderful pizza dough.
If you think that making your own pizza dough is too time-consuming, it's easy to make several batches and freeze them for whenever you feel like a pizza.
Ingredients
Pizza dough
Chocolate pudding
All-purpose flour
Sugar
Brown Sugar
Butter
Salt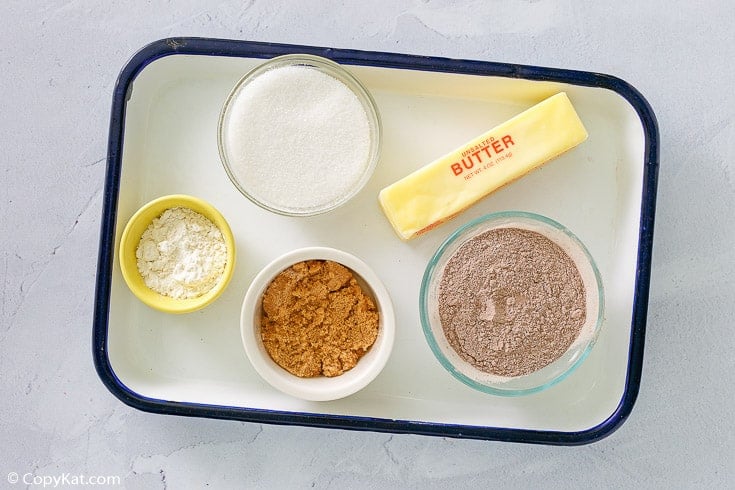 How to Make Chocolate Pizza
Spread pizza dough on a pizza baking pan.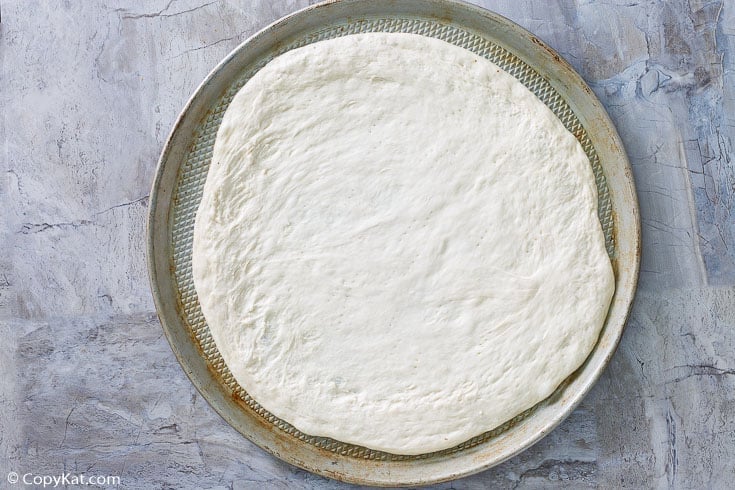 Bake crust for 5 minutes at 450 degrees.
Spread pudding on top of the crust.
Sprinkle crumb topping on top of the pudding.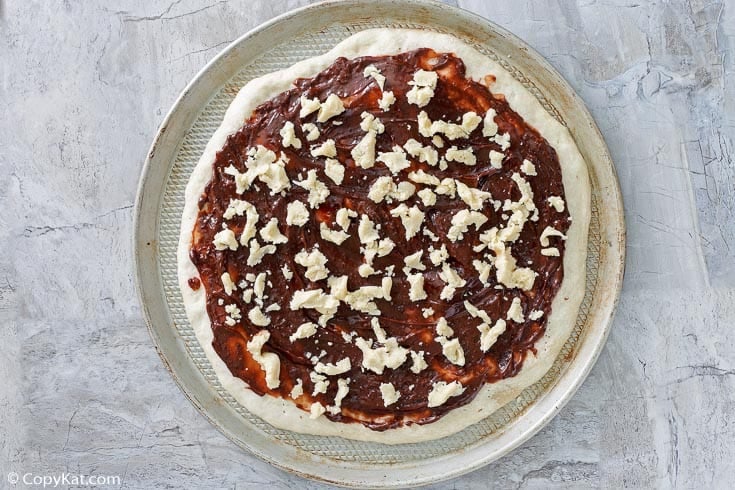 Bake for 18 to 20 minutes at 450 degrees.
Slice and enjoy!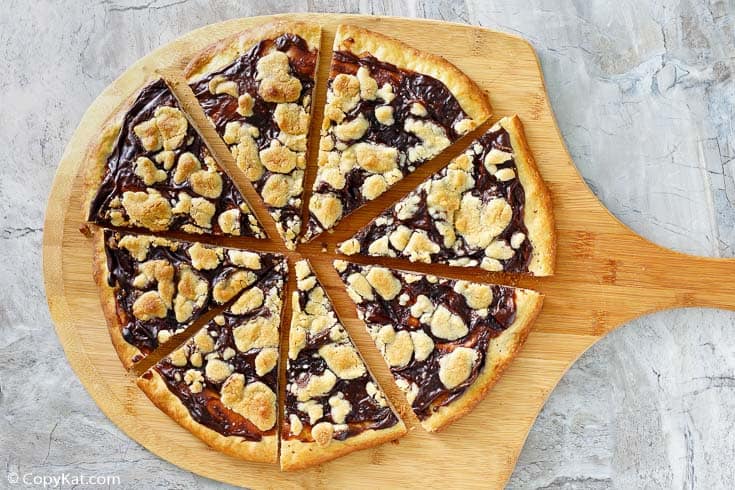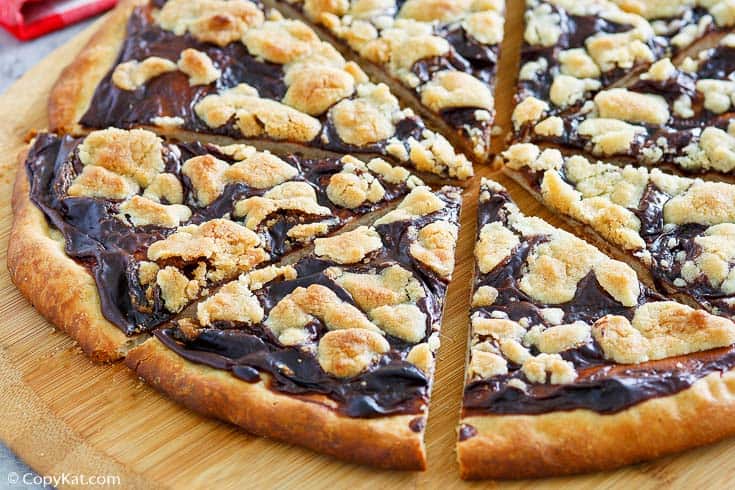 Love pizza? Try these recipes
More Pizza Sweets
Be sure to check out more of my easy desserts and budget-friendly recipes.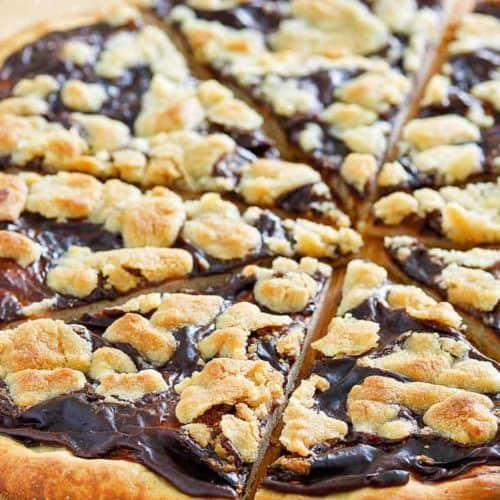 Ingredients
1

pound

pizza dough

1

package

instant chocolate pudding mix

4 serving size, prepare according to package directions
Crumb Topping
1/2

cup

all purpose flour

3

tablespoon

sugar

1

tablespoon

brown sugar

1/4

cup

softened butter

1/8

teaspoon

salt
Instructions
Prepare pizza dough as directed on the package. Spread and shape dough on greased pizza pan. Pierce dough with fork 8 or 10 times. Place in a preheated oven at 450 degrees for 5 minutes. 

Remove crust from oven and spread 3/4 cup of chocolate pudding on the crust. Sprinkle with 1/4 cup of crumb topping. Place back in the oven and bake for 18 - 20 minutes. Crumb topping should be a little crisp.
Crumb Topping
Mix flour, sugar, brown sugar, and salt. Place butter in mixture and blend with a fork or pastry blender until the crumb topping resembles cornmeal. This is a great topping for fruit pies or desserts.
Nutrition
Calories:
287
kcal
|
Carbohydrates:
49
g
|
Protein:
5
g
|
Fat:
7
g
|
Saturated Fat:
4
g
|
Cholesterol:
15
mg
|
Sodium:
669
mg
|
Potassium:
36
mg
|
Fiber:
1
g
|
Sugar:
17
g
|
Vitamin A:
175
IU
|
Calcium:
3
mg
|
Iron:
2.1
mg