Breakfast doesn't get easier than baked eggs, simply place a few ingredients into an ovenproof dish,  put the eggs into the oven, and in less than 15 minutes you have a tasty low carb and keto-friendly breakfast.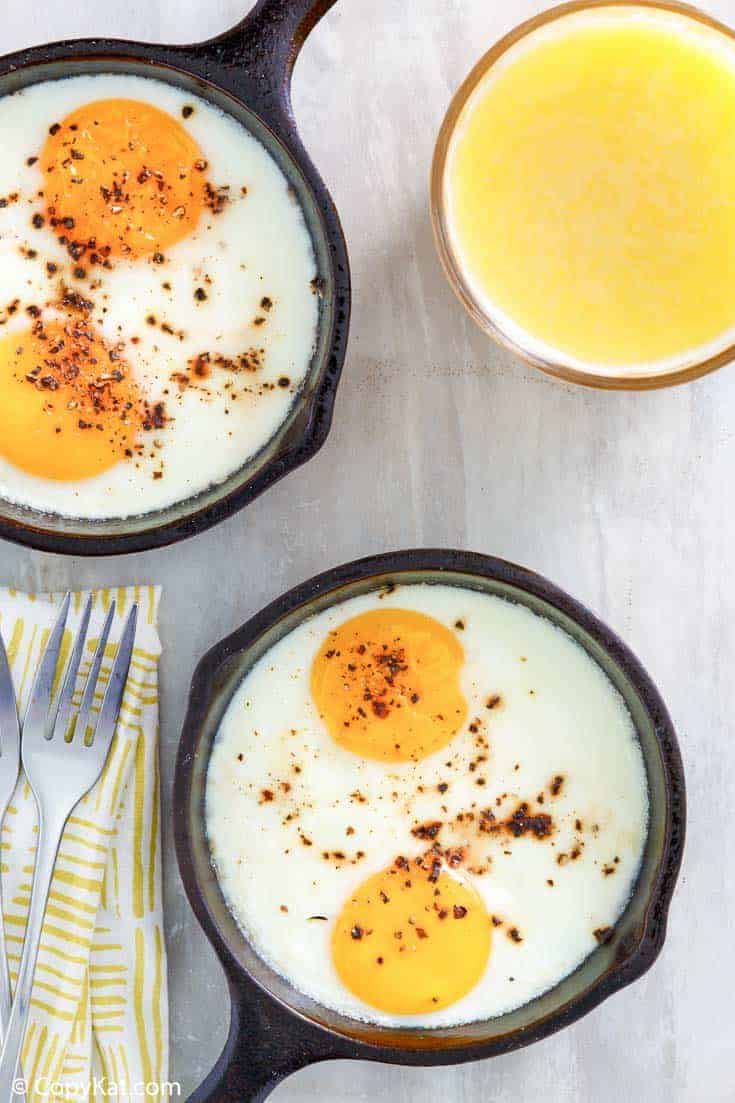 Eggs are delicious, versatile, and inexpensive, but they can sometimes be a bit tricky to cook, especially when you are serving a crowd. An easy solution is baking them. Although preparing baked eggs in the oven may have fallen out of favor recently, it is well worth trying out this recipe if you are looking for a hands-off and foolproof method of cooking eggs. This easy baked eggs recipe will add a little style to your weekend brunch or make a quick light supper when paired with smoked fish or meat.
A Brief History of Baked Eggs
Humans have been eating eggs since, well, there have been humans, but records of people making baked eggs in the oven didn't start to appear until the mid 19th century. An early and simple version of baked eggs appeared in The Royal Cookery Book under the name 'Eggs on a Plate,' and very closely resembles the recipe given below. Later, more complex variations of baked eggs began to gain popularity. One of the most famous of these variations is known as 'shirred eggs.'
What are shirred eggs?
Shirred eggs seem to have originated in America sometime towards the end of the 1800s. In the Diner's Dictionary, the author, John Ayto, defined shirred eggs as, "An American way of cooking eggs: the eggs are broken into a cup or small bowl, covered with milk or cream and often breadcrumbs, and baked." Today you are likely to find recipes using both the terms baked eggs and shirred eggs interchangeably, but it is important to note that they are not the same dish and do require different preparation and cooking times.
Necessary Equipment For Making Easy Baked Eggs
There is just one thing you must have to make baked eggs: an oven-safe serving dish. Traditionally, cooks baked their eggs in shirrers, the containers that lent its name to shirred eggs. However, today, it is more common to use a shallow ramekin or another oven-safe dish. It is most convenient to use an individual dish for each portion to make serving easier.
Tips for Cooking and Serving Easy Baked Eggs
Avoid serving undercooked eggs. Eating undercooked eggs can get you sick, so ensure you cook your eggs long enough. Cooking times can vary depending on the depth of the dish. When you notice a translucent film over a set yolk, the eggs are ready, approximately 10 – 12 minutes.
Be careful when eating. Since the eggs are baked and served in the same dish, they are hot. Remember to warn your guests not to touch the container and to protect your table with a trivet.
Customize your baked eggs. This is a very basic recipe, so feel free to experiment by adding a bit of pre-cooked meat, vegetables, or top with your favorite sauce. If you are serving a group, be sure to offer different choices of add-ins and condiments.
Get even more creative. Do you really want to impress someone? Then why not try lining the cooking dish with bacon or par-cooked potato slices? Or you can even forgo the dish altogether and bake your eggs in half an avocado!
Ingredients for Baked Eggs
Eggs
Butter
Salt and Pepper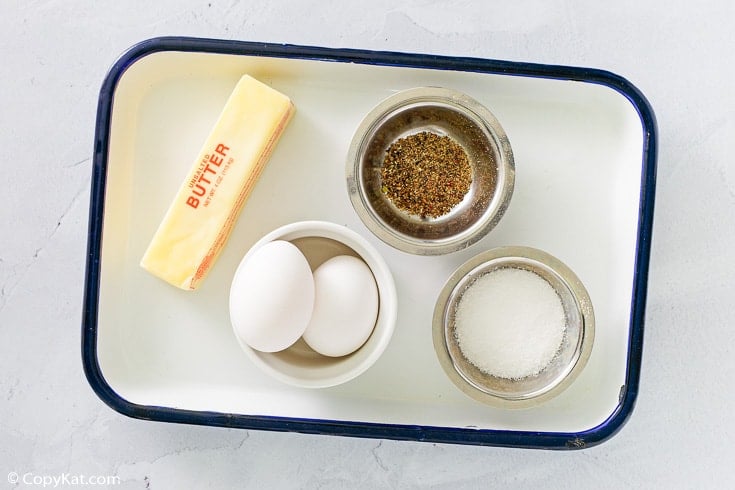 How to Make Baked Eggs
Heat oven to 325 degrees.
Melt butter in a small baking dish or oven-safe skillet in the oven. Remove dish from oven.
Gently crack eggs into melted butter. Be careful not to break the yolks.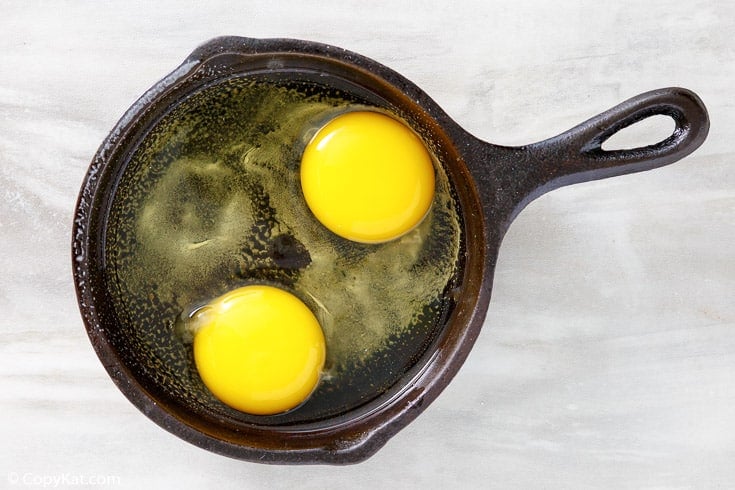 Season with salt and pepper.
Place the dish back in the oven and bake for 10 to 12 minutes.
This is a perfect recipe to make when you are trying to get out of the door in the morning and want to save some money by making breakfast at home. If you make a bit of toast, you will have a hearty breakfast in no time.
If you wanted to get fancy with this recipe, you could sprinkle some fresh herbs on these baked eggs when you remove them from the oven. Fresh herbs I would recommend would be a little parsley or even chives.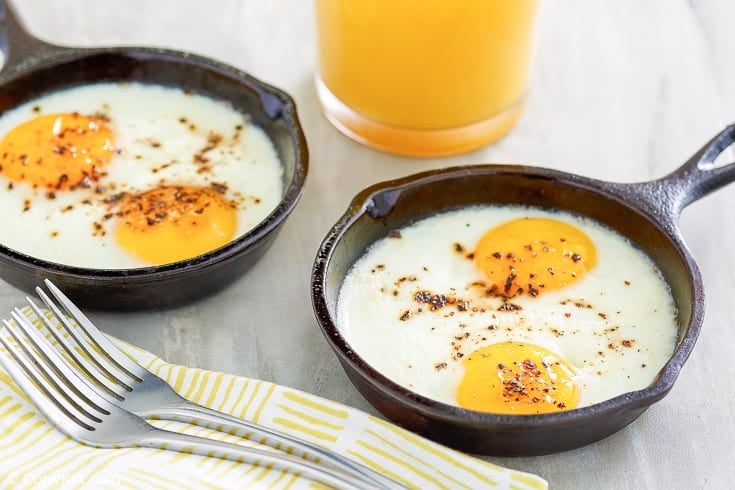 Looking for more great egg recipes? Check these out
Best Omelette Recipes
Be sure to take a look at my copycat restaurant breakfast recipes and quick meals.
If you can't get enough of our recipes, make sure you friend us on Facebook or follow us on Twitter!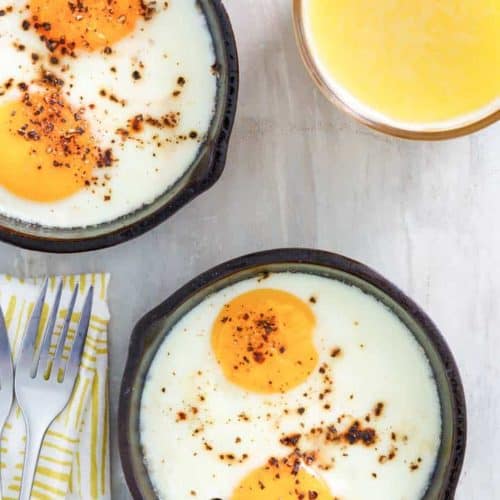 Ingredients
2

teaspoons

butter

2

eggs

1/8

teaspoon

salt

1/8

crushed

black pepper
Instructions
Preheat an oven to 325 degrees. Use a small dish to bake the eggs in. Melt the butter. You can do this by placing the dish you will cook the eggs in the oven while it heats to the proper temperature. Crack two eggs into the dish gently so as not to break the yolk. Season with salt and pepper. Bake eggs in the oven for 10 to 12 minutes.
Nutrition
Calories:
197
kcal
|
Carbohydrates:
0
g
|
Protein:
11
g
|
Fat:
16
g
|
Saturated Fat:
7
g
|
Cholesterol:
348
mg
|
Sodium:
487
mg
|
Potassium:
121
mg
|
Sugar:
0
g
|
Vitamin A:
725
IU
|
Calcium:
49
mg
|
Iron:
1.5
mg