The IHOP Colorado Omelette is a great meaty omelet.  It is so big, that when I go into to order the IHOP Colorado Omelet that I like to split it with another person. What makes the IHOP Colorado Omelet so special is that it is simply filled with all sorts of meats.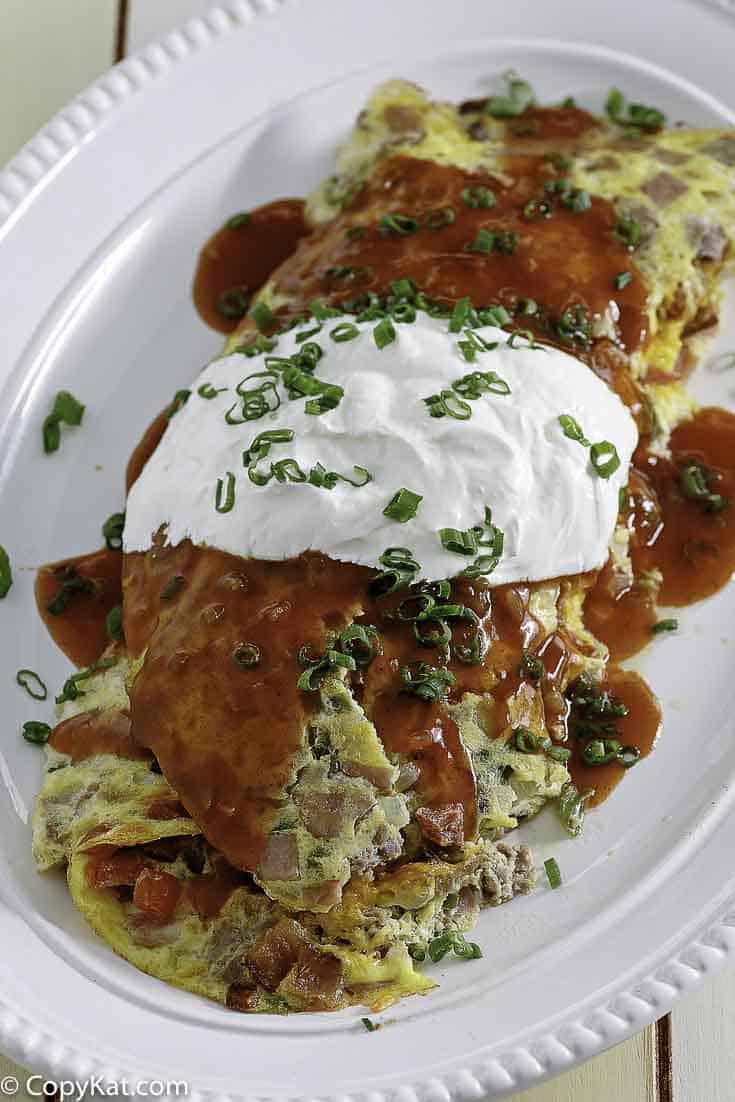 IHOP Colorado Omelette
The IHOP Colorado Omelette is so hearty you will be able to serve it as breakfast or even as a dinner. This is so full of meats and veggies that it will seriously fill you up. I figured out how to make this delicious egg recipe at home and I am so excited! I'll share my recipe with you here, including a few food substitutions you can make.
What's In A Colorado Omelet?
An IHOP Colorado omelette is full of meats and vegetables. Here's what I put in my omelette, and it tastes just like the one from IHOP.
Diced onions
Bell peppers
Tomatoes
Ham
Shredded cheddar cheese
Bacon
Breakfast sausage
Shredded roast beef
Eggs
Salt
Butter
Roast Beef Substitute
Fresh roast beef can be pretty expensive. Here are some other things you can use instead of roast beef.
Deli roast beef
Leftover pot roast, diced or sliced
IHOP Colorado Omelette Carbs
This is a fantastically low-carb recipe. It makes a delicious keto lunch or dinner idea. There are only 4 carbs in one omelette.
Does IHOP Put Pancake Batter Into Their Omelets?
There is a rumor going around the internet that IHOP puts pancake batter into their eggs and omelettes. However, I was unable to find any quotes directly from IHOP about what is in their omelettes. Until I hear officially from them, I don't believe it.
When I made my omelette, I didn't put any pancake batter into it. And it was still just as fluffy and delicious as IHOP's.
Is it Omelet or Omelette?
There are two ways to spell this egg recipe, and both are correct.
According to Grammarly, Omelet is the American English way to spell it. Omelette is the way they spell it in British English.
Love the IHOP Colorado Omelette? Try these next!
Love omelets? Take a look at these recipes:
Ingredients
1/4

cup

onions

diced

1/4

cup

bell pepper

diced

1/4

cup

tomatoes

diced

1/4

cup

ham

diced

3/4

cup

shredded Cheddar cheese

1/4

cup

bacon

diced and fried

1/3

cup

breakfast sausage

cooked and diced

1/3

cup

Shredded Roast Beef

or Dice Roasted Beef From the Deli

4

-

eggs

beaten

1/8

cup

water

1/4

teaspoon

salt

1

tablespoon

butter
Instructions
In a saucepan on medium-low heat melt butter and add chopped onions and bell peppers.

Stir until onions and pepper are soft but not browned.

Add diced ham and stir until the ham is limp and heated through. Immediately remove from heat and set aside.

In a mixing bowl add eggs, water, and salt. Beat and stir them together very well. Set the bowl aside.

Heat a 12-inch frying pan on medium-low heat, add a little oil (1 teaspoon.) or spray with a nonstick vegetable spray. A nonstick pan works great. 

Place the egg mixture in the pan and sprinkle with onions, bell pepper, ham, tomato if you wish, sausage, bacon, and 1/2 of the roast beef, and 1/2 cup of the shredded cheese.

Place a lid on until the omelet starts to set. Immediately remove the lid and fold omelet from the sides to the middle. If this is difficult, fold in half.

Sprinkle with the rest of cheese and roast beef. Serve with a side order of Picante Sauce or Sour Cream with a little diced green onion.
Nutrition
Calories:
368
kcal
|
Carbohydrates:
4
g
|
Protein:
19
g
|
Fat:
30
g
|
Saturated Fat:
16
g
|
Cholesterol:
98
mg
|
Sodium:
1046
mg
|
Potassium:
257
mg
|
Fiber:
0
g
|
Sugar:
2
g
|
Vitamin A:
1340
IU
|
Vitamin C:
29.9
mg
|
Calcium:
319
mg
|
Iron:
0.8
mg