Wendy's Breakfast Baconator is one of the most exciting breakfast sandwiches you can order. If you don't want to wait at the drive-through, you can recreate this bacon-lovers sandwich at home.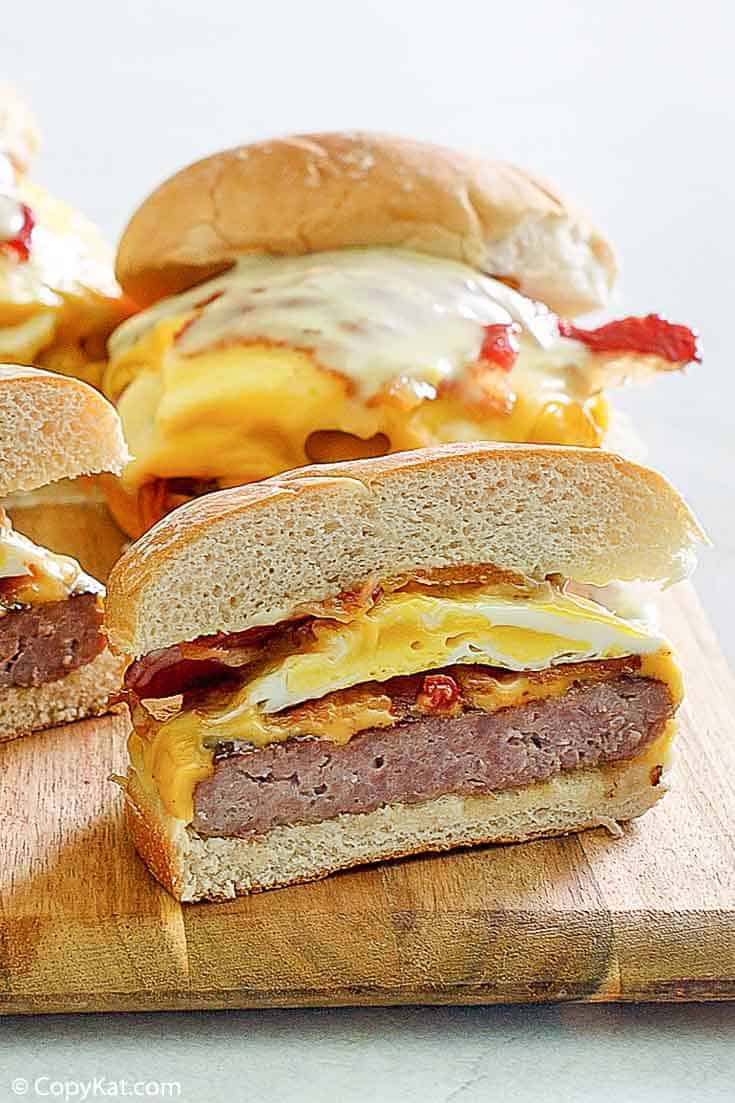 Mornings can get pretty hectic, and you can't always cook a hot, fresh breakfast at home. That's when you are most likely to find yourself in the drive-thru line at the local fast-food restaurant. And if you are a bacon lover (and seriously, who isn't?), you can't do much better for a morning meal on the go than Wendy's Breakfast Baconator.
The Breakfast Baconator is a towering culinary achievement of smoky bacon strips, a hearty sausage patty, melted American cheese, perfectly cooked egg, topped with a dollop of Hollandaise sauce, and all held together with a big, toasted brioche bun. Truly a masterpiece when it comes to breakfast sandwiches.
There's just one tiny problem. When the weekend rolls around, and you had a late night, getting up early is just about the last thing you want to do. That is a shame because Wendy's stops serving the Breakfast Baconator at 10:30. But don't worry, we have you covered. Try this homemade version, that, dare we say, might even be better than the original.
Building a Better Breakfast Baconator
Getting the small things right matters most, and for this recipe, it all begins with the bun. Sure, you could use a Kaiser roll or a normal hamburger roll if you must, but it has to be a toast buttered brioche bun for the full experience. Butter is the key here. Not does a layer of butter help to crisp up the bread, it also prevents the buns from getting soggy.
Once you the buns are in the toaster, it's time to start cooking the bacon and sausage patty. Heat a stovetop griddle pan if you have one, or the largest thick-bottom saute pan in your kitchen. When the cooking surface is good and hot, place the sausage patty and bacon on it. Once you notice juices pooling on the top of the sausage patty, flip it over and turn the bacon. Crack the egg onto the cooking surface. For the best results, try using an egg ring. After around two minutes, the bottom of the eggs should set. Remove the egg from the ring and flip it. Reduce the heat to low, and put a slice of American cheese on the sausage patty and egg. Continue to cook until everything cooks through, and the cheese melts
The order you assemble the Breakfast Baconator is vital. Lay the sausage patty with cheese on the bottom bun. Cut the bacon strips in half, put half on top. Carefully balance the egg on the bacon, and then cover with the remaining bacon strips. Pour on a little prepared Hollandaise sauce and finish with the top bun. Serve with lots of napkins.
Tips for Cooking and Serving the Breakfast Baconator
Hollandaise sauce substitutions. No Hollandaise sauce, no problem. You can leave it off, try a few spoonfuls of salsa, or even an avocado slice instead.
Crowd control. If you have a full house, try cooking each component of the dish separately and keeping them warm in the oven.
Keep in touch and see what we are up to by following us on Instagram!
Ingredients
Here's what you need to make this tasty breakfast sandwich:
Breakfast sausage
Bacon
American cheese
Hollandaise sauce
Eggs
Hamburger buns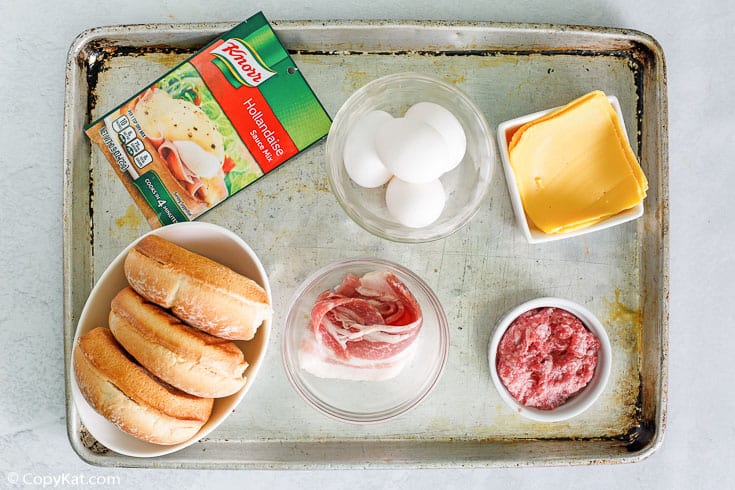 How to Make Wendy's Breakfast Baconator
Cook bacon in the oven until crisp. Break each piece in half after it is cooked.
Haven't cooked bacon in the oven before? Learn how to bake bacon.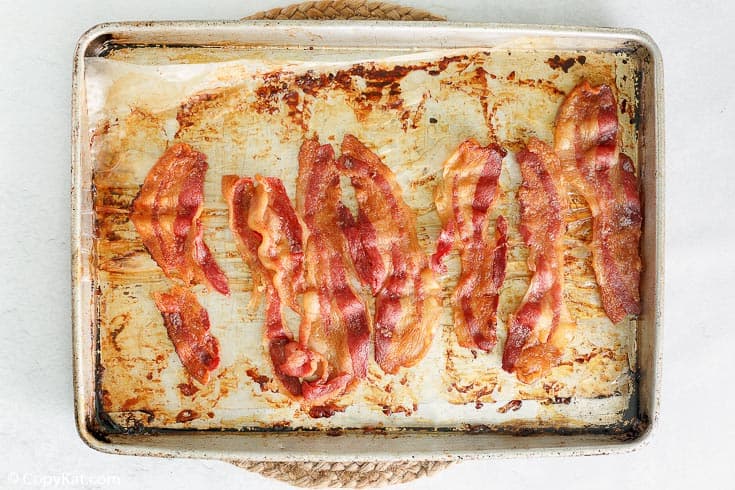 Cook hollandaise sauce according to package directions.
Cook sunny side up eggs and break yolk while they cook.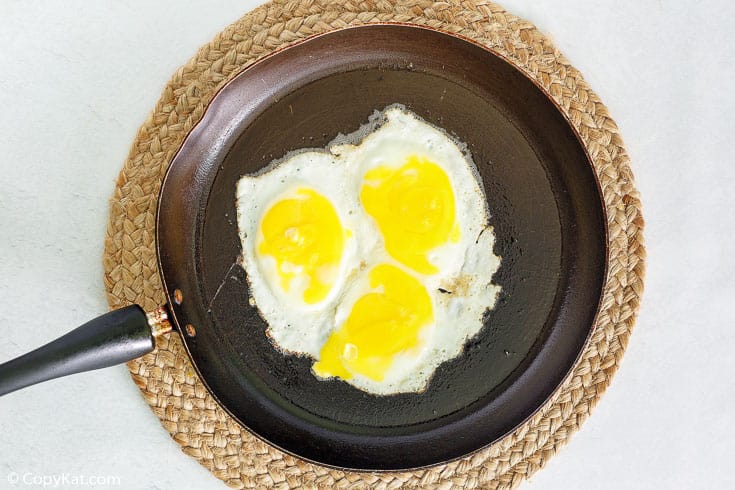 Form sausage into 4 squares and cook in a skillet until done.
Build the sandwich. Here's the order from the top down:
Top Bun
Hollandaise
Bacon
Cheese
Egg
Bacon
Cheese
Sausage
Bottom bun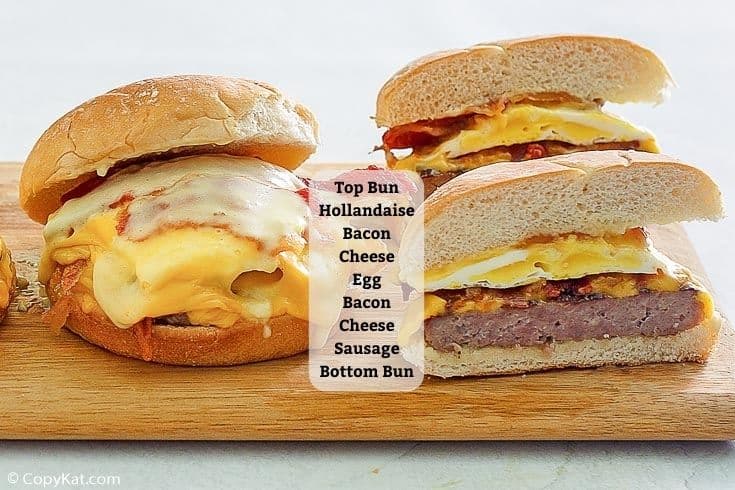 Some more info on the sandwich here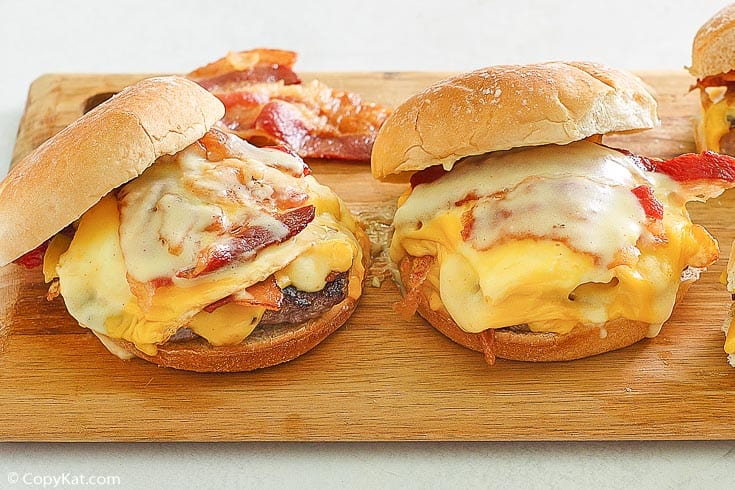 Awesome Breakfast Recipes to Try
Top Wendy's Copycat Recipes
Be sure to check out more of my easy breakfast recipes and popular fast food copycat recipes.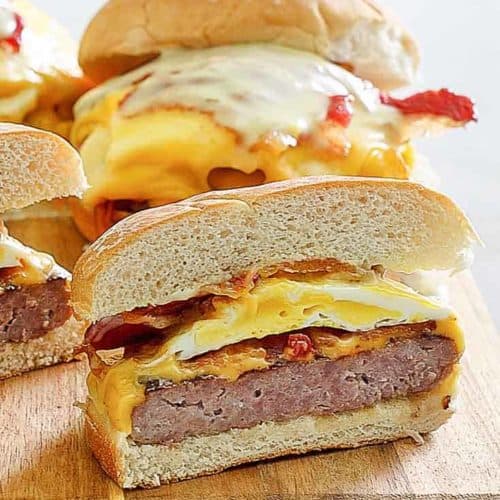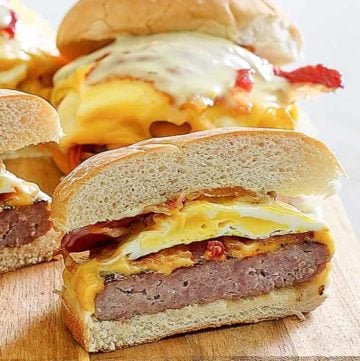 Ingredients
1

pound

breakfast sausage

12

slices

bacon

8

slices

American cheese

4

brioche hamburger buns

1

package

Hollandaise sauce

Knorr or other brand
Instructions
Prepare hollandaise sauce according to package directions.

Cook bacon until crisp in a skillet, and drain on a wire rack. When the bacon has cooled enough to handle, break the pieces in half.

Shape breakfast sausage into 4 balls and then gently press using the palms of your hands. Do not press the patties too hard, or they will break. Shape the patties by gently pressing them into square patties that are uniform.

Heat a skillet over medium-high heat. Cook the patties for 2 minutes on each side or until cooked through. Place the patties on a wire rack to drain.

In a non-stick skillet, add a small pat of butter, or a spray of non-stick spray crack an egg into the skillet. Break the yolk with a folk. Pour about 1/2 cup of water into the skillet, and place a lid on top. Cook until the eggs are set, it should take about two minutes.

Build the sandwich by starting with the bottom bun, then layer on a sausage square, a slice of American cheese, add three half slices of bacon, add the egg, the 2nd slice of American cheese, and three addition half slices of bacon, two tablespoons of hollandaise sauce, and the top bun.
Nutrition
Calories:
918
kcal
|
Carbohydrates:
24
g
|
Protein:
37
g
|
Fat:
74
g
|
Saturated Fat:
27
g
|
Cholesterol:
168
mg
|
Sodium:
2120
mg
|
Potassium:
522
mg
|
Fiber:
1
g
|
Sugar:
4
g
|
Vitamin A:
506
IU
|
Vitamin C:
1
mg
|
Calcium:
527
mg
|
Iron:
3
mg