Is there anything better for breakfast than creamy sausage gravy on top of some hot fresh out of the oven biscuits or some toast? I know when I am craving comfort food, this is a meaty breakfast recipe that comes into my mind.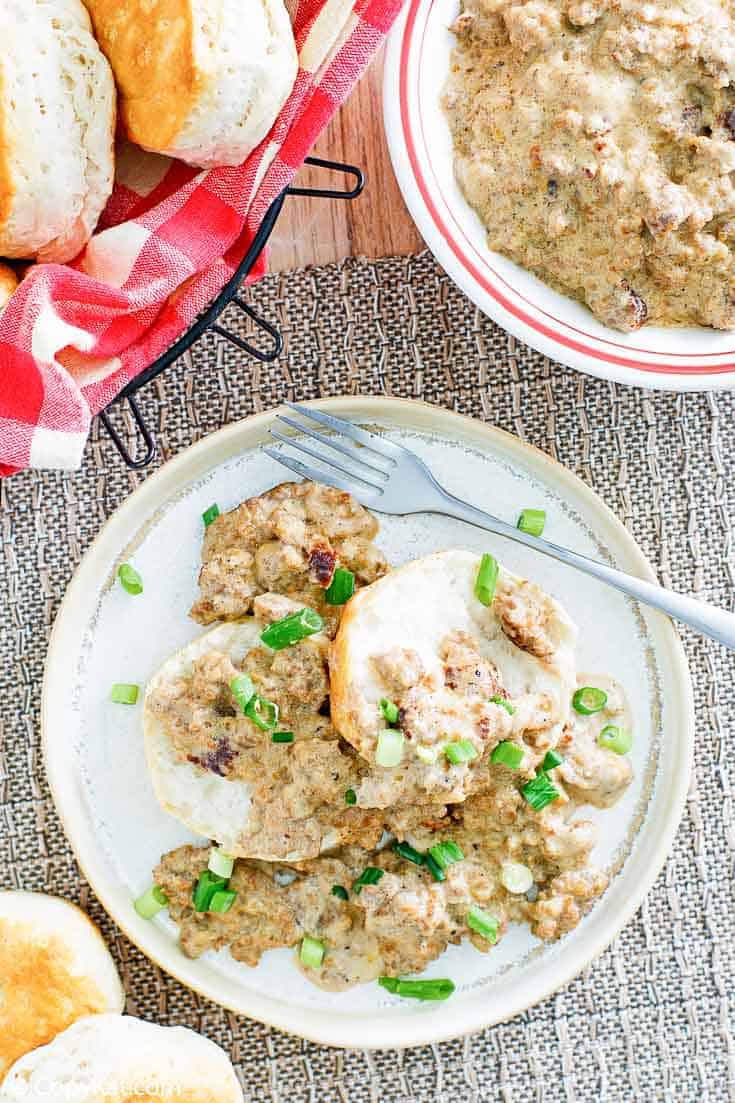 Who doesn't love to go out for breakfast and get some fluffy buttermilk biscuits covered in meaty sausage gravy? When I go to Bob Evans or the Cracker Barrel I love to get biscuits and gravy, but sometimes the restaurant is too busy, so what should you do? You can make delicious sausage gravy at home!
Ingredients to Make Sausage Gravy
Did you know this recipe takes a few simple ingredients that are easy to find in your pantry? This recipe can be made when you don't have much on hand! You will need:
breakfast sausage
flour
milk
salt and freshly ground black pepper
How do you make sausage gravy from scratch?
Even if you aren't an experienced cook, you can make delicious sausage gravy in just minutes. It's easier than you could ever imagine.
Brown the sausage in a skillet. – Grab a large skillet, turn the heat onto medium, break up the sausage, cook, stirring every couple of minutes. Cook until the sausage has browned, and there is no more pink pieces in the sausages
Remove the sausage from the skillet, now you could have just the sausage drippings, you will want to add flour now, add two to three tablespoons of flour to the skillet.
Stir the flour and the sausage drippings until they form a paste (roux), and cook this for about 1 minute.
Add the milk, and grab a whisk if you have it, now stir until this roux thickens. It may take a couple of minutes, but it will thicken. If you stir frequently, your gravy will be smooth.
Add the cooked sausage back to the mixture stir, and taste. You may want to add some salt or pepper.
What's Next?
Top those biscuits or toast with this creamy sausage gravy, and enjoy your breakfast!
How do you reheat sausage gravy?
Best of all you can reheat this gravy by simply heating in a pan and adding a little more milk to the gravy. It will thin out just a bit and be perfect to serve again. If you know you are going to reheat the sausage gravy, I like to use heavy cream when I make this recipe. Heavy cream can withstand the reheat better than skim or 2% milk.
What can you add to sausage gravy?
You can add almost anything you desire to this homemade sausage gravy, did you know if you don't have any sausage, you could add ground beef? Here are more ideas for you to mix into your sausage gravy.
A dash of hot sauce
You can make this with creme frache for tangy rich flavor
A small pinch of cayenne pepper
How can you serve sausage gravy?
So everyone knows about biscuits and sausage, but there are other ways to serve your sausage gravy. You may want to pour this over hashbrowns, homefries, grits, or even cooked eggs. Years ago I used to go to a diner, and they would make a magic mountain, it was two buttermilk biscuits covered with two eggs, a couple of sausage patties, two slices of bacon, and they would pour sausage gravy over all of it! You would need a nap when you finished it. Think outside of the box!
In a pinch? Homemade sausage gravy makes a delicious dinner!
Want to learn how to make other types of gravy? Try these recipes
More Sausage Recipes
Find quick and easy breakfast recipes and hearty comfort foods.
Ingredients
1

pound

ground sausage

2

tablespoons

of rendered grease from sausage or 2 tablespoons of butter

2

tablespoons

all-purpose flour

2

cups

whole milk
Instructions
In a large skillet brown sausage over medium heat. Crumble sausage as it browns so you have many small pieces of sausage. When sausage has browned and cooked thoroughly remove sausage from pan. Measure out rendered fat in the pan.

Add butter if necessary so the amount of fat is equal to two tablespoons. For example, if you render only 1 tablespoon from the sausage, add 1 tablespoon of butter. If adding butter allow butter to melt completely. Add 2 tablespoons of all-purpose flour to skillet. Stir flour and fat together, and cook over medium heat for about two minutes. The flour will begin to brown and become fragrant. Add 1/2 cup of milk to the pan, stir until the milk thickens. Add 1/2 cup to milk to the pan, and stir until the second addition thickens. Add remaining milk to pan, allow to thicken and add sausage.

Cook for 1 to 2 minutes, and taste gravy and adjust seasonings with salt and pepper if necessary. Serve gravy over toast or biscuits.
Nutrition
Calories:
495
kcal
|
Carbohydrates:
8
g
|
Protein:
21
g
|
Fat:
41
g
|
Saturated Fat:
14
g
|
Cholesterol:
100
mg
|
Sodium:
784
mg
|
Potassium:
442
mg
|
Fiber:
0
g
|
Sugar:
6
g
|
Vitamin A:
285
IU
|
Vitamin C:
0.8
mg
|
Calcium:
148
mg
|
Iron:
1.4
mg