How to make chicken gravy is a question you may have asked yourself. Making homemade gravy isn't difficult to do. It is actually fairly easy.
Whenever I bake chicken, I am always thinking of preparing mashed potatoes and some homemade chicken gravy. I have such fond memories of Sunday dinner at my grandmother's house and chicken dinners were very common.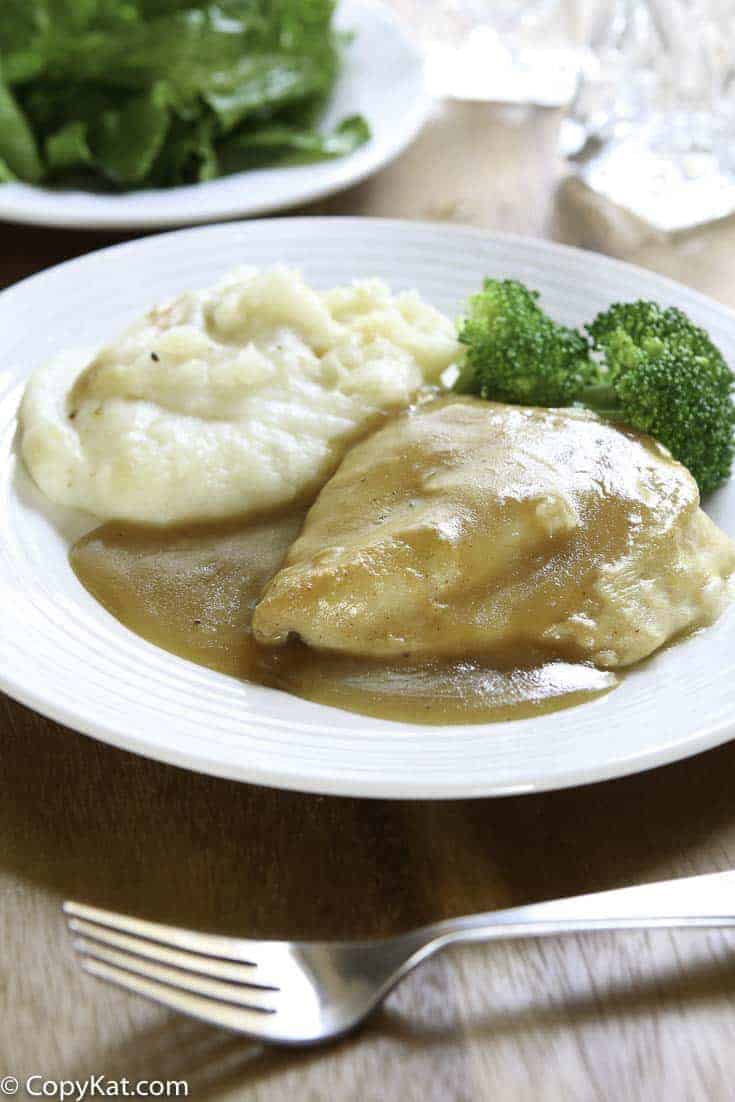 Chicken Gravy Recipe From Scratch
Do you want to learn how to make delicious homemade chicken gravy without using a gravy mix? This easy gravy recipe gives you a delicious gravy that's so much better than powder from a packet.
Whenever I roast a chicken, I always prepare some chicken gravy from the chicken drippings. But did you know you can also make homemade chicken gravy without drippings?
If you want to roast a chicken and make gravy from the drippings, be sure to try my easy baked chicken recipe.
Chicken Gravy Recipe Ingredients
Since you've baked your chicken, you have already seasoned the bird perfectly, and you have flavorful pan drippings that are just crying out to be made into a delicious gravy.
In addition to the pan drippings, you will need:
All-purpose flour
Chicken broth or stock
Heavy cream (optional)
When it comes to which liquid to use in your gravy, you can go with chicken broth or stock as I do in this easy gravy recipe, or you can use milk instead. If you are lactose intolerant, you can use lactose-free milk.
How do you make chicken gravy from scratch without drippings?
We can all agree that making chicken gravy from drippings is the best way to make delicious gravy. However, sometimes you don't have a freshly baked chicken that will give you pan drippings.
Just because you don't have any drippings doesn't mean you need to forgo making gravy! When you have no pan drippings, just swap out the drippings for salted or unsalted butter.
Start by making a simple roux out of flour and butter. Then use either chicken broth or chicken stock for the gravy base.
Chicken gravy made this way can be very flavorful and better than any gravy you can get from a jar or make from a mix.
Steps for Making Chicken Gravy
Heat the pan drippings (or butter) and whisk in flour to make a roux. Cook it for 1 to 2 minutes.
Add a third of the liquid, whisking to throughly combine. Cook until thickened.
Repeat adding the liquid, a third at a time. Make sure all the lumps are removed between each addition.
Stir in cream if desired.
What to Serve with Gravy
This from-scratch gravy goes well with a variety of chicken recipes: fried chicken, skinless chicken breasts, chicken thighs, roast or baked chicken, chicken pot pie. Here are some other delicious ways to use gravy:
Hot sandwiches: Slice up some tasty bread, add some hot cooked meat (e.g., leftover roast chicken…mmm!), and then top with hot gravy. Alternatively chop up meat (and any leftover stuffing, potatoes, etc.) and mix it in with the gravy. Heat it up and spoon it onto the bread.
Potatoes: Pour some gravy over mashed potatoes or fries.
Soup: You can add gravy to any soup to give it more body and lots of flavor.
Stew: Place your meat and veggies into the pot with butter or oil. Sprinkle over some flour, stir, and slowly add broth. Then, add your gravy and bring everything to a simmer.
Pasta sauce: Gravy is fantastic as a pasta sauce, especially over egg noodles. Heat up your gravy, and then swirl in some sour cream.
Gravy-based Sauce: Serve a delicious gravy sauce with sautéed mushrooms over gnocchi.
Chicken curry: Add some curry powder or curry paste and coconut milk to your gravy. Then add some cooked chicken, cauliflower, and maybe some chickpeas. Serve with rice and naan.
Tips for Making the Perfect Gravy
Gravy makes everything taste better—but only if it's smooth, pretty, glistening, and golden. Here are six pointers to achieve perfect, flavorful, lump-free homemade gravy:
Begin with a flavorful fat: Drippings from roasted chicken, turkey, or pork make a great base for gravy, but ham and beef are not as good. (Ham fat tends to be overly salty, and beef fat just doesn't taste that good.)
Mix fat with flour at about a 50/50 ratio: This is called a roux and is the basic building block for gravy. This mix of fat and flour should look a little like wet sand. The roux must be cooked for a minute or two before adding the liquid.
Value the browned bits: Those yummy bits of caramelized meat and vegetables on the bottom of the skillet or roasting pan are culinary gold. To capture all the browned bits, place the pan over heat and deglaze it by adding liquid (stock, broth, wine, or juice). Use a wooden spoon to scrape up the browned bits.
Avoid lumps: Lumps kill good gravy. To make lump-free gravy, add liquid gradually and stir or whisk constantly until the gravy comes to a boil. Once the gravy reaches a boil and thickens, you're good. Until then, you have to keep it moving. If you do end up with lumpy gravy, don't despair. All is not lost! Find out how to get lumps out of gravy.
Use a hot liquid: If you start with an already hot liquid, your gravy will boil more quickly. This means less time spent constantly stirring your gravy.
Wait to season: Many factors will affect the salt level of your gravy—how heavily seasoned the meat is and the sodium content of the deglazing liquid and broth. So it's prudent to wait to season the gravy until it's finished.
How to Thicken Gravy
You can easily thicken any gravy using cornstarch or alternative gluten-free thickeners. If your prepared gravy is too thin, follow these instructions to thicken it:
With Flour
Use 2 tablespoons of flour per 1 cup of gravy. Add a little water to your flour to create a paste (or use a fine mesh sieve to sift the dry flour into the hot liquid).
Then incorporate the flour mixture into the gravy with a whisk or wooden spoon, stirring constantly until the gravy reaches the desired consistency.
With Cornstarch
Use 1 tablespoon of cornstarch per 1 cup of gravy for a gluten-free gravy thickener. For extra-thick gravy, double the cornstarch. However, a good rule of thumb is to begin with 1 tablespoon; you can always add more.
Mix the cornstarch with 1 to 2 tablespoons of water to make a slurry. Add the slurry to the hot gravy and use a wooden spoon or whisk to incorporate it, stirring or whisking constantly until the gravy thickens.
Other Thickeners
You can also thicken gravy with arrowroot, potato starch, tapioca, or pureed vegetables (who knew?).
Read more detail about thickening gravy.
How to Fix Gravy That's Too Salty
Add dairy: The creaminess of the dairy helps to balance the excess salt. Try stirring in heavy cream, half and half, milk, yogurt, or sour cream.
Add more liquid: Simply add water or, ideally, unsalted chicken or vegetable stock to neutralize over-salted gravy. Keep in mind that this will thin out your gravy. To compensate for the added liquid, add a thickener like flour or cornstarch.
Use beans: Puree 1 cup of drained, canned low-sodium or no-salt-added white beans or chickpeas with a tablespoon or two of water until smooth. Stir into your gravy a quarter cup at a time, adding more puree as needed. This will neutralize the saltiness and thicken your gravy.
Use citrus or vinegar: Acid, from a squeeze of lemon or a drizzle of vinegar, can nudge the flavor of salty gravy back to deliciousness and add a pleasant tang. However, add acidic ingredients sparingly and a little at a time, so the other gravy flavors don't get overwhelmed.
Read more about fixing salty gravy.
How do I add more flavor to chicken gravy?
If you are using homemade stock and pan drippings, you will have wonderfully flavorful gravy. If not, there are a few things you can add to the gravy to dial up the flavor:
Some chicken base or a little chicken bouillon
1/4 to 1/2 teaspoon of dry mustard powder
A tablespoon or two of white wine before adding the chicken broth
Some fresh herbs like parsley or chives
A small pinch of poultry seasoning before serving
How to Store Chicken Gravy
In the event you have some leftover gravy, be sure to store it in an airtight container in the fridge. If you want to make gravy so you always have some on hand, it freezes well for up to 3 months.
To reuse a large amount of leftover gravy, simply place it in a pot over low heat. If the gravy is too thick, thin it with a bit of broth or some additional heavy cream.
How to Reheat Chicken Gravy
If you have a large amount leftover, simply place the gravy in a pot and heat it low. If the gravy is super thick, you can thin it with a bit of chicken broth or some additional heavy cream.
Love Gravy? Try these recipes!
Popular Chicken Recipes
Check out more of my easy beginner recipes and the best chicken recipes here on CopyKat!
Ingredients
3

tablespoons

pan drippings from a roast chicken

or butter if you don't have pan drippings

3

tablespoons

all-purpose flour

2

cups

chicken broth

a little more for a thinner gravy

1 to 2

tablespoons

heavy cream

optional
Instructions
Heat the pan drippings (or butter) in a skillet over medium-high heat.

Whisk in the flour to make a roux. Cook the roux for a minute or two to remove the raw taste of the flour. This is a critical step, so make sure you cook this for at least a full minute before adding the liquid.

Add 1/3 of the broth and whisk it into the roux. The mixture will become very thick after a minute or two.

Proceed to add the next third of the liquid and whisk to make sure all the lumps are removed. Once this has thickened fully, add the remaining liquid.

If your gravy is too thick for your liking, you can add some additional liquid or finish with a tablespoon or two of heavy cream.
Nutrition
Calories:
50
kcal
|
Carbohydrates:
2
g
|
Protein:
0
g
|
Fat:
4
g
|
Saturated Fat:
2
g
|
Cholesterol:
11
mg
|
Sodium:
252
mg
|
Potassium:
47
mg
|
Fiber:
0
g
|
Sugar:
0
g
|
Vitamin A:
130
IU
|
Vitamin C:
4.1
mg
|
Calcium:
5
mg
|
Iron:
0.3
mg