Old-fashioned Potatoes are rich and creamy. You can make mashed potatoes easily at home, you don't need to purchase instant mashed potatoes.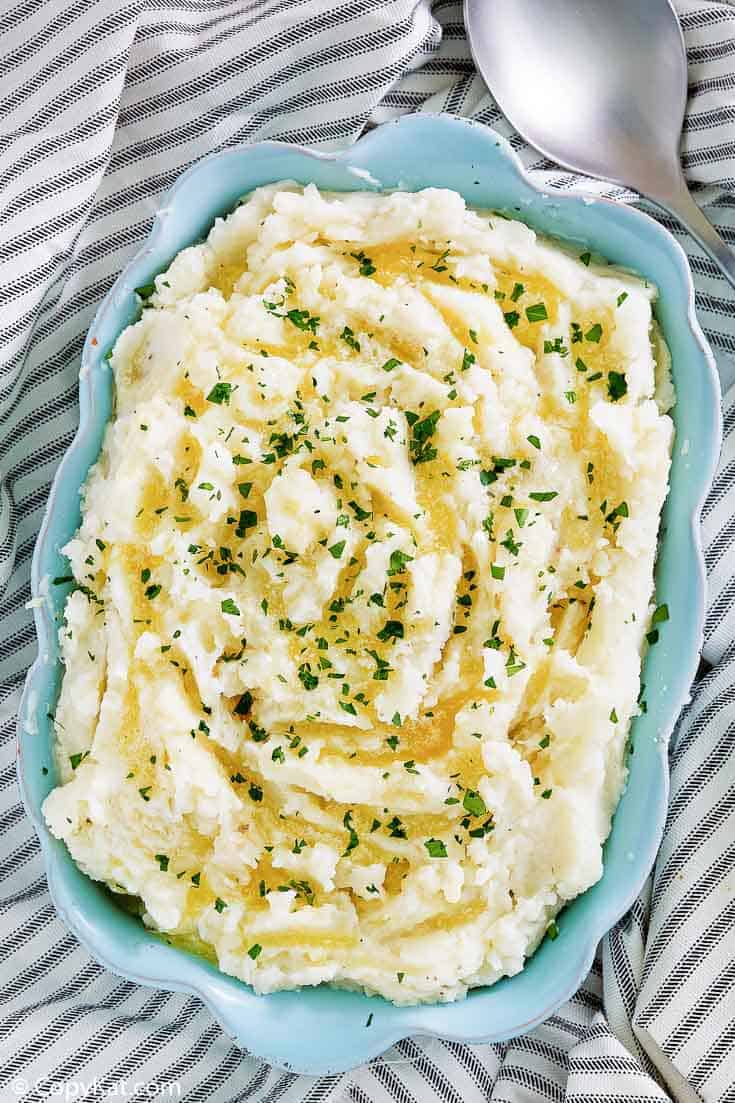 Old-Fashioned Mashed Potatoes
Pop quiz. What is a quick, inexpensive, and versatile side dish that everyone loves? Mashed potatoes! Whether you are serving meatloaf, barbeque, or fried chicken, no one will refuse a generous helping or two of homemade mashed potatoes. Mastering this simple mashed potato recipe is a must for any home cook.
The Best Potatoes For Mashing
Not all potatoes are the same. There are over 4,000 different varieties, and not all are fit for making creamy mashed potatoes, and .ever type falls into one of three general categories: Waxy, starchy, and all-purpose potatoes.
Waxy potatoes, like French Fingerlings and Russian Bananas, are poor choices for mashing as they turn into a gloopy sticky mess once mashed. Don't be caught serving up mashed potatoes with the consistency of paste, save those waxy potatoes for roasting where they can really shine!
Cooks who want the lightest and fluffiest homemade mashed potatoes should opt for Russet potatoes. The high starch content of Russets make them the ideal potato variety for the job, but they do tend to soak up excess water. Prevent watery mash by being careful not to overcook your potatoes and dry the cooked Russets a bit in a dry pan over low-heat before mashing.
All-purpose, medium starch-level potatoes like Yukon Golds are also a popular choice for creamy mashed potatoes because of their decent consistency and rich, natural butter-like flavor.
Why Substitute Evaporated Milk For Regular Milk or Cream?
While adding cream to your homemade mashed potatoes makes them delicious, it also greatly increases the calories and fat in the recipe. But for those trying to eat healthier, there is a simple trick for getting a similar level of creaminess and that luscious mouthfeel to cream by substituting evaporated milk. Since evaporated milk has much less water than regular milk, it can replicate dairy products with higher fat levels. The only trade-off is that you may notice a mild sweetness and a thicker consistency in the dish; however, many people prefer it.
Elevating This Simple Mashed Potatoes Recipe
Basic mashed potatoes are a blank canvas that allows the creative cook to modify, turning them into a gourmet side dish. Are you tired of night after night of mashed potatoes and gravy? Then let your imagination run wild. These three variations can help to get your ideas flowing!
Cheesy Mashed Potatoes. Shred three cups of your favorite cheese and mix it into the hot mash just before serving. Garnish with crispy bacon bits or thinly slices scallions for an added touch.
Spicy Mashed Potatoes. Add a little heat to your mashed potatoes with a spicy sauce. Substitute the regular salt and pepper seasoning with sauces that reflect your main course. Stirring in a tablespoon of ancho chili sauce works well with Mexican or Southwest-inspired meals, and adding a tablespoon of harissa sauce is excellent with Middle Eastern meals.
Caramelized Garlic Mashed Potatoes. Slice a quarter of an inch off the top of a head of garlic, drizzle on olive oil and wrap the entire head in tin foil. Pop it in a preheated 400-degree oven and roast until the garlic cloves start to caramelize, about 35 minutes. Squeeze out the caramelized garlic cloves and mash with the back of a fork. Stir into the mashed potatoes.
Do you want to try our newest recipes as soon as possible? Follow us on Twitter and get a notification as soon as we upload a new recipe to our site!
Ingredients
Here is what you need to make the best ever homemade mashed potatoes:
Potatoes
Evaporated Milk
Butter
Onion Powder
Salt and Pepper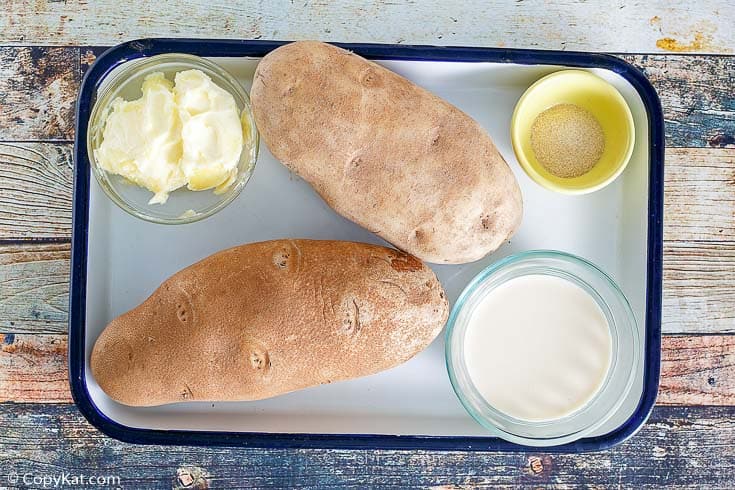 How to Make Old-Fashioned Mashed Potatoes
Peel and cut potatoes into cubes.
Boil potatoes with salt until tender. Drain and place potatoes back in the pan over medium heat.
Add butter and onion powder. Stir until butter is melted. Remove pan from heat.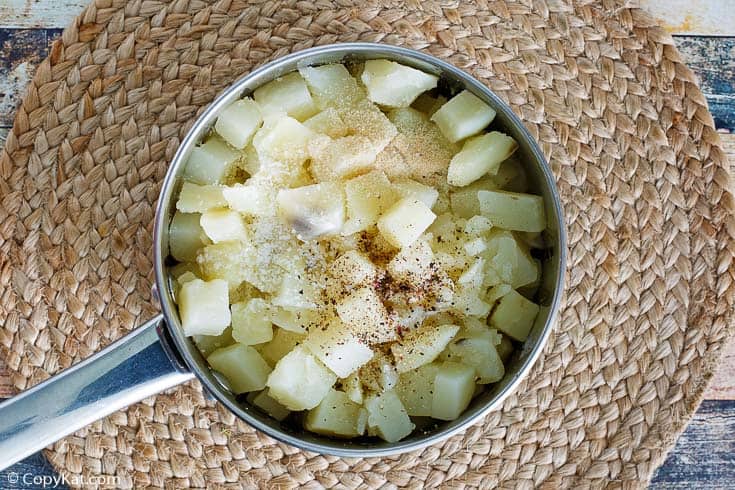 Mash potatoes with a potato masher or electric beaters. Add evaporated milk while mashing until desired consistency is reached.
Season with salt and pepper to taste.
Garnish with chopped parsley if desired.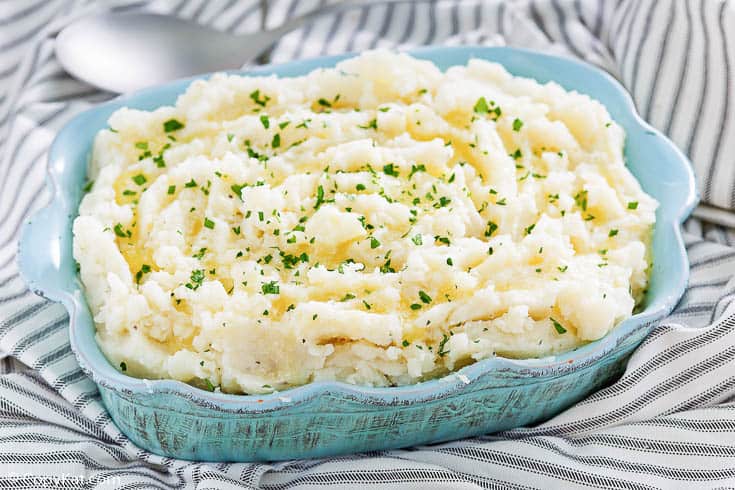 Love potatoes? Here are some more great potato recipes:
Sweet Potato Recipes
Check out more of my easy side dishes and the best Thanksgiving recipes.
Thanks to hyjinx for sharing this mashed potato recipe.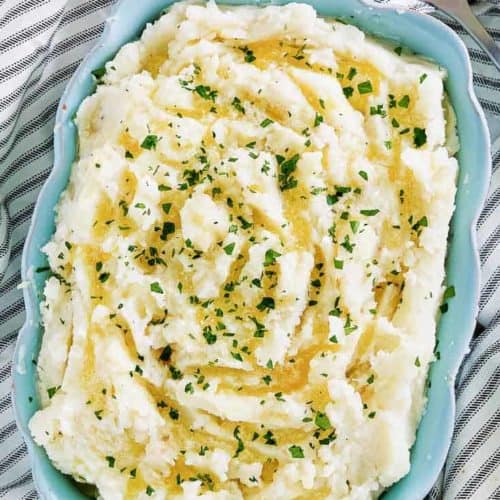 Ingredients
2

pounds

potatoes

1

potato

extra for the pot

5

ounces

evaporated milk

1

teaspoon

sea salt

1/4

teaspoon

onion powder

2

tablespoons

butter

1/2

teaspoon

salt

1/4

teaspoon

black pepper
Instructions
Peel potatoes, dice into small chunks. Bring to boil in the saucepan, with enough water to just cover the potatoes.

Add sea salt. Potatoes are fully cooked when stabbed through with a fork. Drain, leaving a small amount of water in the bottom of the pan.

Put potatoes back on the burner. Add butter or margarine and stir, enough to completely coat all potato chunks. Keep potatoes moving so they do not burn. Stir in onion powder. Remove from stove.

With either a potato masher or electric beaters, begin to mash/whip potatoes, adding evaporated milk until the proper consistency is reached. If using an old-fashioned masher, be sure that all chunks are broken up, and then finish with a whisk.

Add additional butter or margarine if desired and salt & pepper to taste. The onion powder is purely optional, garlic powder may also be used. If evaporated milk is too sweet for your taste, regular milk may be substituted. The number of potatoes and size of a can of evaporated milk used will vary according to the number of diners.
Nutrition
Calories:
130
kcal
|
Carbohydrates:
19
g
|
Protein:
4
g
|
Fat:
4
g
|
Saturated Fat:
2
g
|
Cholesterol:
12
mg
|
Sodium:
493
mg
|
Potassium:
631
mg
|
Fiber:
3
g
|
Sugar:
1
g
|
Vitamin A:
130
IU
|
Vitamin C:
16.3
mg
|
Calcium:
88
mg
|
Iron:
4.6
mg