Cheesy scalloped potatoes with ham is the perfect way to use leftover ham. Do you want to want to make an inexpensive, comfort food recipe your whole family will love? Scalloped potatoes and ham is the way to go.
This post contains affiliate links. As an Amazon Associate, I earn from qualifying purchases.
Never tried making scalloped potatoes with ham from scratch? One bite of these potatoes and you aren't going to buy another boxed potato again. This dish is super easy to make, and it is a great way to use leftover ham or even leftover sausage. I have made this same dish with smoked sausage and thought it was amazing.
I like to make this dish with Russet Burbank potatoes, these starchy potatoes mean the sauce will be thick and creamy. You could use other potatoes to make this recipe, like Yukon Gold potatoes, and Idaho potatoes would all work well. You want to use a potato that is starchy, and not waxy. Purple potatoes will work too!
There is nothing better than some bits of ham in the cheesy creamy sauce along with tender potatoes. I cut all of the potatoes into a 3/8 slice. I used my Oxo Good Grips V-Blade Mandoline Slicer. It is important to be sure to cut the potatoes evenly, so they bake evenly.
Cheesy Scalloped Potatoes and Ham will please your family.
For this recipe, my preference for the cheese is Gruyere, Emmentaler, or even Jarlsberg. You can use any cheese that is mild in flavor and melts easily. I have even made these with Cheddar cheese. You really could use almost any cheese for this recipe.
What makes this recipe extra easy?
This recipe is extremely easy because you do not make a roux for the scalloped potatoes. We will simply add heavy cream to the casserole dish and then we will top the entire mixture with oodles of cheese.
Since you don't spend the time making a roux and a cheese sauce, this recipe takes far less preparation than other recipes. Do not worry, you won't sacrifice any flavor by taking out the step of making a roux.
How to make scalloped potatoes and ham
This recipe is super easy to make. You will need to assemble your ingredients. Grab some Russet potatoes, butter, cheese, ham, cream, salt, and black pepper.
You will need to give the potatoes a good scrubbing and then you will cut them very thin. The thinner you cut the potatoes the quicker the dish will cook. Begin layer the potatoes into the baking pan, and season them with salt, pepper, ham, and cheese.
After you have added all of the potatoes add the cream. Then bake until the potatoes are tender.
Ways to Upgrade scalloped potatoes and ham
Ways to Upgrade these scalloped potatoes and ham
Rub a clove of garlic on the baking dish for a subtle garlic flavor
Top the casserole with small knobs of butter before baking. The butter will make the potatoes brown wonderfully.
Consider swapping out the ham for smoked sausage
Add some thinly sliced onions to the potato layer for extra flavor
Smoked Gouda tastes wonderful in this dish
Do you love scalloped potatoes? Try more great potato recipes.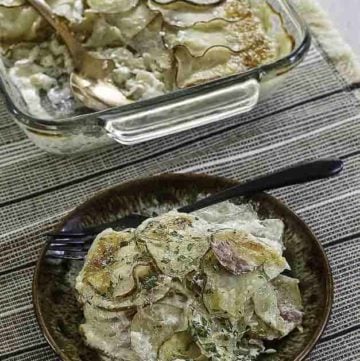 Ingredients
2

teaspoons

butter

2

pounds

potatoes

thinly sliced

salt and pepper

8

ounces

ham

8

ounces

gruyere cheese

shredded

1 1/2

cups

heavy cream
Instructions
Preheat oven to 350 degrees. Butter a 9 X 13-inch baking dish. Add a layer of sliced potatoes, and then lightly season the potatoes with salt and pepper. Add some of the ham pieces, and a light sprinkling of cheese. 

Repeat the layers until you run out of potatoes. Pour the heavy cream into the dish, make sure the top layer of the potatoes are covered. You may need to add more cream than listed.


Bake for about 45 minutes or until golden brown and the potatoes are tender. Serve immediately.
Nutrition
Calories:
331
kcal
|
Carbohydrates:
12
g
|
Protein:
14
g
|
Fat:
25
g
|
Saturated Fat:
14
g
|
Cholesterol:
90
mg
|
Sodium:
375
mg
|
Potassium:
484
mg
|
Fiber:
2
g
|
Sugar:
0
g
|
Vitamin A:
765
IU
|
Vitamin C:
10.6
mg
|
Calcium:
281
mg
|
Iron:
3.2
mg