Cheesy hashbrown casserole is a potato casserole that is a wonderful side dish. You can put this together so quickly. I love to bring this casserole to a potluck dinner. There are never any leftovers to bring home.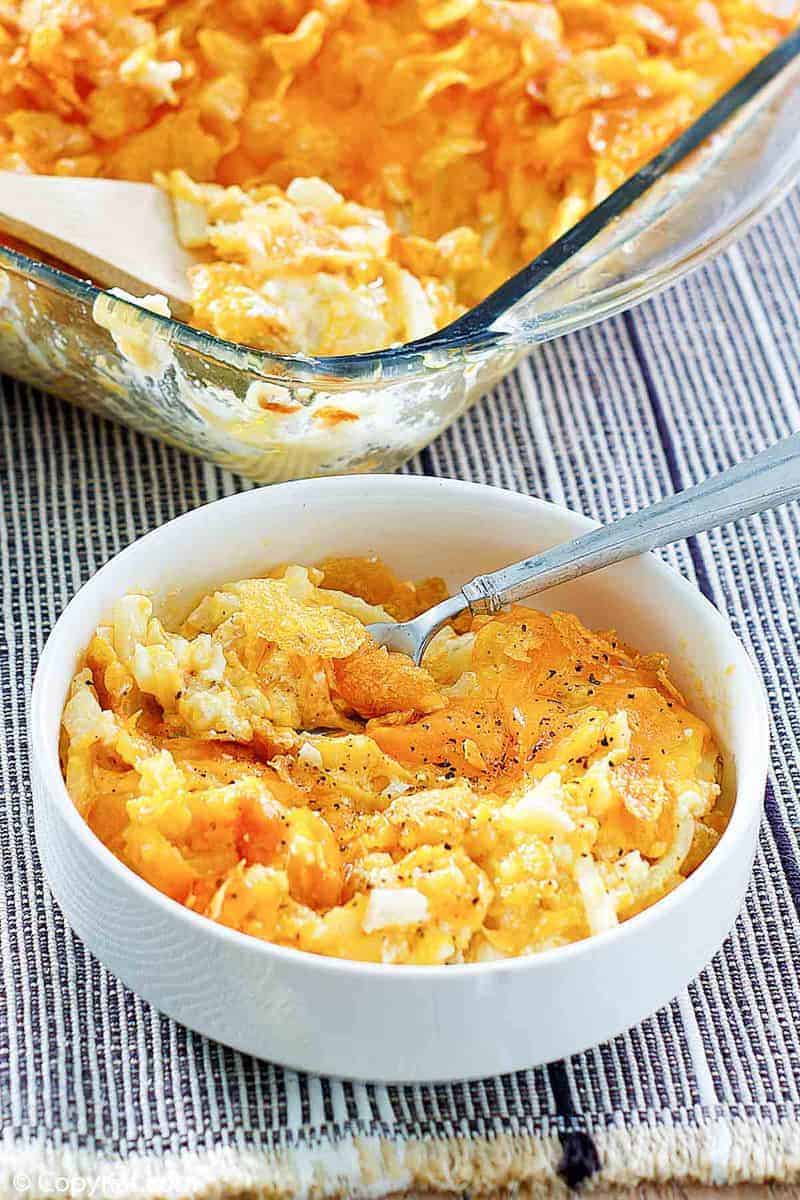 Having a few incredible recipes up your sleeve can really save the day the next time you need to whip up something delicious in a hurry. It is hard to go wrong with a potato-based side for simplicity, value, and the broadest crowd appeal. But how much mashed potatoes or potato salad can one person eat? Change things up with this unique cheesy hashbrown casserole. Some people may refer to this casserole as 'funeral potatoes,' but this a very lively dish that has just about everything you want in a side dish like bold flavors and a great crunch. Try making this recipe for a hash brown casserole with corn flakes the next time you get that unexpected invite to a potluck dinner or just want to switch up your regular family meals.
Hash Brown-style or Diced Potatoes?
Tradition dictates that a cheese hashbrown casserole is made with shredded potatoes, but don't feel like you are compelled to keep things classic. Go ahead and change things up by substituting diced potatoes instead if that is what you have on hand. Just remember that there is a reason why most people prefer to use hash brown-style potatoes in this dish. Hash brown-style potatoes are cut into thin strips and when piled together, create something like a nest with plenty of air pockets. This results in a lighter casserole than using diced potatoes. But if you don't have a bag of hash brown potatoes in the freezer or potatoes and a box grater, using diced potatoes will not ruin the recipe.
Should I Thaw the Hash Brown Potatoes Before Cooking?
The simple answer is yes, but there's a little more to it than just that. While many people cook hash brown potatoes from frozen in the pan without any problems when you used them in a casserole, the excess moisture can't evaporate as easily, and you are likely to end up with a watery side dish. No one wants that.
The best way to thaw your hash brown-style potatoes is in the fridge overnight. To thaw them in a hurry, you can use the defrost function on the microwave. Whichever method you choose, remember to pat the potatoes dry with a paper towel before using.
Gussying Things Up a Bit
This is a great recipe as written, but you may want to try these some of these popular variations to switch things up:
Add cubed cooked ham and green peppers to make a breakfast casserole.
For a more refined appearance, try substituting the corn flakes with panko bread crumbs. Or why not go potato crazy by using potato chips instead?
Replace the cheddar cheese with your favorite cheese. Pepper jack or smoked gouda are fantastic choices that will give your casserole a flavor boost.
Tips for Storing and Reheating a Hash Brown Casserole With Corn Flakes
You can assemble funeral potatoes in advance and freeze. Just don't freeze with the corn flakes topping. Thaw the casserole and add the corn flakes before baking.
Reheat in the oven. Although not as good as freshly baked, you can reheat a cheesy hash brown casserole in a 350-degree oven for 20 – 30 minutes.
Friend us on Facebook for our latest recipes.
Ingredients
Here's a list of what you need:
Frozen hash browns
Chicken broth
Shredded sharp Cheddar cheese
Sweet onion
Sour cream
Butter
Corn flakes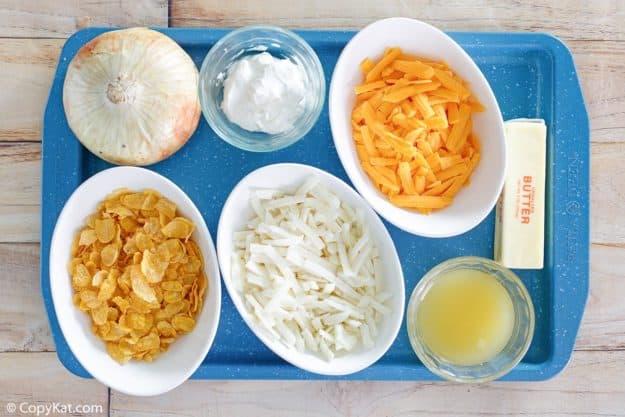 How do you make cheesy potato hashbrowns from scratch?
In a large bowl mix the hash brown potatoes, half of the shredded cheddar cheese, chopped onion, sour cream, and chicken broth.

Melt the butter in a small saucepan.
Add corn flakes to melted butter and stir to coat corn flakes with butter.

Pour hash brown mixture into a baking dish and sprinkle cheese on top.
Spread the buttered corn flakes on top.
Cover with aluminum foil and bake at 350 degrees for 1 hour or until the topping becomes golden brown.

Remove the casserole from the oven and let stand for 15 minutes before serving.
Watch the video below to see how easy it is to make!
Love potato casseroles? Try these recipes
Favorite Casserole Recipes
Be sure to check out more of my easy casserole recipes and the best Thanksgiving side dish recipes.
Thanks to Gregory Braun for sharing this recipe.
Ingredients
2

pounds

frozen hash browns

14

ounces

chicken broth

32

ounces

shredded Sharp Cheddar cheese

1

cup

chopped sweet onion

16

ounces

sour cream

4

ounces

butter

2

cups

crushed corn flakes
Instructions
Preheat oven to 350 degrees.

In a large bowl mix the hash brown potatoes, half of the shredded cheddar cheese, chopped onion, sour cream, and chicken broth. In a small saucepan melt 1/2 cup of butter. When the butter is melted add crushed corn flakes.

Pour potatoes in a 9 x 13-inch baking dish, sprinkle with remaining cheese. Spread the melted butter and cornflake crust ton top of the potato and cheese mixture. Cover dish with aluminum foil. Bake for 60 minutes or until the topping becomes golden brown. Remove from oven and let stand for 15 minutes before serving to all the cheese to congeal before serving.
Nutrition
Calories:
784
kcal
|
Carbohydrates:
59
g
|
Protein:
29
g
|
Fat:
49
g
|
Saturated Fat:
30
g
|
Cholesterol:
143
mg
|
Sodium:
1192
mg
|
Potassium:
541
mg
|
Fiber:
2
g
|
Sugar:
7
g
|
Vitamin A:
2320
IU
|
Vitamin C:
21.4
mg
|
Calcium:
725
mg
|
Iron:
15.4
mg