Everyday Chicken Casserole is the perfect weeknight dinner! Left-over cooked chicken, noodles, and a creamy sauce make for an inexpensive effortless meal your whole family will love.
Leftover Chicken Casserole
My Everyday chicken casserole recipe is the perfect way to use cooked leftover chicken and turn it into a tasty creamy casserole. This easy chicken casserole recipe combines simple ingredients, including bell pepper, celery, white onion, and noodles, then creates a creamy taste with dairy – butter, milk, and cheese.
Casseroles are easy to make!
One-pot meals are perfect for busy cooks who don't have time to make "fussy" recipes. Casseroles are the easiest kind of meal for weekday dinners because they are whole meals baked in just one casserole dish. Indeed, there are so many advantages of casseroles, including:
If you have a pantry stocked with basic ingredients, then preparing a casserole dish is no big deal. No need to make a special shopping trip.
A tasty way to use up leftover meat and leftover vegetables.
Perfect for experimenting with different ingredients. Casseroles are truly forgiving, allowing you the freedom to add or reduce ingredients as per your taste.
Can be prepared ahead of time. Just cover and store in your refrigerator. Heat up your casserole when you are ready to eat, and you have a perfect meal on your table.
Can be frozen. When you make a family favorite, consider fixing two of them. Place the spare one in your freezer and bake when needed.
Easy clean up; only one dish to take care of.
Ingredients
Here's what you need to make a chicken casserole:
Chicken
Butter
All-purpose flour
Salt
Pepper
Milk
Chicken broth
Shredded cheese
Bell pepper
Celery
White onion
Noodles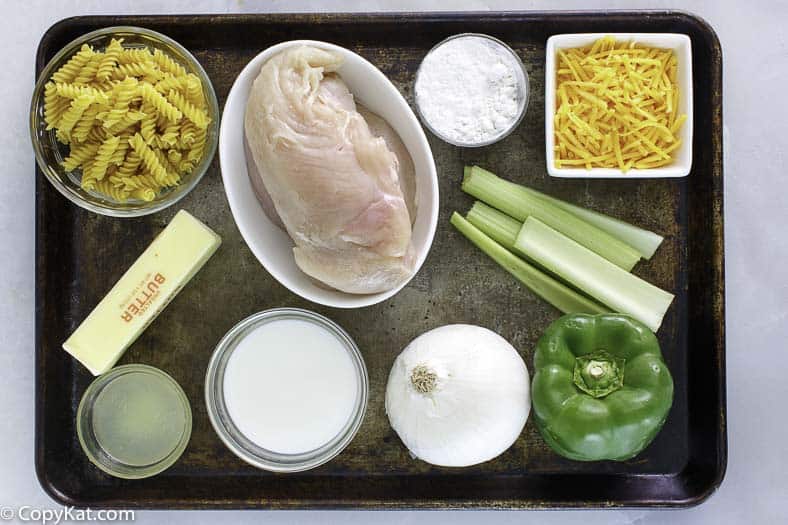 How to Make Chicken Casserole
Melt butter then blend in flour, salt, and pepper.
Add milk and broth. Cook until thick and smooth.
Stir in cheese.
Sauté onion, green pepper, and celery in butter.
Add broth and simmer for 5 minutes.
Add cooked vegetables, noodles, and chicken to the sauce.
Place mixture in a casserole dish.
Bake at 350 degrees for 30 minutes.
How to Cook Chicken for a Casserole
Boil the chicken breast for ten minutes or until the chicken is no longer pink. Once the chicken is cool enough to handle, use two forks to pull the breast apart. If you want smaller pieces, you can shred the larger chunks with your hands.
Tips for Freezing Your Casseroles
Although most casseroles can be frozen, there are a few guidelines to follow for best results:
Starchy ingredients such as pasta, rice, beans, etc. should not be overcooked as they will become mushy when reheated. Cooking them al dente is ideal.
Use full-fat dairy products in casserole dishes. Using low-fat cheeses and milk will result in a rubbery texture once thawed and reheated
If your casserole includes a crunchy topping, wait until the serving day to add it. Otherwise, your crunchy topping will not be crunchy at all, but horribly soggy.
When placing in your freezer, cover your casserole with freezer paper or foil, not plastic wrap.
For best results, let the casserole dish thaw in your refrigerator while you're at work. Once home, bake at 350 degrees until heated through.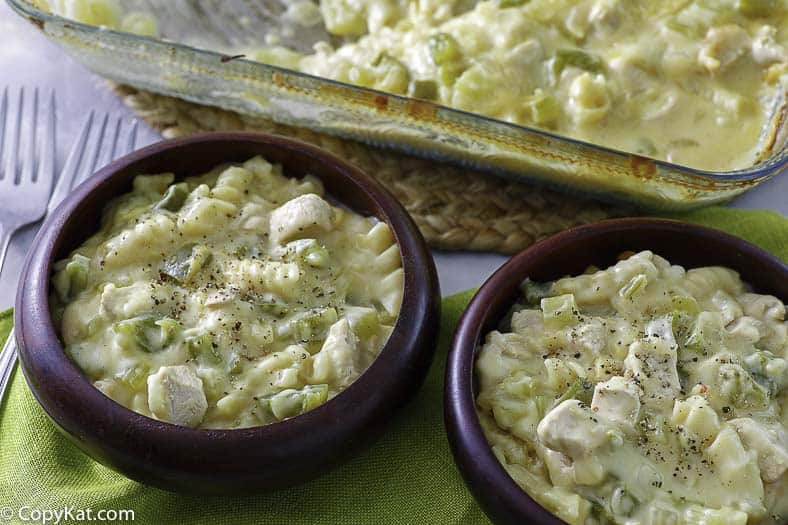 Love chicken casseroles? Be sure to check out these recipes
Don't miss these reader's favorite casseroles
Find even more easy casserole recipes and the best chicken dinner recipes right here on CopyKat.com!
Ingredients
6

tablespoons

butter

6

tablespoons

all purpose flour

1

teaspoon

salt

1/4

teaspoon

pepper

2

cups

milk

2

cups

Chicken Broth

1

cup

shredded cheese

1

diced bell pepper

1

cup

chopped celery

1/2

cup

chopped white onion

1

cup

noodles

cooked and drained

2

cups

chicken

cooked
Instructions
Melt 4 tablespoons butter; blend in flour and seasonings. Add milk and 1 cup broth; cook until thick and smooth. Stir in cheese. Saute onion, green pepper, and celery in remaining butter. Add 1-cup broth; simmer for 5 minutes. Add to sauce with noodles and chicken. Turn into a casserole dish. Bake at 350 degrees for 30 minutes.
Nutrition
Calories:
271
kcal
|
Carbohydrates:
14
g
|
Protein:
12
g
|
Fat:
18
g
|
Saturated Fat:
9
g
|
Cholesterol:
60
mg
|
Sodium:
725
mg
|
Potassium:
273
mg
|
Fiber:
0
g
|
Sugar:
4
g
|
Vitamin A:
605
IU
|
Vitamin C:
16.9
mg
|
Calcium:
157
mg
|
Iron:
0.9
mg