Poppy Seed Chicken is a chicken casserole recipe everyone loves. It is so easy to make, but have you tried it with a twist? This casserole has a well-seasoned creamy sauce with lots of tender chicken, and it is topped with a buttery Ritz cracker topping. It's perfect for busy weeknights!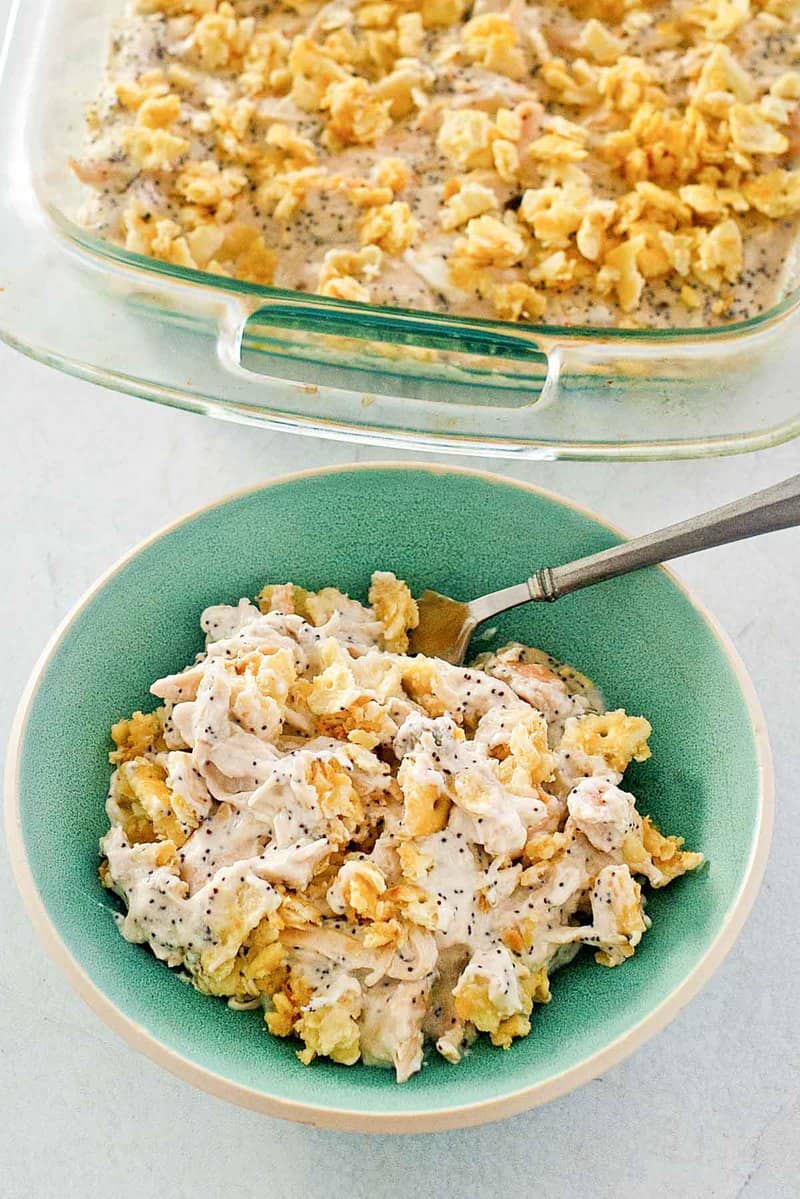 This post contains affiliate links. As an Amazon Associate, I earn from qualifying purchases.
Poppy Seed Chicken Casserole
Poppy seed chicken is a casserole with tender chicken, poppy seeds, and a creamy mushroom sauce that everyone will love. It's so simple to make, and my recipe has a delicious twist. You will love this creamy chicken casserole topped with buttery Ritz Crackers.
The twist is that it has a perfectly crispy, crunchy topping made from buttery crackers that takes a basic chicken casserole to a new level!
This poppy seed chicken recipe gives you a savory casserole dinner. This tasty casserole is a comfort food favorite with buttery crackers crumbled on top of a creamy base of tender bite-size chicken pieces in a poppy seed sauce. 
Why This Is the Best Poppy Seed Chicken Recipe
This poppy seed chicken casserole recipe hits satisfying texture highlights with creamy, crunchy, buttery flavors in every bite! Because of its buttery cracker topping, this chicken casserole dish is just different enough from other casseroles that it will be a fun addition to your repertoire.
This casserole is an ideal way to use up leftover chicken and bring to a potluck. This easy poppy seed chicken dish is ready in about thirty minutes, so you'll be enjoying a mouthful of goodness in no time!
It makes a perfect easy meal on weeknights for the busy, modern cook. It's also kid-friendly and sure to please even picky eaters. Everybody will want a second helping!
It's a good dish to sneak in some other veggies for your kids to eat – a few carrots or broccoli pieces they won't even notice.
It's also a budget-friendly main dish and an outstanding one-pot meal that makes cleanup a breeze.
About Poppy Seeds
These tiny black poppy seeds have a pleasant nutty flavor and are nutritious besides. The seeds come from the dry fruit pods of the poppy plant, a biennial herb that originated in some Eastern Mediterranean countries and Asia Minor.
Store poppy seeds in a cool, dry, dark place in an airtight container. They'll stay fresh for up to six months.
Cuisines Around the World Use Poppy Seeds
The unique nutty flavor of poppy seeds makes them a favorite ingredient in many cuisines. Their flavor can be enhanced by roasting under mild heat. And gentle frying releases aromatic essential oils and gives the seeds extra crunchiness.
The seeds can be used as-is or ground up to form a thick or thin paste. Here are some examples from around the world:
In India and Pakistan, a thin paste of ground white poppy seeds is used as a thickener in curries, dips, and desserts.
In South India, a poppy seed paste is combined with milk, coconut milk, raisins, cardamom, and sugar to make sweets.
In parts of Europe, especially in Hungary and Austria, poppy seeds are used in sweet pastries like strudel and germknodel.
Wondering what else to make with poppy seeds? Here are some great recipes:
Poppy Seed Chicken Recipe Ingredients
This chicken poppy seed casserole is made with simple ingredients, which means you might have everything on hand or can easily find it in your local grocery store. Here's what you need:
Boneless, skinless chicken breasts
Cream of mushroom soup you can use cream of chicken soup
Sour cream
Poppy seeds
Crushed crackers – Ritz Crackers are my favorite to use for this recipe
Butter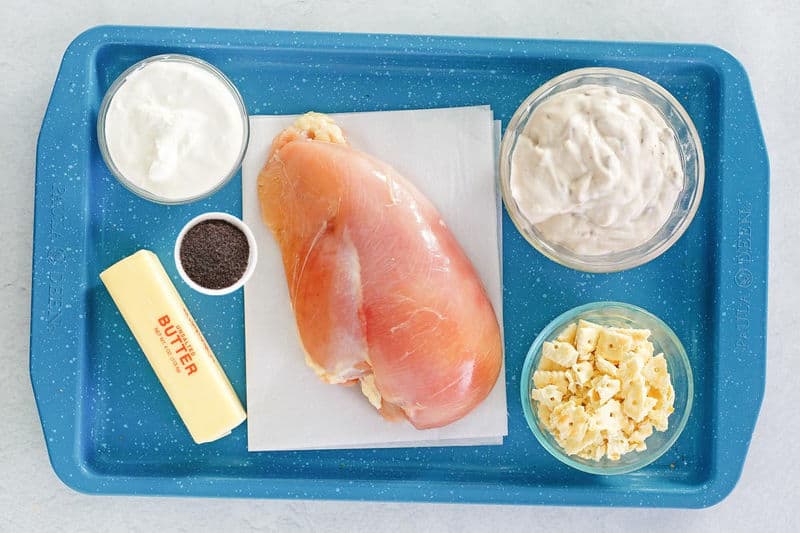 Ingredient Substitutions
This is a fairly rich chicken poppy seed casserole dish, but you can cut down on calories by:
You can also make this recipe gluten-free by:
Using gluten-free crackers. Ensure your crackers aren't too thin, so they don't reduce to powder when cooked in this poppy seed chicken recipe. Glutino's Original Gluten-Free Crackers are a good choice.
Tip: If you can only find gluten-free crackers that are very crumbly, do your best not to crush them too finely. 
Check the soup labels to ensure wheat is not used as a thickener.
How to Make Poppy Seed Chicken
Here are the simple steps to make chicken poppy seed casserole:
If you are using raw chicken, cook it and let it cool to room temperature.
Shred the chicken and place it in a large bowl.
Add the mushroom soup, sour cream, and poppy seeds.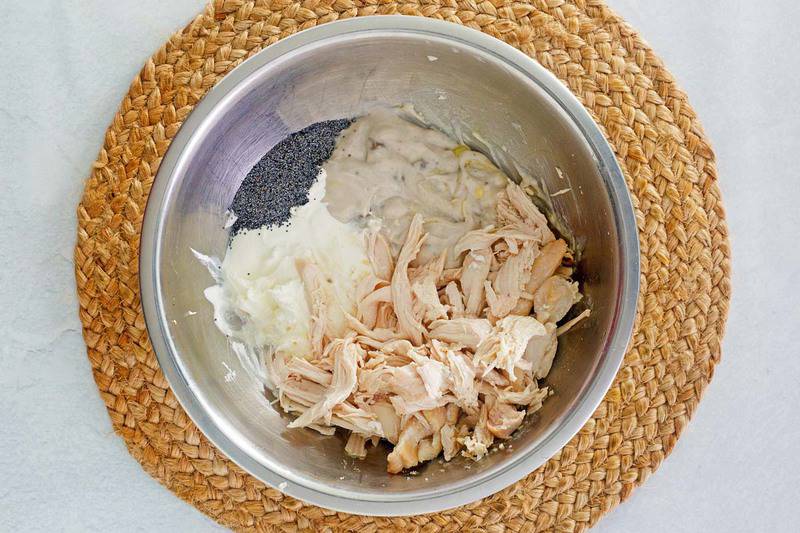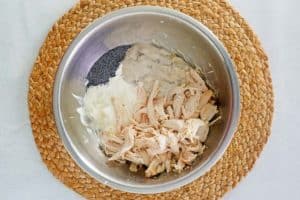 Stir the ingredients together, then pour the chicken mixture into a greased 9 X 13-inch casserole dish.
Stir the crackers and melted butter until the crackers are well coated.
Sprinkle the buttered cracker crumbs over the poppy seed chicken mixture.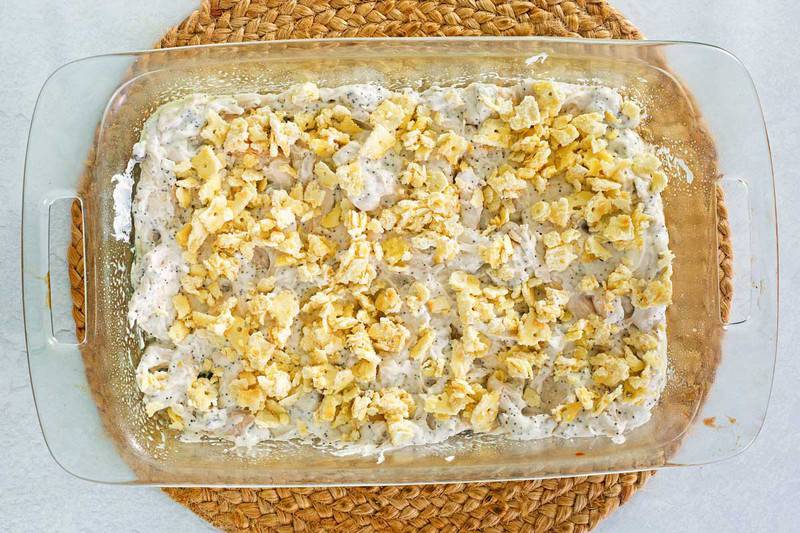 Bake the casserole at 350°F for about 35 minutes.
Serve and enjoy!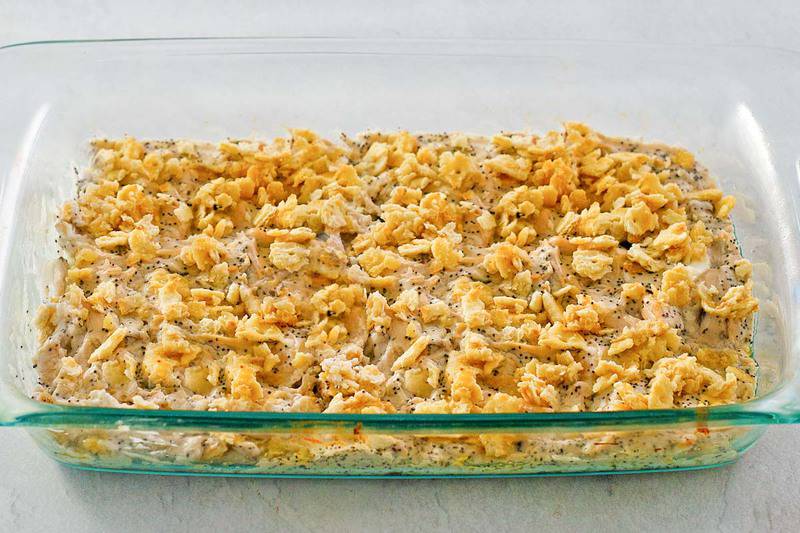 How to Cook Chicken for a Casserole
If you don't have leftover chicken, here's how to cook it for this casserole:
Stovetop Method: Simmer three or four chicken breasts in a pot of salted water for about twenty minutes. Remove them from the pot, let them continue cooking, and then shred them in a mixer. You can mix the whole casserole up in your mixer bowl.
Crockpot Method: Place the boneless skinless chicken breasts (frozen works great) in the crockpot with a cup of water and set on low for all day. Then when you get home, the chicken will be so tender and easy to shred with two forks.
To save time you can use a rotisserie chicken. And even canned chicken from the pantry will work in this recipe.
CopyKat Tip: When making weeknight casserole dishes like this easy poppy seed chicken, you can make your life even easier by cooking the chicken in advance. This way, you can easily throw everything together after your busy workday. 
Recipe Variations
Who doesn't love a chicken casserole recipe that you can easily customize? Here are some ideas:
Turkey is interchangeable with chicken, so you can use up any leftover turkey.
Swap out the cream of mushroom soup for cream of chicken, cream of Cheddar cheese, or cream of celery (or combine soup flavors).
Frozen mixed vegetables, canned or frozen corn, frozen peas, or sautéed mushrooms would all be great additions. This recipe is also a good way to use up any leftover veggies you were wondering what to do with.
Love cheese crackers? You can make that swap as well. Other interesting ideas are Chicken in a Biskit crackers or crunchy breakfast cereal.
You could layer some cooked rice on the very bottom underneath the chicken to make a meal-in-one. Place a cup in the bottom of the casserole dish for minute rice with a bit of chicken broth so there's enough liquid to cook the rice.
Make it cheesy. Stir some grated cheese into the filling, and sprinkle a layer of grated cheese on top before adding the Ritz cracker topping. Parmesan cheese is great for this casserole.
Add herbs or seasonings into the sauce – dried or fresh basil, chives, garlic, oregano, parsley, and thyme.
How to Serve Chicken Poppy Seed Casserole
This easy poppy seed chicken dish is perfect for a weeknight dinner. It's also a cinch to make for your next potluck or supper club meeting.
What Goes Well With Poppy Seed Chicken
Your poppy seed chicken casserole recipe may be the main event – but side dishes can make your meal more nutritious and interesting to your taste buds. Here are some ideas:
Tip: If you are looking for an effortless side dish, pick up a bagged salad at the supermarket!
Can This Recipe for Poppy Seed Chicken Be Made Ahead?
This is a great make-ahead chicken casserole dinner. Assemble the casserole up to 24 hours in advance and keep it covered in the refrigerator until ready to bake.
Tip: Wait to put the cracker mix together until right before baking to help the topping stay delightfully crispy!
How to Store Poppy Seed Chicken Casserole
Cover any leftover chicken casserole with plastic wrap or aluminum foil and place it in the refrigerator. The leftovers will keep in the fridge for 3 to 4 days.
Transfer the cooled casserole into an airtight container in the freezer for longer storage. It'll stay great for 2 to 3 months. Thaw it in the fridge overnight.
To freeze the casserole before baking, wrap it tightly and place it in the freezer for 2 to 3 months.
Reheating – If reheating an entire cooked casserole, cover the baking dish loosely with foil and bake in a 350°F oven until warmed through (about 20 to 30 minutes). Individual portions can be reheated in the microwave for 1 to 2 minutes.
Do not place cold glass casserole dishes directly into a hot oven because the glass may shatter. Allow the dish to come to room temperature for 30 to 60 minutes.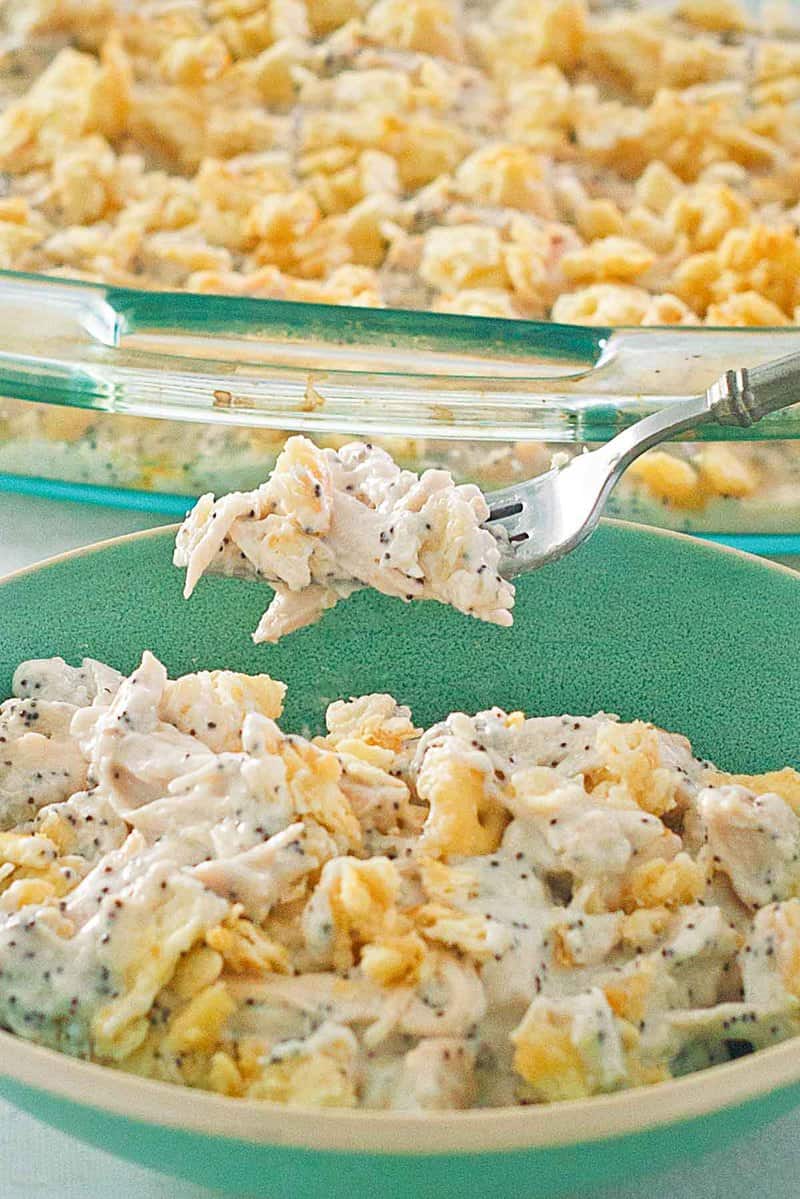 Love Chicken Casseroles? Try these recipes!
Popular Chicken Dinner Recipes
Check out more of my easy casserole recipes and the best chicken recipes for dinner here on CopyKat!
Ingredients
1

pound

cooked shredded chicken

1

can cream of mushroom soup

or cream of chicken

1

cup

sour cream

2

tablespoons

poppy seeds

1

cup

crushed crackers

2

tablespoons

butter

melted
Instructions
Preheat the oven to 350°F. Grease a 9×13-inch casserole dish.

In a large bowl, combine the shredded chicken, soup, sour cream, and poppy seeds.

Pour the mixture into the greased casserole dish.

In another bowl combine the cracker crumbs and butter. Stir until the crackers are well coated.

Place the buttered cracker crumbs on top of the chicken mixture.

Bake for about 35 minutes.
Nutrition
Calories:
241
kcal
|
Carbohydrates:
4
g
|
Protein:
19
g
|
Fat:
15
g
|
Saturated Fat:
8
g
|
Cholesterol:
80
mg
|
Sodium:
515
mg
|
Potassium:
419
mg
|
Fiber:
0
g
|
Sugar:
1
g
|
Vitamin A:
380
IU
|
Vitamin C:
1.2
mg
|
Calcium:
91
mg
|
Iron:
1
mg