Lemon Poppy Seed Muffins with lemon glaze are simply scrumptious. Lemon poppy seed muffins are perfect for breakfast. They are also delicious when served in the afternoon with coffee or tea.
This post contains affiliate links. As an Amazon Associate, I earn from qualifying purchases.
Bakery Style Lemon Poppy Seed Muffins
These bakery-style lemon poppy seed muffins are perfectly tender and sweetened with an addicting tart lemon glaze. These muffins are dotted with tasty poppy seeds and are absolutely lemonlicious! They are not too oily either (there's actually no oil in them!).
Everyone needs a go-to muffin recipe, and this one for poppy seed lemon muffins may be it! Muffins are just so versatile and super easy to make. It's just a few steps before you're biting into your new very favorite muffin!
Why This Is the Best Lemon Poppy Seed Muffins Recipe
Packed with fresh lemon juice and lemon zest, you don't need to visit a bakery for the best lemon poppy seed muffins. This recipe works so well to give you moist and tender lemon muffins with those delightful little bits of poppy seeds.
Have you ever wanted to make bakery-style muffins at home? Sure, you can go out and buy fancy muffins, but muffins are very easy to make in your own kitchen.
These poppyseed muffins are better than anything at the bakery and are sure to brighten your day! These moist, lemony muffins are great for breakfast or a snack. The fastest way to please your family might be to make these lemon poppy seed muffins for breakfast!
And, there is nothing better than adding a small pat of butter to a warm fresh-out-of-the-oven muffin. Enjoy the best ever bakery-style lemon poppyseed muffins when you make them from scratch.
Make a batch of homemade lemon poppy seed muffins this weekend; you will not be disappointed!
What Makes Lemon Poppy Seed Muffins So Tasty?
These muffins are the perfect marriage of flavors – fresh lemon zest, vanilla extract, and lemon extract. This lemon poppy seed muffins with glaze recipe uses butter and sour cream to make these muffins tender and moist. There is no doubt you will fall in love with these flavorful muffins!
Ingredients
This healthy lemon poppy seed muffins recipe makes moist and tender glazed muffins with only a few simple natural ingredients as follows:
All-purpose flour
Baking powder
Butter
Eggs
Milk
Sour cream
Sugar
Poppy seeds
Lemon extract
Lemon zest
Vanilla extract
Salt
Poppy Seeds are Good for You
When we think about these tiny seeds, we most often associate them with bagels and bread. But, poppy seeds can add great flavor and crunch to all kinds of foods. And, they provide some respectable health benefits as well.
Some suggestions to incorporate poppy seeds into your diet include adding them to rice dishes and salad dressings. Take up the challenge and add a teaspoon of poppy seeds to your day!
How to Make Lemon Poppy Seed Muffins
Making these lemon poppyseed muffins couldn't be more straightforward than with this easy stir-together method.
Cream the sugar and butter together.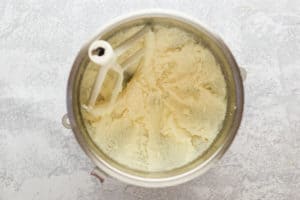 Add the eggs, lemon, and vanilla extracts and blend well.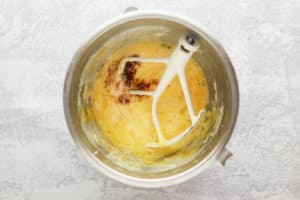 Add the sour cream, poppy seeds, and lemon zest.
Combine the flour, baking powder, and salt.
Combine the dry ingredients with the creamed butter.
Fill each greased muffin cup 2/3 full with the batter and bake muffins for 24 minutes at 350°F.
While the muffins are baking, make the lemon glaze by combining powdered sugar, milk, lemon extract, and lemon zest.
When the muffins have cooled, drizzle them with lemon glaze.
Lemon Poppyseed Muffins Recipe Variations
Here are several ways you can make these muffins:
For gluten-free muffins, substitute the all-purpose flour with 1-1/4 cups gluten-free flour and 3/4 cup almond flour to prevent dryness.
Add a cup of blueberries to make delicious blueberry lemon poppy seed muffins.
Make lemon poppy seed muffins with buttermilk or Greek yogurt by substituting the sour cream with buttermilk or Greek yogurt.
If you want to make whole wheat lemon poppy seed muffins, substitute only half of the all-purpose flour with whole wheat flour. Substituting all of it will make the muffins too dense and dry.
No need to miss out on lemon poppyseed muffins because you're a vegan! Check out this recipe for vegan lemon poppy seed muffins.
Make mini or jumbo lemon poppy seed muffins using a mini or jumbo muffin pan. The baking time will need to be adjusted for the size. For mini muffins, bake for 14 to 16 minutes. For jumbo muffins, bake for about 27 to 30 minutes.
8 Tips for Making the Best Muffins Ever
Start with ingredients at room temperature – when the ingredients start from room temperature, the leavening ingredients can do their job, and really raise up your muffins high.
Don't overmix the batter – mix just enough to moisten all ingredients, any additional mixing may make muffins tough.
The batter should be stiff enough to hold a spoon upright – If your batter is too thin, add a tablespoon (or two) of flour to help thicken the batter.
If using fresh fruit, toss with a tablespoon of flour before adding to the batter – coating fruit with flour will keep your fruit from sinking to the bottom of the muffin.
Grease the entire muffin pan – If you don't use muffin liners, don't skip on greasing the entire bowl of the muffin tin, they will release easier if you cover the entire surface area of the cup.
Fill the muffin pan 2/3 full – Do not overfill the pan or when the batter rises during cooking, it will spill over the top. On the other hand, underfilling may mean your muffins will be tough and overcooked.
Don't overbake the muffins – Overbaking muffins can make them tough. To check for doneness, use a toothpick. When a toothpick is inserted, it should come out clean.
Allow muffins to cool in the pan before removing – Allow muffins to cool for about five minutes before attempting to remove them. They won't break apart if you do this.
How to Serve Lemon Poppy Seed Muffins
Lemon poppyseed muffins are simply scrumptious, and they make the perfect morning treat for breakfast.
You can also enjoy one as an afternoon snack with coffee or tea, or even serve them for dessert with a dollop of whipped cream, Greek yogurt, or ice cream!
There is no doubt you will fall in love with these flavorful muffins!
How to Store Lemon Poppy Seed Muffins
Place the muffins in an airtight container and store them at room temperature or in the refrigerator. These glazed lemon poppyseed muffins will stay fresh for a couple of days after baking them.
Can You Freeze Muffins?
Yes, muffins can be frozen in an airtight container for up to 3 months. Defrost them on the counter until room temperature.
If you want them warmed you can reheat them in a 300°F oven for 5 minutes. Note the lemon glaze will melt when reheating them. You can make more glaze to drizzle over them if desired.
More Great Recipes for Muffins
Favorite Lemon Recipes
Check out more of my easy bread recipes and the best breakfast recipes here on CopyKat!
Ingredients
Muffins
1 1/2

cups

sugar

1/2

cup

salted butter

room temperature

1

tablespoon

lemon extract

1

teaspoon

vanilla extract

4

eggs

room temperature

2

teaspoons

lemon zest

1/2

cup

sour cream

room temperature

1/4

cup

poppy seeds

2

cups

all-purpose flour

2

teaspoons

baking powder

1/2

teaspoon

salt

3/4

cup

milk
Lemon Glaze
1

cup

powdered sugar

5

teaspoons

milk

1/4

teaspoon

lemon extract

1/2

teaspoon

lemon zest
Instructions
Muffins
Preheat the oven to 350°F. Grease a muffin tin, and use muffin papers if desired.

Using a

mixer

, cream the sugar and butter together.

When light and fluffy, add the lemon extract, vanilla extract, and eggs, and beat together until well blended.

Add the lemon zest, sour cream, and poppy seeds, and mix until all ingredients are just blended in.

In a separate bowl combine the flour, baking powder, and salt. Stir until the mixture is uniform.

To combine the dry and wet ingredients, add about a third of the flour mixture and a third of the milk to the creamed butter and stir gently. Then add the next third of the flour and milk, and stir gently. Scrape the sides of the bowl to make sure all ingredients are well incorporated. Add the remaining flour and milk. Stir until just blended.

Fill each muffin tin 2/3 full.

Bake for 24 minutes. You may want to start checking the muffins at about 20 minutes by inserting a toothpick to see if they are done. When the toothpick comes out clean, remove the muffins from the oven.
Lemon Glaze
Combine the powdered sugar, milk, lemon extract, and lemon zest in a small bowl. Stir until well blended.

When the muffins have cooled to room temperature, drizzle the glaze over the muffins.
Nutrition
Calories:
342
kcal
|
Carbohydrates:
53
g
|
Protein:
5
g
|
Fat:
12
g
|
Saturated Fat:
6
g
|
Cholesterol:
81
mg
|
Sodium:
202
mg
|
Potassium:
158
mg
|
Fiber:
0
g
|
Sugar:
36
g
|
Vitamin A:
400
IU
|
Vitamin C:
0.4
mg
|
Calcium:
103
mg
|
Iron:
1.5
mg