One of my favorite pastries at Panera is the apple cinnamon raisin muffin. Enormous, fluffy sweet muffins loaded with spiced apples, cinnamon, and raisins, topped with streusel and icing. What is not to love?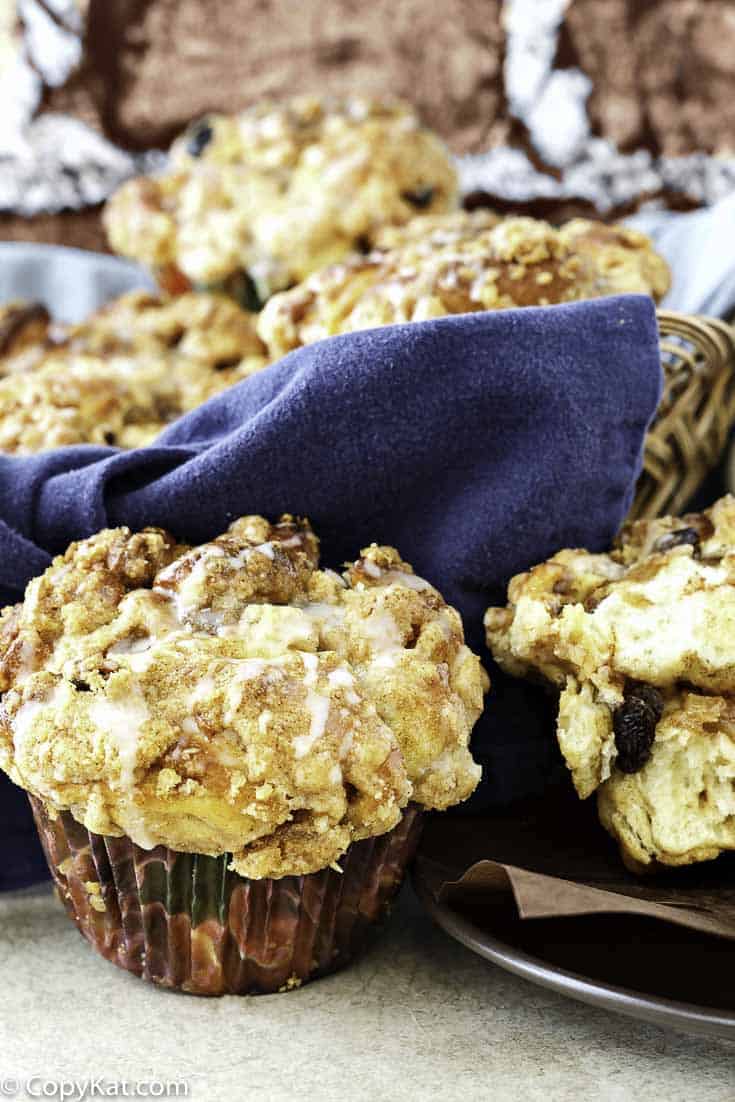 Cinnamon Apple Muffins with Raisins
When I really love something from a restaurant, especially a chain restaurant that lists its menu ingredients online, I go over and try to figure out how to replicate my favorite as closely as possible. I am very pleased to say that I think I have done it with these muffins.
About This Apple Cinnamon Raisin Muffins Recipe
I will freely admit that this is not a beginner's recipe. Although, if you have experience with making bread, you will definitely have a head start. There are a lot of components to this recipe: the bread base, cinnamon-raisin filling, spiced apple filling, streusel, and icing.
If you're up for a day spent in the kitchen, enjoy it. You'll be rewarded with the closest you can get to Panera without having to get in the car.
If you would rather not work quite so hard for your sweet Cobblestone reward, there are a few ways you can go about simplifying this recipe. I will make note of them at the end of the recipe.
Recipe Ingredients
I love Panera Bread, they have made a good effort in making sure their food has ingredients we can all spell and say simply. They are all about everyday food. It makes it easy for you to modify a recipe by changing out ingredients that work best for you.
Here's a list of what you need for this recipe:
Butter
Sugar
Eggs
Kosher and table salt
All-purpose flour
Active dry yeast
Dark brown sugar
Honey
Ground cinnamon
Raisins
Apple pie filling
Cinnamon baking chips, optional
Powdered sugar
Vanilla extract
Lemon extract
Milk
Water
How to Make Panera Apple Cinnamon Raisin Muffins
Make a simple bread dough for the muffin base.
Make a cinnamon mixture.
Make a cinnamon apple filling.
Roll out the dough into a rectangle.
Sprinkle cinnamon mixture and raisins on the dough.
Roll up the dough and cut it into slices.
Cut the slices into pieces.
Place a third of pieces into a jumbo muffin pan.
Put apple filling on the pieces.
Repeat with remaining dough pieces and apple filling so you have 3 layers of dough pieces and 2 layers of apple filling.
Make the streusel topping and sprinkle it on top.
Let rise then bake the muffins.
Make the vanilla icing and drizzle it on the muffins.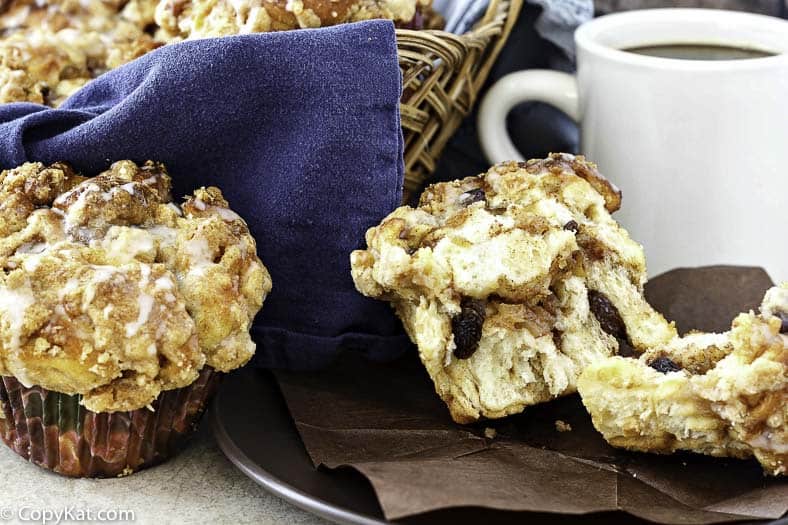 Love Panera Bread? Look at these copycat recipes!
Favorite Sweet Breakfast and Bread Recipes
Check out more of my easy bread recipes and the best Panera recipes here on CopyKat!
This recipe is from Jenni Field from the Online Pastry Chef, be sure to check out more of her recipes on her blog.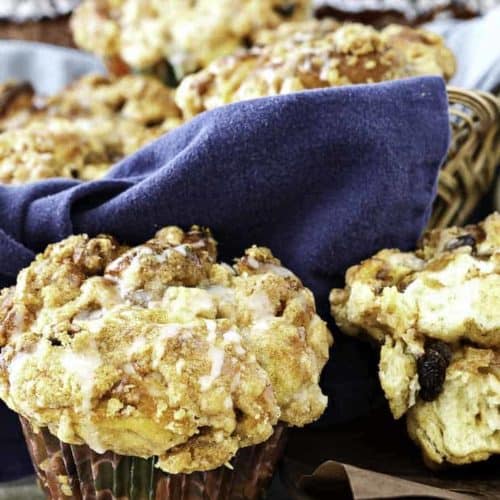 Ingredients
For the Dough
1

cup

water

plus 2 tablespoons

1/4

cup

butter

melte

4

tablespoons

sugar

1

large

egg

1

teaspoon

kosher salt

4

cups

all purpose flour

2

teaspoons

active dry yeast
Cinnamon Raisin Filling
1⁄4

cup

butter

softened, not melted

1⁄4

cup

dark brown sugar

packed

1⁄2

large

egg

(beat 1 large egg and then measure out half. Use the rest in your scrambled eggs)

2

teaspoons

honey

1

tablespoon

all-purpose flour

1 1/2

teaspoons

ground cinnamon

1/4

teaspoon

salt

1/4

cup

raisins

if you like more add an addition 1/4 cup
Spiced Apple Filling
1

cup

apple pie filling

Lucky Leaf brand recommended

1/4

cup

cinnamon baking chips

OR 1⁄2 teaspoon ground cinnamon

1/4

teaspoon

salt
For the Streusel
1/2

cup

all-purpose flour

1/2

cup

granulated sugar

1/2

cup

butter

cool, should be softened

2

teaspoons

honey

1/4

teaspoon

ground cinnamon

1/4

teaspoon

salt
For the Icing
1/2

cup

powdered sugar

1/8

teaspoon

salt

1/4

teaspoon

vanilla extract

1/8

teaspoon

lemon extract

2

teaspoons

milk
Instructions
For the Dough
Put the water, butter, sugar, egg, and salt in the bowl of your stand mixer. Stir briefly with a whisk. Add the flour, and then add the yeast on top. Mix on low speed with the dough hook until a shaggy dough forms, about 1 minute. Increase speed to medium and knead for 10 minutes. The dough will be soft, very shiny, and supple. It will also be very soft. Don't worry about that–we want a soft dough. Leave the dough in the mixer bowl, and scrape it into a ball, spray with pan spray, and cover with plastic wrap. Let rise in a warm spot until doubled in size, about 1 1⁄2 hours. 
For the Cinnamon Raisin Filling
Using a whisk or a hand mixer, mix all the ingredients except the raisins together until smooth. Reserve the raisins for assembly.
For the Spiced Apple Filling
Using a chef knife, or a mini-prep, chop or pulse the apples until the pieces are about the size of small peas. You don't want it completely smooth like applesauce. Think more like salsa. Stir in the salt and cinnamon chips, if using. If not using cinnamon chips, stir in the ground cinnamon and set aside. 
For the Streusel
Using 2 forks, a pastry blender, or your fingers, mix all the streusel ingredients together until sandy with little clumps of butter. Set aside. 
To Assemble and Bake
Sprinkle a bit of flour on top of the dough and then punch it down to press out the gases. Turn the dough out onto a lightly floured surface, and flour the top of the dough lightly as well. Roll dough into a rough rectangle about 18" x 10". Spread the Cinnamon mixture evenly over the surface of the dough. Sprinkle on the raisins, if using. Starting from a long end, roll up the dough into a cylinder as if you were making cinnamon rolls. Pinch the seam to seal. Cut the dough into 9 equal pieces. Cut each of these pieces into 3 pieces for a total of 18 "cinnamon rolls." 

Line 2 jumbo muffin tins with jumbo muffin liners (you will only need to line 3 cavities in the second pan since this recipe makes 9 muffins). For each muffin, you'll be using 3 of the "cinnamon rolls." Cut the first in 4-5 pieces and put them in a lined muffin cavity. Top with a spoonful of apple filling. Repeat twice more with the second and third "cinnamon rolls." When finished, you'll have a muffin with 3 layers of cinnamon roll and 2 of spiced apple. You will be filling the muffin cups almost to the tops.

Continue making muffins with the rest of your dough and apple filling. Evenly sprinkle on the streusel, dividing it evenly among the 9 muffins. Cover muffins and let rise in a warm place until puffy, about 45 minutes. While muffins are rising, place a rack in the center of your oven, and preheat to 350 F. Bake until golden brown and well risen. The internal temperature of the muffins should be about 195F, give or take 5 degrees. This will take about 30 minutes. If the muffins seem to be browning too quickly, loosely tent with foil. Let the muffins cool for 10 minutes and then remove muffins to a rack to cool completely. Once cool, use a fork to drizzle each muffin lightly with the glaze.
For the Glaze
Whisk the ingredients together until smooth. You can wait until the muffins are cooling after baking to do this part.
Notes
Ways To Simplify the Cobblestone Recipe
Start with store-bought sweet dough, such as the type made by Rhodes Bake-N-Serv. Instead of rolling out the dough and making "cinnamon rolls," you can also roll the dough into ping pong ball-sized balls, dip them into the cinnamon mixture, and roll them in raisins. Use an equal number of balls for each muffin, making sure to add in the apple mixture. Leave out the apple mixture entirely. You can also leave off the streusel or the glaze if you prefer. Make a Cobblestone coffee cake by making the whole thing in a well-greased tube pan or springform pan.
Nutrition
Calories:
651
kcal
|
Carbohydrates:
92
g
|
Protein:
7
g
|
Fat:
29
g
|
Saturated Fat:
17
g
|
Cholesterol:
102
mg
|
Sodium:
647
mg
|
Potassium:
156
mg
|
Fiber:
2
g
|
Sugar:
46
g
|
Vitamin A:
895
IU
|
Vitamin C:
1
mg
|
Calcium:
45
mg
|
Iron:
2.8
mg