Panera Bread Green Goddess Cobb Salad is a salad that so many people love. This salad is perfect for low carb and keto diets (just eliminate the pickled onions). Best of all the Panera Bread Green Goddess Cobb Salad doesn't taste like you are on a diet.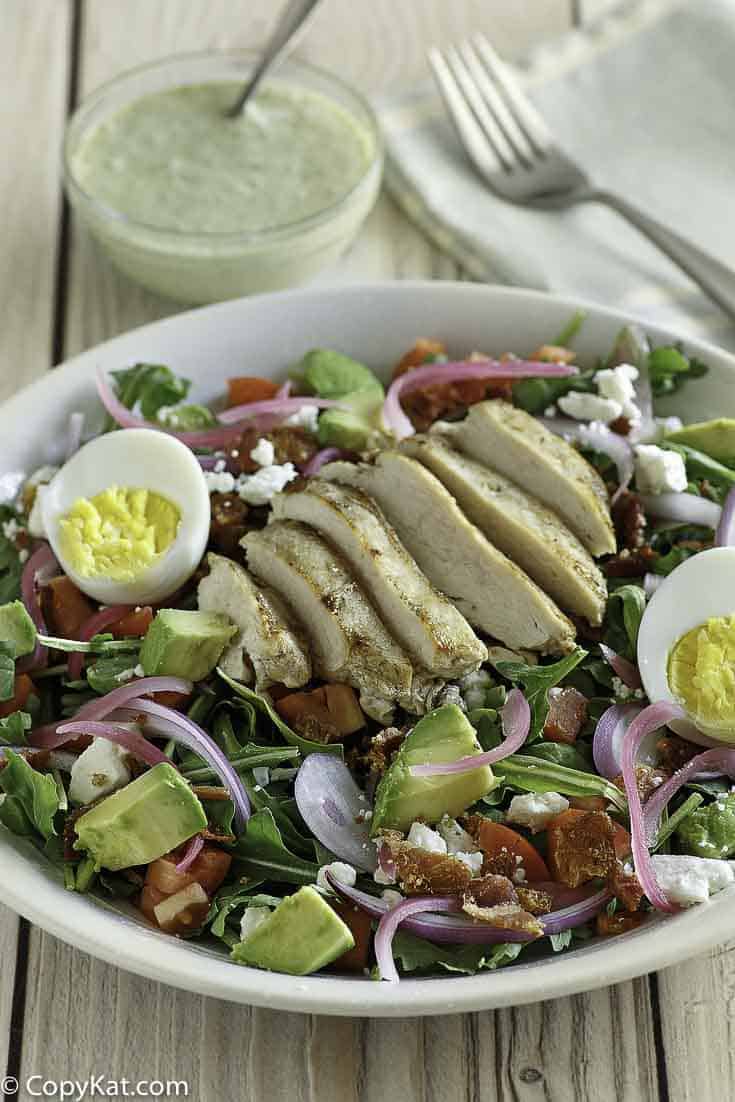 Fans of salads love Panera Bread. All of their ingredients are fresh like crisp greens and vine-ripened tomatoes. Panera creates flavorful salad combinations that are not only unique but also delicious. And, all of Panera's salad ingredients have no artificial colors, flavors, preservatives, or sweeteners.
Panera's Green Goddess Salad
At Panera, the Green Goddess Salad has seen many variations as each chef has added his or her own special touch to the original. If you go to Panera, your Green Goddess Cobb Salad will have a base of fresh mixed greens and tomato wedges. Some thin slices of pickled red onions add some sweet tanginess. Then everything is tossed together with chopped bacon, avocado, and a hard-boiled egg. And then, of course, the famous Green Goddess dressing, which is made fresh every day. You can choose to add chicken raised without antibiotics.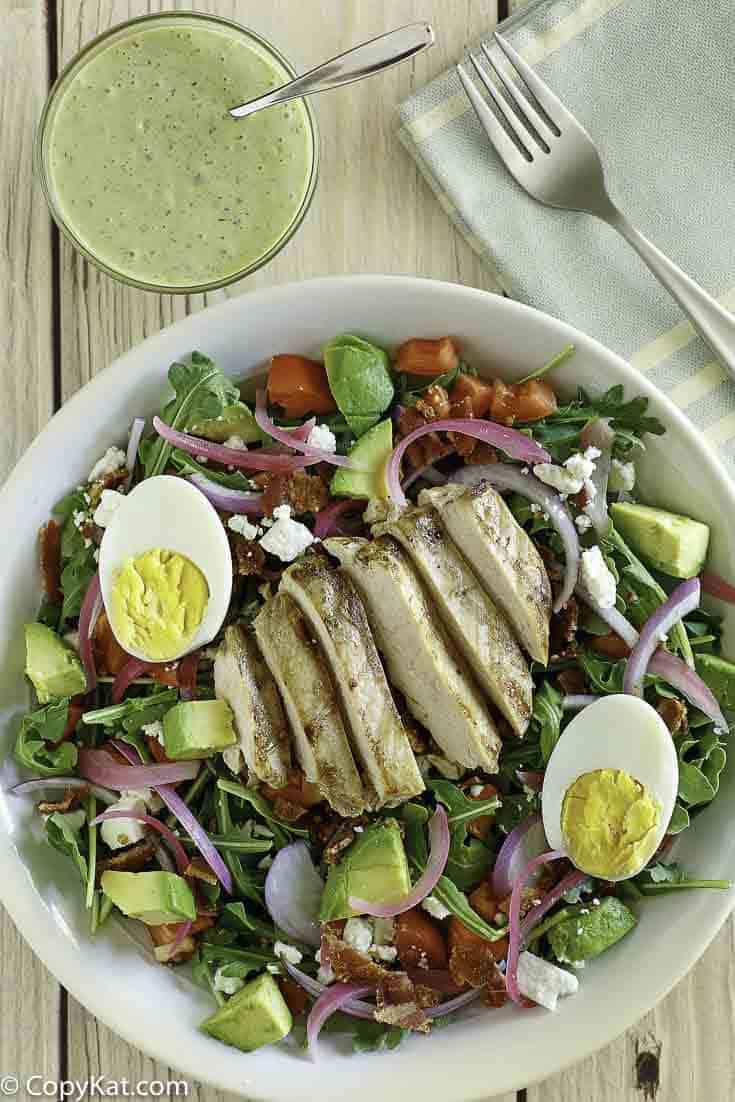 About Panera Bread
Panera began life as a cookie store thirty-five years ago. Today it's a well-known chain with over 2,000 bakery-cafes. Panera realized that many people wanted something more than just processed fast food. When going out to eat, they were not only hungry they were hungry for real food served in an engaging environment. Panera is not in the business of serving you and then getting you out the door as quickly as possible – they want you to linger and enjoy the Panera experience. Read more about the history and evolution of Panera Bread.
How to make this recipe low carb???
There is one step in making this recipe low carb, remove the pickled onions. If you simply omit the pickled onions you remove all but 5 carbs in this recipe.
The Goddess of Dressings
You may not know that a salad dressing could have a history, but the Green Goddess salad dressing draws on a rich tradition that goes back four hundred years. The basics of the Green Goddess dressing reach back to the 17th Century when the personal chef to the French king Louis XIII created the first Green Goddess dressing.
Green Goddess the Movie
In 1923 Philip Roemer, the chef at the Palace Hotel in San Francisco wished to pay homage to actor George Arliss, the star of the silent movie Green Goddess. Roemer made a Green Goddess dressing, achieving its colorful hue with a tasty combination of parsley, chives, tarragon, and scallions. To read more about the history of the Green Goddess dressing, click here.
Can't Get Enough of Panera Bread? Here are more great Panera Bread Copycat recipes for you to try.
You don't have to go to Panera to enjoy this beautiful salad. You can make it at home from the same fresh ingredients that Panera uses. So sit down and enjoy your Green Goddess salad and share its long and storied history with your family. Your taste buds will tell you that it's worth it.