Panera Bread Green Goddess Cobb Salad with chicken is a salad that so many people love. This salad is loaded with delicious fresh toppings and is perfect for low carb and keto diets (just eliminate the pickled onions). Best of all, it doesn't taste like you are on a diet.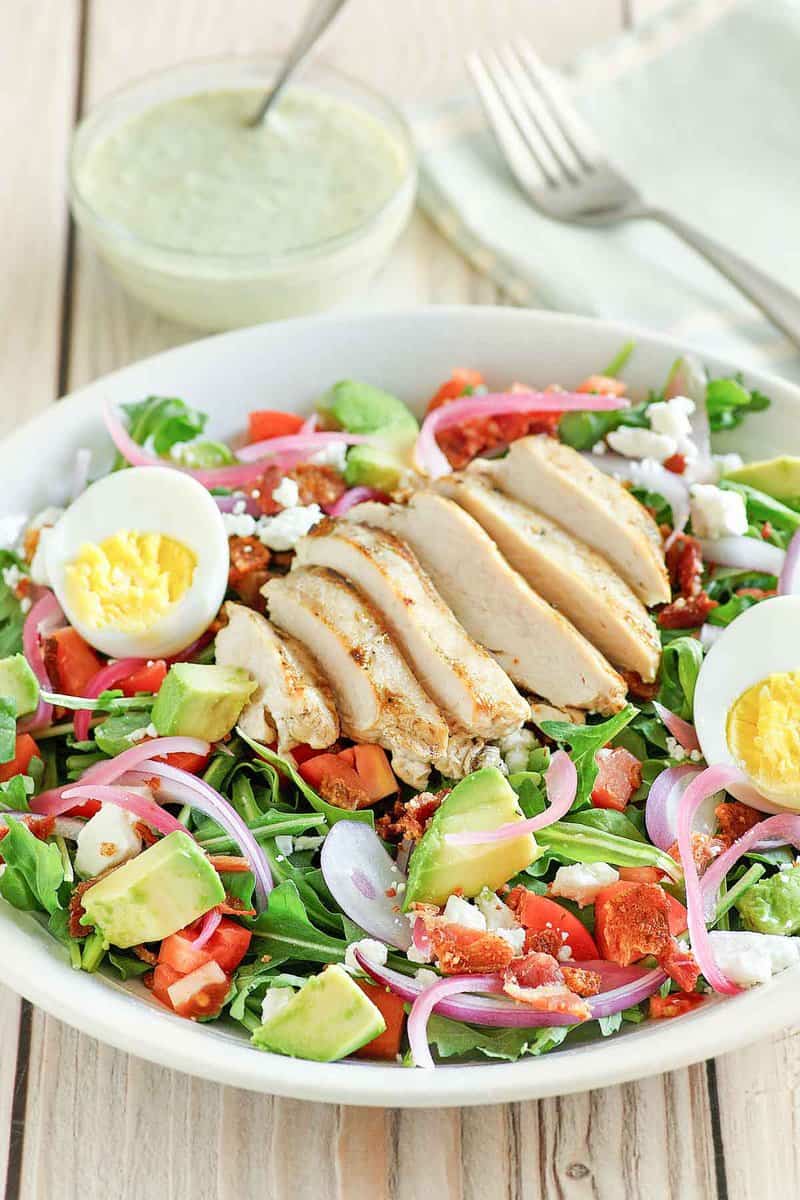 This post contains affiliate links. As an Amazon Associate, I earn from qualifying purchases.
The Green Goddess Cobb Salad at Panera
Panera's Green Goddess Cobb salad is a customer favorite for its fresh ingredients and unique flavor. Unlike other establishments, Panera Bread salads don't have artificial colors, flavors, preservatives, or sweeteners, which patrons appreciate!
This specific dish has savory grilled chicken, tangy pickled onions, plump tomatoes, and buttery avocados, so there are many ingredients to indulge in. Since the chicken and hard-boiled eggs provide protein, this Panera Cobb salad is hearty enough to enjoy as an entree. Then again, you can also serve it as a side dish, which makes it versatile.
Why You Should Make This Recipe
When you want to bring your favorite Panera salad to life, this recipe is the best! All the ingredients used are identical to the salad on Panera Bread's menu, making it feel like you took a trip to Panera.
The Green Goddess dressing tastes incredibly refreshing, and the pickled red onions complete the dish. Not to mention, despite it having many ingredients, it's so easy to make at home! This copycat recipe helps you to make your version in just 20 minutes, so what are you waiting for?
Salad Ingredients
Here is a list of what you need to make the salad and dressing. The exact measurements are in the printable recipe card below.
For the pickled onions, you'll need:
Red onion
White vinegar
White granulated sugar
Salt
For the salad components:
Salad blend
Grilled chicken breast
Crisply cooked bacon
Avocado
Chopped tomatoes or grape tomatoes
Hard-boiled egg
Feta cheese crumbles
For the salad blend, it can be a mixture of arugula, romaine lettuce, red leaf lettuce, baby kale, radicchio, or your favorite fresh greens.
When you buy your lettuce blend, carefully inspect its quality. The lettuce should look firm and crisp with no brown spots or edges. Furthermore, wilting leaves or yellow undertones are signs that the lettuce is on its way to spoiling, so avoid purchasing lettuce with those attributes. When it comes to a salad like this, fresh ingredients are a must!
For the green goddess dressing Panera copycat:
Mayonnaise
Tarragon leaves
Fresh chives
Flat-leaf parsley
Watercress (cleaned and tough stems removed)
Lemon juice
Champagne vinegar
Salt
Pepper
Now that you've seen what is in Panera's Green Goddess Dressing, you probably noticed all of the herbs. Fresh tarragon, chives, and parsley are essential in the salad dressing because combining multiple herbs gives a unique, vibrant flavor. Make sure to pick the best quality herbs, too!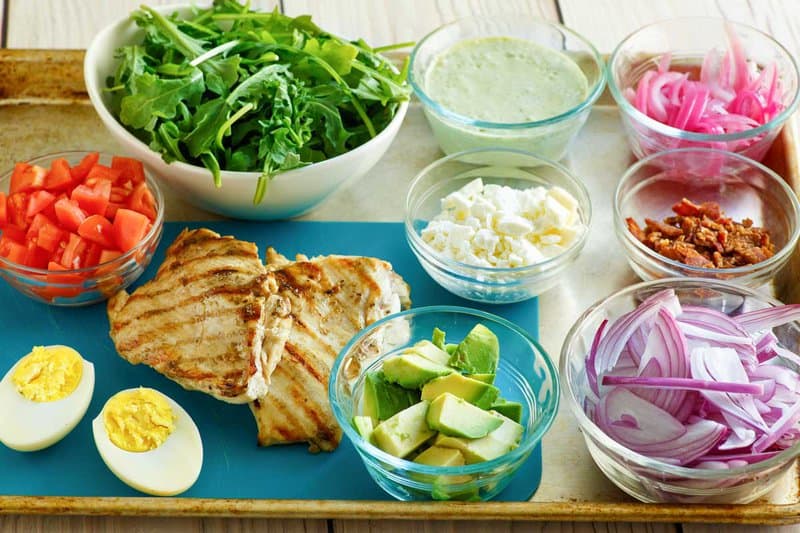 Ingredient Substitutions for the Green Goddess Cobb Salad (Panera)
You can swap the grilled chicken breast for a different type of protein if you wish! For example, steak, shrimp, or even salmon taste wonderful on this Panera Green Goddess Salad.
To make this salad low carb, all you need to do is remove the pickled onions, which entirely omits the five carbs in the recipe!
Meanwhile, if you can't find a pre-made salad blend, you can make your blend by purchasing the different greens, chopping them, and tossing them together.
Special Equipment
I recommend using a mandolin to slice the onions for the pickled onions. This helps to ensure that they are uniform slices and thin enough to absorb the pickling mixture without needing to sit overnight.
Also, a blender or food processor is required to fully break down the herbs in the Panera Bread Green Goddess Dressing. It also guarantees that there aren't any lumps in the dressing, making it super silky.
How To Make The Recipe
Here are the steps for making the salad and dressing:
Pickled Onions
Use a mandolin to thinly slice the onions, then transfer them to a glass far.
Mix the white vinegar, sugar, salt, and warm water until everything is dissolved.
Allow the onions to rest in the mixture for 30 minutes minimum.
Panera Green Goddess Dressing Recipe
Use a blender or food processor to combine all the dressing ingredients.
Blend the dressing for at least 30 seconds or until it is nice and creamy.
Assembling The Salad
Start by putting the lettuce in a large salad bowl or a plate.
Place thinly sliced chicken breast on top of the greens.
Add the other components, such as bacon, avocado, tomatoes, hard-boiled eggs, and feta cheese. Put the pickled onions on last.
Drizzle the dressing over the entire salad before serving.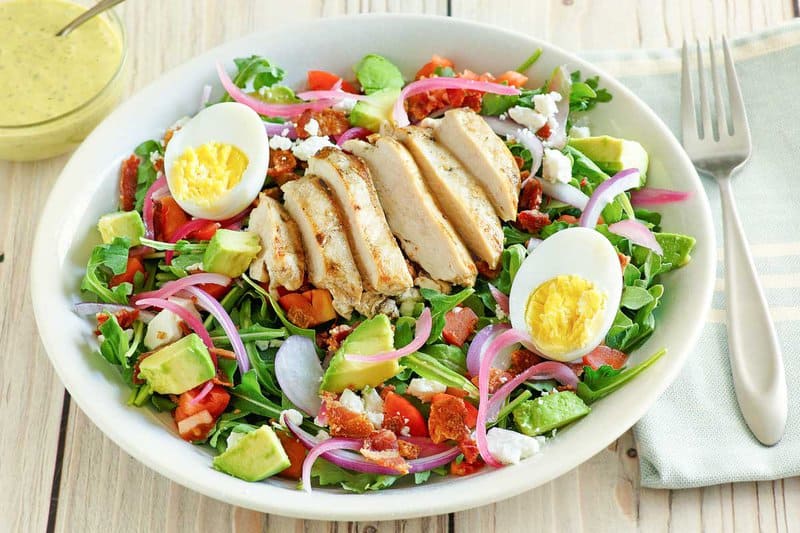 Recipe Variations
Lime Green Goddess Salad Dressing Panera uses lemon, but you can try swapping the lemon juice for lime juice! It still gives the dressing a pleasantly citrusy hint. It's just slightly different!
White Beans. To give it more substance, add chickpeas or canned white beans, which perfectly pair with the other ingredients and give the dish more protein.
Cabbage. For added texture and color, include shredded red cabbage in the salad. This is an easy variation since you can purchase it pre-shredded!
How to Serve The Dish
Some prefer carefully assembling the salad, highlighting each ingredient by piling the toppings in sections rather than sprinkling the components. This is entirely up to you, though!
Moreover, you can evenly distribute the dressing by mixing all components to make a tossed salad. With this method, the lettuce wilts much faster, so you need to enjoy it immediately!
Another option is to make this recipe as meal prep if you want to eat it on the go. Build the salad in a container and keep the dressing separate until you eat it!
What Goes Well with the Panera Cobb Salad
Panera Bread has the "You Pick Two" deal, where you can pair this salad with another item. You can easily recreate this at home by serving this dish alongside a panini or cold sandwich!
Also, it's delicious with warm soup if you're enjoying this on a chilly day, whether you want to recreate the Panera Baked Potato Soup or the Panera Broccoli Cheddar Soup to accompany it.
Check out this recipe for parmesan chicken wings for a tasty appetizer to enjoy before the salad.
How to Store The Green Goddess Salad
To store any remaining components, keep them in the refrigerator.
For the salad dressing, transfer it to an airtight container. It will last about one week!
As far as the pickled onions go, please keep them in a sealed jar and enjoy them for up to two weeks.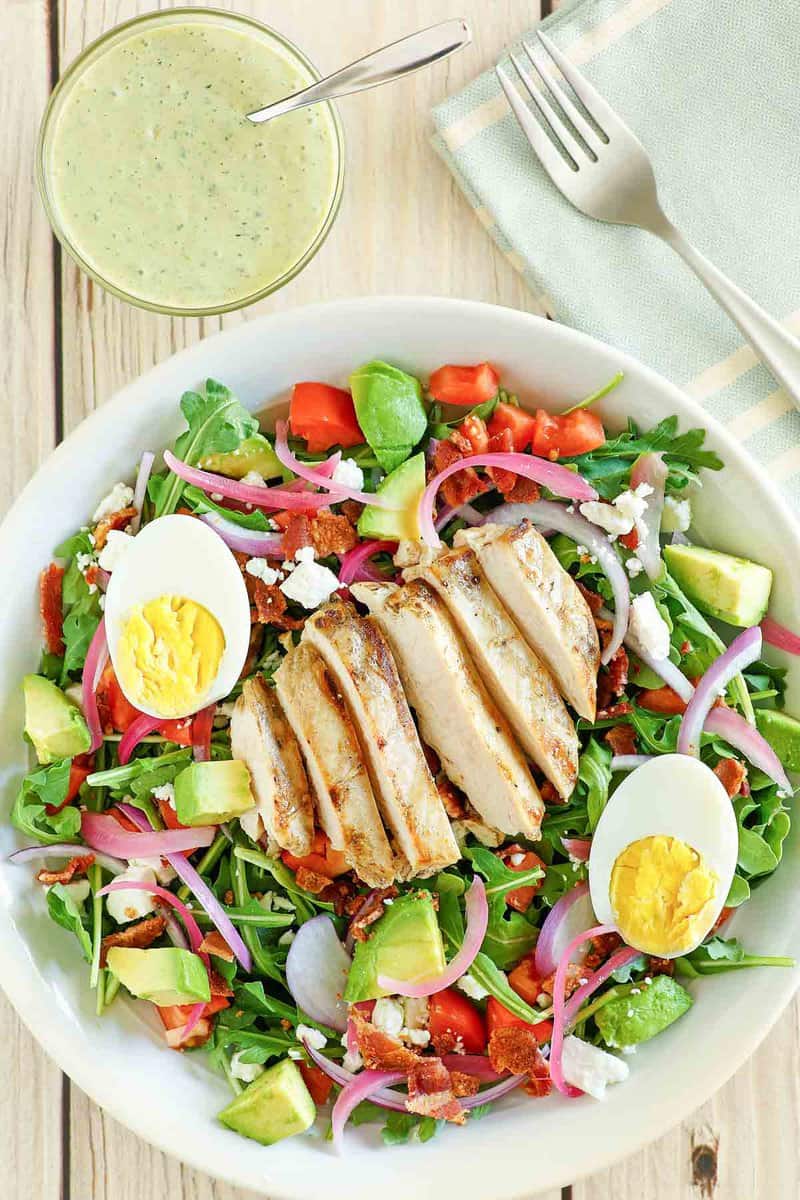 Can't Get Enough of Panera Bread? Here are more great Panera Bread Copycat recipes for you to try!
More Dinner Salad Recipes
Check out more of my copycat Panera recipes and the best homemade salads.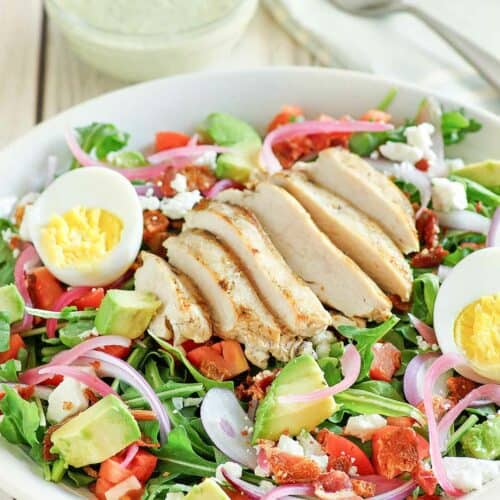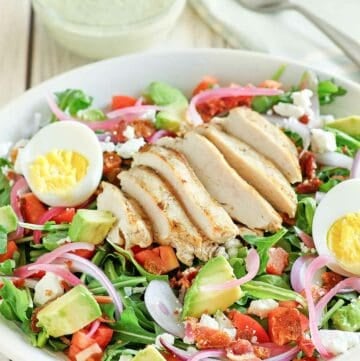 Ingredients
Pickled Onions
1

cup

sliced red onion

1/2

cup

white vinegar

1

tablespoon

sugar

1 1/2

teaspoons

salt

1

cup

warm water
Salad Assembly
6`

ounces

salad blend

use arugula, romaine, kale, and raicchio blend

6

ounces

grilled chicken breast

2

tablespoons

crisply cooked bacon

3

tablespoons

chopped avocado

1/2

cup

chopped tomatoes

1

hard boiled egg

cut in half

2

tablespoons

feta

cheese

2

tablespoons

pickled onions
Green Goddess Salad Dressing
1

cup

mayonnaise

2

tablespoons

tarragon leaves

3

tablespoons

minced chives

1

cup

flat leaf parsley

1

cup

packed watercress

cleaned and tough stems removed

2

tablespoons

lemon juice

1

tablespoon

champagne vinegar

1/2

teaspoon

salt

1/4

teaspoon

pepper
Instructions
Pickled Onions
Slice onions as thin as possible, I like to use the 1/8 inch setting on my mandolin. Place the onions in

a glass far. In a small bowl combine white vinegar, sugar, salt, and warm water. Stir until the sugar

and salt are dissolved. These should rest about 30 minutes for using.
Green Goddess Salad Dressing
Place all of the dressing ingredients in the bowl of a blender or food processor and blend for about 30-45 seconds, or until the salad dressing is mostly smooth and creamy.

Salad Assembly
Place the salad in the bottom of a large salad bowl. Thinly slice the chicken breast, and place onto the lettuce. Add bacon, chopped avocado, chopped tomatoes, feta cheese, hard-boiled egg halves, and pickled onions. Drizzle over as much salad dressing as desired. Remaining salad dressing can be stored in an air-tight container for 1 week.
Notes
This recipe is only low carb if you eliminate the pickled onions from this recipe.
Nutrition
Calories:
1175
kcal
|
Carbohydrates:
30
g
|
Protein:
32
g
|
Fat:
102
g
|
Saturated Fat:
19
g
|
Cholesterol:
219
mg
|
Sodium:
3603
mg
|
Potassium:
1320
mg
|
Fiber:
5
g
|
Sugar:
15
g
|
Vitamin A:
4930
IU
|
Vitamin C:
94.5
mg
|
Calcium:
295
mg
|
Iron:
6.5
mg