Panera Bread Baked Potato Soup is a wonderful creamy soup that will warm your soul. It is filled with cream cheese, potato chunks, and bits of smoky bacon. You will soon fall in love with this recipe.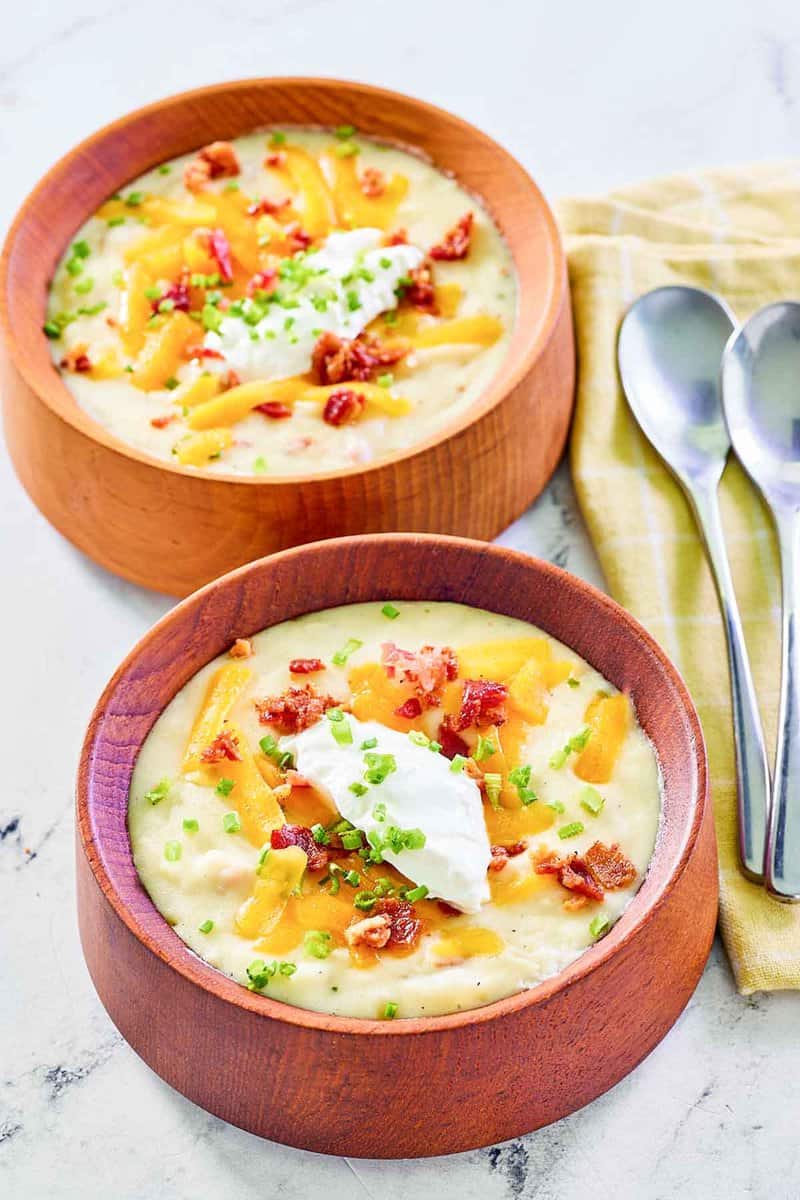 This post contains affiliate links. As an Amazon Associate, I earn from qualifying purchases.
Panera Bread Makes Delicious Baked Potato Soup
Panera Bread is known for its wonderful soups. Every day they serve up many different types of soup. Their Broccoli Cheddar soup is amazing.
Their baked potato soup is also very nice. For me, there is nothing like a good old-fashioned bowl of potato soup. Are you ever looking for a good potato soup recipe? This may be the perfect one for you, too.
This soup recipe is perfect if you are looking for a bowl of comforting soup, or even if you are looking for a hearty lunch. You will enjoy it either way.
Why you should try this recipe
Who doesn't love creamy potato soup? Sure, you can buy their premade soup at your local grocery store, but the homemade version is so much better. This soup is a family favorite! We make this often during the cooler months, serve this with a salad, and you have the perfect meal.
Ingredients
This recipe has very common ingredients. Here's what you need to make Panera potato soup:
Low-sodium chicken stock
Chicken soup base
Potatoes
White onion
Fresh garlic
Butter
All-purpose flour
Cream cheese
Salt
Black pepper
Chives
Bacon bits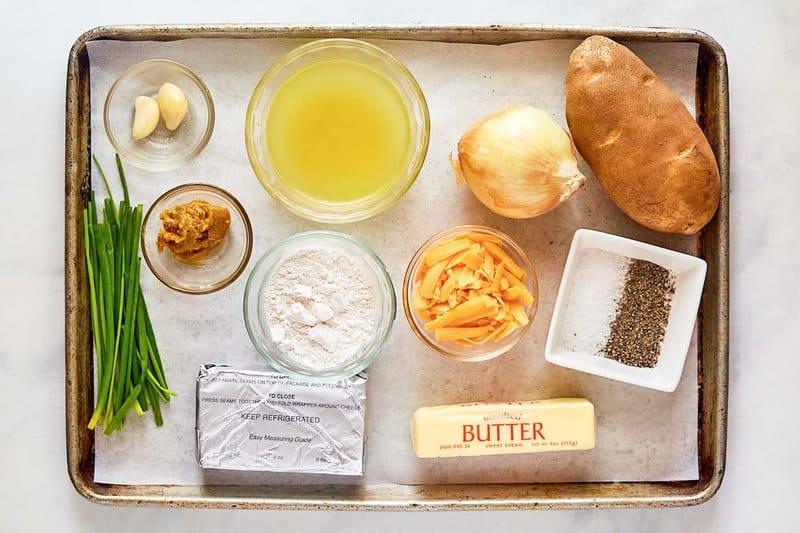 Ingredient Notes
If you have never used a chicken base before you will find it a good ingredient for this recipe. Soup bases are sold in most grocery stores near the bullion. Soup bases are pastes that have more flavor and less salt. They are wonderful to cook with.
I also suggest you use a low-sodium stock for this soup. It may get salty by the time we layer the stock, the soup base, and the bacon.
I also like to use real bacon bits for this recipe. I think they work a little bit better than freshly cooked bacon. They are leaner and the bacon is added to the soup. This helps the smokey flavor incorporate better in the soup than just sprinkling bacon bits over the top.
How to Make Panera Baked Potato Soup
Here are the steps for making this copycat Panera potato soup recipe:
In a medium-sized pot, add cubed potatoes, chicken stock, and soup base.
Cook potatoes in stock over medium heat for about 12 to 15 minutes or until potatoes are tender when pierced with a fork.
In a large pot, heat butter over medium heat until it melts.
Add onions and garlic then sauté until the onions are translucent.
Sprinkle flour over the butter and cook for a minute or two.
Add potato and chicken stock in 1 cup increments and stir until the soup mixture is well blended.
Add the cream cheese and stir until it has melted.
Add salt, black pepper, chives, and bacon bits.
Go to the recipe card of this blog post to get the exact amounts of the ingredients.
While Panera Bread does not do this, you may want to garnish your soup with some grated cheese, fresh chives, bacon bits, and a dollop of sour cream. This way you can enjoy the creamy broth of this soup with a spoonful of goodness in this copycat version.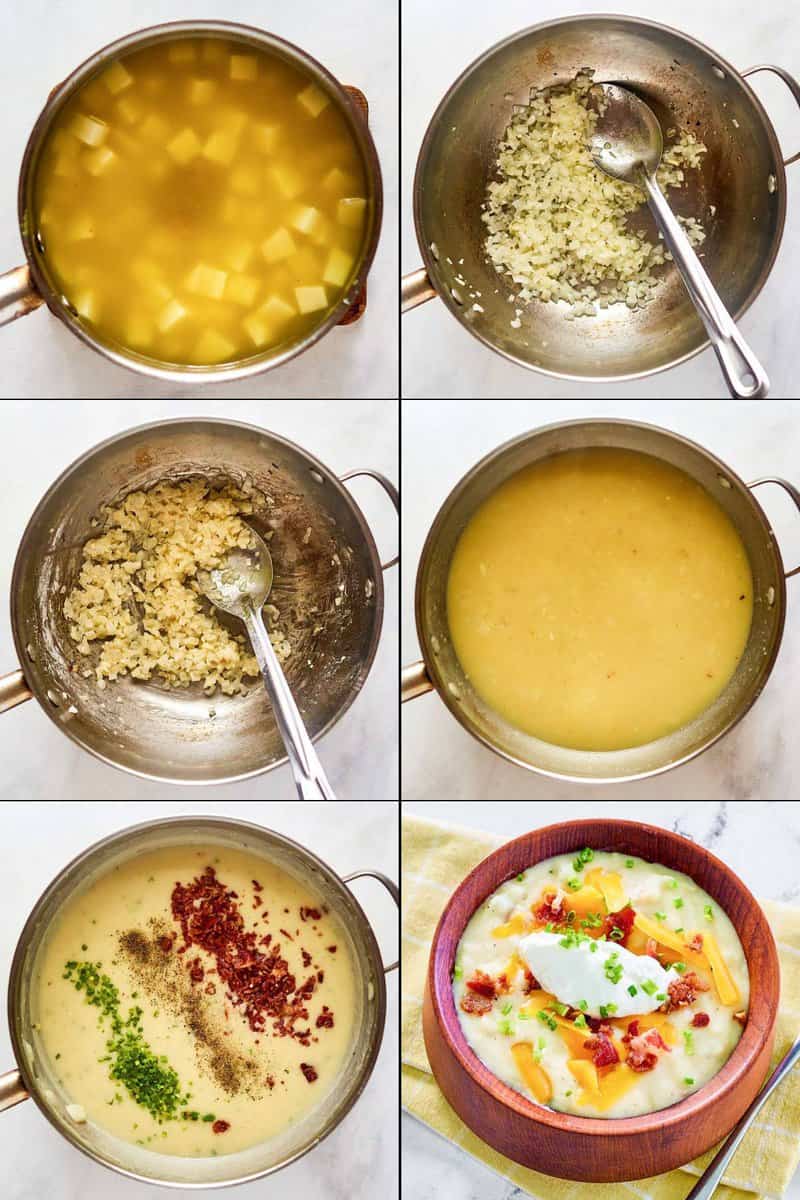 What to Serve with Baked Potato Soup
Want to turn a bowl of soup into a meal? Here are some great ideas: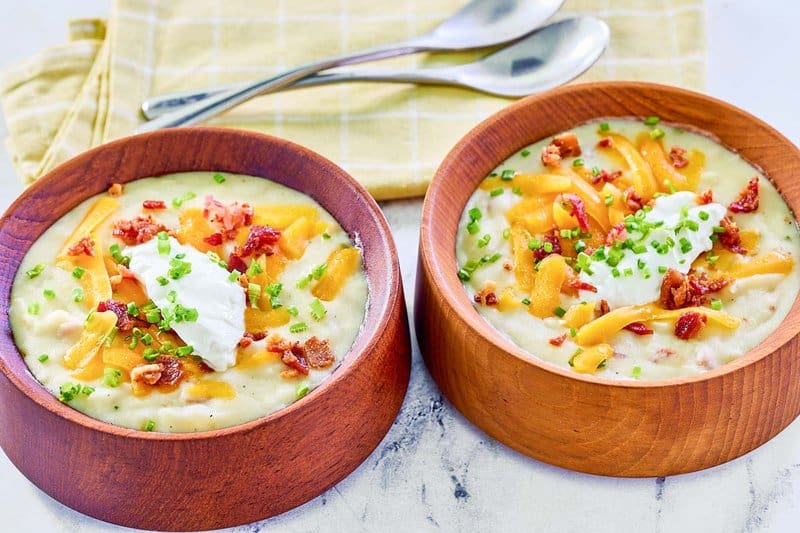 How to Store Leftovers
Before storing, allow the soup to come to room temperature. This will help prevent the growth of bacteria and the formation of excess moisture in the storage container.
Transfer the soup to airtight containers. If you're using plastic containers, ensure they are BPA-free and suitable for food storage. Glass containers with airtight lids are also an excellent choice.
Store the soup in the refrigerator if you plan to eat it within 4 days. Keeping the soup cold will help maintain its flavor and prevent bacterial growth.
If you want to store the soup for a more extended period (up to 3 months), you can freeze it. Divide the soup into portion-sized containers or use freezer bags (ensure all air is squeezed out before sealing). Remember to label each container or bag with the date and contents.
How to Reheat Potato Soup
Microwave: Transfer the soup to a microwave-safe bowl. Cover with a microwave-safe lid or plate, leaving a small gap for steam to escape. Heat on medium power, stirring every 2 minutes, until the soup is heated through. This usually takes about 4-5 minutes, depending on the quantity and your microwave's power.
Stovetop: Pour the soup into a saucepan and heat over medium-low heat. Stir occasionally to ensure even heating and prevent the soup from sticking to the bottom. Once it starts simmering, reduce the heat and let it simmer for a couple of minutes until it's heated through.
Reheating Tips
When reheating, if the soup appears too thick, you can add a splash of milk or broth to achieve the desired consistency.
Always ensure the soup is heated thoroughly before serving. Use a food thermometer if necessary; the soup should reach a temperature of at least 165°F.
Avoid repeatedly reheating the soup as this can degrade its flavor and texture. Only reheat the amount you plan to consume.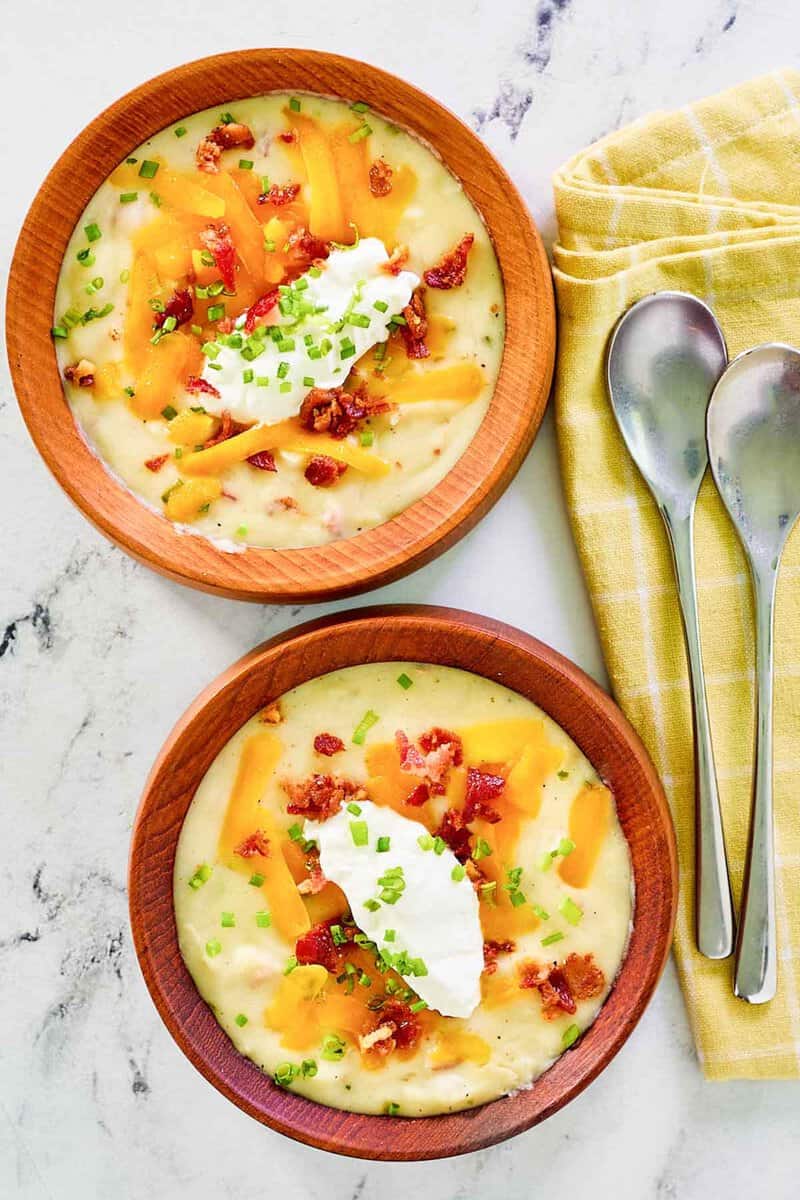 Do you love Panera Bread soup? Check out these copycat recipes!
Popular Soup Recipes
There's more! Find the best Panera copycat recipes and easy homemade soup recipes here on CopyKat.com.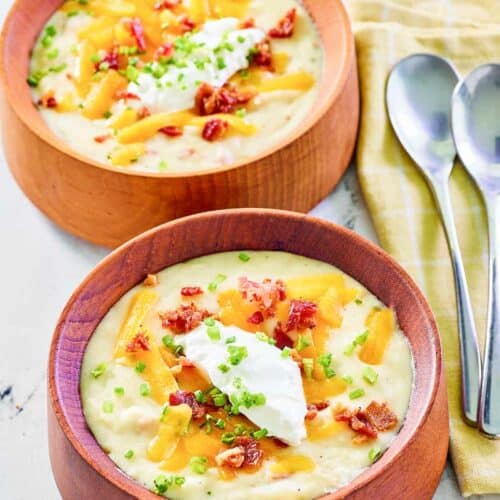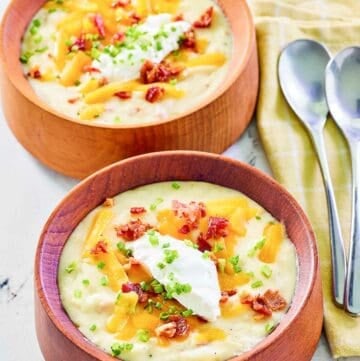 Ingredients
2

pounds

potatoes

scrubbed, peeled, and diced

4

cups

low-sodium chicken stock

2

teaspoons

chicken soup base

2

tablespoons

butter

1/2

white onion

chopped

1

teaspoon

chopped garlic

2

tablespoons

all-purpose flour

4

ounces

cream cheese

1/2

teaspoon

salt

1/2

teaspoon

black pepper

2

teaspoons

chives

2

tablespoons

bacon bits

plus more for garnish

shredded cheese

for garnish

sour cream

for garnish
Instructions
Place the potatoes, chicken stock, and soup base in a medium pot and cook over medium heat for about 12 to 15 minutes, or until the potatoes are tender when pierced with a fork.

Melt the butter in a large pot over medium heat. Add the onions and garlic and sauté until the onions are translucent. Sprinkle the flour over the onions, stir, and cook for a minute or two until fragrant.

Add the potatoes and chicken stock to the onions in 1-cup increments, stirring after each addition, until the soup is well blended.

Add the cream cheese and stir until it has melted. Add the salt, black pepper, chives, and bacon bits and mix well.

Serve garnished with shredded cheese, bacon bits, and sour cream.
Nutrition
Calories:
234
kcal
|
Carbohydrates:
23
g
|
Protein:
9
g
|
Fat:
12
g
|
Saturated Fat:
6
g
|
Cholesterol:
33
mg
|
Sodium:
549
mg
|
Potassium:
797
mg
|
Fiber:
3
g
|
Sugar:
0
g
|
Vitamin A:
385
IU
|
Vitamin C:
17.6
mg
|
Calcium:
70
mg
|
Iron:
5.4
mg