Panera Bread is known for its savory soups. The Bistro French Onion Soup was removed from the menu, and now it is back. Enjoy a bowl of copycat Panera Bread Bistro French Onion Soup.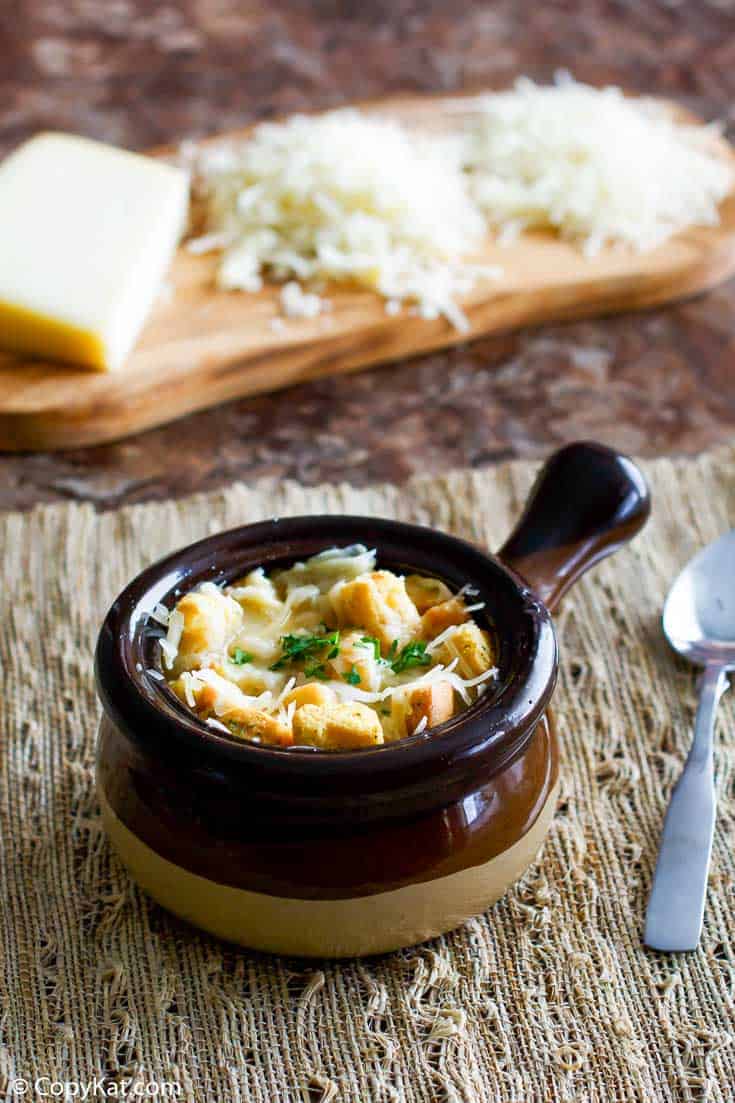 Panera French Onion Soup
What makes this soup special? This soup is full of chopped perfectly seasoned onions in every single bite. There are lots of crispy croutons and an excellent blend of melted cheese on top. You can recreate this delicious soup at home with this easy to prepare copycat recipe.
What makes this copycat Panera French Onion soup so good?
Just like Panera Bread, this recipe starts off with clean and simple ingredients. This recipe is set apart by using both chicken stock and beef stock. The two different types of stock layer together to make for a wonderful flavor combination.
Ingredients for Panera Bread French Onion Soup
What do you need for this recipe? You will need beef stock, chicken stock, butter, and lots of onions. We are also going to add some beef soup base for a nice depth of flavor, and a touch of thyme.
Butter – you can use either salted butter or unsalted butter
Yellow onions
Salt
Flour
Beef stock
Chicken stock
Dried thyme
Beef base – this is sold in the grocery store, it is typically sold next to the beef boullion cubes. It has less salt than the bouillon cubes.
Croutons
Gruyere cheese
Asiago cheese
When preparing your onions for this recipe you will find that they chop their onions rather large, and they are chopped, not sliced. The chopped onions make sure that the onion pieces end up in every bite. It is nice when you can dive into a bowl of soup and get something more than broth in every single bite of soup.
When purchasing ingredients for the soup, I suggest that you buy stock instead of broth. I think it has more flavor, and you want all of the flavors you can get with this soup. The soup base also adds a lot of flavors. You will find it sold near the soups.
They top their soup with croutons. You can use store-bought, make them in a skillet, or learn how to make croutons in an air fryer.
The cheese that is tops the soup is Gruyere cheese combined with a touch of Asiago cheese.
This soup is a savory soup that is easy to prepare. This soup reheats very well so this soup will taste even better the next day.
How to make Panera French Onion Soup
Peel and slice the onions. I like to slice my onions in half from root to the tip, and then slice them into half moon shapes.
Heat butter in a large stock pot, and when the butter has melted, add the onions.
Sprinkle a little salt over the onions to they sweat and brown.
Browning onions can take a while, it will take about 20 minutes to sweat the onions. Stir them every few minutes, so they brown, but they do not burn.
When the onions have browned, add the flour. Stir to coat the flour over the onions.
Cook the onions for about a minute so the flour does not taste raw.
Add the beef stock, chicken stock, beef base, and thyme. Simmer for about 15 to 20 minutes.
Top with croutons and cheese. Serve immediately.
Homemade croutons are easy to make
If you would like to make your homemade croutons for the soup in a skillet, you can get a loaf of sourdough bread and cube it up into large pieces.
Add about a tablespoon of butter to a large skillet and then add the bread cubes. Sprinkle in seasoned salt and some garlic powder, and toast the bread until it becomes nice and brown.
If you have an air fryer, you may want to try my air fryer croutons.
What you can serve with French onion soup
You can serve many different things with French onion soup. If you are serving this as an appetizer it goes great with a steak. If you are enjoying it as a light lunch I would suggest making a salad, or serving this with some Parmesan cheese garlic bread.
Storing and Freezing French Onion soup
You can store leftovers in the refrigerator in an airtight container for up to five days. You can also freeze the soup in an airtight container for up to 3 months.
Reheating French Onion soup
I recommend reheating the soup in a pot on the stovetop over low to medium heat until the soup has been heated through. I think reheating it on the stovetop reheats the soup more evenly than in the microwave.
Love Panera Bread Soups? Check out these recipes:
Popular Soup Recipes
Take a look at more of my easy homemade soup recipes and the best Panera copycat recipes.
Ingredients
4

tablespoons

butter

4

pounds

yellow onions

chopped

1

teaspoon

salt

1

tablespoon

flour

32

ounces

beef stock

14.5

ounces

chicken stock

1/2

teaspoon

thyme

2

tablespoons

beef base

1

cup

croutons
Cheese Mixture
1/4

cup

gruyere cheese

shredded

1

tablespoon

asiago cheese
Instructions
In a large stock pot over medium-high heat add chopped onions and butter. Add 1 teaspoon of salt to the onions.

Saute the onions for about 20 minutes, or until they have become golden brown.

Add 1 tablespoon of flour, and stir to coat the onions with flour. Cook for the flour for another minute or until it becomes fragrant like pie crust.

Add in the beef stock, chicken stock, beef base, and thyme. Reduce heat to a low temperature.

Cook the soup for another 15 to 20 minutes. Before serving top with croutons and shredded cheeses.
Nutrition
Calories:
214
kcal
|
Carbohydrates:
28
g
|
Protein:
8
g
|
Fat:
8
g
|
Saturated Fat:
4
g
|
Cholesterol:
21
mg
|
Sodium:
997
mg
|
Potassium:
604
mg
|
Fiber:
4
g
|
Sugar:
11
g
|
Vitamin A:
215
IU
|
Vitamin C:
17
mg
|
Calcium:
116
mg
|
Iron:
1.1
mg