Chili's Chicken Enchilada Soup has been a long-time favorite recipe here at CopyKat. Years ago this soup was made from scratch in the restaurant. In recent years, this soup is made in a large central kitchen and reheated in the restaurant.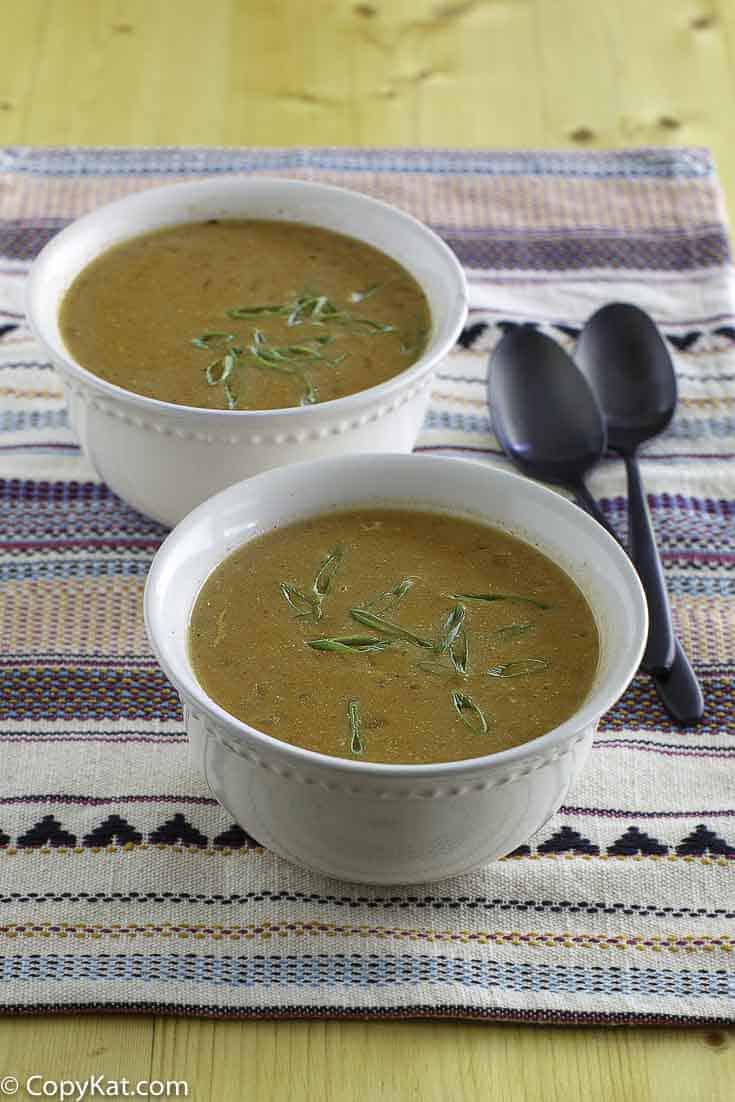 This post contains affiliate links. As an Amazon Associate, I earn from qualifying purchases.
One thing Chili's is famous for is their hot and savory soups and, of course, chili. A very satisfying lunch at Chili's is a bowl of delicious soup or chili and a colorful salad. Chili's chicken enchilada soup used to be made from scratch in the restaurant. In recent years, however, the soup has been made in a large central kitchen and then reheated in the restaurant.
While the soup is still remarkably tasty in the restaurant, I think it misses the chunkiness and homemade flavor it used to have. My soup has more texture and is filled with more vegetables and meat than the restaurant equivalent. In other words, it's better!
What Cheese to Use?
I use processed American cheese in this recipe. I believe this is an underrated cheese because it melts so well and has a pronounced cheese flavor. I do not recommend using Velveeta for this because I think the flavor of Velveeta can take over in the soup.
Store-brand American cheese works extremely well. Normally you might buy processed American cheese in slices, but you can also buy it in a chunk at the deli counter in most grocery stores. This saves you from having to unwrap multiple pieces of cheese.
What is Masa Harina?
Masa harina is traditionally used to make tamales, tortillas, and other Mexican dishes. It means "dough flour" in Spanish because it's made from dried masa, a dough produced from specially treated corn. Masa harina is found in the baking aisle of most supermarkets or you can order it from Amazon.
Do not try to substitute corn meal or regular corn flour. They're produced from different types of corn, are processed differently, and will not produce the same results. You also can't use regular wheat flour. And, while it is possible to use tortilla chips or tortillas, they won't break down like the masa harina. Anyway, masa harina is super cheap and easy to use.
What is Chicken Base?
Chicken base is a paste. I think the base is better than bouillon cubes because it has more flavor and less salt. Click here to read about the differences between chicken stock, chicken bouillon, and chicken soup base.
Making Chili's Chicken Enchilada Soup at home
You can make Chili's chicken enchilada soup at home with this recipe. If you want, a large can or two of chicken breast chunks works great. You can also use fresh, crushed garlic – I would personally add 1 to 2 teaspoons.
If you like, you can choose to add some green and red bell peppers. If you want your soup to be a bit saltier, keep in mind that the cheese in the recipe is very salty, so prepare the soup as is then add salt to taste.
This soup is sure to please the hearty eaters in your family. This recipe makes a huge pot of soup, but it can be frozen and reheated later.
Like More Chili's Recipes? Click here and give these a try.
Chilis Chicken Crispers
Chilis Skillet Queso
Chilis Monterey Chicken
Ingredients
1/2

cup

vegetable oil

1/4

cup

chicken base

3

cups

diced yellow onions

2

teaspoon

ground cumin

2

teaspoon

chili powder

2

teaspoon

granulated garlic

1/2

teaspoon

cayenne pepper

1 - 2

teaspoons

salt

or to taste

2

cups

masa harina

4

quarts

water

2

cups

crushed tomatoes

1/2

pound

processed American cheese

cut in small cubes

3

pounds

diced cooked chicken

(you can use 2 rotisserie chickens)
Instructions
Instructions In a large pot, combine the oil, chicken base, onions, cumin, chili powder, granulated garlic, salt, and cayenne. Cook, stirring occasionally, until onions are soft and translucent, about 5 minutes. In a pitcher or large measuring cup, combine the masa harina with 1 quart of the water.

Stir until all lumps dissolve. Add to the onions and bring to a boil. Once it starts to bubble, cook for 2 to 3 minutes, stirring constantly. (This will eliminate any raw taste from the masa harina.) Stir in the remaining 3 quarts water and the tomatoes. Let the soup return to a boil, stirring occasionally. Add the cheese.

Cook, stirring occasionally until the cheese melts. Add the chicken and heat through. Note Please note that you must incorporate in the masa harina into the water completely first. If you add the masa harina into the soup directly, it will be difficult to blend in and may be lumpy. If you feel 2 cups masa harina is too much, I have made the soup with 1 1/2 cups with good results.
Recipe Tips for the Cook
Can't Miss Cooking Tips
Don't have any masa harina on hand? Crush up some tortilla chips in a blender to substitute.
Use left over rotissire chicken in this recipe!
Nutrition
Calories:
456
kcal
|
Carbohydrates:
27
g
|
Protein:
36
g
|
Fat:
22
g
|
Saturated Fat:
13
g
|
Cholesterol:
109
mg
|
Sodium:
654
mg
|
Potassium:
827
mg
|
Fiber:
3
g
|
Sugar:
4
g
|
Vitamin A:
575
IU
|
Vitamin C:
9.7
mg
|
Calcium:
319
mg
|
Iron:
3.5
mg