Taco Bell Nacho Fries BellGrande is Mexican seasoned fries topped with taco meat, nacho cheese sauce, guacamole, jalapenos, and tomatoes. These loaded fries are a tasty meal to enjoy any day of the week.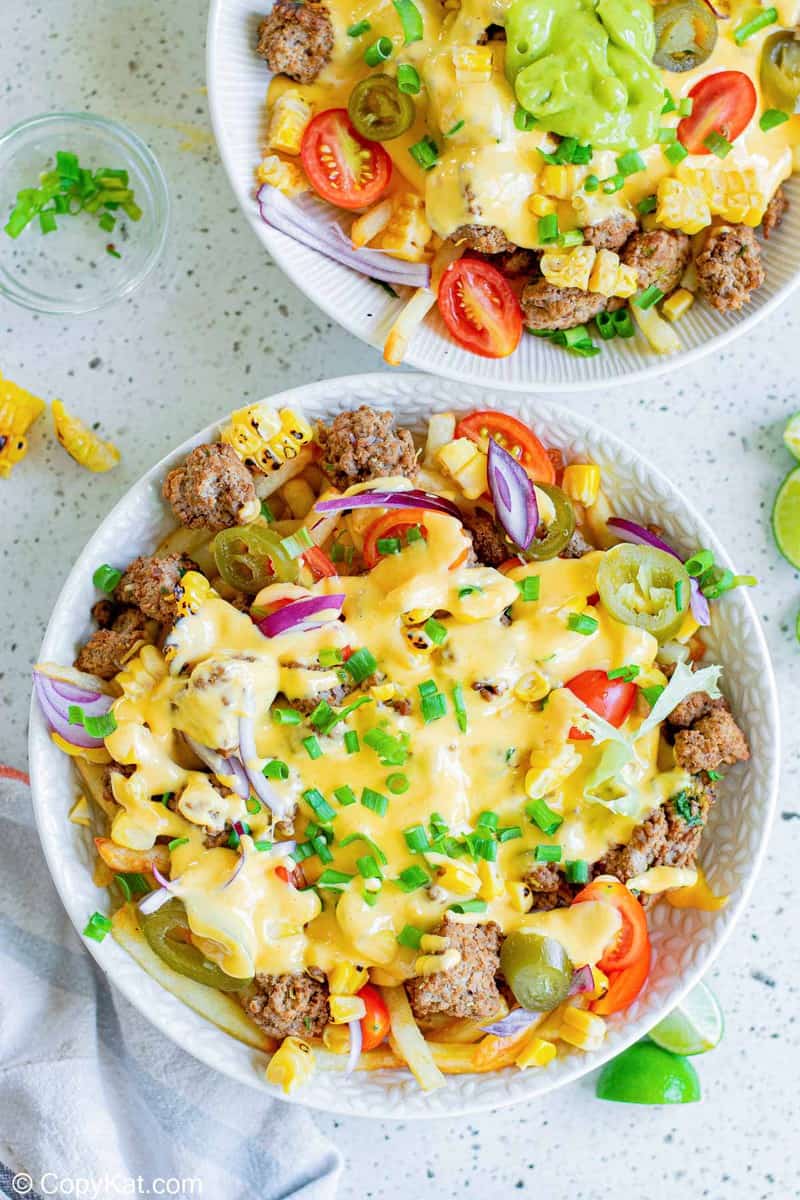 Taco Bell Nacho Fries BellGrande is an easy appetizer or dinner. I am wondering why I don't make them more often. I had some taco meat leftover from my Beef Taco Bowl and I wanted something cheesy and hearty for dinner.
What I love about the recipe is that you can make it quickly without messing around in the kitchen. You just have to cook ground beef, bake frozen French fries, prepare a simple nacho cheese sauce, and top with all the other ingredients.
You can serve Nacho Fries BellGrande in individual bowls or family style on the baking sheet itself. Either way, it's an tasty meal to enjoy any day of the week.
This recipe has fries flavored with Mexican spices, loaded with taco beef, and smothered in homemade cheese sauce. Comfort food at its best!
It is hard to beat a huge order of fries when it comes to snacking, except perhaps with a platter of fully loaded nachos. But why choose when you can have both with Nacho Fries BellGrande? This Taco Bell favorite takes everything you love about cheesy, meaty nachos supreme and piles it high on crispy seasoned fries. This is one side dish that is satisfying enough to be a meal on its own or ideal for sharing with friends with a couple of beers. Whether you are cooking for the gang on game day, or just yourself, you have to try this Nacho Fries BellGrande recipe!
That's Pretty Fly for a Fry Guy
So much depends on a sturdy fry in this recipe. To support all of those glorious toppings, you need a good, solid base. Thick and hearty steakhouse-style fries are a fine choice, but unless you have a home fryer or are confident about deep-frying on the stovetop, steak fries can turn out a tad on the soggy side when they bake in the oven. A better option is a waffle-cut fry because it provides plenty of surface area to scoop up the toppings and will crisp up quickly in the oven. The one downside to waffle fries is the holes, but it isn't too difficult to find a brand with small ones like Ore-Ida and Alexia.
Once you have the perfect fry shape, it is time to move on to the fry seasoning. Here you have a lot of options. You can go for a pre-mixed seasoning blend such as those made for tacos or fajitas. The benefit of going this route is that it's quick and easy and probably decent tasting, too. But those mixes are dull! Now is your chance to use up those spices in your cabinet to make something exceptional. Mix up a blend of seasoning using your favorite recipe, or try one of these from Our Best Bites.
Come On, Go Wild!
You don't think we're done yet, do you? It is time to turn these fries into Nacho Fries Supreme with even more south-of-the-border-inspired toppings!
Start with some ripe avocados. Their natural creaminess is a perfect complement to the acidity of the sour cream, onions, and tomatoes. There is no need to whip up proper guacamole here; just mash an avocado or two and flavor with a squeeze of fresh lime and a pinch of salt and pepper. Try thinning the mashed avocado out with a little olive oil.
For lots of folks, Nacho Fries Supreme doesn't seem complete without a bit of heat but don't go overboard. Pre-sliced jalapeños are tasty and convenient; however, they can be way too hot for some people. On the other hand, pickled banana pepper rings are usually a crowd-pleaser.
Tips for Making and Serving Nacho Fries BelleGrande
Let your guests top their fries. Create a fry bar and let everyone put on exactly what they want. Not only will everyone be happy, but you can easily store leftover ingredients separately.
You can't save fries, so only cook as much as you need. No one wants cold fries, so prepare one bag at a time and have a few more in the freezer if people are still hungry.
See what we are up to by checking out our Instagram!
Nacho Fries BellGrande Ingredients
Here's a list of what you need to make Taco Bell Nacho Fries BellGrande:
Lean ground beef
Taco seasoning mix (ingredients for this below)
Olive oil
Onion
Garlic
Fresh cilantro
Tomato purée
Frozen French fries – I recommend a specific brand here, the Frozen Ore-Ida Extra Crispy Fast Food Fries, are coated with a crunchy coating just like the restaurant. Plain fries will work, but these are best.
Chives
Jalapeno peppers
Cherry tomatoes
Corn kernels
Guacamole
Nacho cheese sauce (ingredients for this below)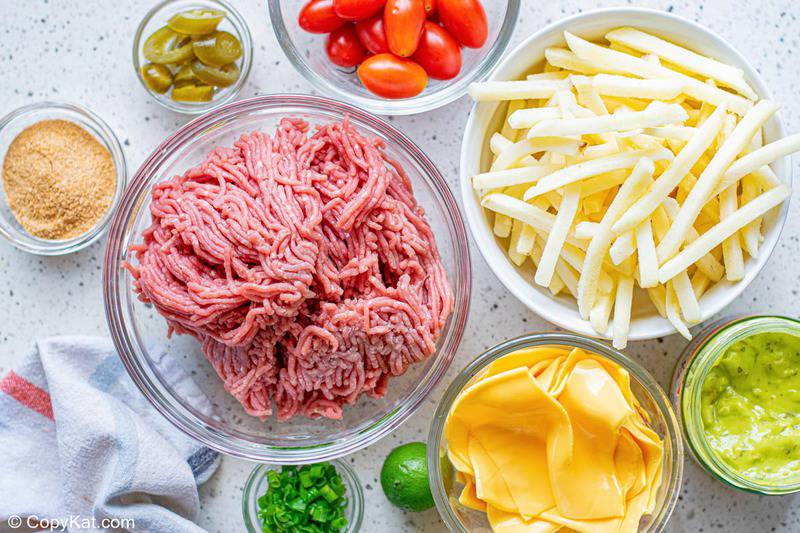 Taco Seasoning Mix Ingredients
Here's a list of what you need to make taco seasoning mix:
Nacho Cheese Sauce Ingredients
Here's a list of what you need to make nacho cheese sauce:
Salted butter
Cayenne pepper
Salt
Whole milk
Kraft single cheese slices or cheddar cheese
Ingredient Notes and Tips
Wondering which ground beef to get, the best cheese for nacho sauce, or if you can make this with something other than fries? I've got the answers!
How to Choose Ground Beef
Ground beef is the traditional meat for tacos and when you purchase it, you will see different varieties.
70-80% lean is what to get for this recipe. Having a bit of fat will give flavor to the beef. It will be tender and not overly greasy. You can drain the fat at the end of the cooking it if you prefer.
What are the best cheeses to use?
If you don't have cheddar at home, you can use Gouda or Mozzarella which also melt perfectly.
Colby or Monterey Jack are mild cheeses to substitute for cheddar.
Edam and Parmesan are possibilities but note I did not try to make cheese sauce with them so I am not sure of the results.
If you are lactose intolerant, Daiya cheese is a good substitute.
Can I replace fries with other ingredients?
You can substitute fries with traditional tortilla chips or fritos.
For a healthier or low carb version, you can use zucchini or cauliflower. Yes, Zucchini Nachos and Cauliflower Nachos exist! They are great alternatives plus you are getting your extra veggies.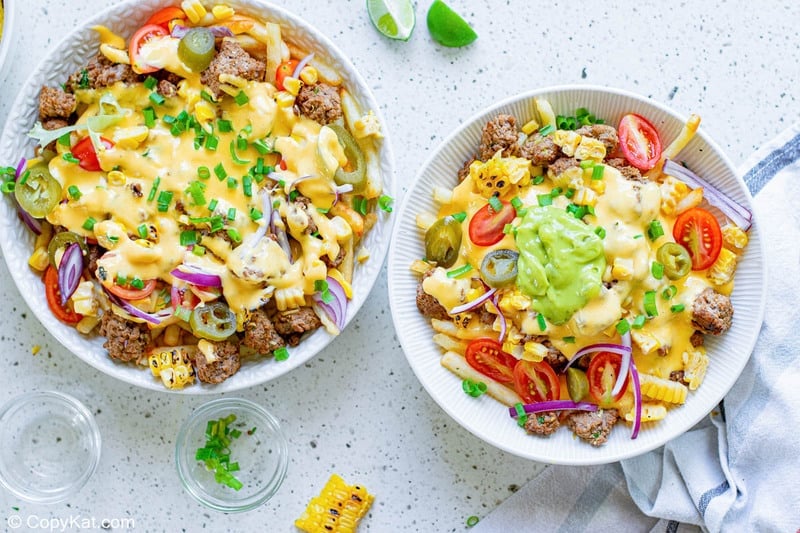 How to Make Taco Bell Nacho Fries BellGrande
Prepare a baking sheet with parchment paper or foil. Place fries on it and bake according to the package instructions.

Combine all taco seasoning mix ingredients together.
Mix ground beef with taco seasoning in a large bowl.

Heat a large pan over medium-high heat with oil. Add beef in the pan and break up beef with a spatula.
Decrease the heat to medium and let cook until the bottom is brown then flip.
Add onion, garlic, cilantro, and tomato purée and stir to combine.
Decrease the heat to medium-low then cook for 3 to 5 minutes while stirring occasionally, until ground beef is browned and cooked through.

In a saucepan, melt butter with cayenne pepper over medium heat.
Pour milk into the pan then bring to boil, stirring constantly.
Whisk in cheese and keep stirring until fully melted. Remove from heat.

When fries are done, sprinkle taco seasoning over them and toss to coat.
Place seasoned fries in individual bowls.
Top the fries with taco beef, nacho cheese sauce, chives, jalapenos, cherry tomatoes, corn, and guacamole.
Serve immediately and enjoy!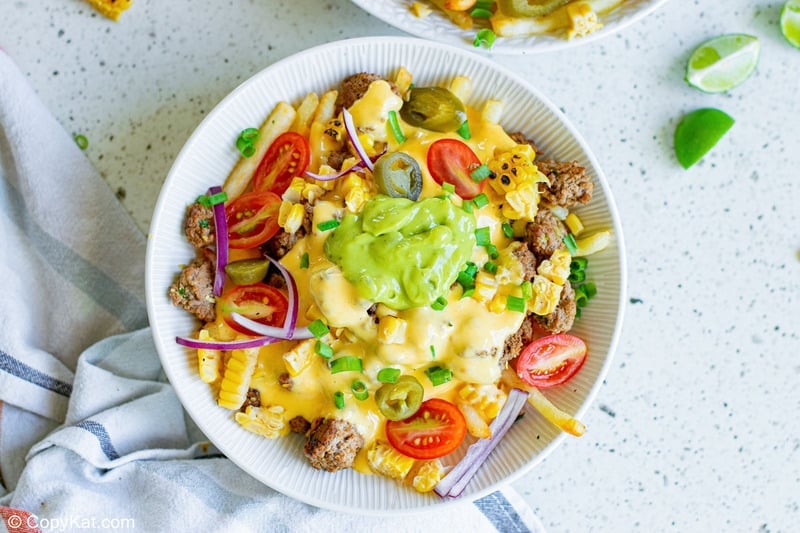 Can I make fries in an air fryer?
What I love about air fryers is that you can make personal size portions.
Place foil in the basket and cook the frozen fries in the air fryer. You will probably have to cook the fries in batches depending on the size of your air fryer and servings.
Follow your air fryer instructions for temperature setting and how long to cook frozen fries in it.
Reasons to Make Taco Bell Nacho Fries BellGrande
There are lots of reasons to make loaded nacho fries at home:
Quick meal
Easy to cook
Full of Mexican flavor
Delicious
Hearty
Gluten free
How to Store Leftovers
If you think there will be leftovers, I suggest keeping the fries and toppings separate in individual bowls. Let everyone prepare their own portions.
Afterwards, you can pack vegetables, ground beef, fries, and cheese separately.
Allow hot ingredients to cool down completely at room temperature but no longer than 2 hours before storing.
Wrap in foil or place in an airtight containers.
Leftovers will keep up to 3 days in the refrigerator.
How to Reheat
Warm the beef in a pan with a bit of beef broth or tomato purée to get back the moisture. You can also use the microwave but I prefer the pan option.
For the cheesy sauce, reheat slowly on low heat.
Reheat the fries in the oven or air fryer.
Don't reheat the vegetables.
How to Freeze
Freeze the ground beef, cheese sauce, and fries separately in airtight containers. Label them and place in the freezer. Freeze up to 1 month.
Defrost completely then use above instructions to reheat the beef and cheese sauce.
Love Taco Bell? Try these copycat recipes!
Favorite Mexican Recipes
Check out more of my easy Mexican food recipes and the best Taco Bell recipes here on CopyKat!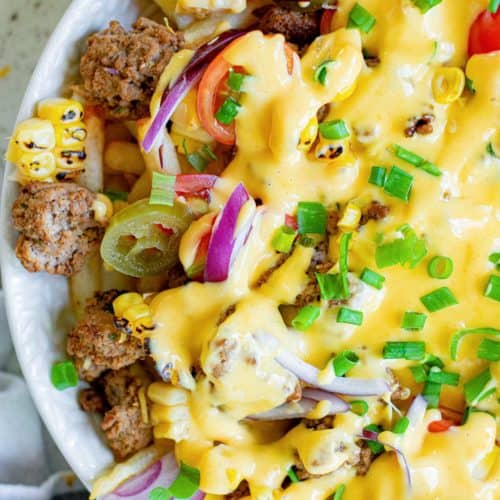 Taco Bell Nacho Fries Bellgrande
Taco Bell Nacho Fries BellGrande are Mexican seasoned fries topped with taco meat, nacho cheese sauce, guacamole, jalapenos, onions, and tomatoes. Get the easy copycat recipe and find out how to make the best loaded nacho fries at home.
Print
Pin
Rate
Add to Collection
Go to Collections
Ingredients
Taco Bell Ground Beef Ingredients
1 1/2

tablespoon

masa harina

you could swap crushed up corn chips for this

4 1/2

teaspoons

chili powder

1/2

teaspoon

onion powder

1/2

teaspoon

garlic powder

1/2

teaspoon

seasoning salt

1/2

teaspoon

paprika

1/4

teaspoon

cumin

1/2

teaspoon

garlic salt

1/4

teaspoon

sugar

1

teaspoon

dried minced onion

1/2

teaspoon

beef boullion powder

1 1/3

pounds

ground chuck
Taco Bell Nacho Cheese Ingredients
1

tablespoon

butter

1/2

cup

whole milk

8

ounces

American cheese

1

tablespoon

Tobasco Jalapeno sauce

or a juice from a jar of jalapeno slices for nachos
Nacho Fries Seasoning
2

tablespoons

paprika

2

teaspoons

salt

1

teaspoon

chili powder

1

teaspoon

garlic powder

do not use garlic salt

1

teaspoon

onion powder

do no use onion salt
Fries
1

pound

Ore-Ida Extra Crispy Frozen Fast Food Fries
Toppings for Nacho fries
1/2

cup

guacamole

1/2

cup

sour cream

1/2

cup

chopped tomatoes
Optional toppings
Roasted corn kernals

chopped green onions

pickled sliced jalapenos
Instructions
Taco Bell Ground Beef Preparation
Prepare the seasoning blend by adding all of the spices to a small bowl and stir well. Set aside.

Crumble the ground beef into a large skillet (preferably nonstick) and brown, stirring well.

Cook over medum high for about 9 to 10 minutes, or until the ground beef has been cooked through.

Place the pan back on the heat, add the seasoning blend, and add 3/4 cup of water, turn the heat down to low, and allow the ground beef to simmer while you prepare the remaining ingredients.
Taco Bell Nacho Fries Seasoning Preparation
If you have a spice grinder or a mini food processor, process spices to grind them more finely, if not, skip this step. Store spice blend in a salt shaker or another shaker. You will have some left over, you can use this for tacos, or another batch of fries.

Follow the oven or air fryer direction of cooking the fries that are on the package.

When the fries have finished cooking sprinkle them liberally with the Nacho Fries seasoning blend.
Taco Bell Nacho Cheese Preparation
Combine all ingredients in a small pot, heat on low until the cheese melts, stir to combine.
Building the Nacho Fries Bellgrande
Place the fries on a large platter. Cover the fries with Nacho cheese, and add the ground beef.

Top with gaucamole, sour cream, chopped onions, pickled jalapeno peppers, and any other toppings you may desire.
Nutrition
Calories:
1083
kcal
|
Carbohydrates:
50
g
|
Protein:
43
g
|
Fat:
80
g
|
Saturated Fat:
34
g
|
Polyunsaturated Fat:
4
g
|
Monounsaturated Fat:
33
g
|
Trans Fat:
3
g
|
Cholesterol:
190
mg
|
Sodium:
3504
mg
|
Potassium:
1433
mg
|
Fiber:
10
g
|
Sugar:
6
g
|
Vitamin A:
3605
IU
|
Vitamin C:
14
mg
|
Calcium:
739
mg
|
Iron:
7
mg