When you make Taco Bell Taco Sauce you don't need to leave with tons of little sauce packets in your pockets, you can make this sauce at home.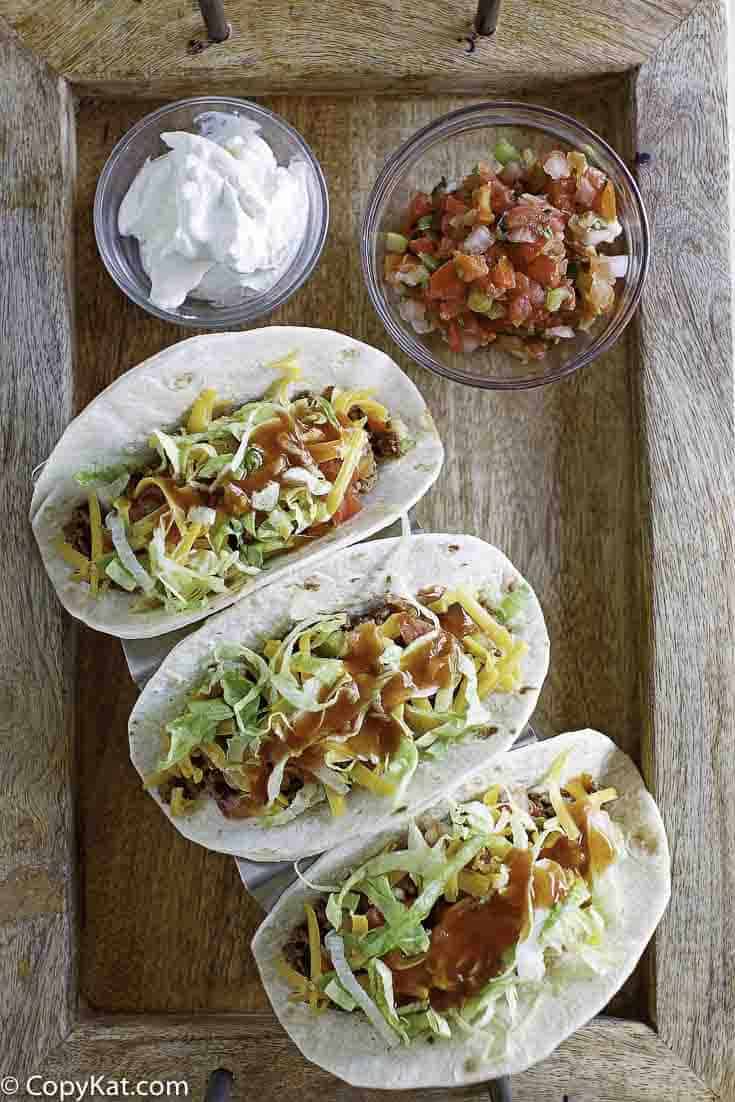 Making Taco Bell Taco Sauce
You can make flavorful taco sauce at home that tastes just like it does in the restaurant. Homemade hot sauces are just as good as ones you get away from home. This copycat recipe is made with common ingredients, you can find at home. Soon you will enjoy mild taco sauce made from your kitchen.
Where Did the Taco Come From?
The taco today is a fast-food staple, but you might be wondering how it came about. The taco was most likely invented by Mexican silver miners in the 18th Century. In those mines, a "taco" was the name of the little charges that were used to excavate the ore. These consisted of pieces of paper wrapped around some gunpowder. These "tacos" were inserted into holes the miners carved in the rock. Actually, if you stop and think about it, a chicken taco with a good hot sauce is a lot like a stick of dynamite!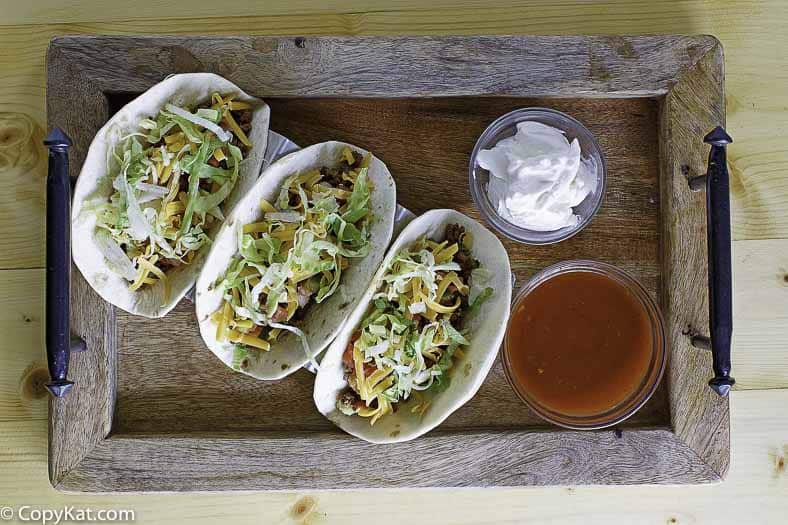 The Role of the Taquería
For a long time, taquerías were in the working-class neighborhoods of Mexico City. Industrialization lured migrants from all over the country, and the women brought with them their regional cooking skills. Every region in Mexico has slightly different local foods, so Mexico City became a huge bubbling stew of all these different foods. This cosmopolitan world of dining was not for the rich and Mexican food as we know it today was born.
When Did the Taco Appear in the U.S?
The taco was probably brought to the US in the early 20th Century when the first Mexican migrants were starting to come to work in the mines and on the railroads. Mexican food was seen as street food. It was associated with tamale street carts in Los Angeles, and a group of women called the Chili Queens in San Antonio. Tourists came looking for two things in San Antonio – the Alamo and the Chili Queens. Mexico was thought of as a dangerous place, and the Chili Queens provided a way to sample that danger, but minus the risk of being set upon by bandits. There was a risk though – the food was VERY HOT. People described it as "biting like a serpent."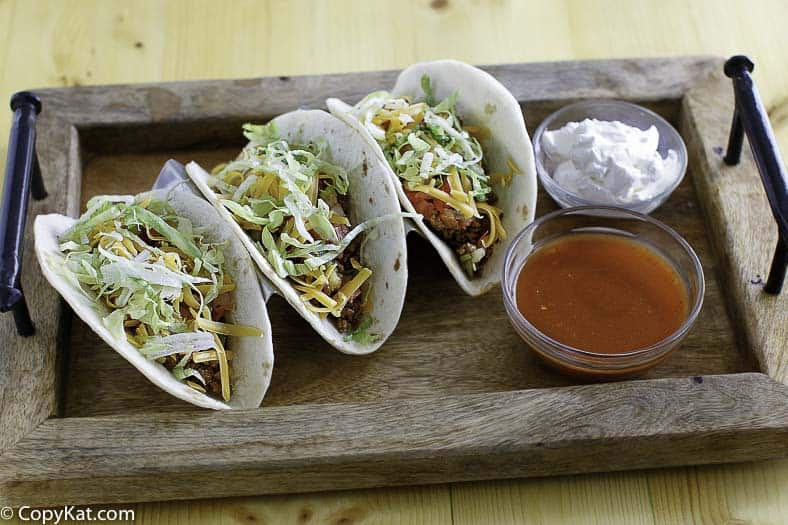 Glen Bell's Taco Bell
Glen Bell did not invent the taco. He borrowed all things taco from his Mexican neighbors. What he did do was utilize a U.S. business model called franchising. Mexican restaurants generally don't put the word "taco" in their restaurants' names. Thanks to Glen Bell, Mexican food is much-loved food, and more hot sauces are sold each year than ketchup. To read about the history of the taco.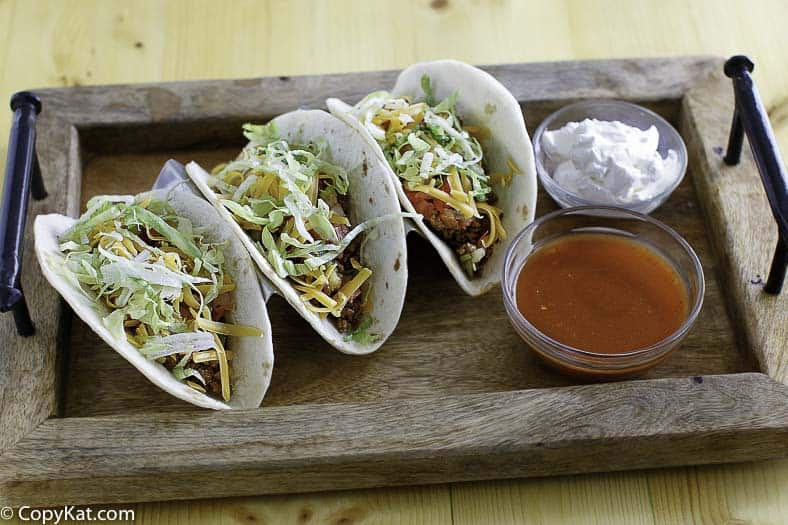 Want a Taco Bell Taco to Go With Your Sauce?
Click on the link below.
Want More Copykat Taco Bell Recipes?
Be sure to check these out: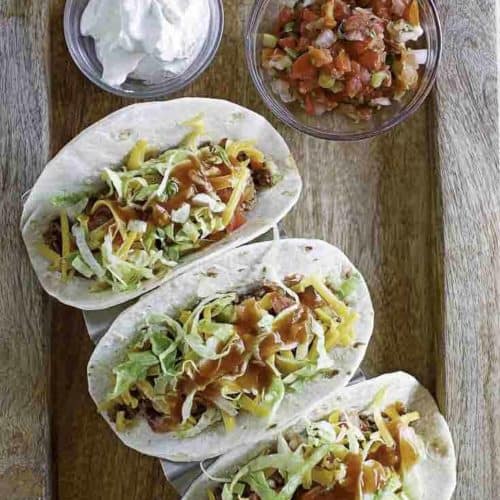 Ingredients
8

ounce

tomato Sauce

1/3

cup

Water

1/4

teaspoon

chili powder

1 1/2

teaspoon

cumin

1 1/2

teaspoon

dry minced onions

1

tablespoon

white vinegar

1/2

teaspoon

garlic powder

1/2

teaspoon

garlic salt

1/4

teaspoon

paprika

1/4

teaspoon

sugar

1/4

teaspoon

cayenne pepper
Instructions
Place in sauce pan and stir well, simmer at a very low temperature for 15 - 20 minutes. Remove and cool. May be kept in refrigerator for several days.
Nutrition
Calories:
83
kcal
|
Carbohydrates:
16
g
|
Protein:
3
g
|
Fat:
1
g
|
Saturated Fat:
0
g
|
Cholesterol:
0
mg
|
Sodium:
2370
mg
|
Potassium:
804
mg
|
Fiber:
3
g
|
Sugar:
11
g
|
Vitamin A:
1585
IU
|
Vitamin C:
15.8
mg
|
Calcium:
57
mg
|
Iron:
4.3
mg