Taco Bell Enchirtio can be found on the Taco Bell Secret Menu. You can recreate this favorite Taco Bell recipe now with this copycat version.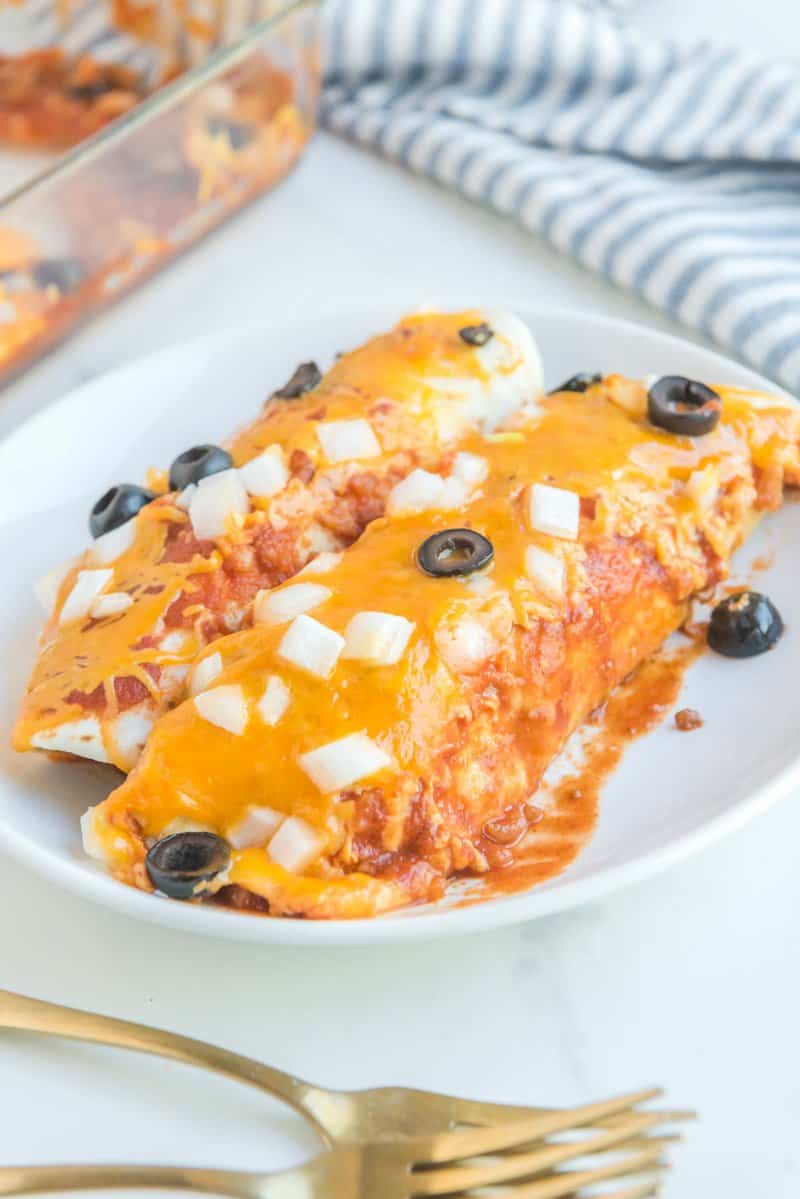 Taco Bell Secret Menu
The Enchirito is possibly the most desired ex-menu item at Taco Bell. The Enchirito is so good, you might just luck out by straight-up asking the cashier for one, even if it's not actually on the written menu.
It could be on Taco Bell's secret menu, and the cashier might even have a button for it. Or, they might just know how to make it and just do it for you. Even if you live far away from a Taco Bell, you can recreate this favorite Taco Bell entree at home with this copycat recipe.
The On and Off Enchirito Story
One of the things I love about Taco Bell is how they come up with new ideas, and the Enchirito is a perfect example of their creativity. As the name suggests, it was designed to combine an enchilada and a burrito.
The Taco Bell Enchirito made its debut in the 1970s. Then it was advertised as a special corn tortilla filled with ground beef, pinto beans, and onions and topped with red sauce, cheese, and olives. It was removed from the menu in 1993 and then returned with a couple of changes.
The corn tortilla was switched to a white wheat tortilla, and they removed the olive slices from the top. This was again excommunicated from the main menu in 2013.
Just like the Taco Bell Double Decker Taco, fans everywhere hope and are happy when the enchirito is back on the menu!
What Makes This CopyKat Enchirito so Special?
This is a tortilla filled with refried beans and seasoned ground beef and topped with red sauce, cheese, black olives, and chopped onions. I love to heat these up in the oven and let the cheese brown just a bit.
You won't want to miss this delicious Taco Bell treat.
The Sauce – I think the sauce really makes the difference in this recipe. The original Taco Bell sauce has good flavor and just the right amount of spice without being overly hot.
You may even want to double the portion of the sauce so you will some on hand to pour over tacos or to use with your other favorite Mexican recipes. I love to use this sauce when I make homemade nachos.
Enchirito Ingredients
Don't be intimidated by the long list of ingredients. It's worth it once you taste the incredible flavors.
For the seasoned ground beef:
Masa harina
Chili powder
Onion powder
Garlic powder
Seasoned salt
Paprika
Ground cumin
Garlic salt
Sugar
Dried minced onion
Beef bouillon powder
Water
Ground chuck
For the enchirito sauce:
Tomato sauce
Water
Chili powder
Cumin
Minced onion
White vinegar
Garlic powder
Garlic salt
Paprika
Sugar
Cayenne pepper
To assemble the enchiritos:
Soft Flour tortillas
Refried beans
Shredded cheddar cheese
White onion
Sliced black olives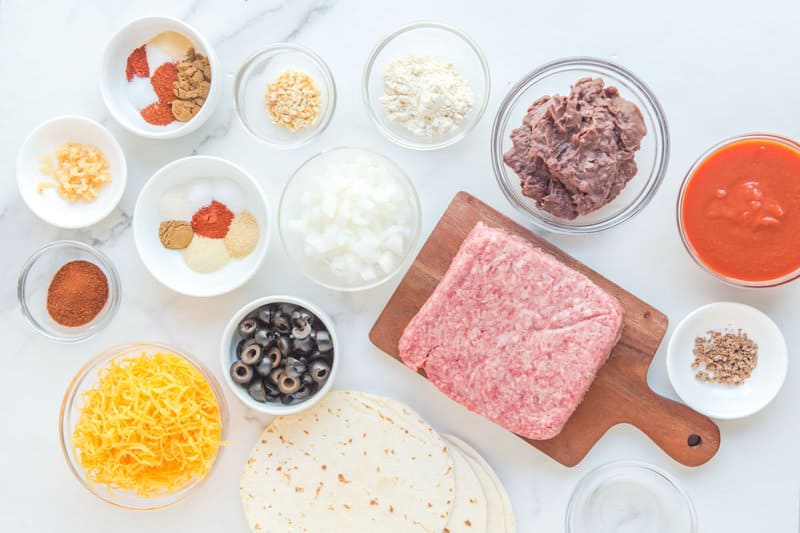 How to Make Taco Bell Enchrito
To make the seasoned ground beef:
Place all the spices for the beef in a small bowl.
Stir to combine the spices.
Brown the ground beef in a skillet. Drain and rinse the cooked beef with water.
Return the beef to the skillet and add the spice mix and water. Stir to combine.
Cook until the liquid has evaporated and it is still somewhat moist but not dry.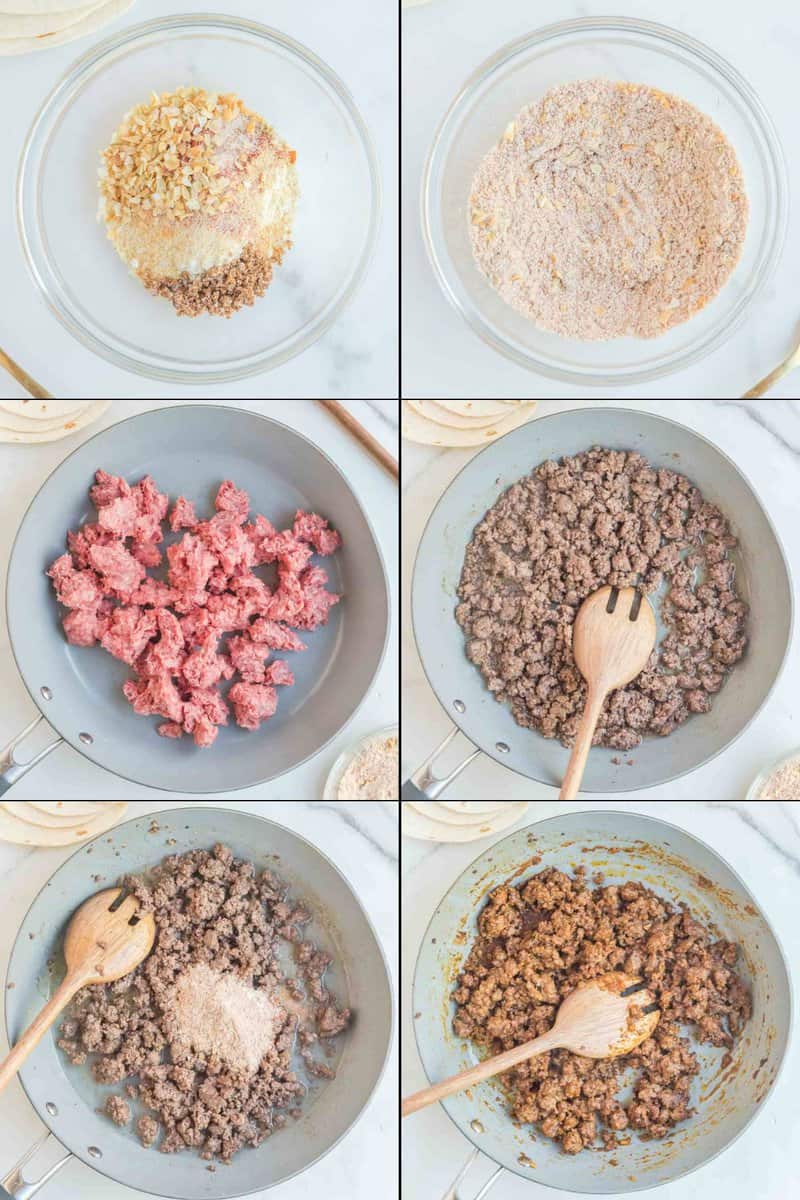 To make the Enchirito sauce:
Place all the sauce ingredients in a saucepan or skillet. Stir to combine.
Cook over low heat for 20 minutes.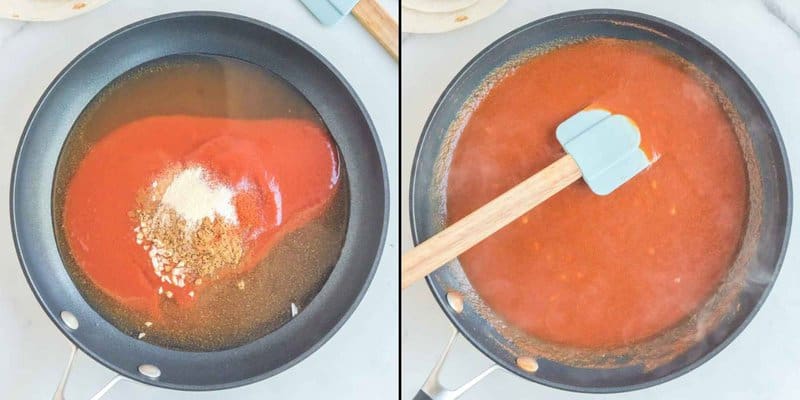 To assemble and bake the Enchiritos:
Warm the refried beans in a small pan. Once warmed, spread them on the tortillas.
Place the cooked ground beef on top of the beans in the center of each tortilla.
Roll up the tortillas and place them seam-side down in a baking dish.
Pour the red enchilada sauce over the rolled-up tortillas.
Top sprinkle cheese, diced onions, and olives.
Bake at 350°F until the cheese melts, about 15 minutes.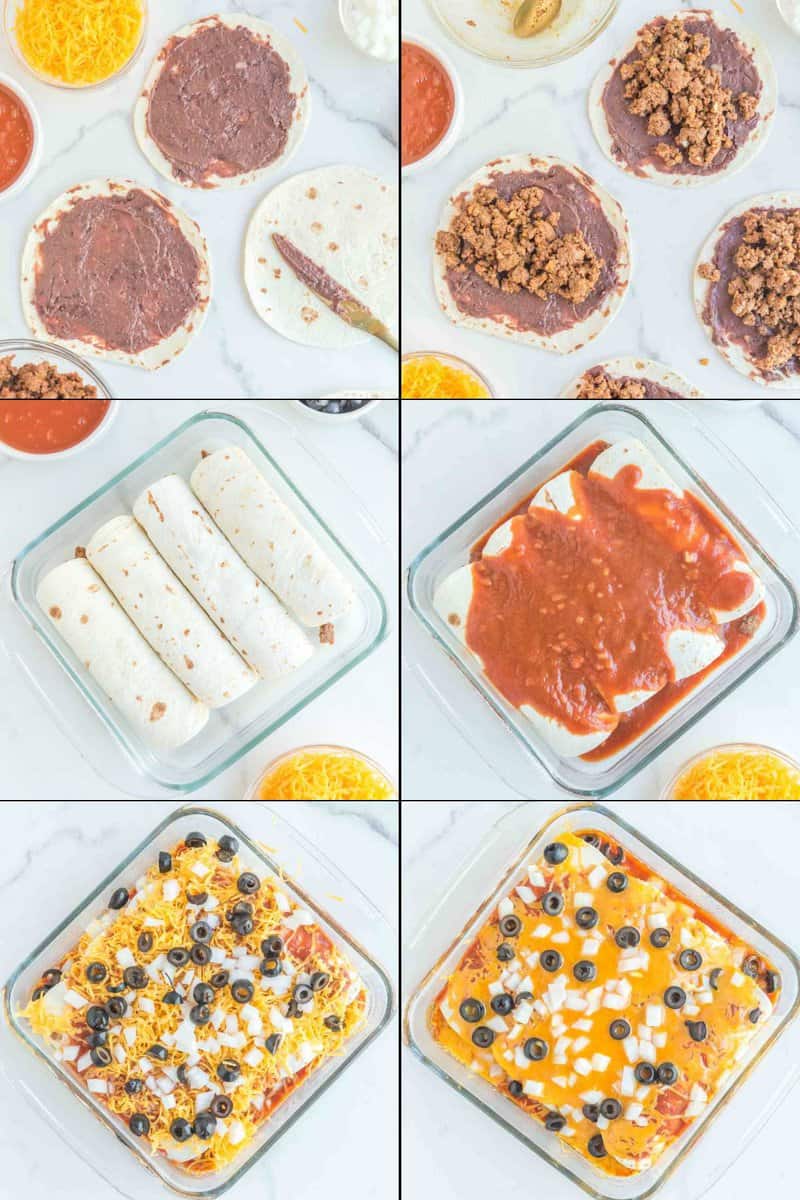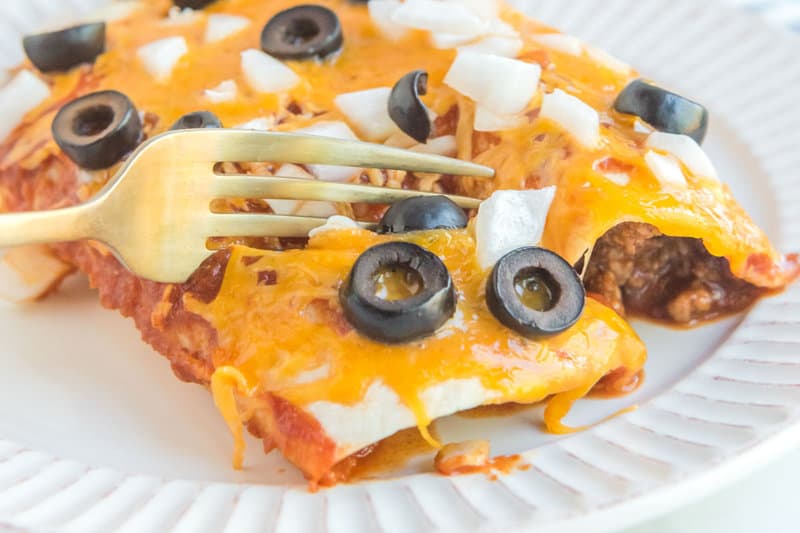 What to Serve with Enchiritos
The Taco Bell Enchirito is a wonderful combination of enchiladas and a burrito. Since you have all of the ingredients on hand you may want to serve some Taco Bell Soft Tacos with this or maybe even a Double Decker Taco, but I also recommend some refried beans, Spanish rice, or some corn salsa.
Fun Toppings for Your Enchiritos
While Taco Bell has typically only topped these treats with cheese and black olives, you have more options at home. Here are a few suggestions.
Sour cream
Slices of green onions
A spoonful of pico de gallo
A dollop of guacamole
How to Store Enchiritos
To store these and maintain their quality, follow these guidelines to store in the refrigerator.
Allow them to cool to room temperature after cooking. Do not leave them out for more than 2 hours to prevent bacterial growth.
Place the Enchiritos in an airtight container. You can use a plastic container with a tight-fitting lid or a glass container with a lid. Alternatively, you can wrap them individually in aluminum foil or plastic wrap.
Store them in the refrigerator. Properly stored enchiladas will last for 3 to 5 days in the refrigerator.
What's the best way to reheat
The best way to reheat Enchiritos while maintaining their texture and flavor is to use an oven. Here's a step-by-step guide to reheating these in the oven:
Preheat your oven to 350°F (175°C).
If these have been stored in a refrigerator, remove them and let them sit at room temperature for about 15-20 minutes. This will help them reheat more evenly.
Place them in an oven-safe dish. If they were stored in an oven-safe container, you can reheat them directly in that container.
To prevent the Enchiritos from drying out, cover the dish with aluminum foil. This will help retain moisture during the reheating process.
Place the covered dish in the preheated oven and reheat for 20-25 minutes. If the Enchiritos were frozen, you may need to increase the reheating time to 30-40 minutes.
After the initial reheating time, remove the foil and check the temperature of the Enchiritos. If they're not heated through, return them to the oven for an additional 5-10 minutes, or until they reach an internal temperature of 165°F (74°C).
Once they are thoroughly heated, remove them from the oven and let them sit for a few minutes before serving.
Using an oven to reheat Enchiritos helps preserve their flavor and texture better than using a microwave, which can make them soggy. However, if you're in a hurry and need to use a microwave, place the enchiladas on a microwave-safe plate, cover them with a microwave-safe lid or another plate, and heat them in 1-2 minute intervals until they reach the desired temperature. Be sure to check and stir them occasionally to ensure even heating.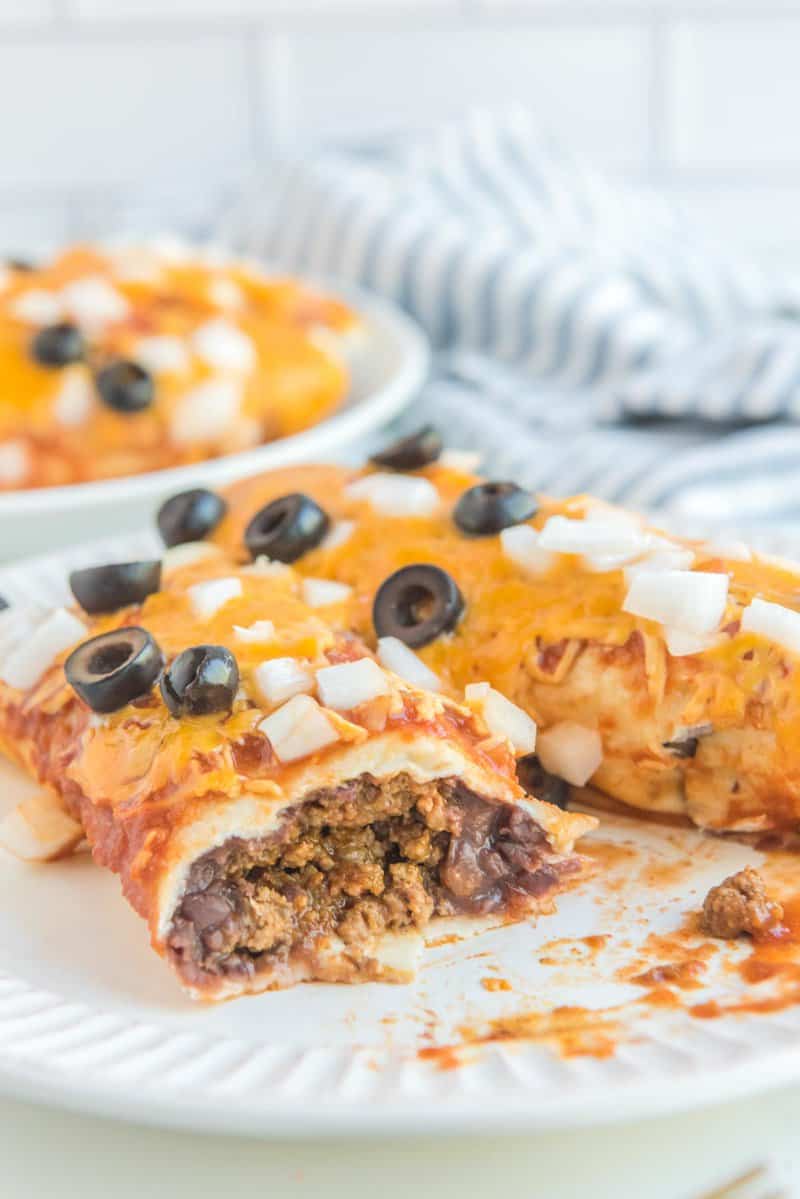 Love Taco Bell? Be sure to check out these recipes
Popular Mexican Recipes
Browse through my Mexican copycat recipes and easy main dish recipes to find delicious meals to make at home.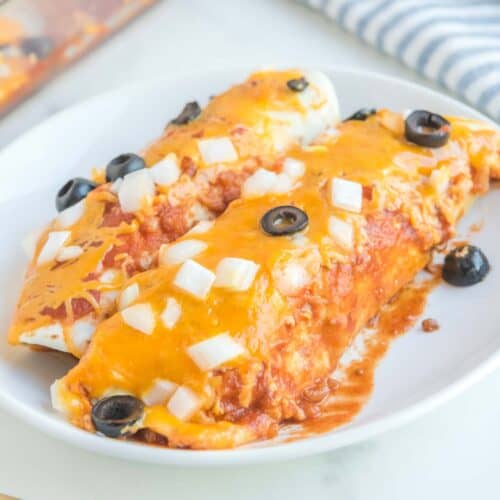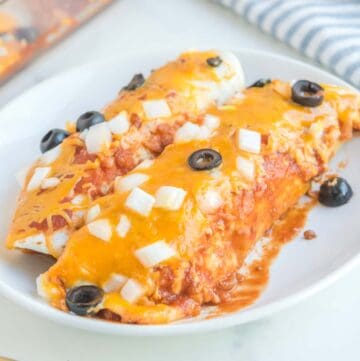 Ingredients
Beef
1 1/2

tablespoons

masa harina

4 1/2

teaspoons

chili powder

1/2

teaspoon

onion powder

1/2

teaspoon

garlic powder

1/2

teaspoon

seasoning salt

1/2

teaspoon

paprika

1/4

teaspoon

ground cumin

1/2

teaspoon

garlic salt

1/4

teaspoon

sugar

1

teaspoon

dried minced onion

1/2

teaspoon

beef bouillon powder

1 1/3

pounds

ground chuck
Sauce
8

ounces

tomato sauce

1/3

cup

water

1/4

teaspoon

chili powder

1 1/2

teaspoons

cumin

1 1/2

teaspoons

minced onion

1

tablespoon

white vinegar

1/2

teaspoon

garlic powder

1/2

teaspoon

garlic salt

1/4

teaspoon

paprika

1/4

teaspoon

sugar

1/4

teaspoon

cayenne pepper
Assembly
4

tortillas

1

cup

refried beans

heated

1

cup

shredded cheddar cheese

1/4

cup

chopped white onions

sliced black olives

optional
Instructions
In a small bowl, combine all the ingredients for the beef, except for the beef itself, and mix well.

Crumble the ground chuck into a large skillet (preferably nonstick) and brown, stirring well. Remove from the heat and drain the grease from the beef.

Return the beef to the pan and stir in the spice mix and 3/4 to 1 cup of water. Simmer uncovered on medium-low heat for 20 minutes, until most of the moisture has cooked away. Remove the pan from the heat before the meat is completely dry.

To make the sauce, combine all the ingredients for the sauce in a saucepan and mix well. Simmer at a very low temperature for 15 to 20 minutes. Remove from the heat and let cool.

Preheat the oven to 350°F.

To assemble the Enchirito, spread 1/4 of the heated refried beans onto a tortilla, followed by 1/4 of the ground beef. Roll up the tortilla and place it seam-side down in an ovenproof dish coated with non-stick spray. Repeat with remaining tortillas. Cover with the prepared sauce, cheese, chopped onions, and black olives, if desired.

Place the Enchiritos in the preheated oven for about 15 minutes, or until the cheese melts.
Notes
Note: Taco Bell never bakes up a pan of these enchritos. You can make them this way to serve to your family.
Nutrition
Calories:
678
kcal
|
Carbohydrates:
32
g
|
Protein:
39
g
|
Fat:
42
g
|
Saturated Fat:
18
g
|
Cholesterol:
137
mg
|
Sodium:
2104
mg
|
Potassium:
751
mg
|
Fiber:
5
g
|
Sugar:
6
g
|
Vitamin A:
1520
IU
|
Vitamin C:
4.7
mg
|
Calcium:
309
mg
|
Iron:
6.5
mg