It's time to break out that fondue pot that has been sitting in your cupboard. You can try the CopyKat version of The Melting Pot's Cheddar Cheese Fondue. The Melting Pot is a favorite place to enjoy dinner—a dark room, a nice bottle of wine, melted cheese, and hopefully, you are with someone special. If you have never been to The Melting Pot, imagine a three-course meal with fondue for each course! Imagine cheese basking over your favorite bread, crisp green apples, and more.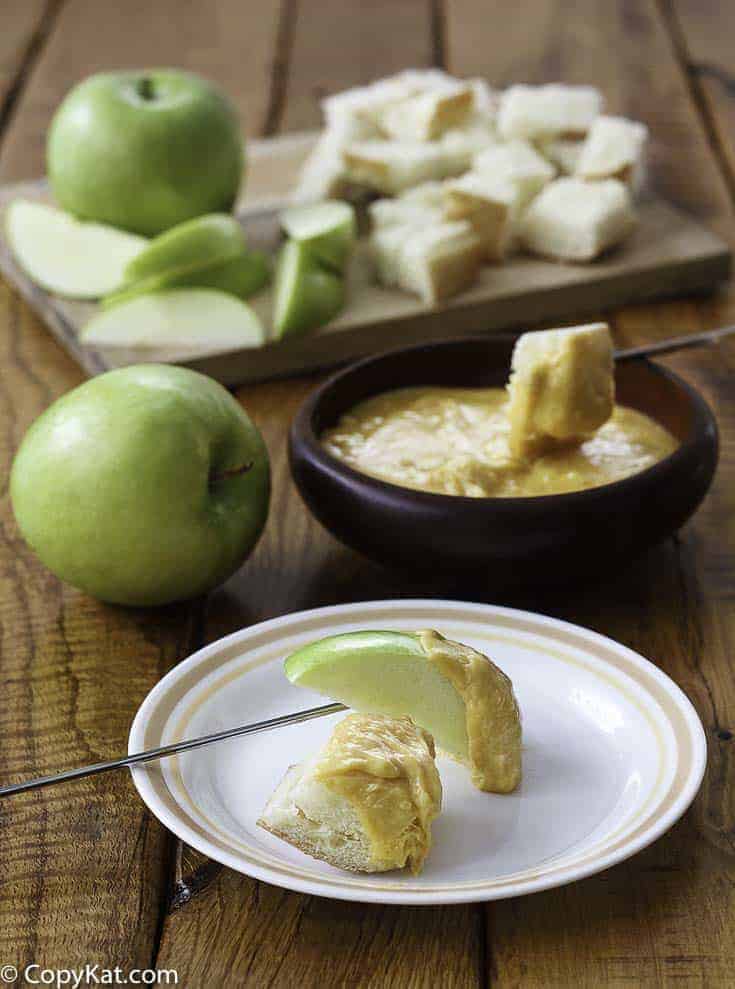 What makes this Cheddar cheese fondue so memorable? Sometimes enjoying dinner is especially fun when you get to use your hands. You must eat this dish in one sitting as it doesn't reheat well, nor does it do well if you make it in advance to eat later. So this is the fun type of dish you want to make on the spot. If you are new to fondue it is the ultimate cheese dip, it's gooey, and goes well with French bread, a Baguette, or even some French bread.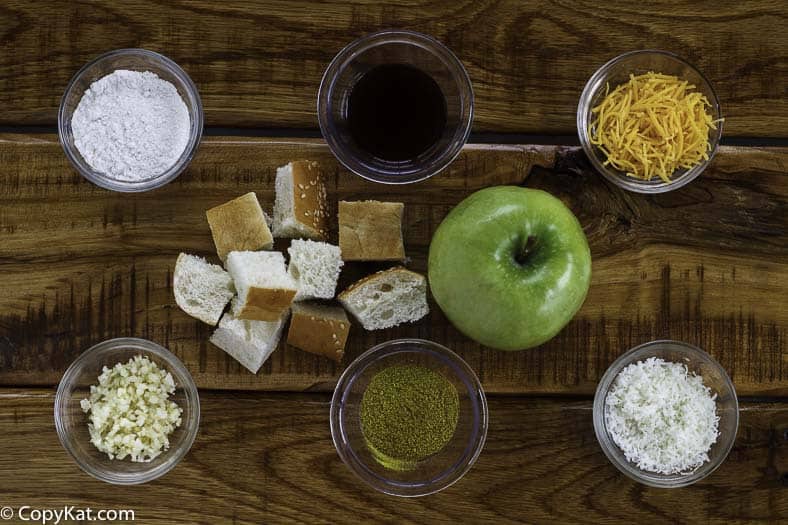 Cheddar Cheese Fondue is the Best Tasting Fondue!
This Melting Pot Cheddar cheese fondue is made with medium-aged cheddar and Emmentaler Swiss cheeses, lager beer, and garlic. You can serve it with lots of bread; I recommend pumpernickel, wheat, or sourdough. I also love this with green apples. You can be creative with this dish, so serve it with bread or vegetables that you enjoy.
If you do not wish to make this with beer, I cannot give you a suggestion for the beer other than a product like O'Doul's or a near-beer with less than 3.2 percent alcohol. The beer flavor adds a lot to this dish. Please do not serve this dish to people who do not drink alcohol. Alcohol doesn't fully cookout of the food.
If you enjoyed this Fondue recipe, check out my recipe for Melting Pot Chocolate Fondue.
While you don't have to have a fondue pot to make this dish, a fondue pot is a prominent centerpiece for your table. And using an electric fondue pot is a breeze.
Making Melting Pot Cheddar Cheese Fondue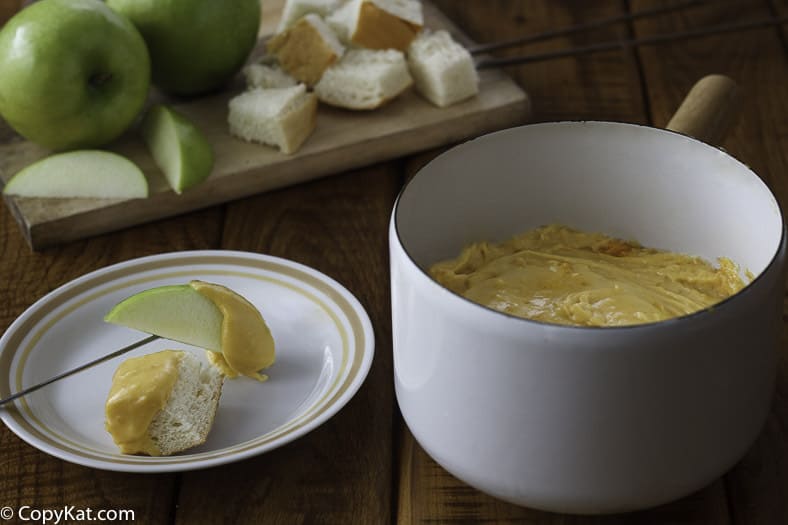 This post contains affiliate links. As an Amazon Associate, I earn from qualifying purchases.
So enjoy one of my favorite romantic meals to share with someone. Or break out that fondue set, and have a fun Fondue party!
While you don't need this fondue pot to make fondue, making fondue with an electric fondue pot is a breeze.
Cuisinart CFO-3SS Electric Fondue Maker
Don't miss out on this book by the Melting Pot restaurant, they serve up many of their special dishes in their book.
Dip Into Something Different: A Collection of Recipes from Our Fondue Pot to Yours
Do you love cheesy recipes? Try some of these delicious fondue recipes!
Melting Pot Traditional Swiss Fondue
Melting Pot Wisconsin Trio Fondue
Melting Pot Chocolate Fondue
Some copycat Wing Stop parmesan chicken wings would be great to enjoy with the fondue.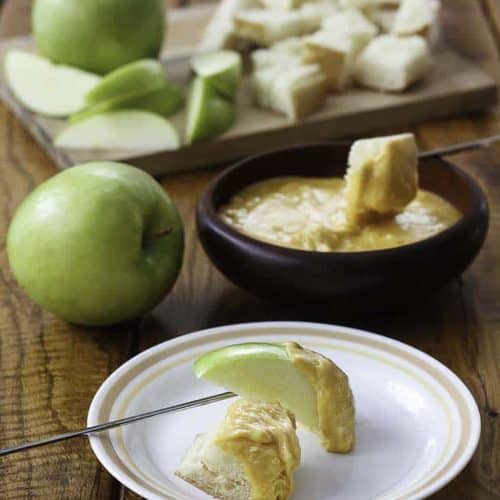 Ingredients
1/2

cup

Coors Light beer

2

teaspoons

chopped garlic

1

teaspoon

dry mustard powder

2

teaspoons

Worcestershire sauce

6

ounces

medium-sharp cheddar cheese

2

ounces

Emmentaler Swiss cheese

2

tablespoons

cornstarch

You could use flour in a pinch
Instructions
Preparing the cheese
Prepare the cheese by grating the cheese, slice it into small cubes. You will coat the cheese cornstarch.
Preparing the Fondue
Place beer, garlic, dry mustard, and Worcestershire in the pot and combine well. Shred or cube the cheeses and toss with flour, coating the cheese well. (The flour will help thicken the sauce.)

 When the beer mixture is warm, add one-third of the cheese and whisk very well. Once the cheese has been incorporated well continue to whisk in the cheese until it is all incorporated. Whisk until the cheese is smooth.
Recipe Tips for the Cook
If you do not have a Fondue set, you can use wooden skewers to dip bread, and fruit into the fondue. 
Nutrition
Calories:
256
kcal
|
Carbohydrates:
6
g
|
Protein:
15
g
|
Fat:
18
g
|
Saturated Fat:
11
g
|
Cholesterol:
57
mg
|
Sodium:
322
mg
|
Potassium:
76
mg
|
Fiber:
0
g
|
Sugar:
0
g
|
Vitamin A:
545
IU
|
Vitamin C:
0.8
mg
|
Calcium:
425
mg
|
Iron:
0.6
mg