White Queso, also known as Queso Blanco dip is one of the most popular appetizers in a Mexican restaurant. Don't be intimidated by much-loved cheese dip. A trip to the deli counter, and the purchase of some white cheese (American), and you can rival any restaurant!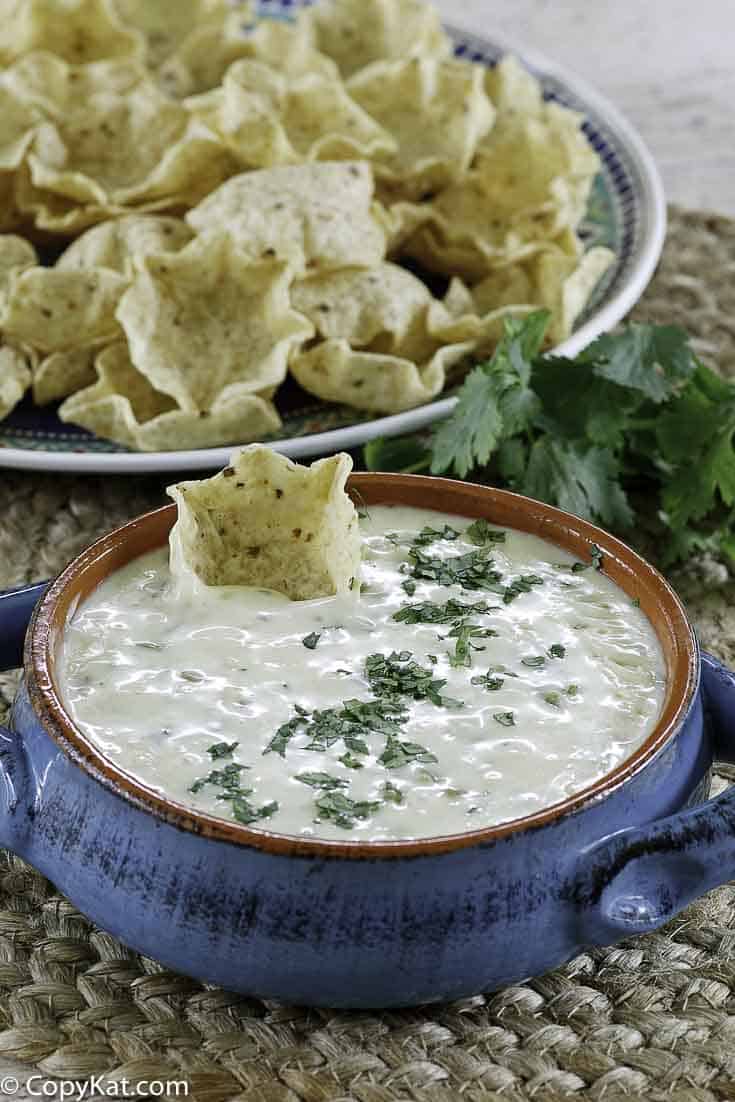 What Does Queso Mean
Queso means cheese in Spanish. But cheese is not all you're getting when you order this gooey, often spicy delight at a Tex-Mex restaurant. Queso is actually short for chile con queso which means chile with cheese in English. That's where the spiciness comes in.
Queso is a Mexican-inspired appetizer that's meant for dipping, but this tasty cheese sauce can also be spooned over nachos, tacos, fajitas, burritos, or grilled chicken.
Walk on the Wild Side with Queso Blanco
White queso is a popular alternative to yellow queso, and it is typically flavored with some onions and green chile. It's a zesty and creamy cheese dip that is easy to put together and is the perfect addition to any party menu.
It's creamy smooth, delightfully spicy and everyone will be totally addicted to scooping it up with a big pile of tortilla chips. Other great dipping options are triangles of flour tortillas or assorted veggies.
Make White Cheese Dip at home!
This homemade white queso dip is perfect for parties, taco night, Cinco de Mayo, or any time when you're looking for a quick and satisfying snack. Homemade queso is also one of the best parts of any game-day. It's perfect for celebrating after a win, but it also gives you a pick-me-up after your team loses.
White queso dip is best served up piping hot from the pan, but it can be reheated if needed. Simply microwave it in increments of 30 seconds or so until the dip becomes liquid and you're ready to go.
Make White Queso Dip like Mexican Restaurants
We have all been to a Mexican restaurant and enjoyed delicious chips and queso. Who doesn't love to dip a tortilla chip into a bowl of ooey-gooey queso?
The real secret here is using white American cheese as the base, you can always add in some additional Monterey Jack cheese, and some places add onions, jalapenos as well. The American cheese provides a dependable base for queso without the cheese becoming stringy or separating over time.
White Queso Ingredients
Here's a list of what you need:
Butter
White onion
White American cheese
Canned green chilies
Heavy cream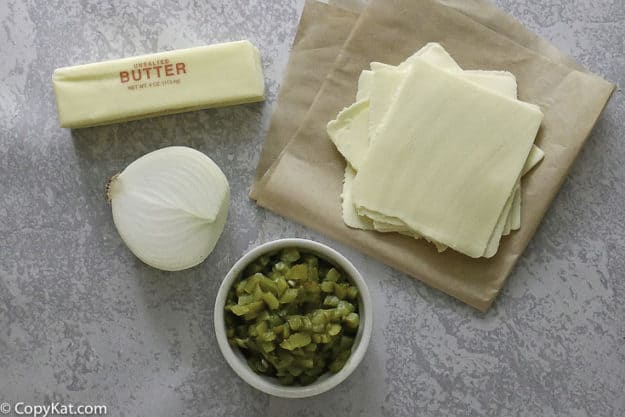 Make cheese dip with any type of American cheese
There's yellow, orange, and white queso, depending on the type of cheese you use. Whatever its color, queso can be prepared with green chiles or jalapenos (or both). It may also be made a little spicier with a dash of chili powder or cumin.
While this white Mexican cheese dip is great just by itself, you may want to make it even more delicious by adding a topping of fresh pico de gallo. If you're reheating your dip, add the pico de gallo after the reheating. If you add it before, your dip may become watery.
How to make White Queso Dip
Melt butter in a medium-sized frying pan.
Add onions and cook until they become translucent.
Place the cheese and heavy cream together in a medium-sized pan. Heat over low-medium heat until the cheese melts.
After the cheese has melted, add green chilies and onions and stir well.
Variations on this favorite White Cheese Dip
White Queso Dip Variations
This white queso dip is fabulous as-is, but you can add other ingredients to make it your own. It's the perfect mix and match dish. Here are a few suggestions:
Meaty Queso Dip: Add 1/2 pound cooked chorizo or crumbled ground beef.
Bean and Cheese Dip: Add 1 cup drained and rinsed beans, such as pinto or black beans.
Bacon Queso Dip: Add 1/2 cup cooked and crumbled bacon on top of the dip.
Mexican White Cheese Dip is Easy to Prepare
It's hard to imagine that anyone in their right mind would turn down a giant bowl of white queso dip and a pile of tortilla chips.
You'll love the flavors of this homemade white queso and appreciate how easy it is to make. Just real quality cheese and a few ingredients all melted together and ready for dipping. Grab your chips and enjoy!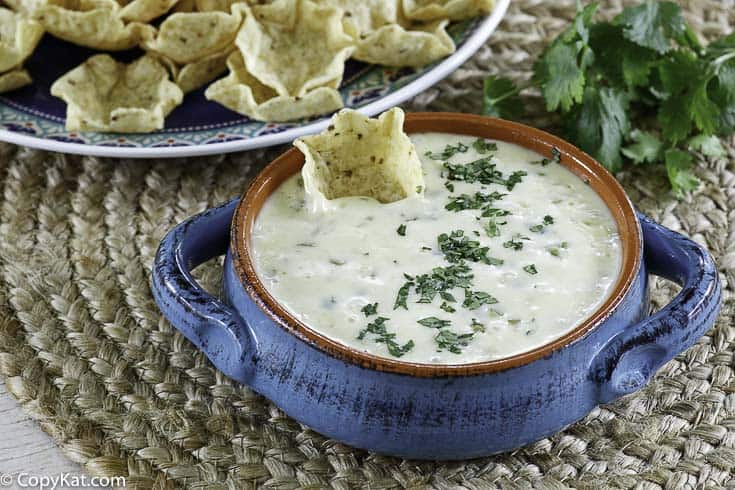 Fun toppings for White Queso Dip
Want to upgrade your white cheese dip experience? Make it more colorful. Try some of these toppings for your melted cheese goodness.
a sprinkle of garlic powder on top of the final dish just before serving
fresh diced jalapenos for some heat
diced pickled jalapenos for color
a sprinkle of chopped cilantro
finely diced red pepper or green bell pepper
diced tomato
a spoonful of pico de gallo
a diced roasted green chili
More Queso Recipes for You to Try
Let me know which one is your favorite – I love hearing from readers.
Popular Mexican Recipes
Be sure to check out more of the best Mexican recipes and my easy recipes for dips to make for your next party or game day.
Ingredients
2

teaspoons

butter

1/4

cup

finely chopped white onions

1

pound

White American cheese

4

ounces

green chilies

1 can – do not drain

4

ounces

heavy cream
Instructions
Melt two teaspoons of butter in medium-sized frying pan. Add onions, cook until they become translucent.

Place the cheese and heavy cream together in a medium-sized pan and heat over low-medium heat until the cheese melts. 

After the cheese has melted, add green chilis and onions and stir well. 
Notes
I suggest that you use heavy cream, the queso will reheat better than when using milk.  You can serve this in a fondue pot at a party to keep it warm. 
Nutrition
Calories:
274
kcal
|
Carbohydrates:
4
g
|
Protein:
11
g
|
Fat:
24
g
|
Saturated Fat:
14
g
|
Cholesterol:
79
mg
|
Sodium:
1009
mg
|
Potassium:
93
mg
|
Fiber:
1
g
|
Sugar:
2
g
|
Vitamin A:
775
IU
|
Vitamin C:
2.1
mg
|
Calcium:
602
mg
|
Iron:
0.4
mg