Refried beans are so easy to make, and they are so healthy when you make them from scratch. You can get the flavor from dried beans without using lard.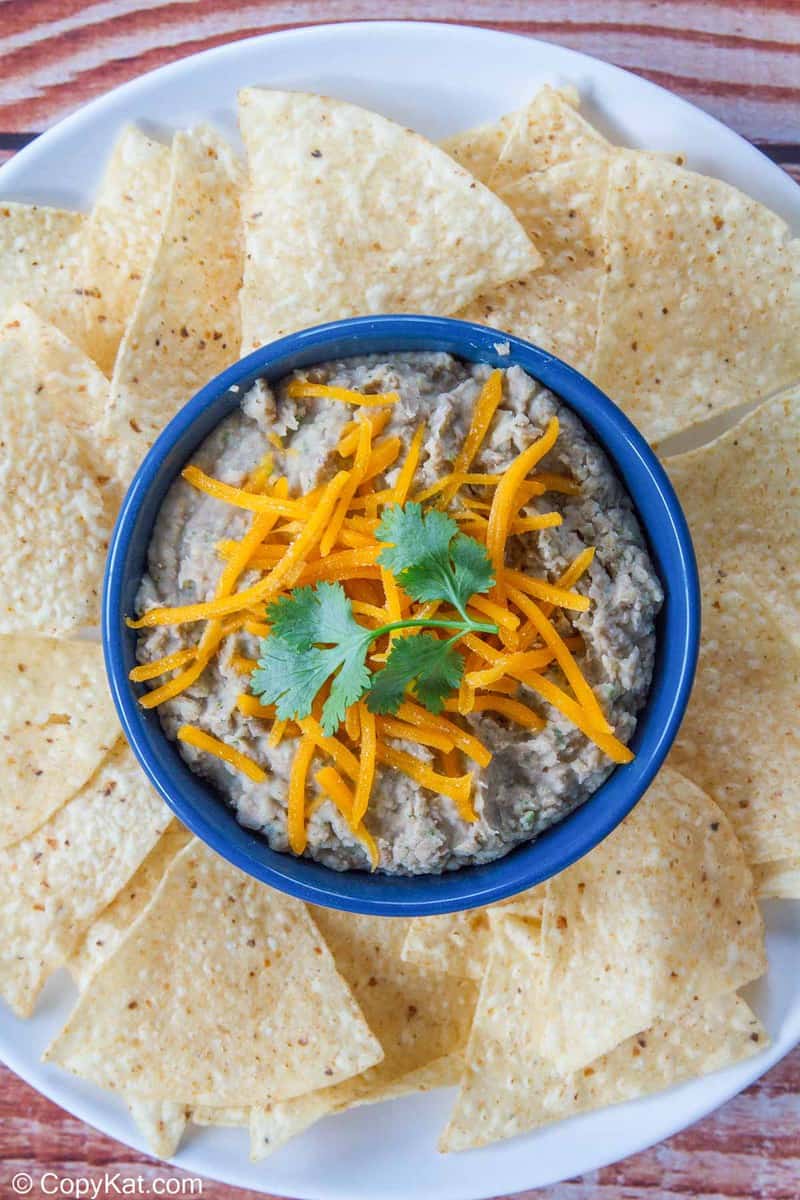 This post contains affiliate links. As an Amazon Associate, I earn from qualifying purchases.
What are refried beans?
Refried Beans are not beans that are actually fried. Frijoles refritos as they are known in Spanish really means "well-fried beans", not "fried-again beans". This dish is after beans are boiled and then mashed.
Refried beans are sometimes baked, sometimes fried, but most often they are simply served without second cooking. The name is pretty much a complete misnomer.
I like to make my own refried beans from scratch, they taste so much better than canned beans. You can make a good amount of beans for very little money.
You can use this as a side dish or you can make very tasty bean burritos, breakfast tacos, tostadas, and so much more.
What types of beans should you use for refried beans?
Typically in the US, we use pinto beans. Pinto beans are a bean that has a creamy texture when mashed and a lovely flavor. These are often sold in many different ways.
You can buy these in bulk in many produce sections of grocery stores. They are also sold in bulk bins in many stores. They can also be purchased in bags at most grocery stores.
Black beans are also used in some regions of Mexico. The beans are smaller, a little harder, and they take a little longer to mash.
You can also use some more exotic beans, I like to purchase beans from Rancho Gordo. You can get some heirloom beans from them that are uncommon and full of flavor.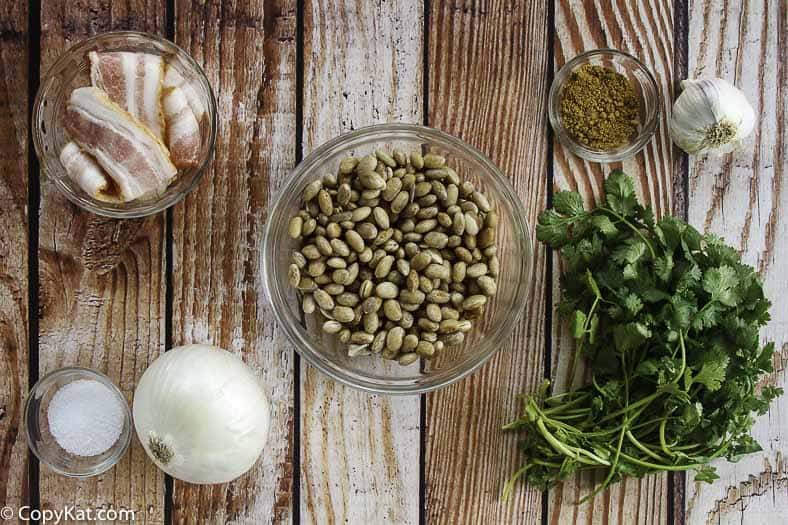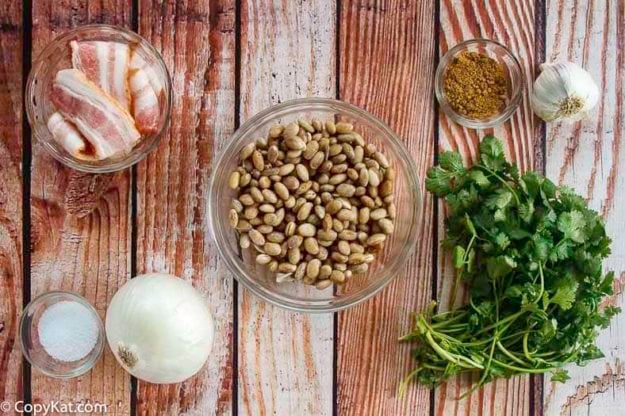 The Aromatics
One of the characteristics of these beans is their wonderful aromatic flavors. We aren't just talking about boiling some beans in water. You may want to add onions, garlic, cilantro, or even epazote.
Epazote is an herb that is common to Mexico. The flavor is hard to explain, but to me, it has a medicinal flavor, it goes well in the beans, but personally, I love cilantro.
You will want to use fresh onions and garlic. I like to use white onions for this recipe, as I think they taste sweeter than yellow onions.
You could also add oregano if you like, oregano would taste good in the beans as well.
The Fats
The fats in these beans help marry the flavors of the beans, the aromatics, spices, and salt. I think that you need to have some fat to help carry the flavor, but you have a lot of options here.
I have seen recipes with lard, bacon drippings, vegetable oil, and even butter. Most grocery stores sell lard, it is sold near the Crisco or solid vegetable shortening.
Bacon drippings can be made when rendering bacon, I love to save my bacon drippings when I bake bacon. You can use vegetable oil or even butter.
My personal preference tends to be for bacon drippings. The lard you can usually buy at the store is solid white and often void of the flavor that can make lard wonderful. I always have bacon on hand, but I have also used vegetable oil when I want to make this vegetarian style.
Mashing the Beans
Do you like them thick or thin? This is up to you. Some people make their beans thin, these are great when you make breakfast tacos and start by smearing a bit of the bean across the tortilla. Other people like to serve up a thick serving of the beans.
One of the things that help to determine the thickness of the beans is how much water you leave in the pot when you mash the beans. You may want to start by draining and reserving the water from the beans and adding the water to the beans until you get the right consistency.
You can mash the beans in many ways, you can use a potato masher, a food processor, a stick immersion blender, or a Mexican bean masher. The potato masher works well, but you will be mashing the beans for a while.
I think the food processor obliterates the beans and turns them into mush. I love my KitchenAid KHB1231ER 2-Speed Hand Blender
. I can control how much I want to mash up the beans. I like to leave some a little chunky so they have a nice texture.
Spices for Refried Beans
You can add spices if you like. I like to add a touch of cumin and some chipotle powder. I think cumin has an earthiness that adds so much to the beans. I also really like the chipotle powder adds just the right amount of heat.
Some people may like to add some jalapenos, or other chilies when they make refried beans.
I also like to add a bit of salt, but only after the beans are cooked. Some people think that when you add salt to the beans while they are cooking they can turn tough.
I think it is better to taste the beans, and then see how much salt they needed by adding a small amount at a time, and then stopping when they taste perfect to you.
Love Mexican food? Take a look at these recipes!
Favorite Bean Recipes
Check out more of my easy side dish recipes and the best Mexican food recipes here on CopyKat!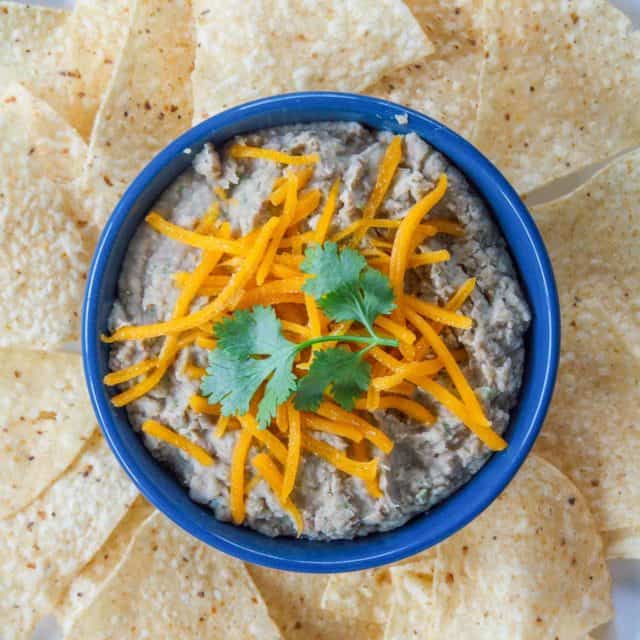 Ingredients
2

cups

dried pinto beans

rinsed and sorted

6

cups

water

2

bay leaves

¼

cup

bacon drippings

1

bunch

cilantro stems only chopped – this is the portion below the leaves.

½

cup

chopped onions

3

teaspoons

chopped garlic

½

teaspoon

ground cumin

1

teaspoons

salt
Instructions
Instant Pot or Pressure Cooker Directions
Put the beans, bay leaves, water, bacon drippings, cilantro stems, chopped onion, and cloves of garlic in the pressure cooker. Stir to combine.

Lock the lid on the pressure cooker, and bring the cooker up to high pressure.

Cook on high pressure for 30 minutes in a stovetop pressure cooker or 36 minutes in an electric pressure cooker.

Turn off the heat and let the pressure come down naturally for about 10 minutes.

Remove the lid and discard the bay leaves.
Stovetop Directions
Put beans into a pot and cover beans with at least 3 inches of water – about 3 quarts for 2 1/2 cups of dry beans.  

Bring to a boil and then lower heat to simmer, covered, for about 2½ hours. The cooking time may vary, the beans are done when the skins just begin to burst.

Saute the bay leaves, cilantro stems, chopped onion, and garlic cloves with the bacon drippings. Saute until the onions and garlic are softened, and the onions are translucent.

Discard the bay leaves and add the mixture to the beans.
Mashing the Beans
Use an immersion blender to mash the beans. Pulse gently until you have the consistency you desire.
Notes
Note about Cilantro Stems:
This is the portion just below the leaves. Often when you buy it, it has leaves and the stalks the leaves grow on. Typically for recipes, I like to use the leaves only, as the stems/stalks can be a little woody. When cooked for this long the stems break down, and if you are using either a food processor or an immersion blender this will process those stems.
Nutrition
Calories:
134
kcal
|
Carbohydrates:
12
g
|
Protein:
4
g
|
Fat:
7
g
|
Saturated Fat:
2
g
|
Cholesterol:
7
mg
|
Sodium:
312
mg
|
Potassium:
205
mg
|
Fiber:
4
g
|
Sugar:
0
g
|
Vitamin A:
15
IU
|
Vitamin C:
1.6
mg
|
Calcium:
32
mg
|
Iron:
1.1
mg