El Chico Cheese Enchiladas have long been a favorite of mine, these Tex-Mex enchiladas have a vegetarian sauce that is so easy to make. Armed with this recipe, you may not have to go out for Cheese Enchiladas again.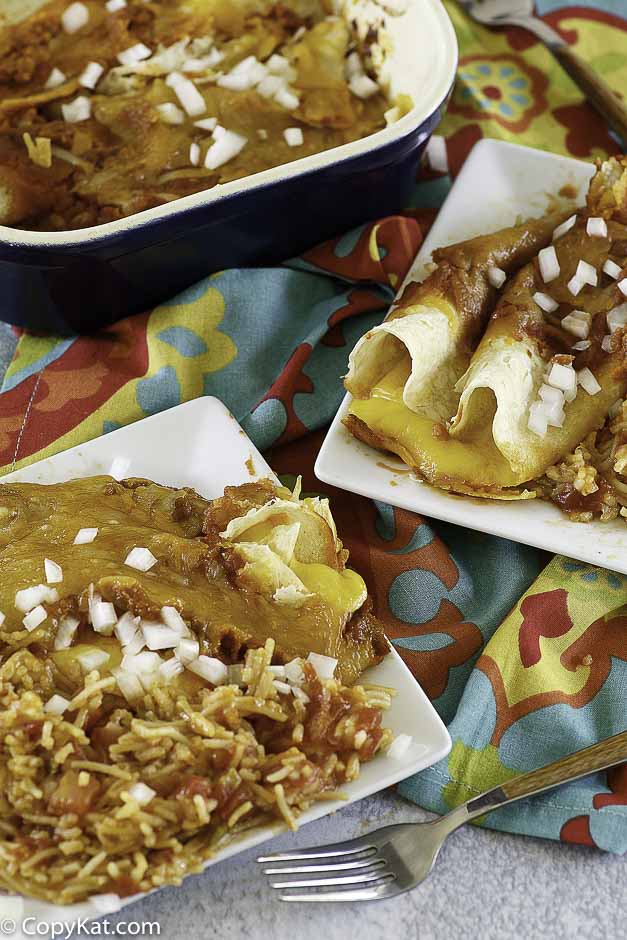 El Chico – A popular Tex Mex Restaurant.
El Chico Cheese Enchiladas are some of the best Tex-Mex enchiladas out there, and they have long been a favorite of mine. These Tex-Mex enchiladas com with a vegetarian sauce that is so easy to make. Armed with this recipe, you can make homemade enchiladas and never go out for cheese enchiladas again.
I live in Houston, Texas, and I went to high school and college nearby. El Chico is where we went for Mexican food when there was a special occasion. I actually went there with my prom date years ago. El Chico is also known for their fried ice cream – click here for my copykat fried ice cream recipe. El Chico is not about authentic Mexican enchiladas, but it does serve up some of the best Tex-Mex, which is something my wonderful state is known for.
Tex Mex Cheese Enchiladas
I love this style of an enchilada. The sauce is mild, and it could also be used for a ground beef filling. I personally prefer cheese enchiladas over all others. For this cheese enchilada recipe, I am using American cheese which you can purchase from the deli section of your local grocery store. American cheese melts very well, but you could use Cheddar if you want.
Easy to Make Enchiladas
Enchilada sauce can be purchased in a can from your grocery store, there are many brands available in most grocery stores, but you can make your own sauce at home. You will also need corn tortillas, cheese, and some chopped white onions (if desired).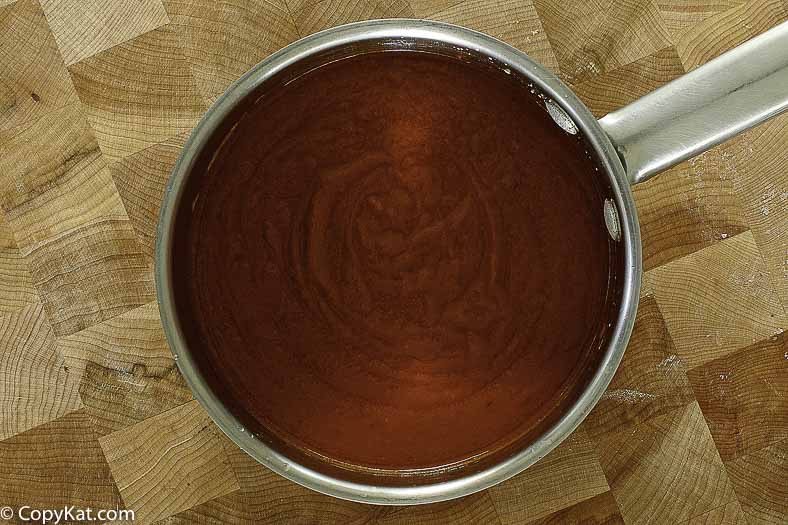 How to make enchilada sauce
If you have never tried making enchilada sauce, you are going to find it is super easy to make. Enchilada sauce is made with: vegetable oil, water, chili powder, paprika, and water. You could use chicken stock instead of water if you want a richer flavor.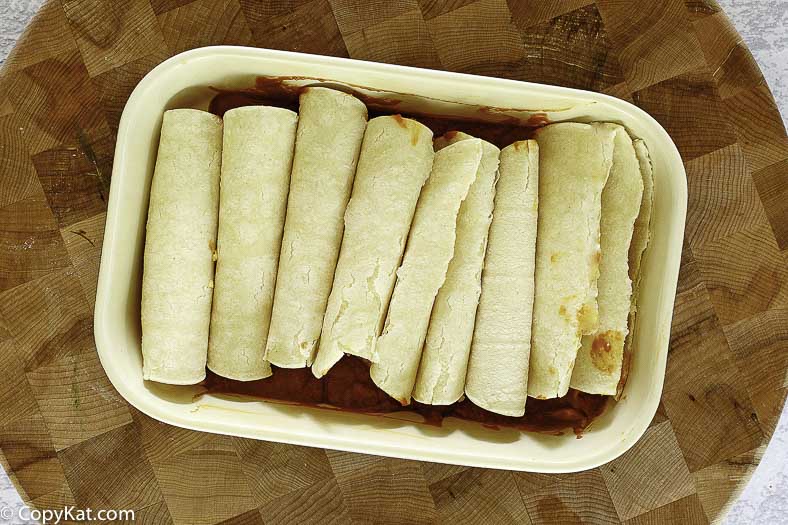 Filling enchiladas
The real secret to these enchiladas is using American cheese. Go to the deli and buy some American cheese in a large chunk and shred it yourself. It melts beautifully. You could use another type of cheese, but pick one that melts nicely, like a Colby or a Colby-Jack blend. You will want to heat up the corn tortillas in the microwave just until they become pliable, and then you will want to roll them up with a good sprinkle of cheese. Place a bit of the sauce in the pan, add the filled tortillas, and top with additional sauce. Sprinkle on additional cheese, and some chopped white onion if desired, and bake until bubbly.
In no time at all, you will have some delicious cheese enchiladas that everyone will love.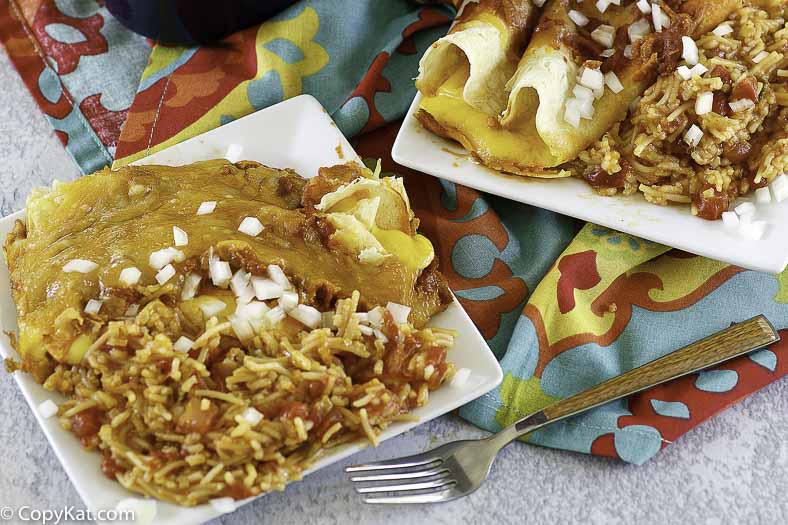 Some people like to top these homemade enchiladas with some chopped onion, but this is completely optional (I did not add the chopped onion in the video). I personally love them with a fried egg on top, but I thought that might be bringing too much of the local flavor to you 😉.
Does your family love enchiladas? Try these enchilada recipes
Sour Cream Chicken Enchiladas
Chicken Cream Cheese Enchiladas
Turkey Enchiladas
Emeril Lagasse's Enchilada Sauce
Homemade Enchilada Sauce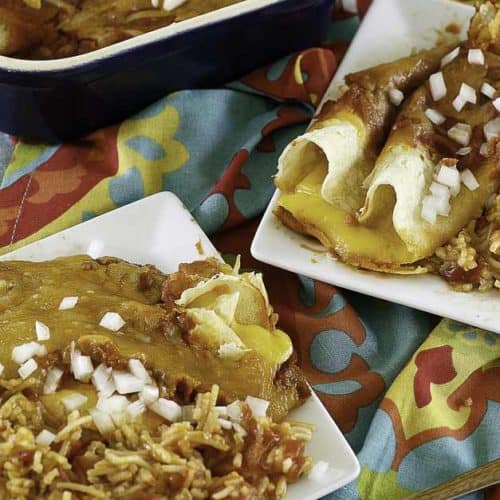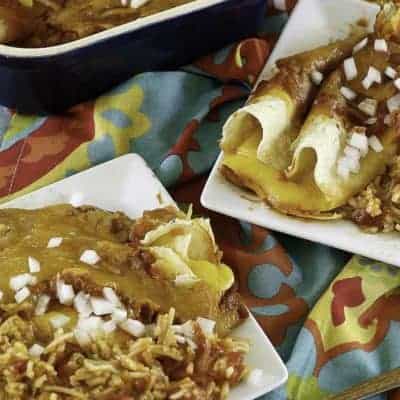 El Chico Cheese Enchiladas
Don't be alarmed at the amount of chili powder and paprika in this recipe. You want plenty of sauce on your enchilada, and this cheese enchilada recipe will make a good quart of sauce.
Print
Pin
Rate
Add to Collection
Go to Collections
Ingredients
2

tablespoons

flour

2

tablespoons

vegetable oil

1

teaspoon

salt

1/2

cup

chili powder

1/2

cup

paprika

1

Quart

water

12

corn

tortillas

oil

for

heating corn tortillas

3/4

pound

shredded American cheese

chopped

white

onions optional
Instructions
In a medium-sized pot combine vegetable oil and flour. Stir and cook for about 1 minute, or until this begins to become fragrant like pie crust.

Add salt, chili powder, and paprika, and stir to combine. Add one-quarter of the water. When the sauce becomes thick, add the next quarter of water, and repeat until the sauce is complete. 

Preheat oven to 350 degrees. Heat the corn tortillas in either the microwave or a small skillet with a little vegetable oil. Microwave: Sprinkle a little water on the tortillas and wrap them in a clean dishtowel.

Assembly: Spread a thin layer of sauce over the bottom of a baking dish. Place 11/2 tablespoons of cheese in the middle of each corn tortilla and roll-up. Move the rolled tortilla into the baking dish. Fill the dish with your enchiladas and then top with the sauce. Add any cheese that is left over.

Heat in the oven for about 15 minutes or until the cheese melts. Remove from the oven. Some people like to add some chopped white onion on top.
Recipe Tips for the Cook
Any left over sauce can be stored in a container for 7 days in the refrigerator. 
Nutrition
Calories:
291
kcal
|
Carbohydrates:
9
g
|
Protein:
11
g
|
Fat:
24
g
|
Saturated Fat:
14
g
|
Cholesterol:
56
mg
|
Sodium:
1362
mg
|
Potassium:
280
mg
|
Fiber:
3
g
|
Sugar:
2
g
|
Vitamin A:
4970
IU
|
Calcium:
620
mg
|
Iron:
2.4
mg