Cream Cheese Chicken Enchiladas are a wonderful dinner for a weeknight. Creamy chicken enchiladas are perfect when you have some leftover cooked chicken,, like a rotisserie chicken. These golden brown creamy enchiladas aren't too spicy and perfect for the whole family. This easy recipe will soon go into your recipe rotation!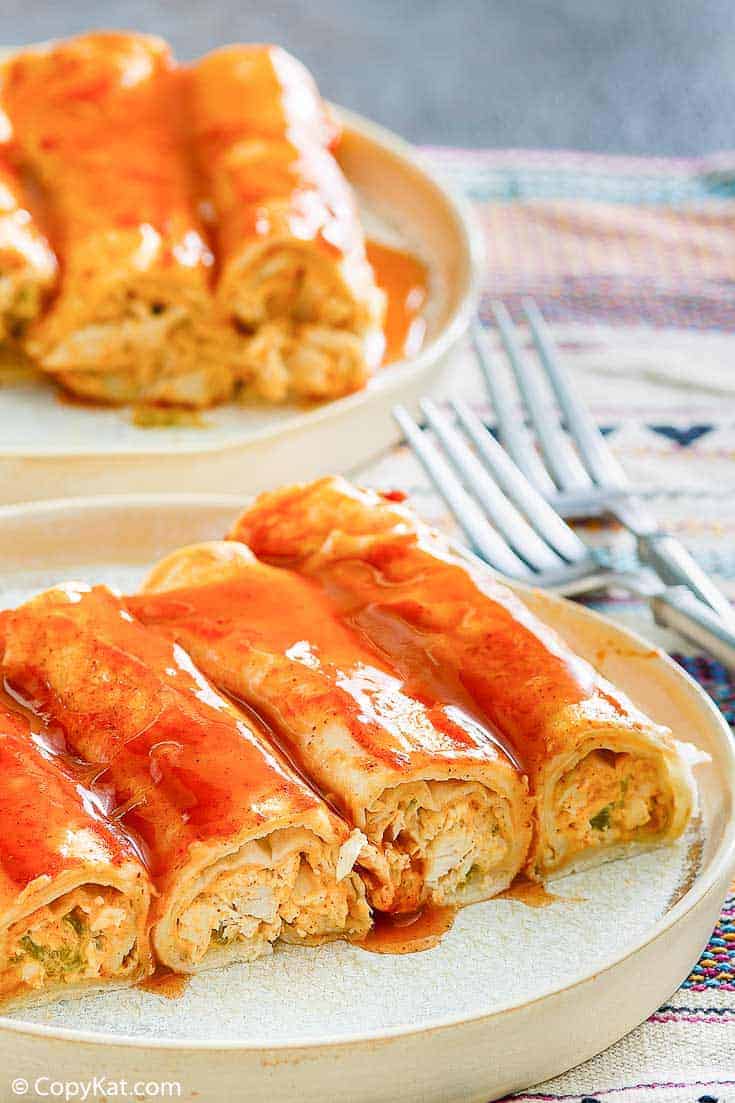 This post contains affiliate links. As an Amazon Associate, I earn from qualifying purchases.
Best Chicken Enchilada Recipe
Have you ever had some leftover cooked white chicken? Enchiladas are the perfect way to use cooked chicken; if you want, you could use dark meat. It's entirely up to you.
Those rotisserie chickens are hard to pass up if you have ever been to Costco. If you can't enjoy your chicken in one sitting, I love to peel off the meat and then use the carcass for chicken stock. I have taken the meat and made excellent chicken enchiladas with them.
This recipe starts with a can of enchilada sauce you can find in the grocery store. Canned enchilada sauce is a great way to start a recipe; you can use either red or green chili sauce, but it's entirely up to you.
These chicken enchiladas with cream cheese will be perfect for your dinner. You can make these up quickly, and they taste great. Better yet, they even reheat well. So if you need to make a meal ahead, this may be the perfect choice for you.
Whether you like red or even green enchilada sauce, we have you covered with this recipe.
Cream Cheese Chicken Enchilada Ingredients
Here is what you need to make the enchiladas:
Pre-cooked chicken – rotisserie or chicken breasts that were not breaded
Cream cheese
Sour Cream
Cheddar cheese
Onion
Chili powder
Cumin
Green chiles
Tortillas
Red or green enchilada sauce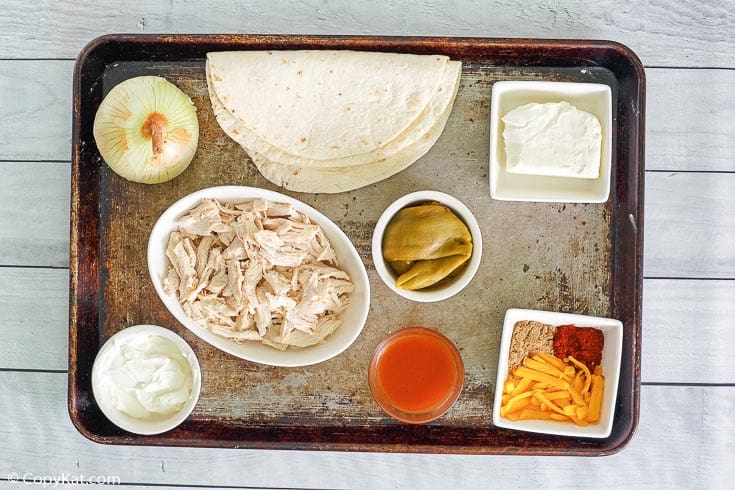 Recipe Variations
Here are a few easy ways you can customize this recipe!
You can swap the Cheddar cheese with Monterey Jack cheese. Monterey Jack cheese has a wonderful melt and a wonderfully mild flavor.
Top the enchiladas with some fresh cilantro when these come out of the oven.
You may want to top these with some of your best sour cream or a sprinkling of sliced scallions before serving.
How to Make Enchiladas with Cream Cheese Chicken
In a large skillet, stir together the chicken, the block of cream cheese, sour cream, a portion of the Cheddar cheese, onion, green chiles, and seasonings.
Heat over medium heat until the cheeses are melted, and the mixture is creamy.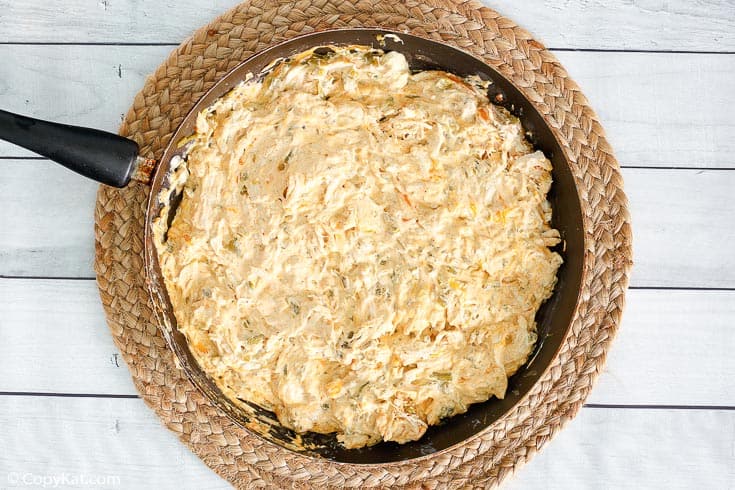 Coat a baking dish with cooking spray.
Place a heaping scoop of the chicken and cheese mixture on a tortilla.
Roll up the tortilla and place the seam side down of the rolled tortilla in the bottom of the baking dish.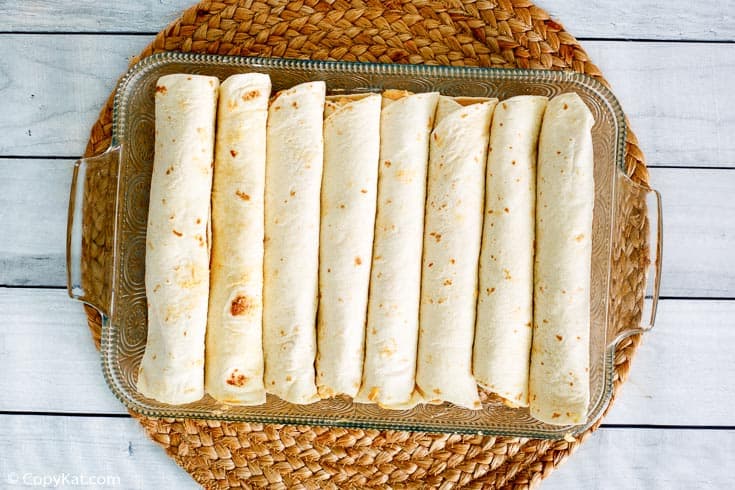 Repeat until all the filling is used.
Pour enchilada sauce on top of rolled tortillas.
Top with remaining Cheddar cheese if desired.
Bake at 350 degrees Fahrenheit for 20 to 25 minutes.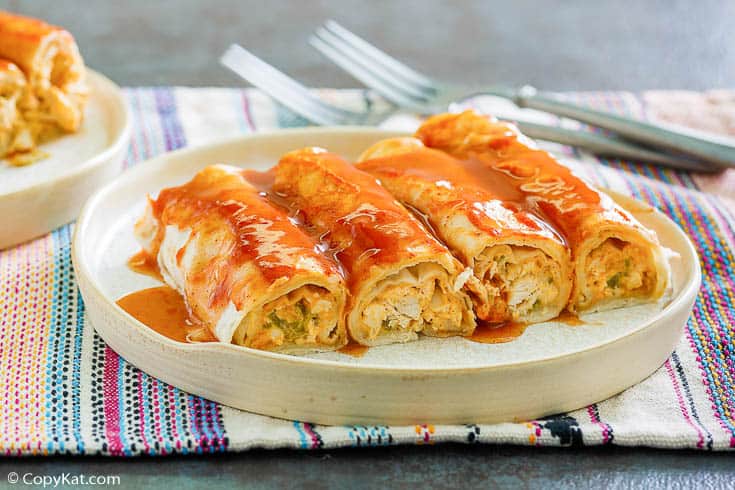 Is it better to use flour or corn tortillas for enchiladas?
Corn or flour tortillas? Honestly, it depends on your preference. In traditional Mexican cooking, corn tortillas are used for enchiladas, but flour tortillas work just fine.
Many people who enjoy eating gluten-free choose corn tortillas. Either type of tortilla could be used in this recipe.
My best tip for tortillas is to ensure they are fresh and warm when rolling them. This way, they are more pliable than when they are cold.
How to Keep Flour Tortillas from Getting Soggy when Making Enchiladas
My favorite technique for keeping the tortillas from getting soggy comes from a two-pronged approach.
First, heat the tortilla up in a hot skillet on both sides until the tortilla puffs and begins to take on a bit of color. This will help prevent the tortilla from taking on too much sauce.
Secondly, don't oversauce the enchiladas. You don't want them swimming in sauce. Cover them entirely, but you aren't making soup!
Easy Chicken Enchiladas with Cream Cheese
These enchiladas are super easy to prepare, and since they are mild, they are perfect for people who do not like food that is too spicy. This enchilada recipe is family-friendly.
Forget Taco Tuesday. This is a tasty Mexican dish to make any day of the week!
I hope you enjoy these cream cheese chicken enchiladas. This is a great recipe. Around my house, it is a family favorite.
Who doesn't love Mexican food? Whether you use fresh chicken breasts or leftover chicken, this is a delicious dinner recipe. I hope you give this easy chicken enchilada recipe a try today.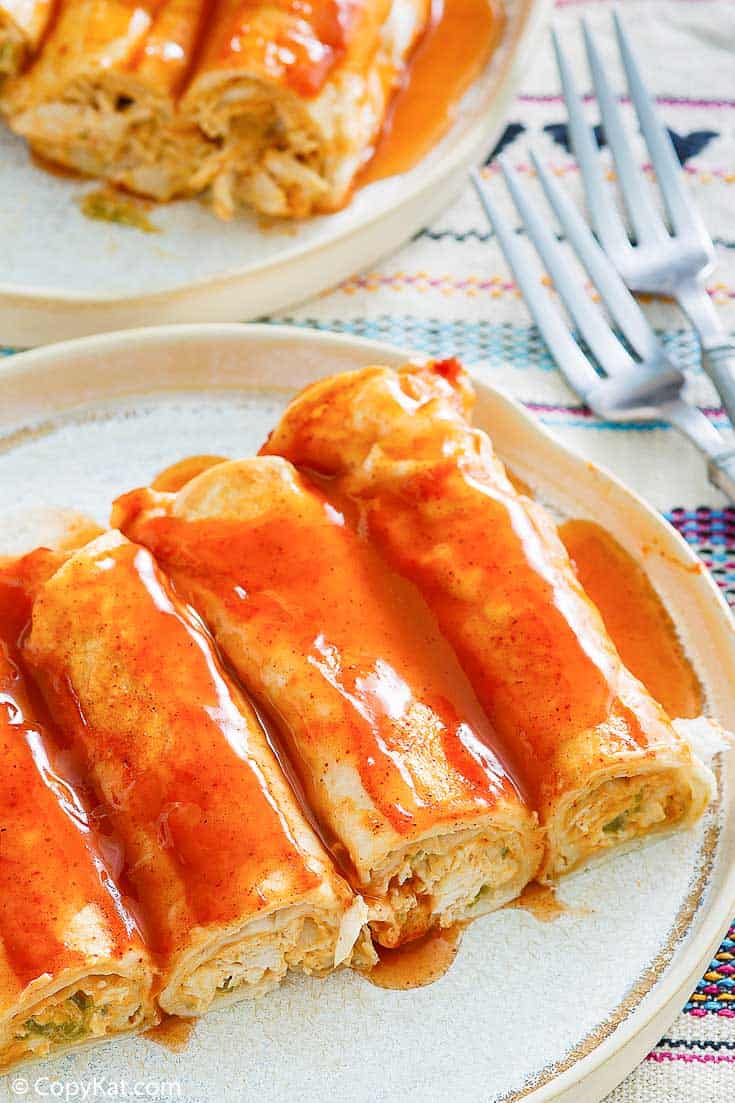 Looking for more Mexican Goodness? Try these recipes!
More Easy Chicken Recipes
Be sure to take a look at more of the best Mexican recipes and easy chicken dinners.
Thanks to Julie Doellingen for the inspiration of this recipe.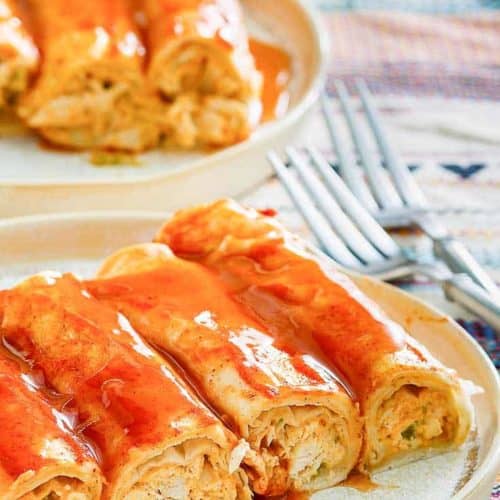 Ingredients
2

cups

pre-cooked rotisserie chicken

8

ounces

cream cheese

1/2

cup

sour cream

1

tablespoon

finely chopped onion

1/2

teaspoon

chili powder

1/2

teaspoon

cumin

1 1/2

cups

shredded cheddar cheese

4

ounces

green chilies

10

tortillas

20

ounces

red or green enchilada sauce
Instructions
Preheat oven to 350 degrees.

De-bone chicken, and shred chicken into small pieces, if you don't have a rotisserie chicken you can use 3 to 4 cooked chicken breasts.

In a large skillet, combine chicken, cream cheese cubes, sour cream, chilies, chopped onion, seasonings, and 3/4 cup cheddar cheese. Heat until the cheeses are completely melted. 

Coat baking pan with cooking spray. Scoop a heaping spoonful of chicken mixture onto tortilla, roll, and place it into the pan with seam side down.

Repeat until all of the filling is used. Pour enchilada sauce over the rolled tortillas.

Sprinkle remaining cheese on top of enchiladas and bake at 350 uncovered for 20-25 minutes.
Nutrition
Calories:
530
kcal
|
Carbohydrates:
47
g
|
Protein:
19
g
|
Fat:
28
g
|
Saturated Fat:
14
g
|
Cholesterol:
82
mg
|
Sodium:
1432
mg
|
Potassium:
248
mg
|
Fiber:
3
g
|
Sugar:
9
g
|
Vitamin A:
1230
IU
|
Vitamin C:
3.7
mg
|
Calcium:
279
mg
|
Iron:
3.5
mg